Google search data paints an interesting picture of how dating's changed in Vermont over the years. "How to get dates" was the most-Google relationship phrase out of Vermont in 2020. Then, "Best dating apps" was the top phrase in 2021, followed by "When to say I love you" in 2022.
Two things are clear after looking at the search data. One, online dating is hot in Vermont. And two, it's successful, which is why so many people are ready to drop the "L-word."
Now, the only question left is which dating sites for Vermont singles provide results? And that's where we'll take over. We've reviewed endless data, tested dozens of apps, and now, we're ready to reveal the five best Vermont dating apps of 2023:
---
Stick Around! We're going to help you choose the best Vermont dating site for your relationship goals and location. Plus, take it a step further by providing insights into the Green Mountain State's dating scene, so you'll know what to expect when you start matching with all those Vermont singles.
We have a lot to cover, so let's not delay another moment. Let's get started by looking at the top dating sites for singles in the Green Mountain State.
---
Jump to:
---
1. eHarmony – Best App for Finding "The One" without Settling
Who Will Love eHarmony: Vermont singles who want to settle down without settling for less
Who Might Not Enjoy eHarmony: Casual daters who want to date around before settling down
Biggest Pro: Uses the 32 Dimensions of Compatibility to match members
Biggest Con: Longer signup process than most Vermont dating sites, but that allows eHarmony to get all the info necessary for high-quality matches
Starting Price: Premium memberships start at $35.90 a month
Vermont has it going on when it comes to marriages that last. The divorce rate is declining, and the state even boasts one of the lowest "gray divorce rates" in the country. And that's great news if you want to tie the knot.
You know what isn't so great, though? It's getting harder to find a compatible partner by the day.
That problem popped up over and over when we researched Vermont's dating scene. People here know the importance of personality and compatibility when partnering up, but the lack of options makes it hard to find "the one." And that's why some are choosing to stay single.
Fortunately, you don't have to settle or stay single thanks to this Vermont dating app. You can find a serious compatible match on eHarmony.
Just like Vermont singles, eHarmony considers compatibility and personality when finding matches. It analyzes 32 traits and matches you with the people who have the most in common with you. And we aren't just talking about things like what movies you like. It digs deep to figure out your communication style and so much more to pair you with compatible singles.
It usually takes years to find out if someone is right for you, but you'll know in an instant on this Vermont dating site. Get the process started by creating a free profile on eHarmony today.
---
2. EliteSingles – Best Vermont Dating App for Professionals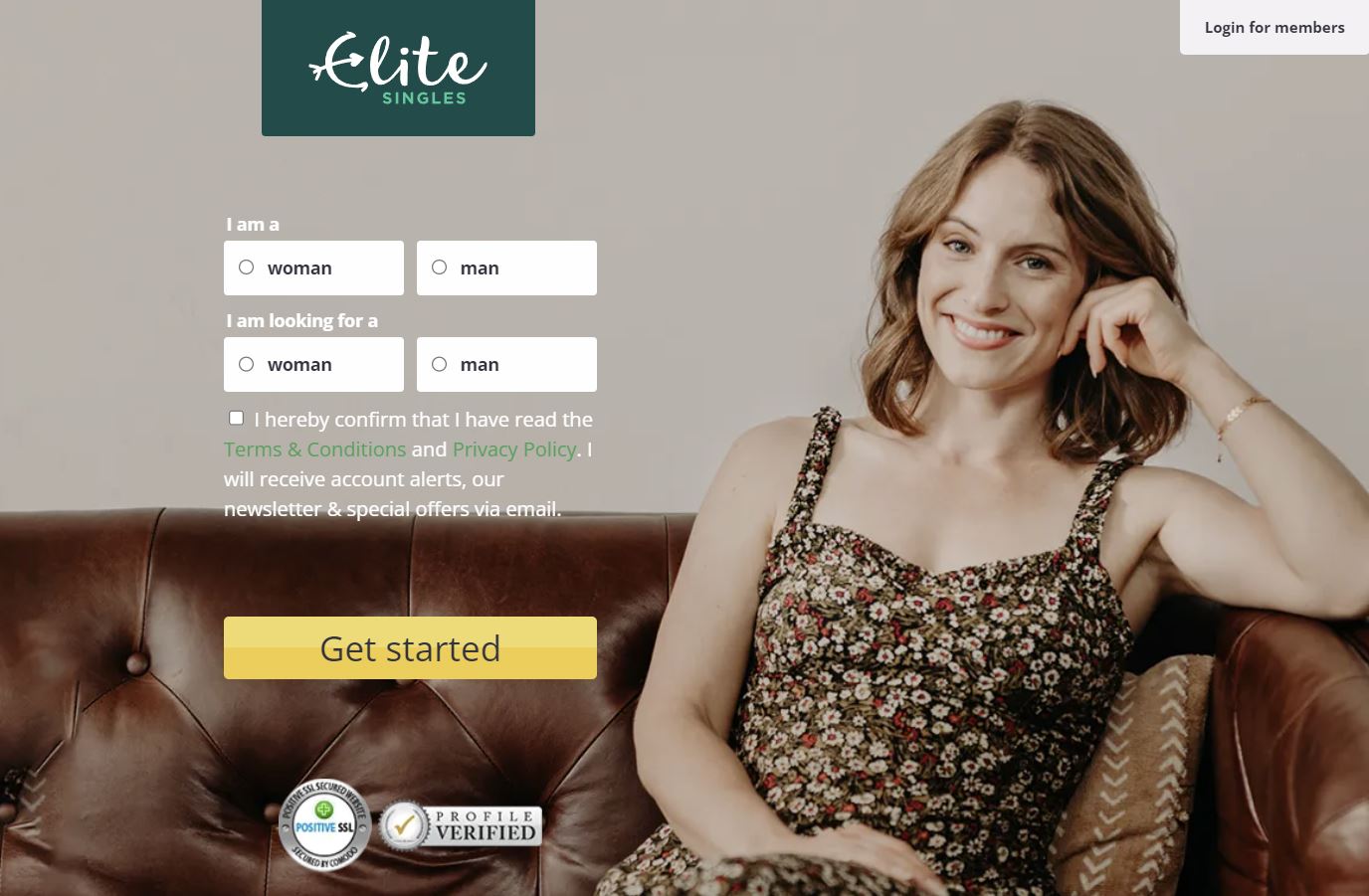 Who Will Love EliteSingles: Professionals who want to partner with ambitious, well-educated Vermonters
Who Might Not Enjoy EliteSingles: Non-professionals and casual daters
Biggest Pro: Most members are highly-educated professionals
Biggest Con: Few options for casual dating
Starting Price: Premium memberships start at $27.95 a month
Dating app Zoosk refers to Vermont as a "straight to work state." The Green Mountain State earned the distinction after Zoosk analyzed membership data and discovered that fewer members in Vermont had bachelor's degrees when compared to other states.
That data isn't Vermont's reality, though. Vermont is actually one of the most educated states in the country and full of professionals. However, many professionals avoid most Vermont dating apps in favor of ones that are full of people with the same drive and ambition. That's why it's so hard to find professionals when engaging in online dating in Vermont.
So, the question is, which is the best dating app for professionals in Vermont? We considered the state's dating scene and landed on EliteSingles.
See, Vermonters prefer connecting with people based on personality, and EliteSingles delivers. At the same time, most of the members are well-educated professionals. Some of the careers represented here included college professors, healthcare workers, and real estate professionals, making it ideal for Vermont singles looking for love.
If you want to partner up with a professional, create your free account on EliteSingles today.
---
3. Zoosk – Best App for Cuffing Season and Casual Dating with Standards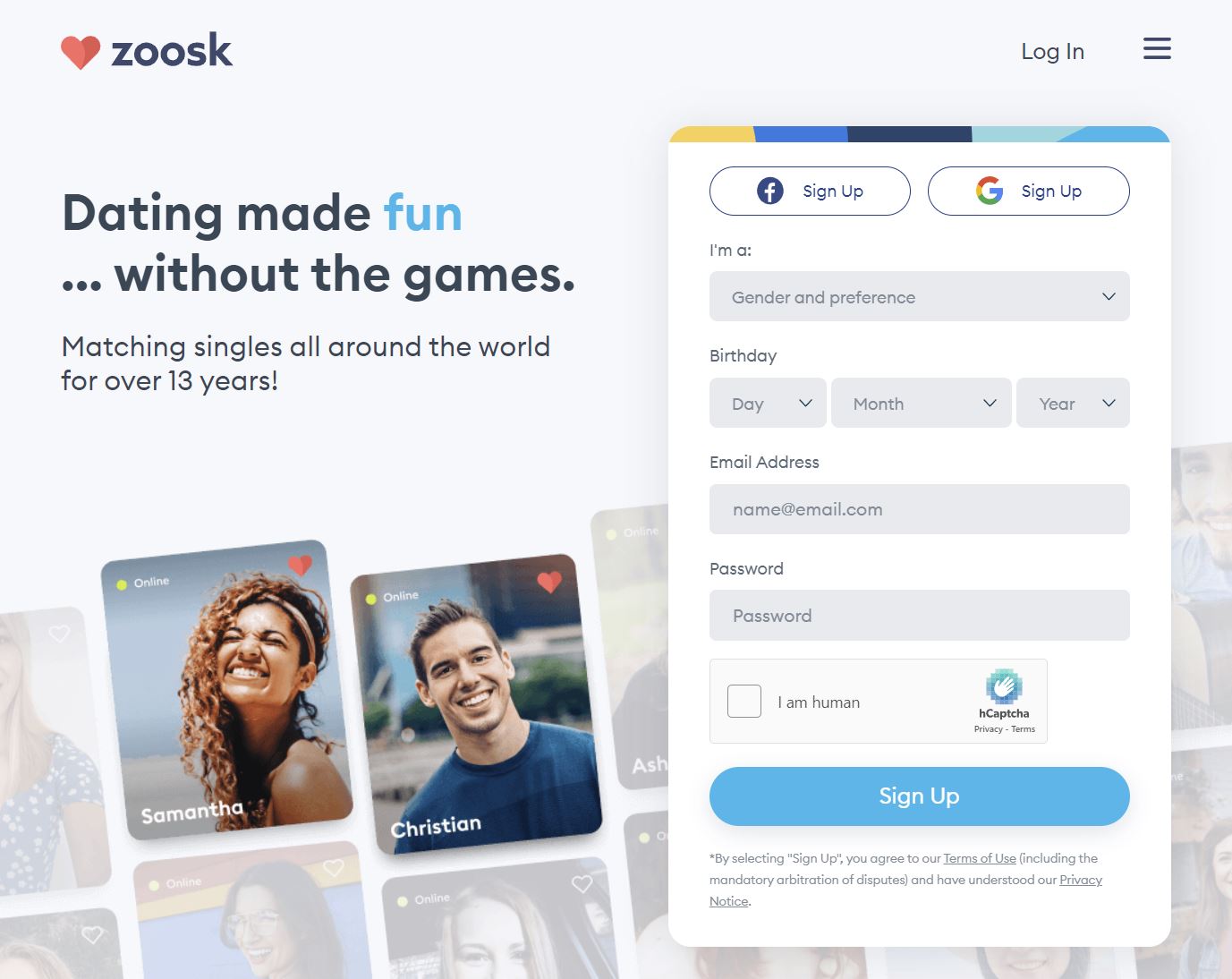 Who Will Love Zoosk: Casual daters who value personality when partnering with singles
Who Might Not Enjoy Zoosk: Vermonters looking for serious relationships
Biggest Pro: Behavioral matching algorithm helps people find what they're looking for in a short-term relationship
Biggest Con: Few options for people into serious dating
Starting Price: Premium memberships start at $10 a month
According to OkCupid (another causal dating app), around 32% of women in the United States are into casual dating. Nearly 36% of women in Vermont are, though, along with around 60% of men. That's a sign that casual dating is alive and well in Vermont, and not just for the more than 41,000 college students.
At the same time, casual dating consists of more than one-and-done flings in Vermont. Most casual daters want short-term partners they get along with, so meeting flings at bars doesn't work. And compatibility is especially important during Cuffing Season when Vermonters need partners they like enough to spend time with until it warms up.
Since personality is so important, lots of Vermonters are swiping left on Tinder. But what Vermont dating app is worthy of a right swipe? We've done our homework, and Zoosk is the clear winner.
For starters, Zoosk has more than 40 million members who are seeking everything from one-night stands to long-term relationships. Most of them are into casual dating, though, so you won't have any trouble finding someone looking for the same thing as you.
And more importantly, you'll actually be matched to members instead of just selecting people based on your location. Zoosk considers the info you give during signup, your preferences, and your interactions on the site to find matches.
Do you want to maintain your standards when dating casually? If so, head to Zoosk to set up a free profile today.
---
4. SilverSingles – Best for Increasing Your Options Later in Life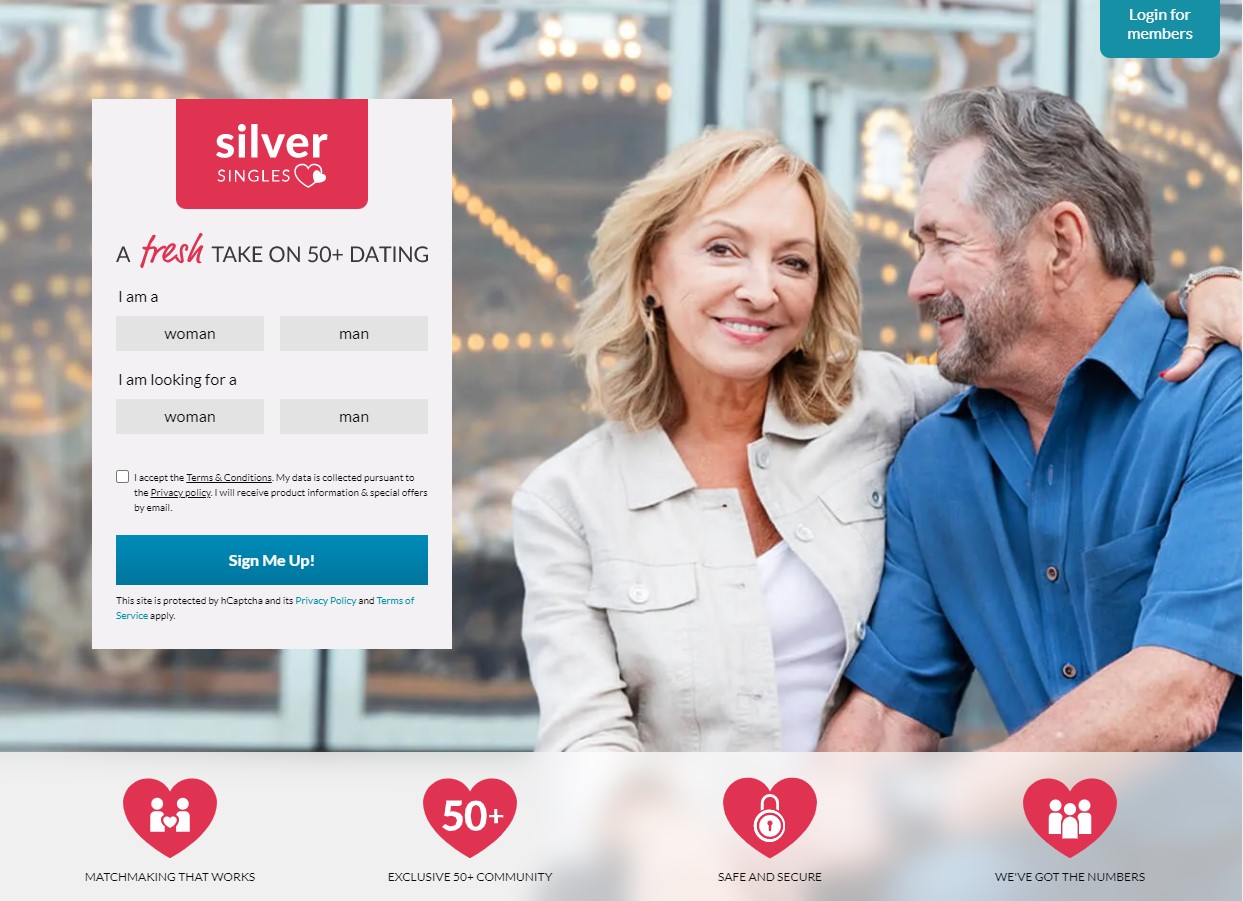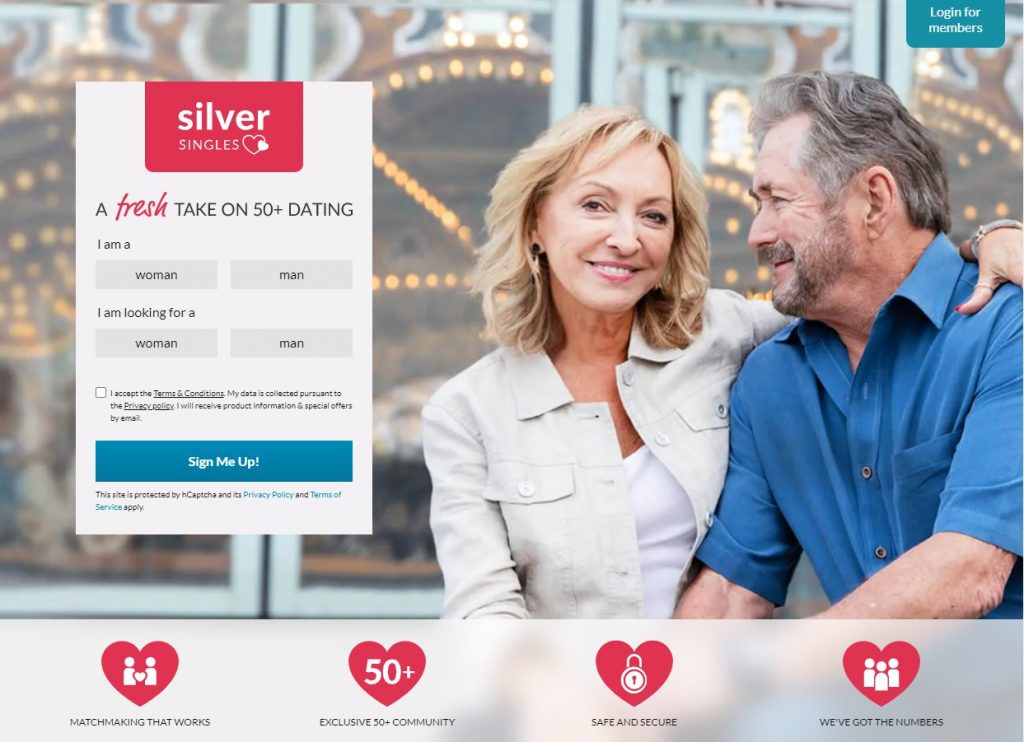 Who Will Love SilverSingles: Vermont Seniors who want compatible matches based on personality traits and personal preferences
Who Might Not Enjoy SilverSingles: Seniors looking for partners under 50 years old
Biggest Pro: Matching system leads to around 2,000 couples a month
Biggest Con: Mobile app is wonky, but the website works on mobile devices
Starting Price: Premium memberships start at $27.95 a month
If you're here, you probably know that Vermont's a smaller state. Granted, over 20% of the population is over the age of 65, but that high percentage of seniors only equals around 130,000 folks (And we're sure you know that lots of them are already taken). As a result it can be difficult for older Vermont singles to make meaningful connections later in life.
There are other problems as well. A lot of older Vermonters live in rural areas, cutting down their options even more. And while some of them have turned to one of the Vermont dating apps, they don't all have mobile devices. That means they need to find a Vermont online dating site that they can use on their computer.
We factored in all these issues when selecting a dating app, and all agreed that SilverSingles is the ideal fit for Vermont singles 50 and over.
While it has a mobile app, many prefer using SilverSingles on the web. Either way, you can connect with people 50 and over who live in Vermont (and other states). It's even a popular choice for seniors into international dating!
All of that's great, but here's why we really love SilverSingles…
We've heard far too many stories of seniors "settling for less" when meeting people in person, but that's not an option on SilverSingles. See, this mature Vermont dating site uses your preferences and the five-factor model of personality to find partners for you. It's so effective that the site helps create around 2,000 happy new couples a month.
Set up a free profile today to see why this is the best mature dating app for Vermont singles.
---
5. Higher Bond – Best for Increasing the Christian Dating Pool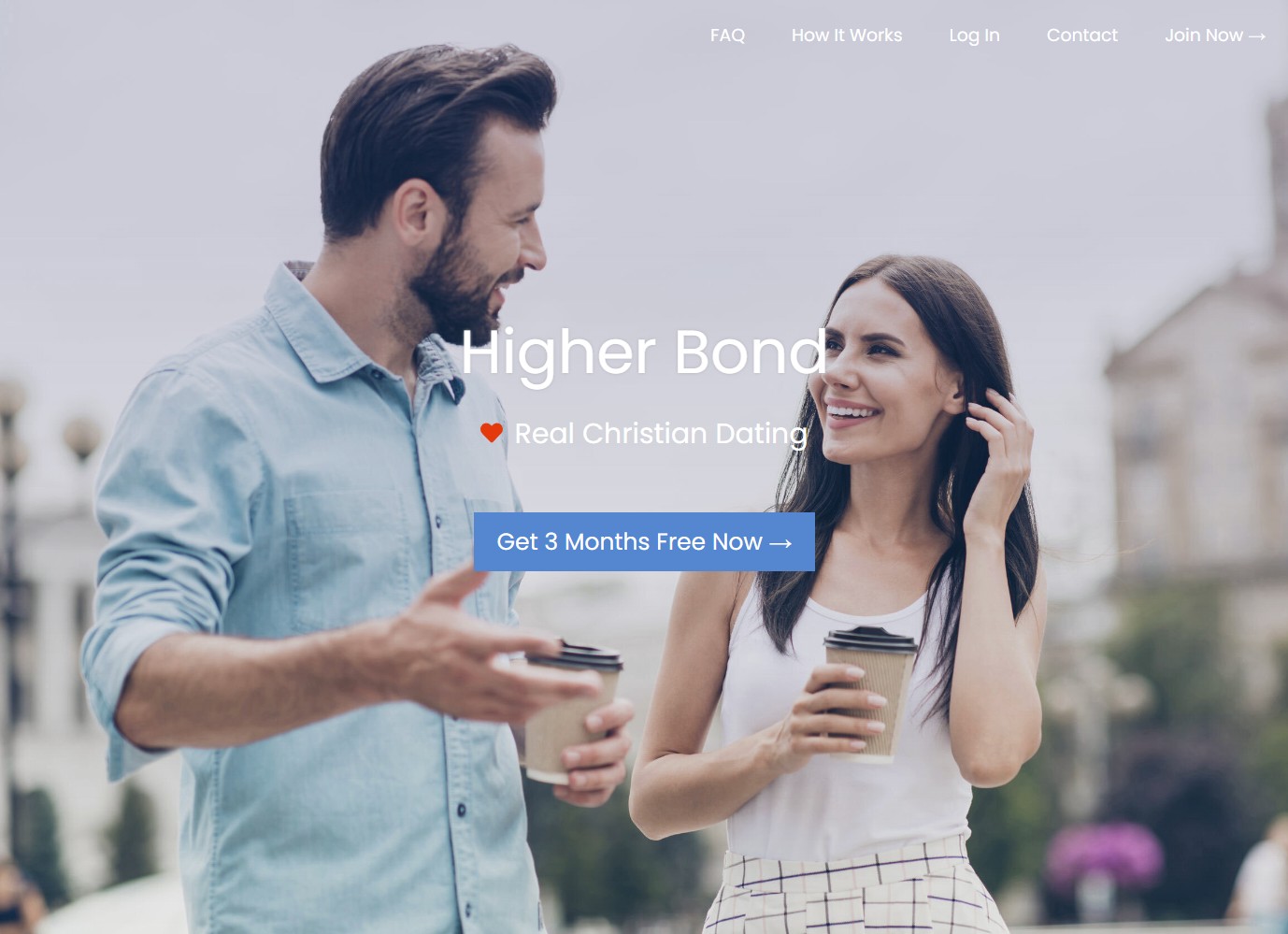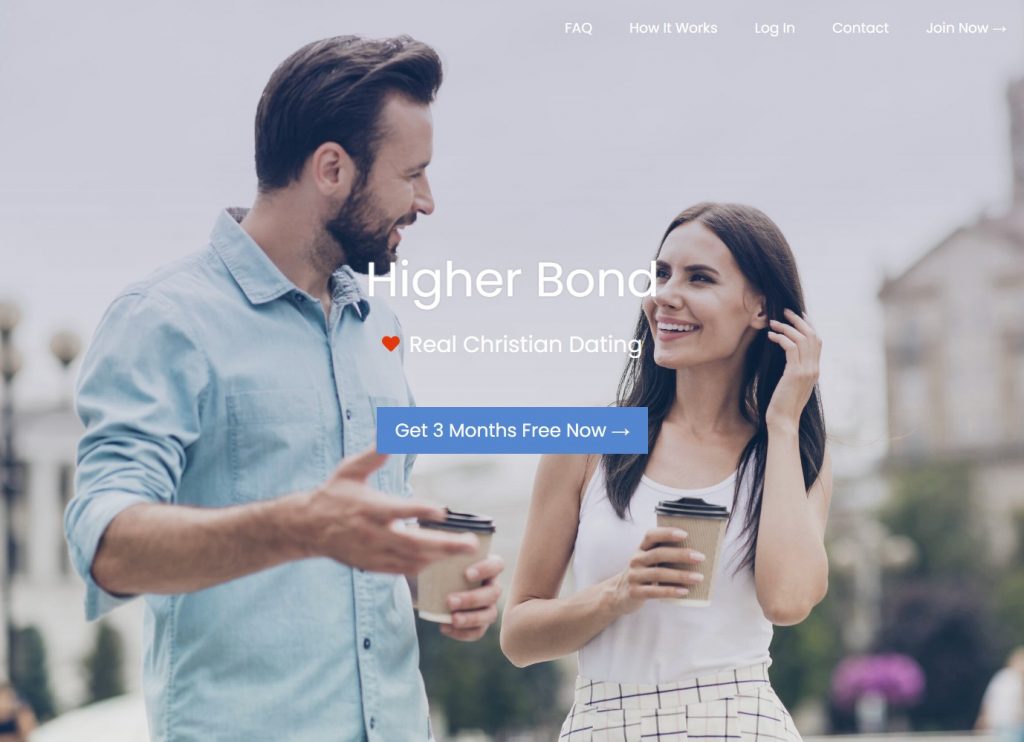 Who Will Love Higher Bond: Highly religious Christians seeking a faith-based modern dating environment
Who Might Not Enjoy Higher Bond: Non-believers and moderately religious Vermonters
Biggest Pro: Matches people based on faith, relationship style, and interests
Biggest Con: Doesn't have a mobile app, but members can access the mobile website on their devices
Starting Price: Premium memberships start at $14.95 a month (the first three months are free)
Being a Christian in Vermont isn't easy when it comes to dating. Just over half the population identifies as Christian, and only 34% are highly religious. On the other hand, 37% of Vermonters are "religious nones", meaning you're more likely to encounter an unaffiliated single than a highly religious one.
And then there's this…
Over 65% of the Christians here are already married, so the dating pool is more like a puddle. And considering that fewer than 35% of Vermont's Christians go to church every week, it's not like you're going to have your pick during worship service.
We know that's a lot of bad news, but we have some good news, too. You can find your ideal match on Higher Bond.
Just like Vermont, Higher Bond attracts Christians of all age groups and denominations. But that's not the only reason it fits so well into Vermont's Christian dating scene. It was made with Christian values and morals in mind. That means instead of mindless swiping, you'll get 3-5 matches a day, and you can choose one of those people to start a conversation with daily.
Since Higher Bond refreshes your matches daily, you'll increase your options on this Vermont Christian dating site. And while it's still new, we've heard that it's doing a fantastic job of helping people make genuine connections. See it in action by setting up your free account on Higher Bond today.

What's the Dating Scene in Vermont Really Like?
Cuffing Season is Big Here – Regular life comes to a halt when the snow comes down, and singles don't want to be left alone throughout the winter. That's why cuffing season's so hot here. Singles search for someone to ride out the winter with so they'll be all set when the snow falls.
Dates Can Get Active – With the fewest restaurants per capita, Vermonters have to step outside of the "dinner and a movie" box for date night. Many of them embrace the great outdoors and tackle fun activities like snowmobiling. If you love to get active, include that in your Vermont online dating profile.
Vermont Dating is Safe – Vermont has one of the lowest crime rates in the country, and that extends into the online dating environment. Still, it's a good idea to use safe dating apps for Vermont singles.
Young Singles Often Move – Researchers have found that young people in Vermont tend to move further from home than those in other states. This significantly lowers the dating pool. In fact, only 6.2% of the population is between the ages of 20-24. Fortunately, people can connect with singles in Vermont and other states by using dating sites.
It's Romantic – Maybe the cold weather increases the snuggle factor, but Vermonters are a romantic bunch. People even get romantic when using dating apps.
It's Hard for Flatlanders – Singles who relocated to Vermont from Connecticut, Massachusetts, or elsewhere aren't always welcomed into social circles. As hard as it is to make headway in person, we've heard of many "flatlanders" finding love on the best Vermont dating apps.

Dating in Burlington, Vermont
Best Burlington Dating Apps: EliteSingles and Zoosk
Burlington is Vermont's largest city by far, but it still has a small-town feel. It even manages to maintain that close-knit, tight community vibe when school is in session at the University of Vermont.
Even so, Burlington has the most active dating scene in Vermont, explaining why it attracts singles from other cities, too. Whether you're from Burlington or want to come here to date, it's important to understand the city's dating scene. Get the scoop and read our thoughts on the best Vermont dating sites for Burlington singles.
Lots of Singles Between 18-22 – This is a college town through and through, and there are a huge number of options between the ages of 18-22. Many people complain that once they get to their mid-20s, the options dry up. Fortunately, they've rejuvenated their social lives by hitting up VT dating sites.
College Bars are the Place for Hookups – Many people claim that the bars around UVM are hookup central. But while you can find someone to take home for the night, you'll be hard-pressed if you want meaningful connections.
Singles Want More than Good Looks – Personality is important to Burlington singles. However, there aren't many people in the area, so finding someone with a complementary personality isn't easy in person. It's much easier to find a true match on dating apps for singles in Vermont.
Burlington is home to lots of professionals, including those working at the University of Vermont. Many of them want to avoid college students when using Vermont dating sites, making EliteSingles the ideal pick. Since this site attracts professionals, you're unlikely to run into any college students here.
And that's why we need a second pick for college students. If you want to have some fun while finishing college, Zoosk is the dating site for you.
Population: 44,781
Men: 47.8%
Women: 52.2%
Never Married: 63.4%
Divorced: 8.2%
Widowed: 3.2%
Living in Same House as Last Year: 64.7%
White-Collar Employee: 87.4%
Blue-Collar Employees: 12.3%
Bachelor's Degree or Higher: 57%

---
Online Dating in "Small Town" Vermont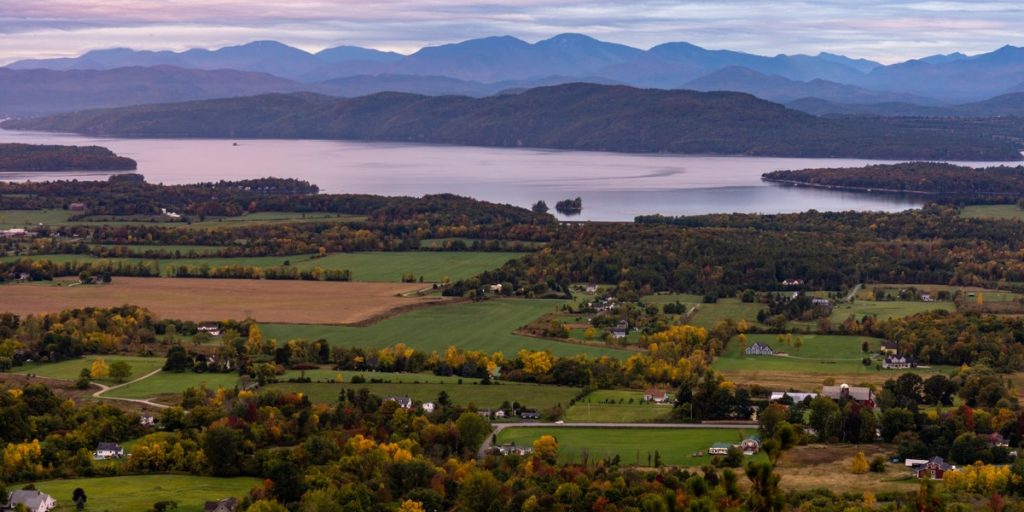 Considering that around two-thirds of Vermont's residents live in rural parts of the state, there's a good chance that you're looking for love in a small town. That creates some challenges that people living in Burlington, Essex, and other larger cities don't face, but we have you covered. Find out how to navigate the dating scene and learn which of the Vermont dating sites is the best for people living in small towns.
Vermont Online Dating is a Must – The chance of running into someone new that you want to date is pretty slim in small-town Vermont. Most singles in small towns say that online dating is necessary if they want to find dates.
Serious Dating is a Priority – A lot of singles living in small towns hope to find true love. You won't find as much casual dating here as you will in the larger cities.
Expanding Your Search Radius is Necessary – Because singles usually know everyone in their towns, they need to expand the search radius to find potential dates. Most expand it by a few miles and increase it more as needed.
The Population is Decreasing – A lot of folks are leaving small towns in favor of bigger cities in Vermont and other states. This makes it harder to find nearby singles, but guys and gals can connect with people on dating sites for singles in Vermont.
Singles Need to Be Patient About Responses on Dating Apps – Some small-town Vermonters have wonky phone reception, so it can take a little longer to respond to messages. Keep that in mind before sending a second message on dating apps.
With such an emphasis on finding true love, eHarmony is the best Vermont dating site for people living in small towns. Most people find their forever partners on eHarmony within a year, even those who live in less populated areas.
Small town Vermont is also home to younger people. For instance, almost ten percent of Fairfield's population is between the ages of 20-29. Zoosk is our pick for the younger crowd. That includes college students who travel to school and back home each year.
Non-metro Population: 404,576
Most Populated Small Towns: Fairfax, Rockingham, Georgia, Randolph, and Hinesburg
Least Populated Small Towns: Westford, Richford, East Montpelier, Putney, and Vergennes
Least Populated Counties: Caledonia, Essex, and Orleans


Vermont Online Dating FAQ
Where Do Singles Meet in Vermont?
Vermont singles use a lot of methods to meet people. Many of them volunteer or join clubs to meet other single people. For instance, ski and snowboard clubs are popular with the single crowd. These clubs give people a chance to engage in hobbies and make friends at the same time, but romantic connections rarely happen.
As with other states, singles here hit the bars to meet people, too. However, Vermont's bars don't attract as many singles as in other states, so this is often a dead end.
Instead, dating apps are the best way to meet singles in the Green Mountain State. Singles here have embraced online dating, and many of them have profiles on the top Vermont dating apps.
Can You Browse Vermont Dating Apps without a Profile?
You need to become a member before browsing profiles on the best Vermont dating sites. Some dating apps allow non-members to look at profiles, but we left those sites off our list. Allowing non-members to look at profiles creates a privacy concern. Also, those sites usually have poor matching algorithms and low-quality profiles.
Which Vermont Dating Site Has the Highest Success Rate?
eHarmony is regularly recognized for having the highest success rate of all the dating sites. A new couple forms on eHarmony every 14 minutes or so, and the site has helped more than two million people find love. It's also responsible for hundreds of marriages a day, and the divorce rate is well below the state average.
Grab an eHarmony free trial if you'd like to use the Vermont dating site with the highest success rate.