It's estimated that close to three million adults in Virginia are single. That stat might be hard to believe, but we promise that single folks are out there – and we're going to point you in the right direction.
Now, you don't need to put on your shoes and head out to find that special someone. These days, it's all about using the right dating apps. There are hundreds of options out there, but Virginians gravitate to a handful of them.
We'll dig into the details in a minute, but first, take a sneak peek at the five best Virginia dating apps.
Top Dating Apps for Virginia Singles:
---
While some folks use all five, that's not necessary. We're going to go over each one so you can select an option based on your relationship goals and dating style. And speaking of style, Virginia has a unique one when it comes to dating, and we'll cover that as well.
Let's start by looking at our five favorite Virginia dating sites. Then, you'll know which to choose based on your dating style.
Jump ahead to:
---
1. eHarmony – Best for Finding the Right Type of Partner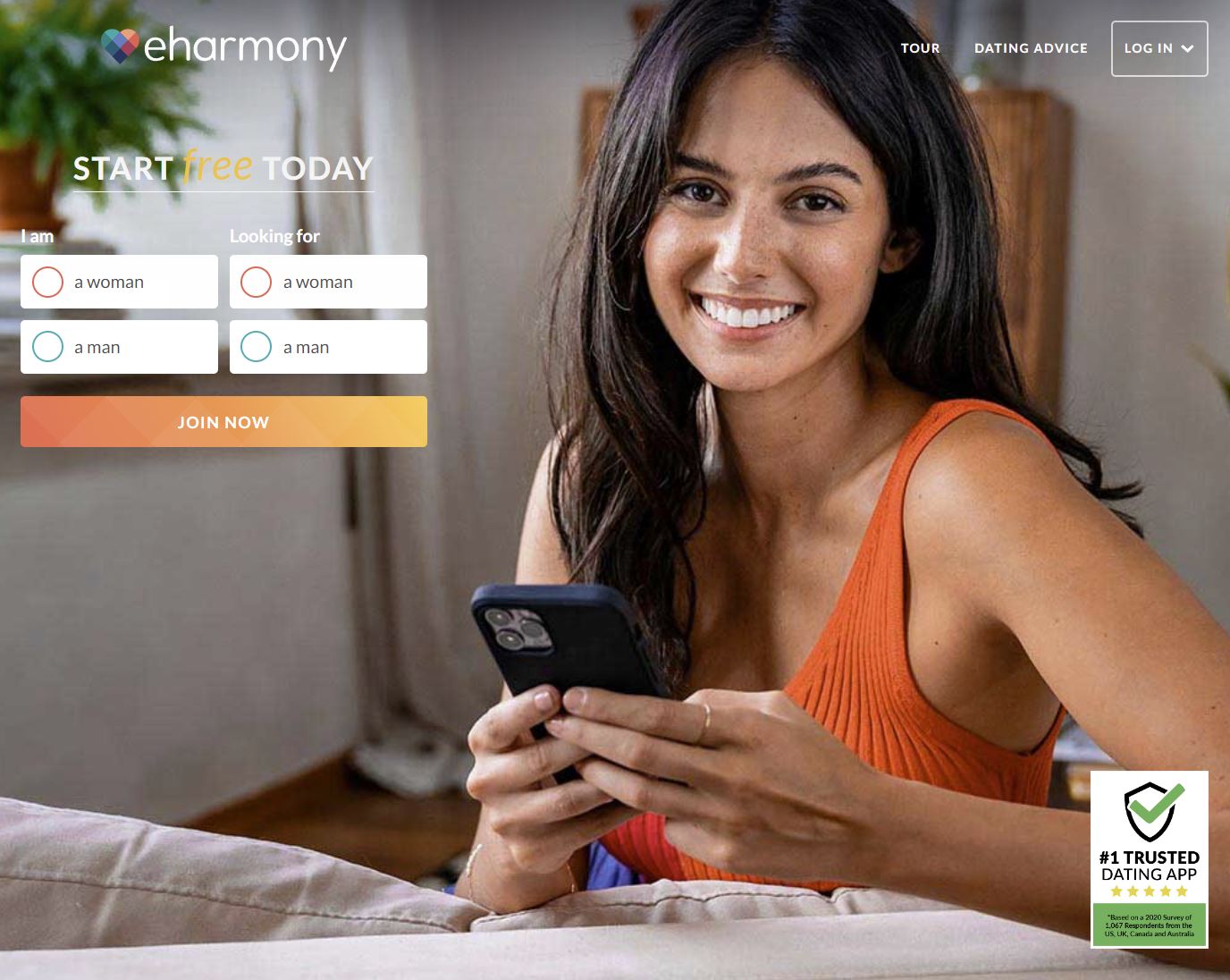 Who Will Love eHarmony: Singles who want to find compatible partners for long-term relationships or marriage
Who Might Not Enjoy eHarmony: Casual daters looking for short-term relationships
Biggest Pro: Questionnaire and matching algorithm are based on clinical psychology
Biggest Con: Few choices for people interested in short-term relationships
Starting Price: Premium memberships start at $17.95 a month
If you read much about relationships, you're probably familiar with E. Mavis Hetherington. The retired University of Virginia psychology professor is known for her research on marriage, divorce, and remarriage. Through her research, she identified the five types of marriages, including the type that's most likely to lead to divorce.
And that made us think about the role psychology plays in relationships.
See, psychologists know all about the traits that make relationships succeed and fail. But it's not like you want to bring every first date to a therapist to see if you click. That'd come off as a little weird and needy, and we don't recommend it.
Instead, we recommend using eHarmony to find your ideal partner.
Clinical psychologist Neil Clark Warren co-founded the dating site. And he didn't just throw it up there and let couples find each other. Nope, he helped create a questionnaire and matching system that pairs people up based on the psychological traits they bring to relationships.
Are you tired of dating the wrong people and want your next relationship to last? Head over to eHarmony to set up a free account today.
---
2. Higher Bond – Best for Keeping the Faith and Love Alive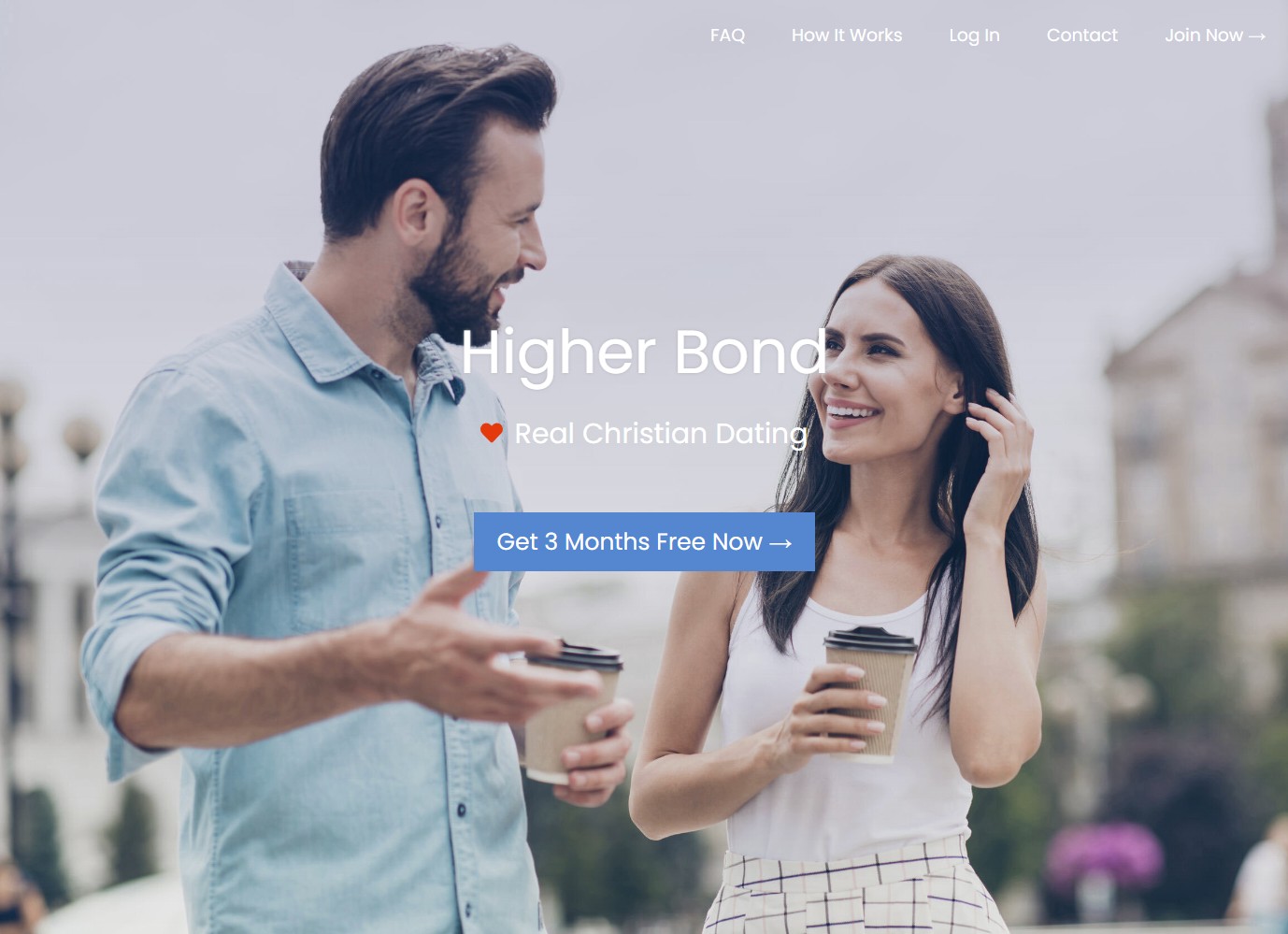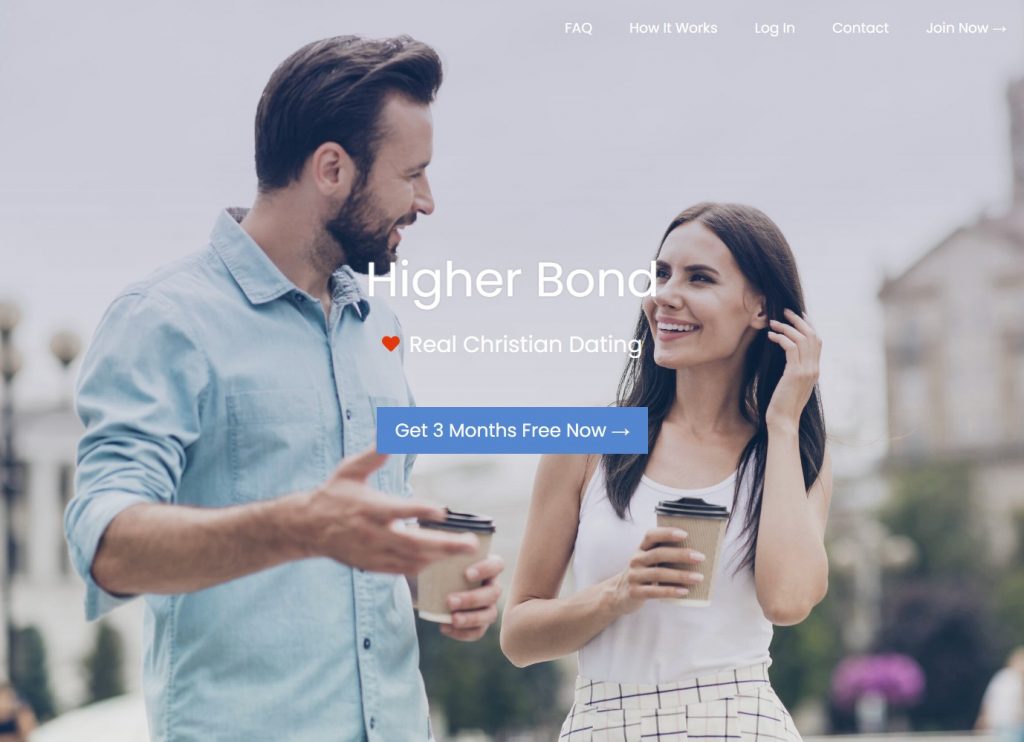 Who Will Love Higher Bond: Christians looking for someone who shares their faith and interests
Who Might Not Enjoy Higher Bond: Secular singles and casual daters
Biggest Pro: Limits matches and conversations so singles can focus on forming connections
Biggest Con: Still building a membership base
Starting Price: First three months free
Did you know that only 13 states are considered more religious than Virginia? Almost three-fourths of the residents are Christians, and over 60% are "highly religious."
But Christian dating in Virginia is a little complicated.
Almost 45% of Virginia's religious adults attend church weekly, but close to 60% of the people sitting in the pews are women. The skewed gender ratio makes it pretty hard to land a date in church. And without church, you have to hope that you meet someone who shares your views when you're out and about.
Actually, you can stop hoping and make it happen by using Higher Bond. This Christian dating site hit the scene in 2022 and has already accumulated a large membership base.
Now, we know it's far from the only dating site for Christians, but it does something better than others. It emphasizes the quality of connections instead of the number of profiles. It uses your info to match you with 3-5 people a day, and you'll get a new set of matches daily. Plus, it limits new conversations to one a day, so you won't drop a quick line only to ghost people.
Whether you go to church or stay home on Sundays, you can strike up a faith-filled relationship on Higher Bond. And if you act now, you'll get your first three months for free, so set up your account on Higher Bond today.
---
3. EliteSingles – Best for Busy Professionals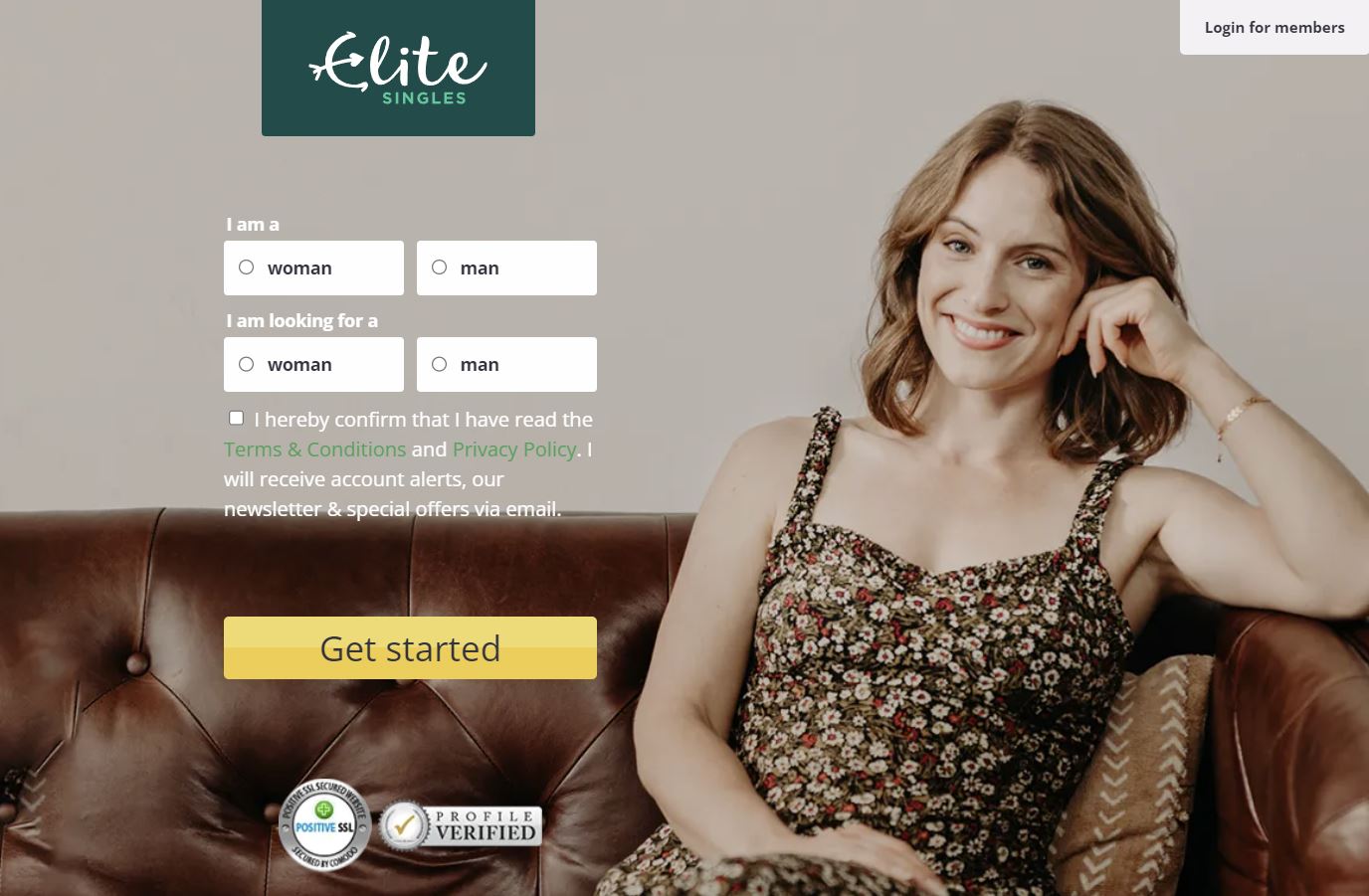 Who Will Love EliteSingles: Busy professionals who want to find a special someone
Who Might Not Enjoy EliteSingles: Singles not interested in careers or serious relationships
Biggest Pro: Uses Five Factor Model theory to match professionals
Biggest Con: Few features for free members
Starting Price: Premium memberships start at $27.95 a month
Did you know that Virginia is one of the most educated states and one of the best places to do business? No wonder the state attracts so many talented professionals to fill roles in agriculture, aerospace, mining, and other key industries.
A lot of the high earners live in Northern Virginia, although you'll also come across folks earning enviable paychecks in Roanoke, Richmond, and other areas.
While professionals live throughout the state, they have something in common: the desire to partner up with someone who's on their level. If you're career-oriented, you likely get this need. It's the key to ensuring your partner doesn't hold you back – or stick around because of your money and status.
Most dating apps have a mix of people, but EliteSingles is different. The niche dating app is geared toward educated professionals who take their careers seriously. Plus, most want serious relationships, so you can find your special someone here.
We know you're busy with your career, but EliteSingles is a breeze to use. You can connect with people without letting your career suffer, so set up a free account today.
---
4. SilverSingles – Best for Single Seniors Looking for "The One"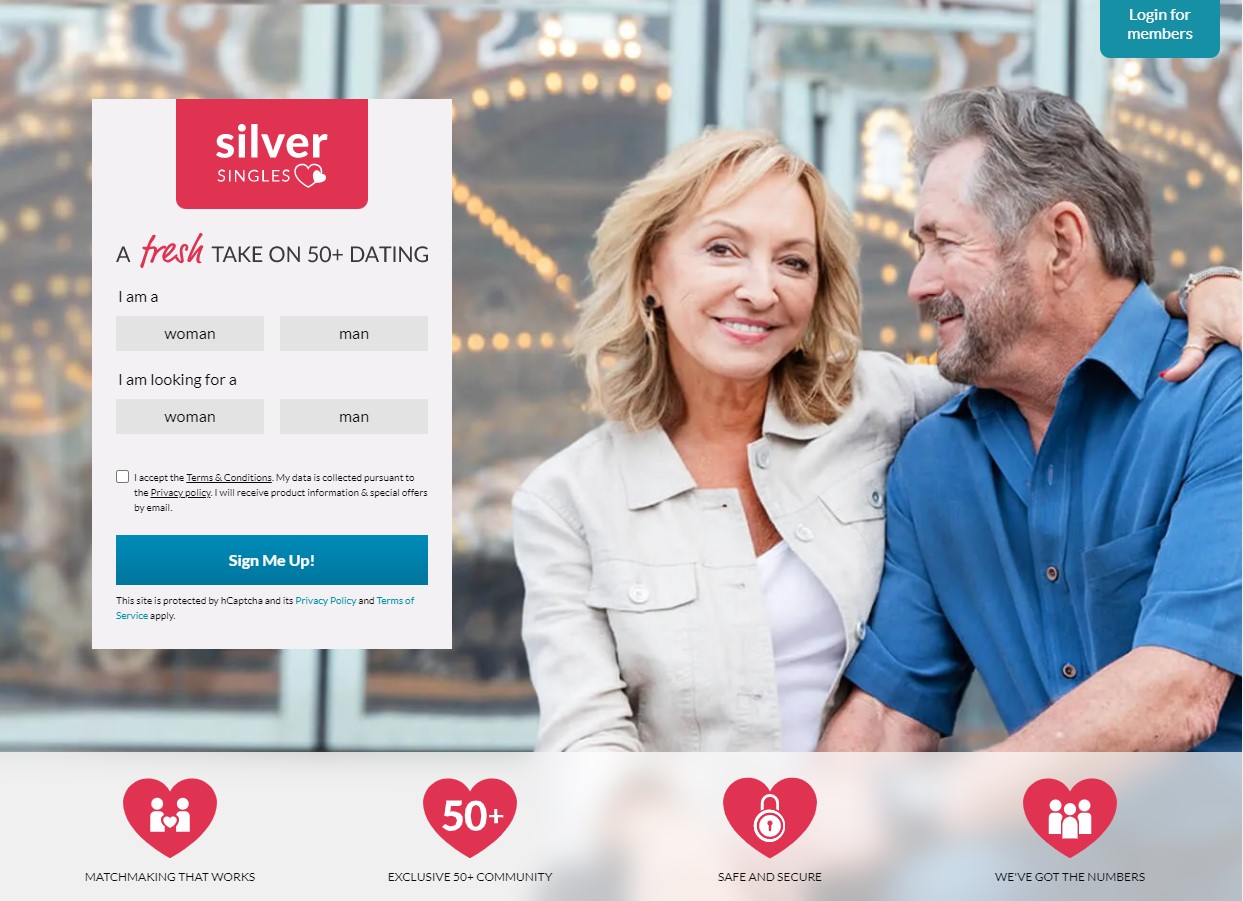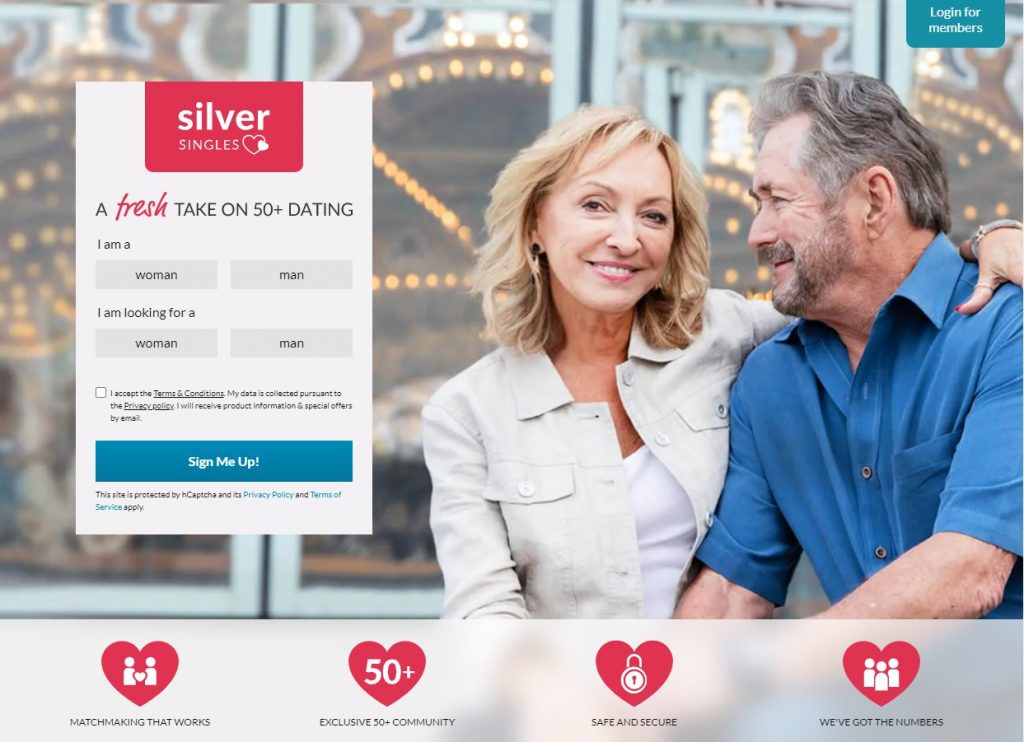 Who Will Love Silver Singles: Seniors looking for love and companionship
Who Might Not Enjoy Silver Singles: Seniors who prefer dating younger folks
Biggest Pro: Exclusively open to singles 50 and older
Biggest Con: Need to pay to unlock most features
Starting Price: Premium memberships start at $14.95 a month
Virginia's aging population is growing. Right now, close to three million Virginians are 50 or over, but just around 12% are single. That means your options are more limited now than they were when you were younger.
But that's what's so great about online dating. You can open yourself up to more single folks ever, so you won't have to settle on someone just because they're available. Instead, you can pair up with a compatible partner and experience true love.
But we're getting ahead of ourselves. First, you have to choose a dating app, and SilverSingles is the ideal choice.
You'll start by taking a personality test based on the Five Factor Model theory. It's similar to the test on EliteSingles and does a fantastic job of matching compatible people. And from what we've found, sparks tend to fly when there's compatibility involved.
Are you ready to expand your options and find true love? Create your free account on SilverSingles today.
---
5. Zoosk – Best for Unlocking Millions of Casual Dating Options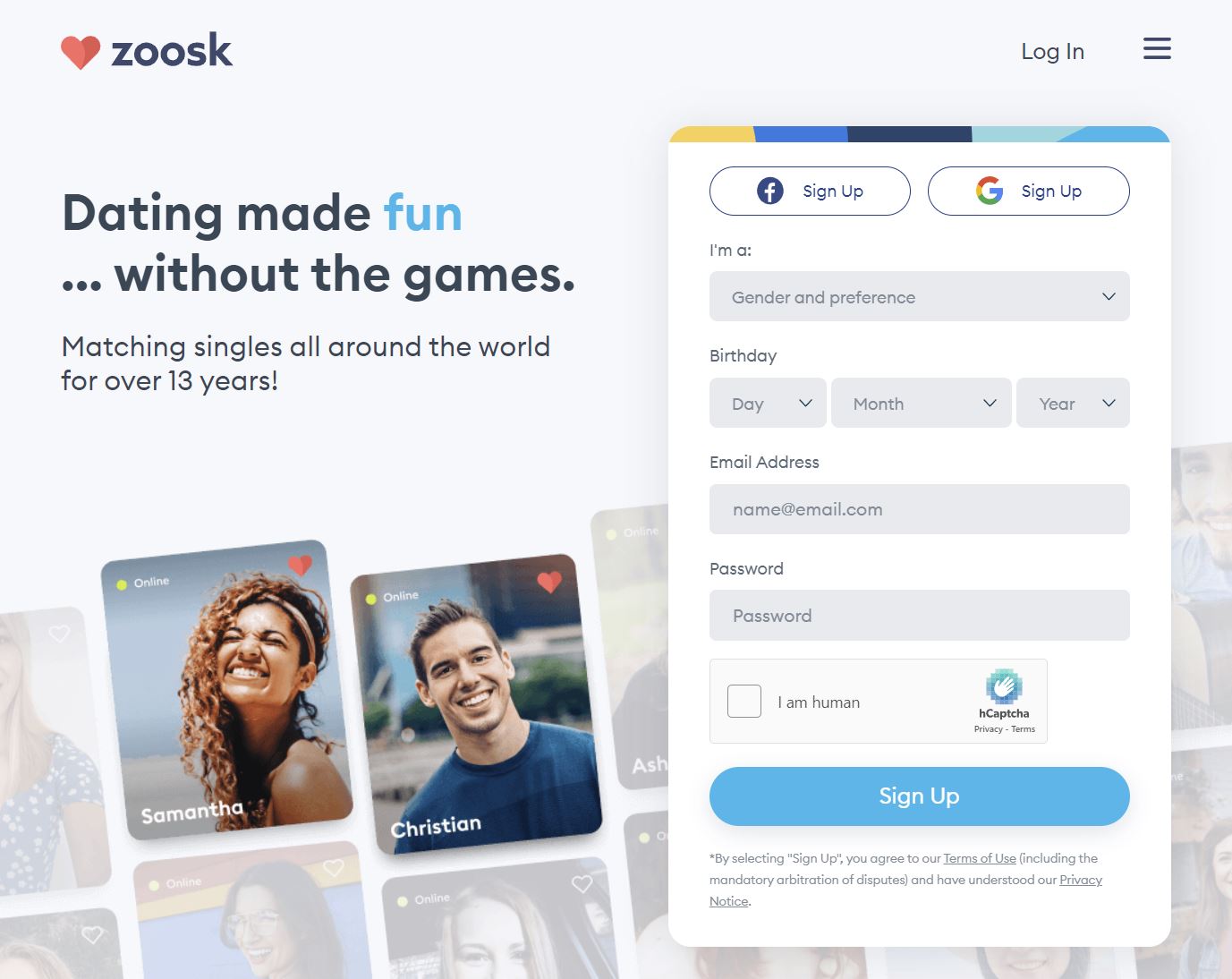 Who Will Love Zoosk: Singles interested in casual and short-term relationships
Who Might Not Enjoy Zoosk: People looking for serious relationships
Biggest Pro: More than 40 million members in Virginia and around the world
Biggest Con: Some features cost extra
Starting Price: Premium memberships start at $8.33 a month
From college campuses to touristy beaches, casual dating is a popular pastime in Virginia. According to OkCupid, over 28% of women and 60% of men in Virginia are down for casual fun. Sometimes, that fun lasts for a night; other times, it keeps going until the flame burns out.
But let's be honest for a second.
Finding new people to date can be exhausting. If you try to find singles in the wild, your days will be filled with going to bars, hitting up concerts, and trolling college campuses. By the time you meet someone, you might be too tired to make some magic.
Well, you can rest up and keep the magic alive by using Zoosk.
Casual dating is a number's game, and Zoosk excels in that department. Most of the dating app's 40 million plus members are seeking casual or short-term relationships, so you won't have any trouble finding some fun.
And here's another reason this is one of the best Virginia dating apps…
Interest in Zoosk is increasing in Virginia, meaning more folks are downloading it and looking for someone to date. And while it's most popular in Roanoke-Lynchburg, Norfolk-Portsmouth-Newport News, and Richmond-Petersburg, you can find members around the state or the globe.
With so many members, you have a lot of profiles to check out, so get started today. Set up a free account on Zoosk so you can start matching and interacting with singles.

What is the Dating Scene in Virginia Really Like?
Beware of the "Great Potomac Divide" – Crossing the Potomac River might be easy, but it's an impossible barrier in the dating world. We've heard about Virginia singles getting ghosted after DC folks find out they live across the river. We aren't saying you can't try to connect with people in DC but be upfront about your location just in case the divide is too great to cross.
The Odds are In Your Favor – This might be hard to believe if you're single, but Virginia is a great place to find casual romance and long-term love. WalletHub lists it as the tenth best state for singles due to its dating opportunities, dating economics, and options for romance and fun.
Outdoor Adventures Make Great Dates – Netflix and chill? Not in Virginia. Singles here tend to love the great outdoors and enjoy adventurous dates. From kayaking to mountain climbing, you never know where the day – or your date – might take you.
Guys and Gals are On Equal Footing – While most of the southeast believes in defined, traditional gender roles, Virginia's bucked that trend. Researchers discovered that it's one of the least sexist states in the entire United States, so equality is a real thing here. Keep that in mind when going on dates, so you don't make any outdated faux pas with your match.
Online Dating is on the Rise – Don't worry if picking people up in person isn't your thing. Online dating is trending up in the Commonwealth, so you can make your move behind a computer or phone screen.

Dating in Northern Virginia
Our Dating App Recommendation: EliteSingles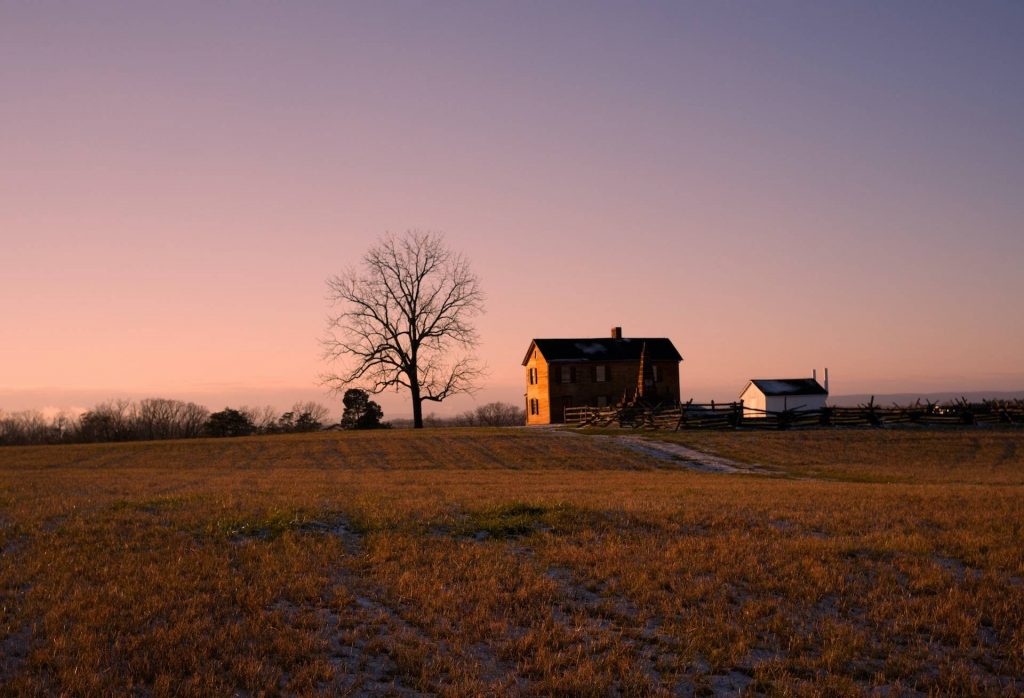 Northern Virginia is a bustling place, with many folks holding down high-powered jobs. Most people here have figured out how to succeed at work, but the same can't be said about dating. You can come out on top by learning a bit about Northern Virginia's dating scene.
Careers Come Before Dating: Northern Virginia is full of highly educated professionals who are motivated to move up the career ladder. Because it's a work-first region, many folks have trouble finding time for dating. Fortunately, online dating apps allow busy professionals to find time for love without sacrificing work.
It Can Get Political: With so many government employees in the region, politics have a way of seeping into relationships. Check out our study on dating and politics to find out how this will impact you.
Singles are Open to Meeting Others: Many people move to Northern Virginia for work and don't know many people. They're open to expanding their social circles, so they're more open than people in some parts of the state. Even so, busy work schedules make it hard to find people out and about, explaining why online dating is so popular here.
Commuting Isn't a Problem: People in Northern Virginia are used to commuting to work, and many are open to doing the same for dating. Because of that, singles can expand the distance radius when searching for love on a Virginia dating app.
The DC Metro Area is Hopping with Singles: Singles that want the most options can look in the DC Metro area when using dating apps. Around 70% of adults here are single, so there's no shortage of choices here. Just don't forget about the Great Potomac Divide if you do this.
Long work hours and career aspirations are common themes in Northern Virginia, making EliteSingles the best dating app for this area. The app is easy to use and helps you connect with other professionals while maintaining your busy work schedule.
Fairfax
Population: 23,312
Men: 48.79%
Women: 51.21%
Median Age: 38
White-Collar: 89.89%
Blue-Collar: 10.11%
Government Workers: 20.95%
Median Household Income: $109,708
Unmarried: 43.45%
Alexandria
Population: 158,309
Men: 48.17%
Women: 51.83%
Median Age: 36.8
White-Collar: 88.87%
Blue-Collar: 11.13%
Government Workers: 25.54%
Median Household Income: $102,227
Unmarried: 54.14%
Falls Church
Population: 14,309
Men: 48.18%
Women: 51.82%
Median Age: 39.2
White-Collar: 95.51%
Blue-Collar: 4.49%
Government Workers: 25.74%
Median Household Income: $146,922
Unmarried: 45.58%
Manassas
Population: 41,038
Men: 50.43%
Women: 49.57%
Median Age: 34.7
White-Collar: 76.13%
Blue-Collar: 23.87%
Government Workers: 16.37%
Median Household Income: $86,227
Unmarried: 48.27%
Manassas Park
Population: 17,548
Men: 51.82%
Women: 48.18%
Median Age: 35.3
White-Collar: 75.54%
Blue-Collar: 24.46%
Government Workers: 16.23%
Median Household Income: $81,639
Unmarried: 49.46%
---
Dating Near the Beach
Our Dating App Recommendation: Zoosk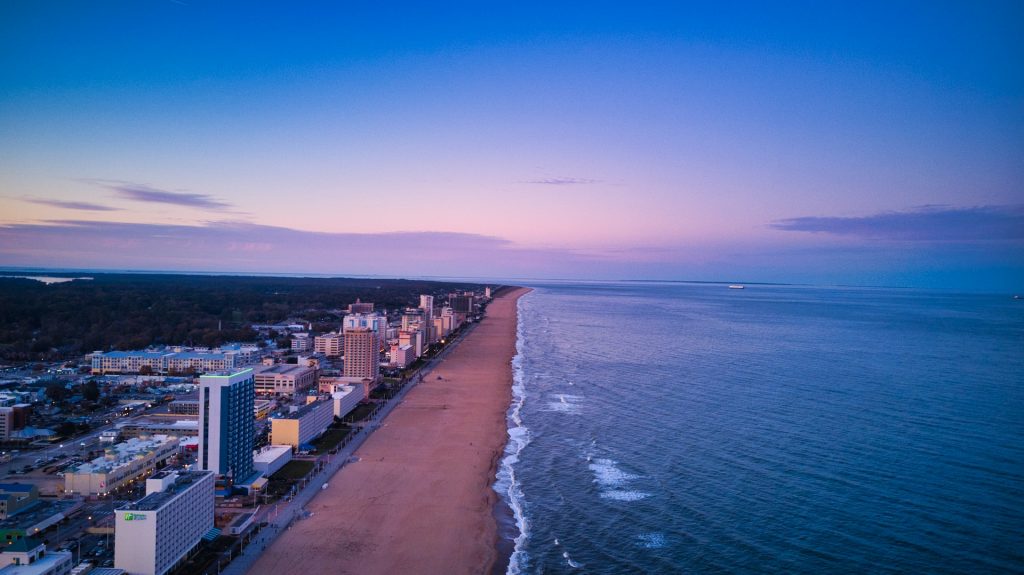 Many people have dreams of living in a beach town. If you're one of the lucky ones living the dream, we have to admit that we're a little envious. We imagine you spending your days lounging on the sand and enjoying the surf, and that sounds amazing.
But while your days are full of sunshine, your dating life might look a little cloudy. Get some details on dating near the beach so you'll be ready to find your plus one.
Casual Dating is King: Many of the single men and women in beach towns prefer to keep things casual, at least at first. Some date locals, while others wait for tourists to drop in and have some fun. Virginia dating sites help locals connect with other residents and tourists, so singles don't have any trouble dating casually.
The Dating Pool is Constantly Changing: Between military personnel and tourists, the dating pool in beach towns gets restocked regularly. And this fits right in with the casual dating vibe you'll find in these areas.
Dating Goes Beyond the Beach: While some people look for dates on the beach, others hit the bar scene and engage in hobbies with the hopes of meeting someone. These methods are ideal for making friends, but singles complain about coming up short when trying to land dates. That's caused many to turn to dating apps.
With its robust casual dating scene, Zoosk is the best choice for dating near the beach. It's also a top choice for military members, so you can't go wrong when using Zoosk.
Virginia Beach
Population: 450,882
Men: 49.13%
Women: 50.87%
Median Age: 36.4
Active Duty Military: 89,604
Average Number of Tourists Per Year: 7.1 million

Dating in the Shenandoah Valley Region
Our Dating App Recommendation: Higher Bond
The Shenandoah Valley Region is among the most picturesque places in Virginia. If you live here, you might be used to the area's beauty – but the dating scene remains a mystery. Get the details on dating in Harrisonburg, Winchester, and the rest of the Shenandoah Valley Region.
Friend Groups are Tight: While social meetups don't bring in large crowds, people can build friend groups through work, church, and the bar scene. Also, some singles volunteer to assist with city events. Many singles report that building a solid friend group is relatively easy, but dating is much more challenging.
Commuting Might be Necessary: It doesn't take long to get to know all the people in your area when you live in this region. Many singles end up finding partners in nearby locations and then commute for dates. You can easily change the distance radius on a Virginia dating app if you'd like to see some fresh faces.
Religion is a Priority: There's a reason that so many folks meet in church in the Shenandoah Valley Region. Religion is a priority for many people here, including the farmers.
It's Hard for Some People to Find Time to Date: This region is full of farmland, and farmers often put in long hours. That makes it hard to find time to hit up the social scene. Fortunately, farmers and other busy people can use dating apps to connect in their free time.
With so many people in the region focused on religion and serious relationships, Higher Bond is our pick for the best dating site. You can find someone who shares your faith and is interested in a serious relationship on this dating app.
Harrisonburg
Population: 53,558
Men: 48.57%
Women: 51.43%
Median Age: 25.8
Unmarried: 68.41%
Winchester
Population: 27,912
Men: 48.88%
Women: 51.12%
Median Age: 37.3
Unmarried: 58.24%

---
Virginia Online Dating FAQ
What's the Best Dating App in Central Virginia?
Singles in Richmond and other Central VA cities tend to seek out serious relationships. We recommend eHarmony for singles in this region.
What's the Best Dating App for VA College Students?
Zoosk is our favorite dating app for college students. The casual dating app makes it easy for students to connect with others.
Can I Use Reddit to Find Dates in Virginia?
Some singles use Reddit to set up dates, but we don't recommend it. Users aren't verified, so you can get scammed or harmed. Instead, use a dating app that verifies profiles to keep yourself safe.