These days, it seems like everyone's weighing in on how hard dating is in Wyoming. Even WalletHub had a say, ranking Wyoming as the 4th worst state for singles. We admit that the in-person dating scene is dead, but things are heating up online.
We've heard one success story after the next from Wyoming couples who met on dating sites. And it's not just from people in casual relationships. Even serious daters are getting excellent results on dating sites for Wyoming singles.
But here's the thing about dating apps – they aren't all the same, and they don't all provide the same results. Fortunately, you can bypass the duds and head straight toward romance by using one of the best Wyoming dating apps from our list.
Top 4 Dating Apps in Wyoming (2023)
---
First, we're going to help you choose the right app for your relationship goals and dating style. After that, we'll cover the state's singles' scene, including dating in Cheyenne and Jackson.
Whether you want something casual or serious, we have you covered. Let's dive into the details so you'll be ready to rope a date in no time.
Jump to:
---
1. eHarmony – Best for Getting Hitched to Your Soul Mate
Who Will Love eHarmony: Wyomingites searching for their soul mates
Who Might Not Enjoy eHarmony: Singles interested in casual dating
Biggest Pro: Most couples who meet here last for the long run
Biggest Con: Pricier than other Wyoming dating sites, but it also provides the best results
Starting Price: Premium memberships start at $35.90 a month
Wyoming's dating scene can be a little frightening if you want to get married – or even commit to someone beyond a few dates. For starters, over 54% of the population is already married. Add in the people who are in serious relationships, and it can feel like slim pickings on the marriage front.
But it's not just about the lack of options. You also might be a little scared off because Wyoming has one of the highest divorce and re-marriage rates in the country. The Cowboy State even led the nation in divorce in 2020.
As frightening as that is, the odds of a successful relationship will be in your favor when you use eHarmony.
eHarmony stands out as the best Wyoming dating app for numerous reasons. First, there's the psychology-based matching algorithm that considers 32 Dimensions of Compatibility when matching people.
Plus, we can't forget about the success rate. This dating site leads to hundreds of marriages a day, and over 500,000 couples have tied the knot after meeting here. Research on those marriages shows that eHarmony's divorce rate is much lower than the rate in Wyoming and the rest of the country.
You deserve to pursue love without fear, so head to eHarmony to create a free account today.
---
2. Zoosk – Best for Increasing Your Options for Casual Dating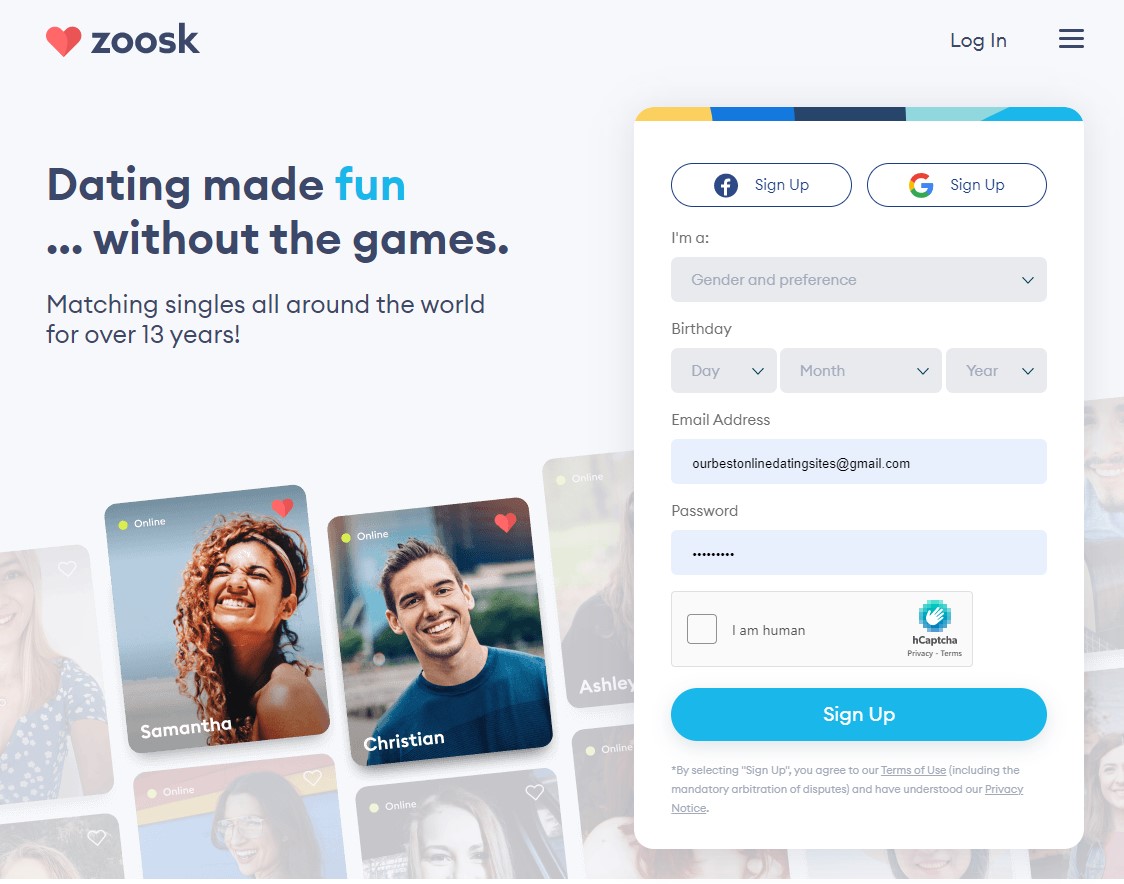 Who Will Love Zoosk: Casual daters who want more options
Who Might Not Enjoy Zoosk: Marriage-minded singles and serious daters
Biggest Pro: Large, diverse membership base
Biggest Con: Some members don't spend time completing their profiles
Starting Price: Premium memberships start at $10 a month
We've heard the same complaint over and over when researching Wyoming's dating scene: Finding casual partners close to home is impossible. Seriously, you can cycle through the entire dating pool in an instant. Then, you have to either step out of the dating game or decide to get serious, even if you're not ready.
Now, getting into a serious relationship when you want to stay casual is a one-way ticket to an uncomfortable breakup. Fortunately, you can avoid discomfort and embrace your casual side on Zoosk.
Your hometown might not have many people, but the same isn't true for Zoosk. With more than 40 million members, the casual dating pool is so large that you'll never run out of options on this Wyoming dating site.
And it's not just about stocking the dating pool. Zoosk uses adaptive SmartPick technology to learn about its members. You just need to like or pass on profiles for it to learn what you want. Then, it'll make on-point recommendations so you can form connections.
Oh, and we have to talk about Great Dates, too…
So, long-distance dating is common in Wyoming, so you might need to expand your search radius a bit to find a match. That means it could take a few weeks before you see each other in person, but you don't have to wait to find out if there's a spark. You can go on virtual dates (Great Dates) on Zoosk with your match to test the waters before meeting in person.
You don't have to give up on casual dating just because you live in Wyoming. Dive right into the casual dating scene by creating a free account on Zoosk.
---
3. SilverSingles – Best for Seniors Who Want a Stocked Dating Pool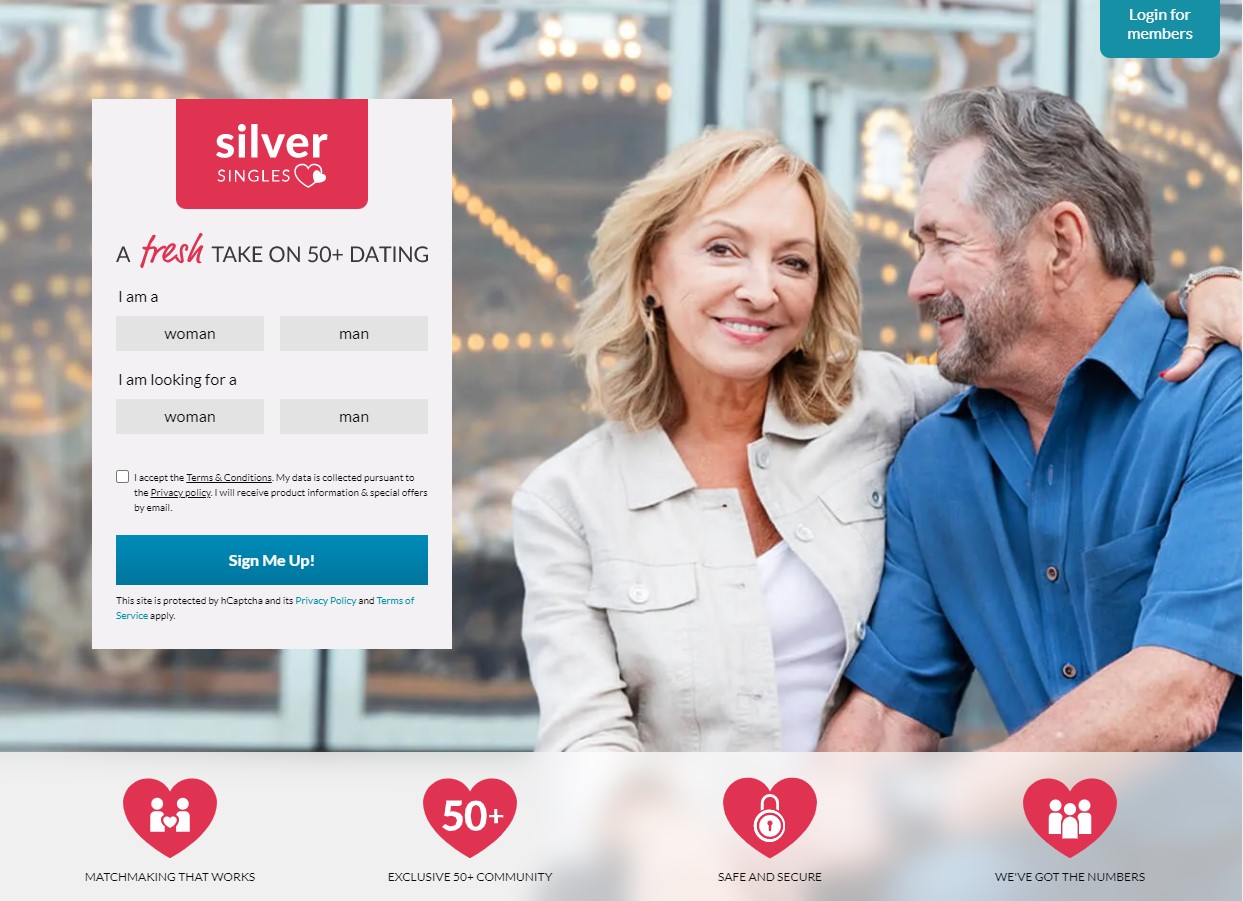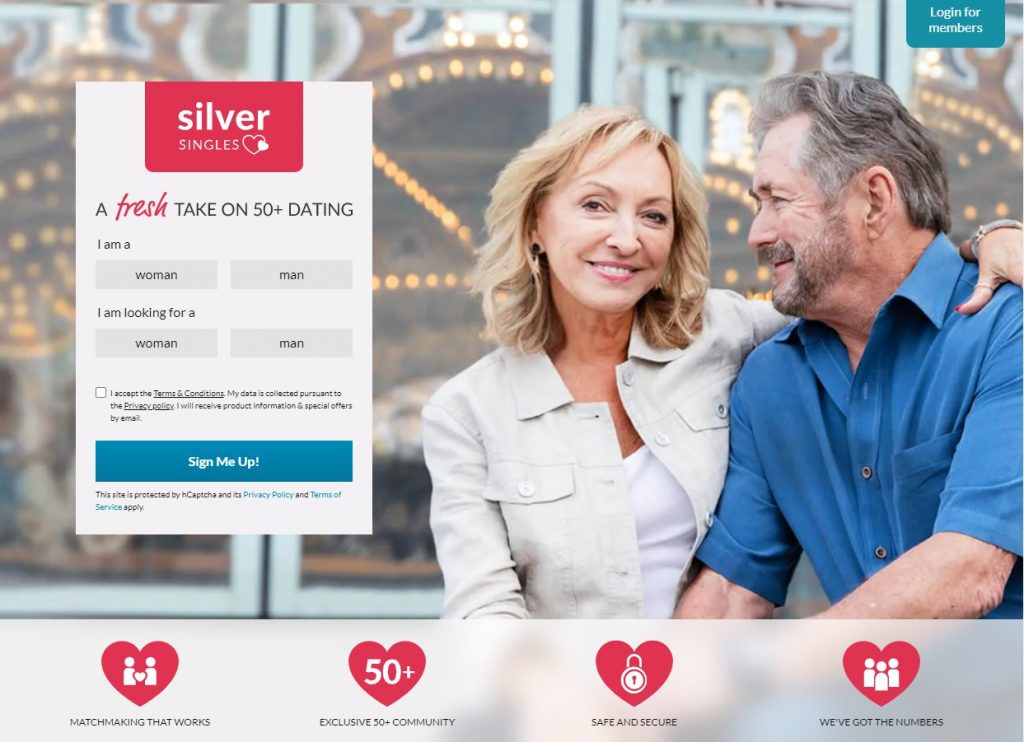 Who Will Love SilverSingles: Seniors who want a large dating pool of available singles
Who Might Not Enjoy Silver Singles: Seniors who prefer dating younger men or women
Biggest Pro: Exclusively open to singles 50 and over
Biggest Con: Photos are blurred unless you pay for a membership
Starting Price: Premium memberships start at $27.95 a month
You're in good company if you're growing older in Wyoming. Thirty-three percent of the population is 50 and older, breaking down to over 187,000 folks. Even better, 12% of people 50 and over are single, according to The Senior List. That's a 6% increase over the last handful of years.
Wyoming's the least populated state, though, so that still isn't a ton of people. And when you consider that seniors are spread throughout the state, you probably won't find your match while engaging in hobbies or hanging out at a senior center.
Fortunately, we have a fast and easy solution. You can click your way into a relationship on SilverSingles.
This Wyoming dating site for seniors is also open to people in other states and countries. Over one million people use the site, so you won't have any trouble finding a match.
And don't worry about a difficult interface holding you back. It really doesn't get any easier than SilverSingles. You just need to answer some questions when signing up, and it'll send matches your way. It uses the five-factor model of personality and your preferences to find matches, so they're on-point, too.
Are you ready to find love later in life? Get started by setting up a free account on SilverSingles.
---
4. Higher Bond – Best for Finding a Devout Christian Partner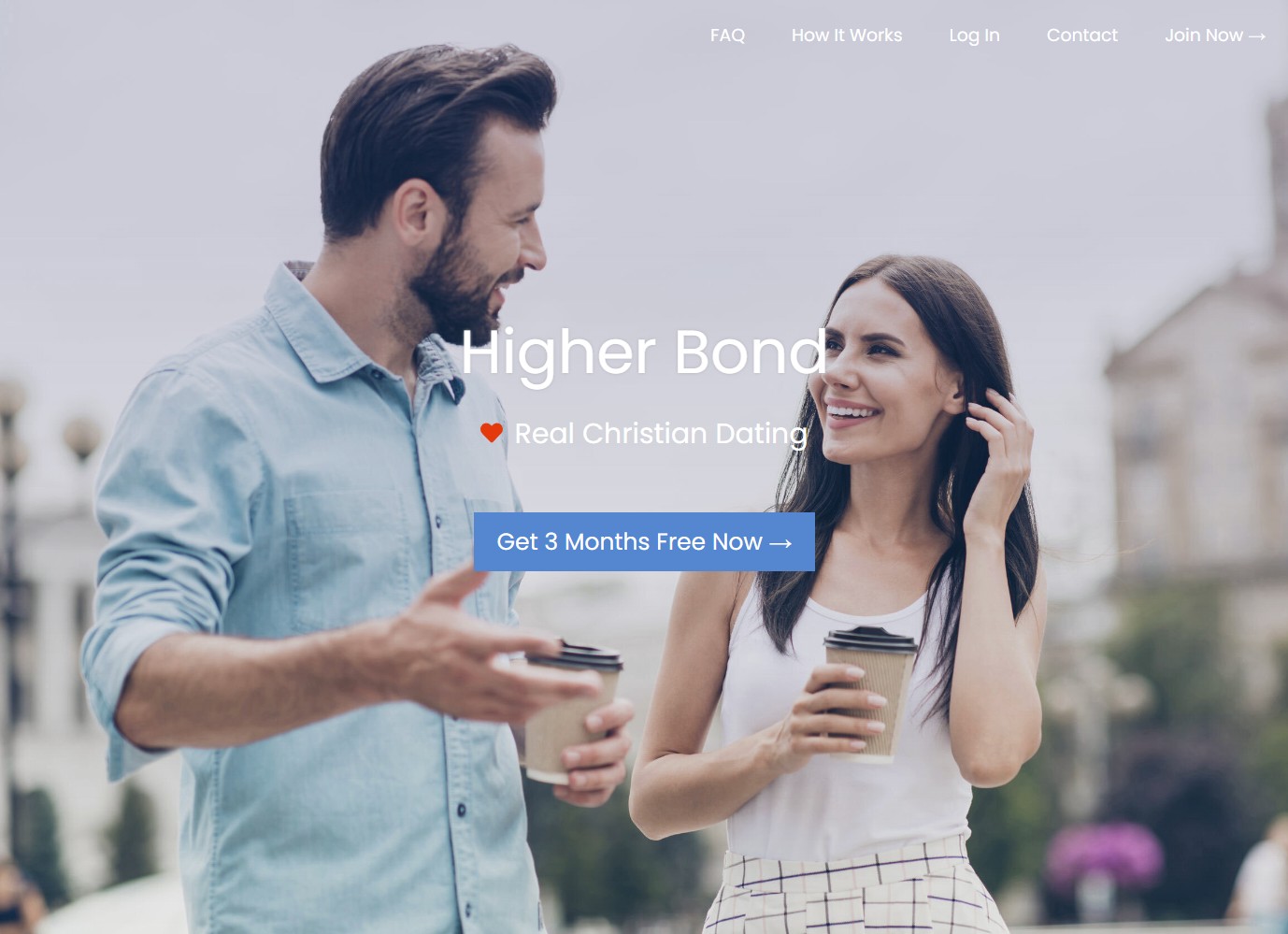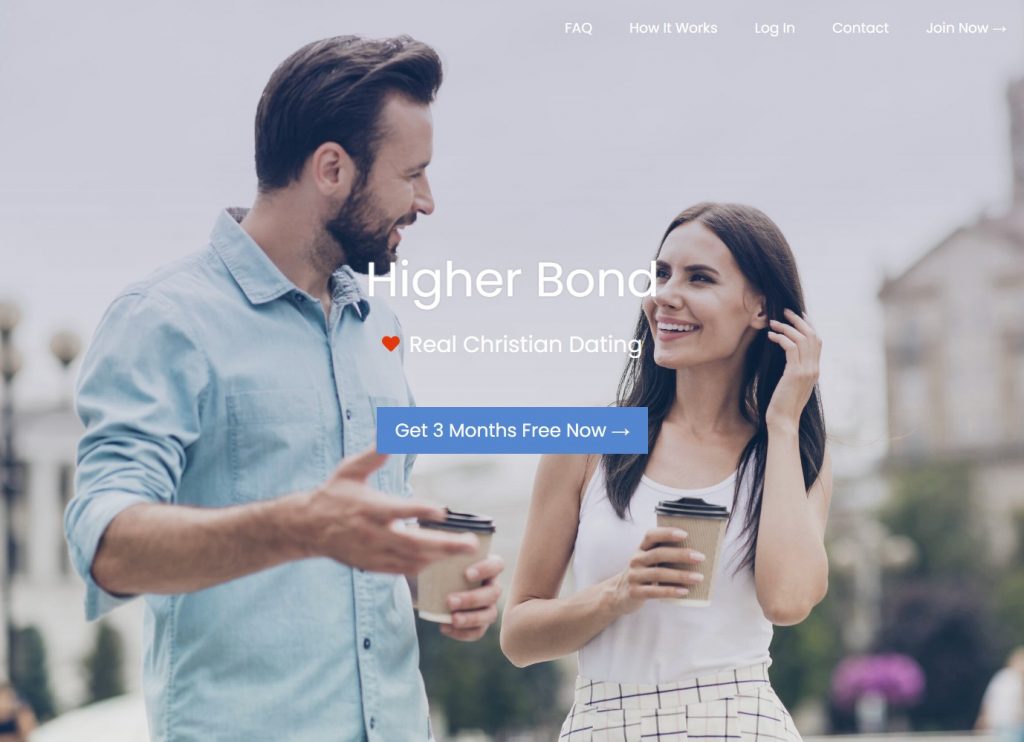 Who Will Love Higher Bond: Serious Christians seeking a faith-filled dating environment
Who Might Not Enjoy Higher: Non-religious singles and Christians who don't prioritize their religion
Biggest Pro: Focuses on quality over quantity, leading to genuine connections
Biggest Con: Doesn't have a mobile dating app, but you can use the mobile website
Starting Price: Premium memberships start at $14.95 a month (the first three months are free)
Did you know that there are 17 congregations for every 10,000 people in Wyoming? That's the 13th-highest number of religious congregations per capita in the country. And it makes sense that there are lots of churches since 71% of adults here identify as Christian.
That sounds like a lot to outsiders, but there are fewer than 447,000 adults in the state. That means that Wyoming's home to just over 317,000 Christian adults.
Almost 60% of those adults are already married, leaving around 190,000 eligible Christians. That's still a lot for a state as small as Wyoming, but it's not nearly enough for an effective in-person dating scene.
Sure, you can try to meet someone to date at church, but attendance is declining, and congregations are small. If you want to increase your chances of finding love, we recommend creating an account on Higher Bond.
We know what you're thinking – Christian dating sites go against your faith because they offer endless choices and meaningless connections. That's true for most, but Higher Bond is different.
You'll fill out a questionnaire about your faith, lifestyle, finances, and relationship style, and the site will pair you with 3-5 people each day. You'll need to review your matches closely since you can only start a single conversation daily. This method leads to real connections instead of meaningless flings.
And get this – the Christians on this site tend to be very devout and ready for serious relationships. Give this Wyoming dating app a try by setting up your free account on Higher Bond today.

What is the Dating Scene in Wyoming Really Like?
Long Work Weeks Impact Dating – Many Wyomingites put in long work weeks that exceed the national average, especially those working in ranching and industrial jobs. Working lots of hours makes it hard to meet singles in person, so many guys and gals use Wyoming dating apps.

Exhausted Singles Ignore Generic Messages – Since singles work long hours, they only have so much energy for dating. If you don't put effort into the first message you send someone, you'll probably get passed over. Find out how to send the perfect message on dating apps so you'll get replies.

Long Distance Romances are Common – There are fewer than six Wyomingites per square mile in 17 of the state's 23 counties. Because of that, long-distance romances are the norm. Many people set Wyoming dating sites to search 100-200 miles away to ensure they get lots of options.

Dates are Often Outdoors – Dinner and a movie might be nice, but embracing the great outdoors is even better in Wyoming. Lots of people go hunting, fishing, and camping on dates, even when it's the first one. Choosing an activity is just one thing to consider when getting ready for a first date. Check out our first date advice so you'll be ready to roll.

The Rumor Mill is Always Running – Most Wyomingites live in small towns where everyone knows each other. That means people also pay attention to who you're dating. If you want to escape the rumor mill, use a dating site instead of trying to pick people up in person. You can even find someone outside of your area if you want to date on the DL. (Just one of many reasons Wyoming dating apps are such a great option.)

Casual Dating Doesn't Work Close to Home – Lots of Wyomingites are into casual dating, but the dating pool is way too small to do it close to home. It doesn't take long to cycle through the available options, even in a larger city like Cheyenne or Casper. People who want to date casually use dating sites to expand the dating pool.

Exes Often Remain Friendly – Living in a small town means you're probably going to run into some exes at some point. Many Wyomingites remain friendly with exes to prevent things from getting awkward. Of course, this can cause some awkwardness with your new partner. Avoid any problems by getting some tips on how to tell your new partner about your ex.

Small Dating Pool – Wyoming has the third-lowest share of single adults in the country, with just over 46% still unhitched. Fortunately, dating sites for Wyoming singles allow you to find most of the available folks in one spot. Plus, you can search neighboring states or even further when looking for a partner.

Dating in Cheyenne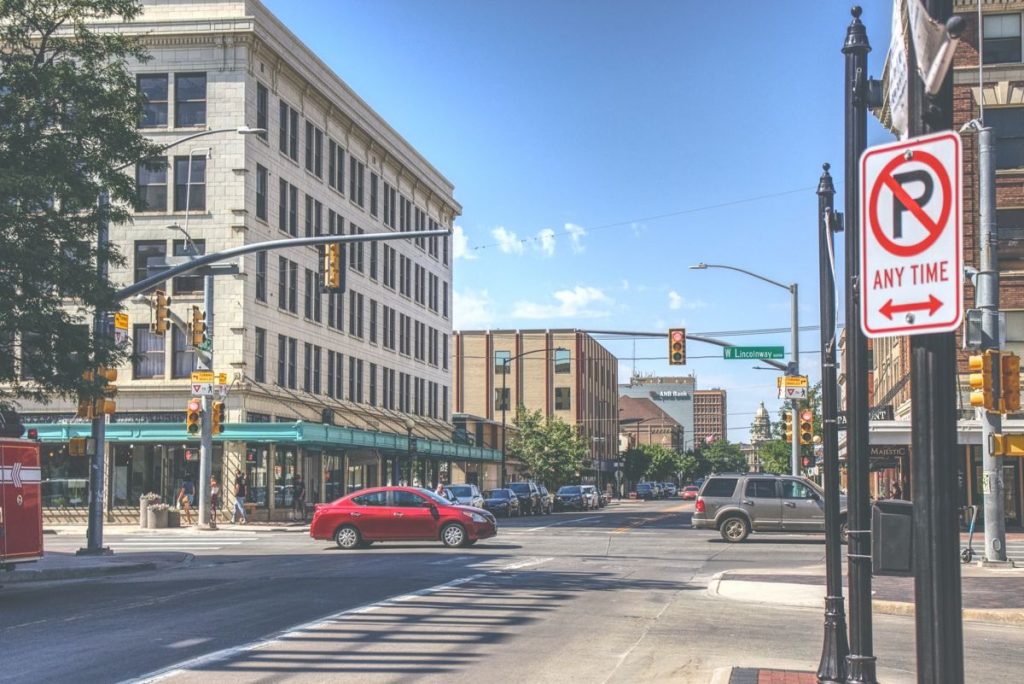 With its affordable cost of living and immense beauty, Cheyenne has a strong pull that attracts new residents. Whether you just moved here or you're a native, mastering the dating scene is vital. Check out the details and get the scoop on the best Wyoming dating apps for Cheyenne singles.
Variety of People – The state government is a top employer in Cheyenne. You'll also encounter people working in mining, construction, logging, education, and other industries. Plus, the Francis E. Warren Air Force Base is just a few miles away, so you'll come across men and women in uniform, too.

Not Much of a Nightlife Scene – As the largest city in Wyoming, Cheyenne does have some bars and things to do at night. However, it doesn't have a super active nightlife scene, so you won't have the chance to meet many new people when out on the town. Fortunately, folks flock to dating apps for Wyoming singles.

Traveling is a Must – Many of the singles here dip into the dating pool in Colorado to expand their options. That often means finding a partner in Fort Collins. The only downside is that the interstate between Cheyenne and Fort Collins occasionally closes, so you might have to engage in some video dates during the winter.

Family-Friendly Atmosphere – Cheyenne is a great place to raise a family, and that's just what a lot of the folks here are doing. It's like settling down is in the water here, and most people want to find "the one."
Since so many singles want to settle down and start families, eHarmony is our pick as the best dating site in Cheyenne. In addition, we recommend Zoosk for military personnel and people who want to date them. Zoosk is also a good fit for guys and gals looking for casual dates in Fort Collins.
Population: 65,051
Men: 50.4%
Women: 49.6%
Unmarried: 46.27%
Bachelor's Degree or Higher: 32.2%%
Active Duty Military: 3,361

---
Dating in Jackson
Best Jackson Dating App: Zoosk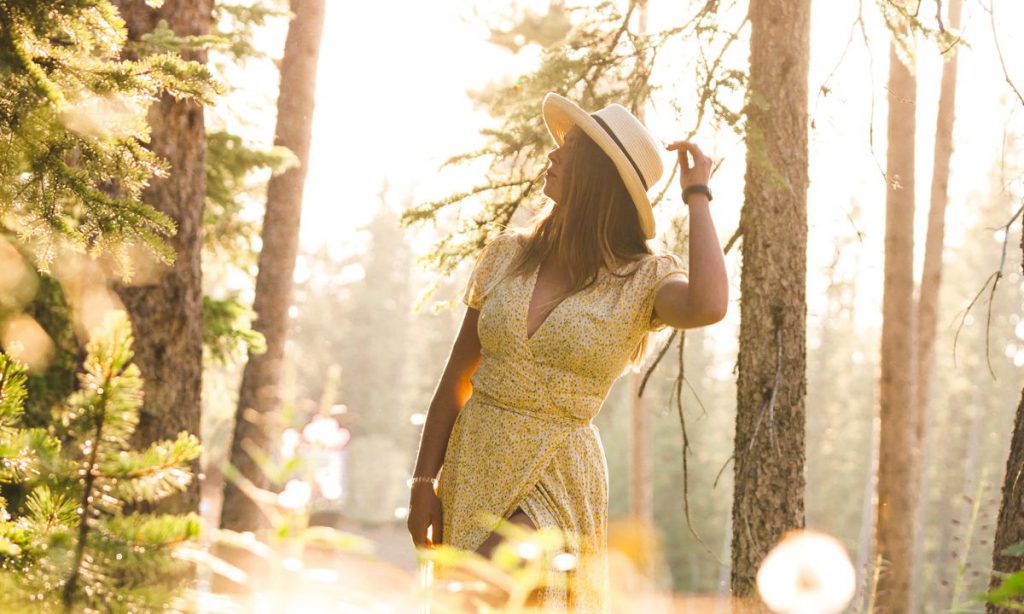 The Jackson Hole valley has three ski areas that bring travelers in year after year, but the town's population is quite small. With fewer than 11,000 residents, you probably know most of the folks, making it hard to date. We're going to help you level up your dating game by sharing some insights.
Ladies' Choice – Every day in Jackson feels like ladies' night, thanks to the skewed gender balance. There are more men than women throughout different age groups, and it's really prominent on the dating scene. When comparing unmarried folks between 15-44, there are seven guys for every woman.

Ski Season Brings in More Men – Women have more options during ski season when there are an estimated ten guys for every woman. While women have their pick, it's not as easy for them as it sounds. Small social circles mean that many available men have already dated your friends, so it can get weird fast.

Having Fun is a Priority- We aren't saying that people in Jackson don't have a serious side, but having fun is on the menu for most singles. And we don't just mean on the slopes. Many singles like to have lots of fun when dating, too.
Casual dating is hot in Jackson, and throughout Jackson Hole valley, so Zoosk is our favorite Wyoming dating app for this area. Zoosk takes care of the gender imbalance problem by giving both men and women access to millions of potential dates. And as a bonus, tourists also use Zoosk, so you can meet travelers, too!
Population: 10,849
Men: 54.6%
Women: 43.4%
Unmarried: 52.4%
Bachelor's Degree or Higher: 50.4%
Annual Number of Tourists to Jackson Hole: Over 2.6 million


Wyoming Dating Sites FAQ
Here are some common qustions and anwsers for the popular dating sites used in Wyoming.
How Safe are Wyoming Dating Apps?
Wyoming is one of the safest states for online dating, and you can protect yourself even further by choosing a safe dating site. eHarmony, Zoosk, Higher Bond, and SilverSingles have safety features and active customer service teams to protect members.
On the other hand, you can end up with a scammer if you use Reddit or Facebook dating. We also don't recommend Tinder for people who want to stay safe online.
Learn more about protecting yourself by checking out the best safe dating apps. Higher Bond isn't part of the list since it just launched in 2022. However, early reports indicate it's among the safest dating sites out there. It even has members submit photos of them completing specific actions when signing up to keep scammers away.
Which Wyoming Date Site is the Most Diverse?
Each of the Wyoming dating apps on our list welcomes a diverse mix of members. However, you'll find the most diversity on Zoosk. With over 40 million members, its robust user base represents people of different backgrounds, races and ethnicities.
Regardless of the app you use, you can increase the diversity by changing the location. Fremont County is the most diverse place in Wyoming, with White people making up less than 70% of the population. Laramie County is the second-most diverse, followed by Sweetwater County.
What's the Most Popular Dating Site for Singles in Wyoming?
While Tinder has the most users, we don't recommend adding yourself to the membership base. The Better Business Bureau recently issued a warning to Wyomingites to watch out for romance scams on the dating app. Check out our Tinder review to go over additional reasons you should swipe left on this dating app.
Zoosk, eHarmony, Higher Bond, and SilverSingles are also popular in Wyoming. Out of the four, Zoosk is used the most in Wyoming, followed by eHarmony.