Are you looking for love? Do you happen to be plus sized?
If you answered 'yes' to both, the WooPlus online dating up is for you! According to their site, they are the best niche dating app and a safe place for people who have and love their curves. But what about WooPlus' free trial?
Is it worth it or do you need to put your hand in your pocket to reap the benefits?
The only way to know is to try it, and we did it for you! Read on to see what we found out and whip out your phone to claim your free trial now!
---
WooPlus Free Trial Breakdown
| | |
| --- | --- |
| Trial Length | Unlimited |
| Trial Cost | 100% free |
| Sign Up Time | 5 minutes |
| Send "Hi" to Initiate Chat? | Yes |
| Send Messages? | Yes (if you match) |
| Receive Messages? | Yes |
| Video Chat? | No* |
| Add Images? | Yes |
| View Images? | Yes |
| Browse Singles? | Yes |
| Filter Search? | Yes |
| Create/Edit Profile? | Yes |
| View Profiles? | Yes |
*Note – While there is no video chat feature on WooPlus, you can add video content to enhance your profile.
---
Is WooPlus Free Trial Worth It?
The short answer is a resounding yes!
The WooPlus free trial has enough features to get you started on finding the best match for yourself. Its modern, incredibly user-friendly interface is designed to set you up in just a few minutes. Then, you're ready to start browsing eligible singles. 
The awesome thing about the free trial is that it lets you create a full profile! You get full access to all the images, answer boxes, and other bells and whistles WooPlus has to showcase yourself and make your profile stand out.
You can also initiate a chat with someone you find interesting by tapping on the "Hi!" icon. If they are interested and respond, you can have unlimited conversations with them free.
While searching profiles is a bit rudimentary in the free trial version, you do have capacity to do it. The app also uses your location to show you profiles of people near you at the "Nearby" tab in the "Daily Picks" of the app. You can also browse "popular" (it will still show you people near you but with more likes) and "online" if you want to increase your chances of starting up a conversation quickly.
WooPlus wants you to find that Special One as quickly as possible! That's why it limits matches so that people won't ghost you by just copiously hitting the like button. It also wants you to act quickly, so matches expire after a while. Both these features boost your chances of quickly finding who you're looking for.
It's perfectly possible to find that Special One solely by using WooPlus' free trial, so totally give it a whirl!
Still Not Sure? Here's Some Woo Plus Alternatives:
While their are other excellent plus sized dating apps, like Large Friends, offering free trials we've found that most people that get to this point are wondering whether or not a smaller niche dating app is right for them. If you're thinking maybe a site specifically for plus sized dating isn't your speed then these recommendations should help you out.
They've been proven to be successful for millions of singles of all body types (and they have free trials too!).
---
How to Start Using WooPlus for Free
WooPlus is a dedicated mobile app, so you need to download it to your phone to begin.
Step 1:
Click on the "create a new account" button. Choose to do it with Google, Email, or Apple.
When prompted, allow storage permissions on your phone.
Step 2:
Choose a display name. Take a moment to think about what you want to put as your display name! It's going to show in WooPlus and it can't be changed later. Once you're done, hit the right arrow button.
Step 3:
Choose your gender! Then, hit "next"
Step 4:
Enter your date of birth. The app doesn't show your exact birthday on your profile, but it is required. As you choose your date of birth, WooPlus automatically calculates your age.
When you're done, hit "next"!
Step 5:
Choose the gender of the people you want to meet, then hit "next".
Step 6:
Now comes a fun little challenge: you upload your photo or take a selfie. Doing this is necessary for the app to work.
Once you upload a photo, the app asks you to center it so that your face is clear in it. Hit "next" when you're done.
Step 7:
Enter your email and your password, then hit "next"
Step 8:
Fill in your info: select the occupation category that mostly fits what you do. If you feel comfortable, add your income or, if not, just choose "prefer not to say".
Enter your height and body type.
Step 9:
Answer the questions WooPlus asks you about what you'd love in your partner. You can write up to 100 words, but just a single word is enough.
Tap "done" when finished.
And you are done! WooPlus immediately takes you to a browsing page where you can start looking at different profiles!

Features the WooPlus Free Trial Includes
WooPlus has a whole range of different features for you to use completely free! All of them are designed to help you find your perfect match without spending a dime.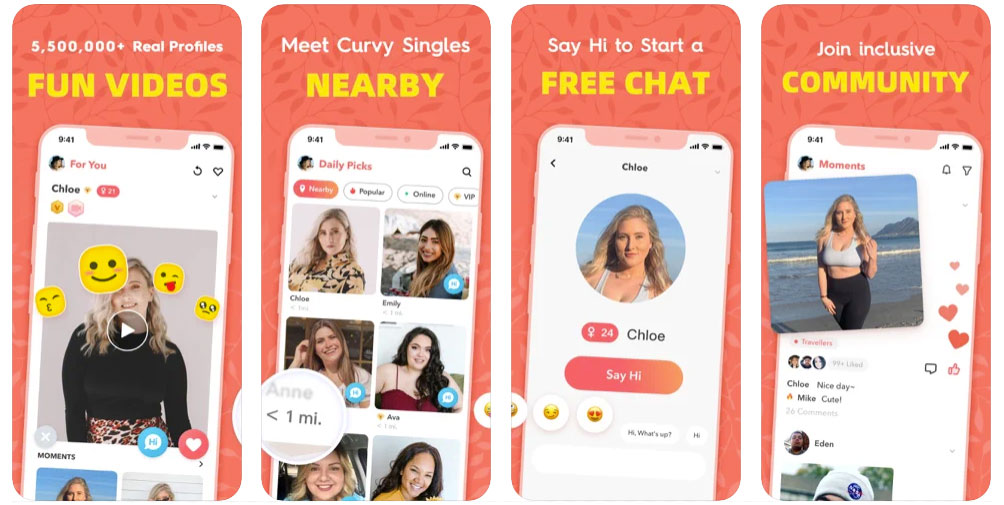 You can Like or Pass on the various profiles that the app suggests. This works pretty much like swiping right or left.
You can like posts and comment on other profiles using the "Moments" tab, which will help you get to know others better fast.
You can send a "hi!" which will begin an unlimited chat if the other person responds.
You can send a "for you" which is a more intense message of being interested to know the person in the profile.
You can do challenges like the "selfie challenge" and participate in other WooPlus events that get people together!

Premium (VIP) WooPlus Features
There are more features that can boost you to the forefront if you get a VIP subscription. For one thing, you get more information: you can see who read the message you sent and you have more search filters available to you.
You can also restart expired matches and view past suggestions, which you can't do with the free trial. Another tab you unlock with a VIP subscription is the "Into You" tab which lists profiles that showed interest in you.
WooPlus keeps adding new features, too, so we expect there will soon be more to be had for VIP members.

WooPlus Free Trial vs. BBW Cupid
It makes sense to compare WooPlus to another massively popular online dating app for plus sized people– in this case, BBW Cupid!
Comparing the two, we think that WooPlus tends to give you more versatility even though BBW Cupid's free trial can also give you opportunities to meet your special One. Primarily, WooPlus' free trial allows you to contact all members, VIP or not, unlike BBW Cupid where you can only contact paying members.
There's also no difference between VIP and free members in their profiles whereas BBW Cupid gives paying members more space to present and showcase themselves. That said, you get full privileges in uploading photos and liking other profiles in both apps.
A big difference is that WooPlus is focused on getting you matches that are localized to where you are. BBW Cupid on the other hand may match you to anyone around the globe.
All in all, WooPlus is a powerful online dating app with a great, safe space for plus sized, curvy people. Its free trial gives you all the tools you need to meet others and explore your options where you live. For that alone, you should totally check it out!