Matchmaking services? That's pretty old school right? Well, maybe not… According to a recent study, feelings of burnout or emotional fatigue impact around 78% of dating app users. And while we're certainly not against online dating, we can see why many singles are happy to remove this added stress from their busy lives and defer to a professional matchmaker.
So maybe you're one of those singles who's ready to ditch the numbers game and give a matchmaking service a try? If that's you great, stick around! We're going to be covering everything you need to know including: the top matchmaking services of 2023, what makes them great, average costs,
5 Elite Matchmaking Services (Our Recommendations)
---
Three Day Rule – Best One-on-One Matchmaker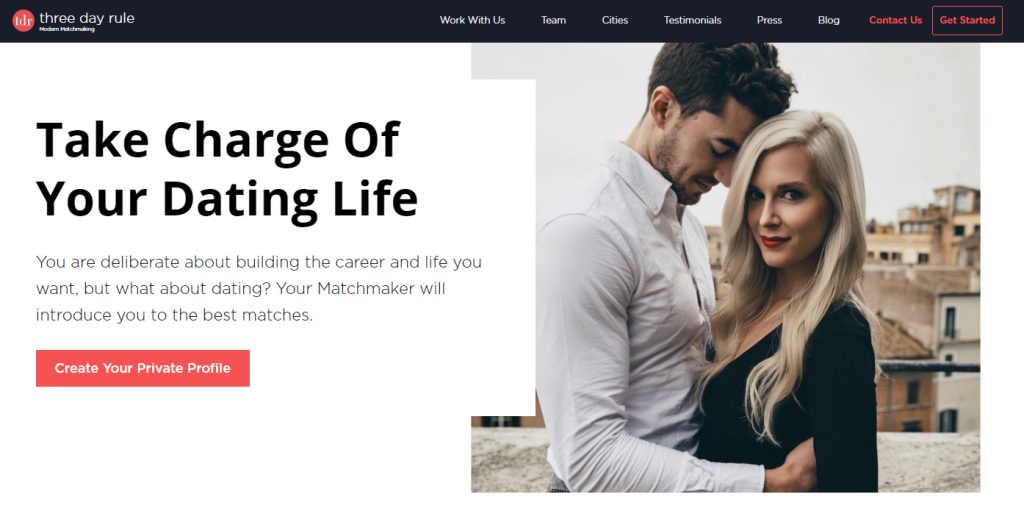 We've checked out a lot of online matchmakers to make our list… more than you'll ever even hear of, and let's just say up front that Three Day Rule was a clear choice for the #1 matchmaking service slot. One of the biggest reasons for this (outside of just offering a really successful product) is that they have managed to avoid the scandals, lawsuits, and other legal troubles that seem to be so common with other matchmaking services. But that's not all, this service has made major strides since it's appearance on Shark Tank.
Three Day Rule offers premium members everything they need to cross the finish line into a meaningful and lasting relationship. These services include a super-detailed consultation (to find what you're looking for), your dedicated matchmaker, a professional photo shoot (with training on how to take the most flattering photos), and ongoing relationship coaching to make you a better dater.
They also have an exclusive database of over 200K singles, but matchmakers will also routinely go beyond this to find you dates in yoga classes, online (through LinkedIn for example), at restaurants, happy hours, and beyond. But they won't set you up with just anyone. As your TDR matchmaker will tell you, "Your time is too valuable to go on bad dates".
And unlike many other brands out there, Three Day Rule believes that "not just anyone can be a matchmaker". As a result they have been hiring and giving additional training to world-class matchmakers that have proven they can not only get to know a client, but can also be driven and motivated to find them a lifelong partner.
Whether you're ready to invest in your love life with a professional matchmaker or just want to join TDR's singles network for free we can't recommend this service enough. Click the link below to start letting an expert matchmaker do the work so you can enjoy your life:
---
The League – Best Matchmaking Service for Professionals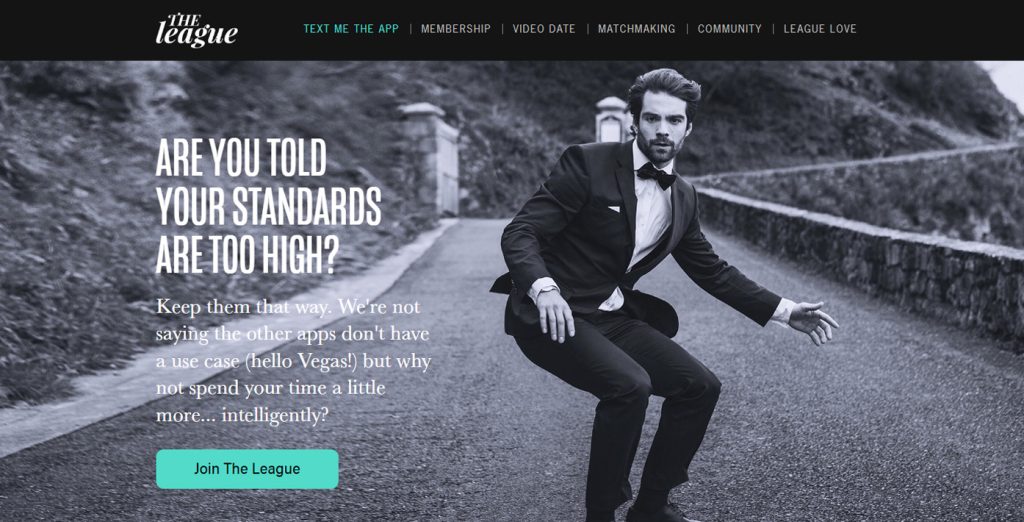 This service has been the pinnacle of high-end exclusive online dating since it's launch in 2014. The League has millions of users, but don't let that fool you, not everyone makes the cut. More than 1 in 10 users are CEOs, founders, co-founders, or owners of businesses. Nearly 40% are making at least six-figure salaries, and just under 10% of these users have earned PhDs in their respective fields.
It's a uniquely ambitious and highly educated bunch, and that's by design! Their mission is to help elite singles avoid "the games". That's why you will only have a limited number of daily match recommendations. It's also why there's a waiting list to get in the door. CEO Amanda Bradford said this in The League's mission statement…
What at first glance is easy to label as elitism is actually efficacy of this broader mission…. My hope is that The League promotes higher education, encourages career-ambition, and, most importantly, cultivates the desire for an egalitarian relationship in both sexes.

Amanda Bradford – Founder/CEO of The League
The League is full of unique features like efficient daily batch matching, videos on profiles, League Live (weekly speed dates with perspective matches), and 1-on-1 video chats before meeting in person. As a dating app it offers much more than any of it's "traditional" competitors (Learn more in our full review). But maybe you don't want to be in the drivers seat? You don't want to review profiles or send messages? The League can still work for you with it's new "Power League" feature.
By upgrading to a Basic of VIP Power League plan you get all the benefits offered by any elite matchmaking service. An Ivy League educated matchmaker dive deep into your background then search and screen until they find you an ideal date. They'll set everything up, and just tell you where to go and when.
---
eHarmony – Best for Algorithmic Matchmaking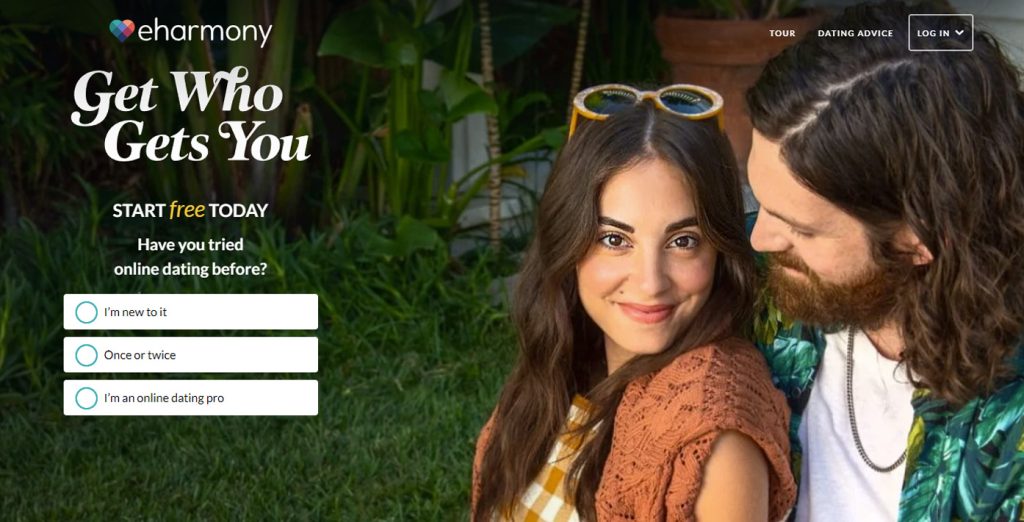 Alright, so eHarmony is the only service on this list does not offer a one-on-one personal matchmaker. So why did we include it?
Here's why, eHarmony is BY FAR the most successful online dating app for marriages. Statistics show that eHarmony has been responsible for 430+ marriages every day since 2012 (and that's just in the United States). These couples are also far more likely to stay together that couples who met on other online dating services.
Long story short, eHarmony really works! It has a highly advance algorithm that helps to curate matches for you based on compatibility (similar to what a matchmaker would do) and with prices starting at $35/month it will cost you hundreds (if not thousands) less than the other sites mentioned on this page (Read our full eharmony review for more details).
If you're dead set on the hands off approach then you're going to want to pick one of the other matching services we recommended, but, if this section peaked your interest and you want to give a more traditional dating app a go then we would strongly recommend clicking the link below to claim your eHarmony free trial.
---
Tawkify – Matchmaking Service with the Best User Ratings
Tawkify is a massive matchmaking company with over 1 million "relationship ready singles" in their catalog of potential matches. They also have some pretty bold claims including that 80% will find success on Tawkify within the first 12 matches. While Tawkify pricing is not always the most transparent, this would generally mean that a Tawkify client will spend around $10,000 to find love through this matchmaking service making it cheaper than many other elite matchmakers.
With thousands of 5 star reviews online we're confident that many users find this to be well worth the money
That being said, it's worth giving some mention to the verified customer complaints that Tawkify has racked up over the last 10+ years in business. Some consistent trends include troubles with requesting refunds and not being happy with the quality or number of dates arranged by the matchmakers.
All things considered, Tawkify may not be the best matchmaking service online, but it's certainly a viable option when you look at their overall user ratings (4.6/5 with over 5K reviews on TrustPilot) and the massive size of their singles network (See full Tawkify Review). They also do "background checks and video screenings for all candidates" making it a step safer than your standard dating app experience.
---
It's Just Lunch – Matchmaker with the Most Experience (30+ years)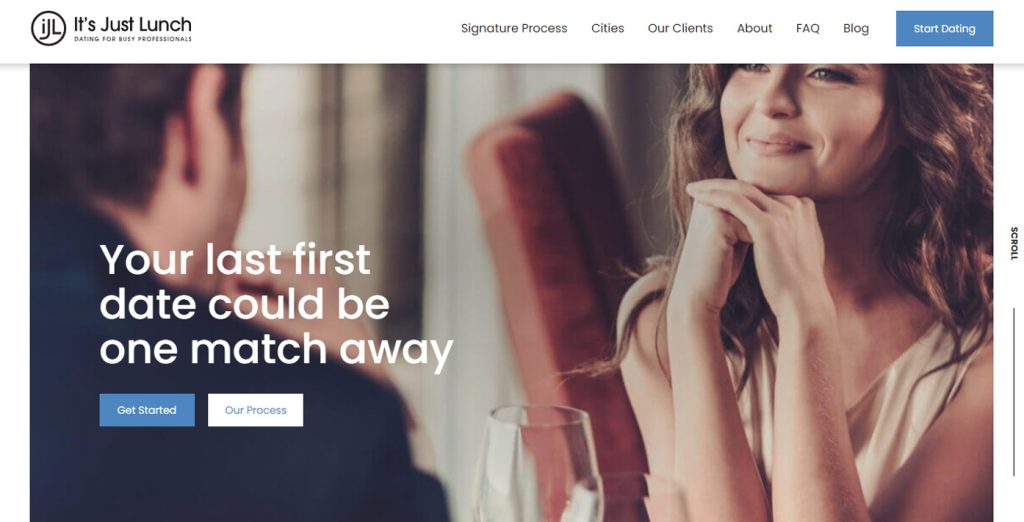 We can't really talk about the top online matchmakers without mentioning It's Just Lunch. This matchmaking service for professionals has been on the market since 1991 (over 30 years) making it the oldest and therefore most experienced option on our list.
Their accolades boast arranging over 2 million first dates, coverage in 200+ cities, thousands of 5 star reviews, and gobs of success stories. That being said, it's not all sunshine and roses with It's Just Lunch. You don't have to spend a lot of time searching to find that IJL has been mixed up in lawsuits from unhappy customers – Most notably when they were forced to pay almost $5 million in a class-action lawsuit.
But surprisingly that was not the end of that. John Balestriere (the attorney who filed the lawsuit) filed another lawsuit against the company in 2020 claiming that they were still using staff with no experience to lure people in, over-promising, and over-charging.
"It's Just Lunch is continuing to engage in very similar sounding misconduct… I've been a lawyer and doing this stuff for over 20 years and I don't think I've ever seen it"
– John Balestriere to Denver7
So there's the dirt on It's Just Lunch. And here's our take. Part of the settlement was a requirement for IJL to "make several material changes to its business practices, including changes to its advertising and written materials." and the service has continued to post updates and success stories for over 3 years since then.
We can't ignore this matchmaking service's past, or the ongoing lawsuit, and certainly wouldn't have it atop our list of recommendations… that being said, the truth remains that there are worse options out there. This site has earned a lot of the praise it's received over the years. We would just recommend doing some additional research of your own and treading very lightly if you decide that you're dead set on hiring IJL as your matchmaker.
---
3 Traits to Look for in a Great Matchmaking Service
While there's a good amount of variety when it comes to hiring a professional matchmaker there are a few factors that any service should have. Here are the 3 points we think are the most critical to for a matchmaking service to be considered "great":
Pricing Consistent With Value – Matchmaking services are almost always expensive, but just because they're asking for a lot of money doesn't necessarily mean they're offering high-end value. We look for success stories, user reviews, and transparency from companies on what is and isn't included for the price. If the track record doesn't add up, then don't buy in.
Driven and Persistent – If finding love was easy then matchmakers would be out of a job. In addition to being emotionally intelligent and easy to talk to, your matchmaker has to have the desire to get results for you as a client first and foremost. You should always feel like they are going above and beyond to get you what you're looking for. (A pro tip – Matchmaking services that are really proud of their coaches often have some information about who's behind the scenes public for perspective clients.)
A Sizable Singles Database – This is pretty obvious, but why would you go to a matchmaker unless they know a LOT more singles than you do. A good singles network should have thousands of people with detailed bios to help provide you with highly curated matches. An elite matchmaking service should also always be making new contacts and be willing to work outside their existing client list for you unless they have an excellent match already on tap.

How Much is a Professional Matchmaker?
For a high-quality online matchmaker you should expect to spend a minimum of $1,000. And while there is definitely some sticker shock there, many singles seem to believe paying this (and even more) is worth it for the right match.
Typically a reputable matchmaker will charge clients quite a bit of money for their services, but the specifics vary greatly. These prices are contingent on:
The matchmaker's reputation and skill.
The amount of 1-on-1 time spend with your matchmaker.
Any additional services being offered (coaching, setting up dates, etc…).
The size of the matchmakers "catalog of singles" and sphere of influence.
There are smaller local matchmakers who might offer in-person matchmaking for a few hundred dollars ($300-600), but these options, on top of being rare, have far less proof of success than the services mentioned in our recommendations.
For the best matchmaking services online you may end up paying $5K, $10K, or even more to find Mr or Mrs right. Some of the most high-end matchmakers will even charge over $100,000 to help clients find love.

What to Expect from a Matchmaking Service
Regardless of the matchmaker service you decide on you will encounter a process something like this…
Step 1 – Application – This step is pretty self explanatory. When you're ready to try a matchmaking service out you'll fill out a basic form. Generally this will include inputs like your name, where you live, date of birth, phone number, occupation, and income.
Step 2 – Consultation – The matchmaker has reviewed your application and have decided to work with you! From here they will schedule a consultation to get to know anything and everything about you. They'll ask you all sorts of questions about your "type", your relationship goals, values, where you've been and where you want to go. They should be extremely methodical and take detailed notes. Once they feel like they know you they'll get to work.
Step 3 – The Search – At this point you're hands off. Your matchmaker will do everything. Most matchmaking services have a database of perspective matches that they will browse through to see if your Mr or Mrs right is in there. But any professional matchmaker worth their salt isn't going to just solely rely on their catalog. They're also going to shake the trees online (using social medias, forums surrounding your interests, dating apps, etc…) and in the local community to find you that diamond in the rough.
Step 4 – Dates – At last, they've found you some matches! Your matchmaker has contacted these singles, asked the tough questions, compared them all to your "must haves list" and set up what they hope to be your last first date. Now of course this doesn't mean they'll always get it right the first time, but most of the people we've talked to agreed that a date set by a good matchmaker seldom feels like a waste of time (even if you don't hit it off).
Step 5 – Feedback – Once you've completed your first date you will meet with your matchmaker and tell them how everything went. In some cases this will be providing them with additional notes so they can find you a better match next time, but best case scenario you'll be reaching out to let them know they did a great job and you hit it off. In most cases, if you do find someone great off the bat you will still continue to get the benefits of relationship coaching and consultation until the end of your subscription.
---
Pros and Cons of Using a Matchmaker
Pros
A professional matchmaker does all the work for you!
You will usually have higher quality dates.
Coaches help you boost your confidence and dating skills.
Access to an elite pool of singles.
Screening and background checks make it quite safe!
Cons
Matchmaker services often cost thousands of dollars.
Fewer matches than traditional dating methods.
Not all matchmaking services are high-quality.
Limited guarantees and hidden terms*.
*Always be aware of what you're paying for (how many matches you get and how often) as well as any additional terms or fees. Tawkify for example (which is one of the most well-known matchmaking services) charges it's VIP clients a non-refundable $10K deposit.

Closing Thoughts – Are Matchmaking Services Worth It?
In the end, this is absolutely up to you. Matchmaking services like Three Day Rule, Tawkify, Its Just Lunch, and others have helped thousands upon thousands of people find happiness. And for those people? It was absolutely worth it!
If you're serious about finding "the one" and settling down for a long and committed relationship (and you can afford the cost of a one-on-one matchmaker), then honestly why not? These matchmakers will go out of their way to find you just what you're looking for using resources you would never have access to on your own.
On the other hand, maybe you're not quite ready to settle down? Or perhaps you are, but your jaw dropped to the floor when you saw the prices associated with hiring an online matchmaker. In either of these cases, we would recommend reviewing our top online dating app recommendations. Just because they've lowered the price tag doesn't mean that all dating apps are junk. "Traditional" dating apps (Like eHarmony) are far more affordable, but have still lead to millions of lasting marriages.