What are you looking for in your online dating journey?
There are so many dating sites on the market that it is easy to sign up for a handful and still not get access to the features you need to succeed. That's why it's so helpful to read through reviews before giving out your personal information.
Today, we are looking at Badoo – a global dating site that has led thousands of singles to new and exciting relationships. How much does it cost? Who is it for? Read on for all the information you need to make the right choice!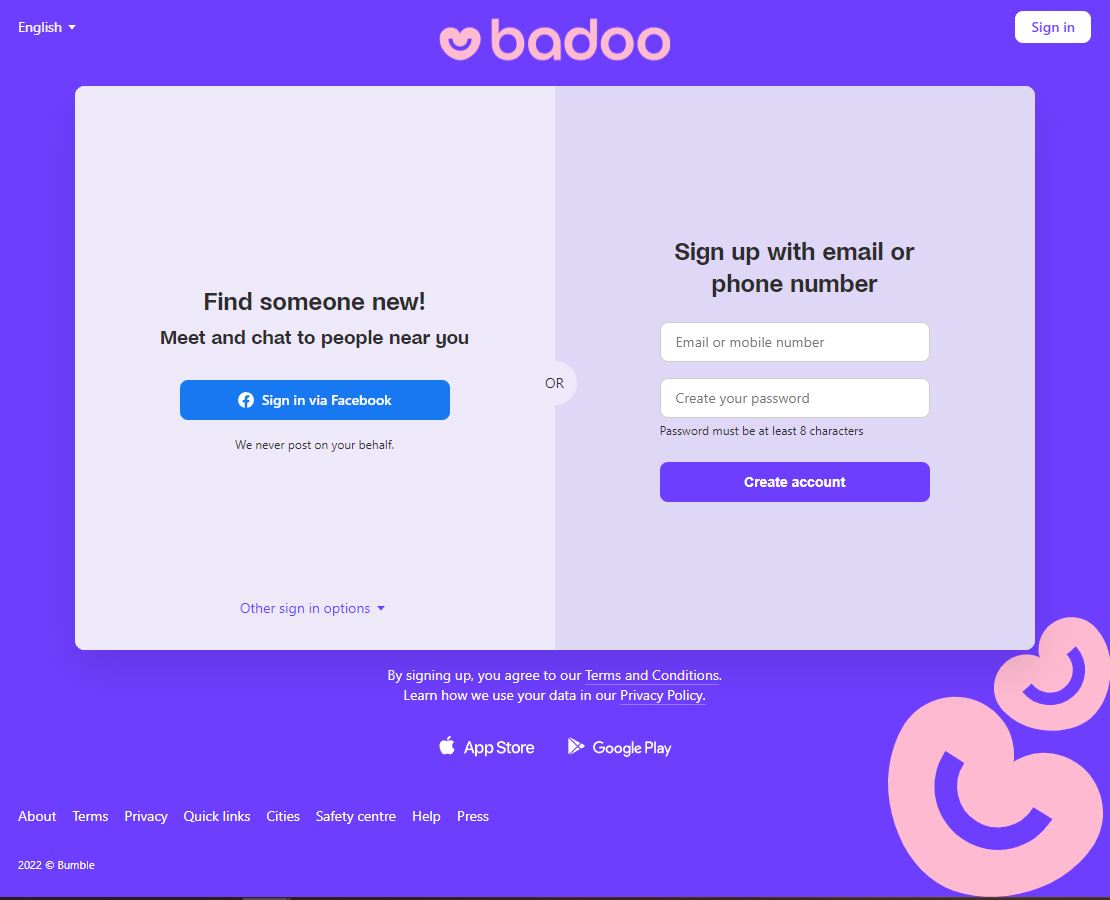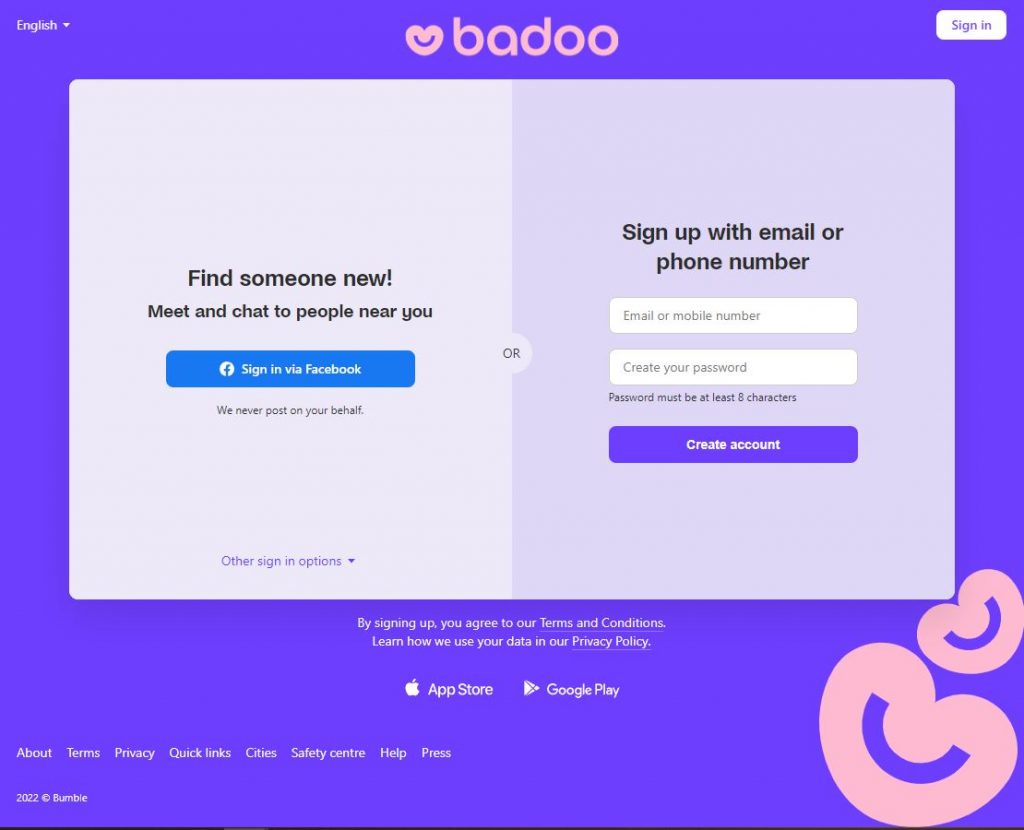 ---
Badoo App at a Glance
Overall Rating – 3.8/5.0
| | |
| --- | --- |
| Userbase | 318 million + |
| Sign-Up Time | Less than 5 minutes |
| Membership Cost | starting at $25.99 a month |
| Payment Required? | No |
| Avg. User Rating | 4/5 |
| Avg. User Age | 20-30 |
| Gender Ratio | 70% men | 30% women |
| Free Messaging? | Yes |
| Video Chat? | Yes |
| iOS App? | Yes |
| Android App? | Yes |
| Web Friendly? | Yes |
| Support Options | FAQ page, email support |
| Launch Date | 2006 |
| Owned By | Bumble Inc. |
Is Badoo Right for Me?
There is a lot to love about Badoo.
The platform is available on most devices, signing up is super fast, and you can actually message users without buying an expensive membership. This alone makes it a platform most users will want to try.
However, there are also some downsides to using Badoo.
Some users report a high number of fake accounts/ dead accounts. Also, there is a limit the number of encounters you can have as a free member. Couple those with the fact that Badoo seems to be more focused on casual fun than serious romance, and we can see why some users prefer to check out alternative dating apps.
If you are looking for a serious relationship with a truly compatible partner, check out some of our dating app alternatives.
Badoo Dating App Alternatives for Finding Serious Romance
---
---
What is Badoo?
Badoo is a popular dating site that combines the interactive aspect of social media and the convenience of swipe-style dating apps to create a platform that caters to a large number of users.
With over 318 million users in dozens of countries, this site can almost guarantee that you will find matches in your area, which meets the minimum requirements of most online daters. Beyond that, Badoo also offers interesting features, a free membership option, and much more.
Badoo History
Badoo was launched in 2006 by Andrey Andreev, a Russian entrepreneur. In 2012, the app launched in the US and its popularity skyrocketed.
Now, the platform has hundreds of millions of users in 28 countries and a high user rating on Android, IOS, and the web.
What Makes Badoo Different?
Badoo sets itself apart from other dating apps by creating a functional membership level that is completely free. Unlike most dating sites that say they are free but make you pay to message people, Badoo will actually let free users communicate with their matches.
Users also enjoy some of Badoos unique features like undo votes, highlighted messages, and sneak peaks. We'll look into these features more later in this article!
Pros and Cons of Badoo
Pros
A huge user base with singles all over the world
Sign up takes only a few minutes
You can message members for free
The app is available for Android and IOS
Cons
Token purchases can get expensive
Users report lots of fake accounts
There is a limit on some of the free features
Some users say the site is difficult to navigate and learn

How Does Badoo Work? – Features Overview
Badoo approaches matchmaking in two ways – through impulse decision and through meticulous searching. This means the site can cater to a lot of different singles.
The Encounters area of the platform is where you quickly search through singles photos and click yes (heart) or no (X) to indicate your interest. If another user says yes to your photo and you have said yes to their photo, the site will give you both a notification of the match.
In the search area, you simply search through profiles of people who meet your search criteria. There, you can initiate messages without a mutual match.
Signup process
You can quickly sign up for Badoo by linking your Facebook, but we recommend manually entering your email and avoiding the connection to your social media.
This method involves adding in your name, location, gender, and birthday. Then, you will add some profile photos, which you can upload from your device or through Facebook or Instagram.
You only need to add one photo to finalize your profile sign up, then you are free to explore the free version of Badoo!
Matchmaking Process
Badoo has two areas to meet users. The first is the general search area. Here, you can find users based on proximity and a few search filters. There isn't any algorithm or method to the madness.
The other area is called "Encounters."
There, you will access a fast-paced, swipe-style dating zone. See photos of singles and quickly choose yes (heart) or no (X). If you hit yes on a user who happened to hit yes on you, you'll have a match!
Unique Features
Dating sites are only as good as the features they provide. So, a Badoo review wouldn't be complete without a quick look into some of the platform's best, most unique features.
Favorites List
The favorites list is a good tool for users because it helps you to make every minute on the app useful. If you see a profile you'd like to interact with, but you can't until you've purchased more tokens or a membership, the favorites list is a place to store the profile.
It can also be used as a quick reference to the matches you are thoroughly enjoying.
People Nearby
This is the search area of Badoo. In People Nearby you can use search filters to narrow down a large list of users. Many users prefer this area because it is less hectic and "knee-jerk" than the Encounters area.
Liked You
The Like You list is only available to premium users. Here, you can get a quick look at all the users who are already showing interest in your profile. That way you can quickly match with them and begin a conversation.
Undo Votes
Another popular premium feature is the "undo" feature. When you are in the Encounters area, you will be voting on profile photos to create matches. When you get in the swing of it, you can begin making your choices very quickly. This often leads to accidental no votes on profiles you actually liked!
The undo feature lets you correct these mistakes.

Free vs. Paid Memberships
We might have mentioned once or twice in this Badoo review that their free tier of membership is surprisingly generous! It really is a pleasant surprise as so many other dating apps hide all their main features behind a paywall.
Even though we love the free version of Badoo, there are some really great premium features as well. Check out this quick guide to the free and paid features available on Badoo.
Free Membership Details:
Create a full account
Search members on the main page
Swipe on profiles in the Encounters area
Message users
Create a favorites list
Paid Membership Details:
View who added you to their favorites list
See who likes you in Encounters
Get a higher quota in Encounters
Chat with new users before others
See a list of the most popular users
Use incognito mode
Undo your last vote in Encounters
Have your messages highlighted to other users
Features bought with tokens:
Profile boost
Have your profile show up more often in Encounters
Send digital gifts
Get access to more daily chats
Show others when you are online

How Much Does Badoo Cost?
| Membership Type | Membership Length | Membership Cost |
| --- | --- | --- |
| Premium | 1 week | 3.99 |
| Premium | 1 month | 9.99 |
| Premium | 3 months | 24.99 |
| Premium | 6 months | $34.99 |
| Premium | Lifetime | 59.99 |

What Kind of Relationships is Badoo For?
Badoo is built for casual romance. Though they may try to market the site for long-term or serious dating, the layout, features, and user reviews all indicate that the platform is better for finding flings and new friends.
The encounters area of the site has a swipe-style match system where you choose matches based on physical attraction. The search area takes things a bit deeper, but with limited search filters, you still won't know much about your matches until you talk to them.

The Bottom Line – Is Badoo Worth It?
When we think about whether or not a dating app is worth it, we consider the value they offer versus the cost of their services/ time it takes to use. Badoo does pretty well in the cost area but loses in the time area.
The site can be used completely free, but finding a real, meaningful connection can take quite a bit of time. This is because there is no matching algorithm at play and too many fake accounts.
Overall, we think that Badoo is worth checking out if you are in the market for a good, free dating platform. If you are looking for a paid site with luxe features, you might want to check elsewhere.
---
User Reviews of Badoo
Positive Feedback:
The user interface is prettier and more fun to use than other apps.
There are a ton of singles, even in smaller towns.
They enjoy having a free option on the app.
Negative Feedback:
Settings will change and reset randomly.
The app is buggy and has to be forced to close sometimes.
The search filters are often ignored.
There are too many ads.

Badoo vs. The Other Guys
Wondering if there are better options out there than Badoo? The best way to find out (without wasting time and money) is to see sites compared side by side. Here is a comparative look at just a few Badoo competitors.
Badoo vs. Tinder
Tinder is one of the most popular casual dating apps in the world. It is free to use (though there are paid features) and has one of the largest user bases out there. Some people think that it is a little too casual, which may be why Badoo is preferred. However, Tinder is much better at sticking to your search radius, which means your matches will be more relevant.
Badoo vs. Bumble
When it comes to casual dating apps, Bumble may reign supreme. Their Swype-style dating has the same ease as Tinder and Badoo, but their women-first focus creates a nicer, safer space. Badoo, however, is much better for LGBTQ singles.
Badoo vs. eHarmony
If you are looking for a serious relationship, eHarmony is better than Badoo in every way. The matching algorithm has led to thousands of marriages and the platform is just easier to use. The free version of Badoo does have more options than the free version of eHarmony, but eHarmony has better-paid features.

Badoo FAQ
Is Badoo Legit?
Yes. Badoo is a legitimate dating platform that has been around for years. They use good safety mechanisms to keep your contact and payment information safe, and you don't even need to link to a social media profile to use the platform.
Does Badoo Have A Translation Feature?
No. At this time, Badoo does not have a translation feature.
Does Badoo Use Algorithm Matchmaking?
No. Badoo does not base users through personality matching or any other algorithm. All searches are done by proximity and other filters chosen by the user.
Is Badoo Completely Free?
You can use Badoo for free, but there are a lot of paid features. If you want to experience everything Badoo has to offer, you will need to purchase a membership and a bundle of Tokens.