There are certain demographics that struggle with online dating, and plus-size individuals are squarely among that group. That's why we love the idea of niche dating sites for large singles.
We've seen sites like Large Friends and WooPlus, but today we are talking about one of the original plus dating sites – BBWCupid.
BBWCupid is part of the Cupid Media group, which means it has an established set of moderators, a well-crafted interface, and lots of users. But, does this site actually help people find well-matched partners?
This BBWCupid review is going to take a look at the experiences of past users and the features of the site to help you decide if you should sign up!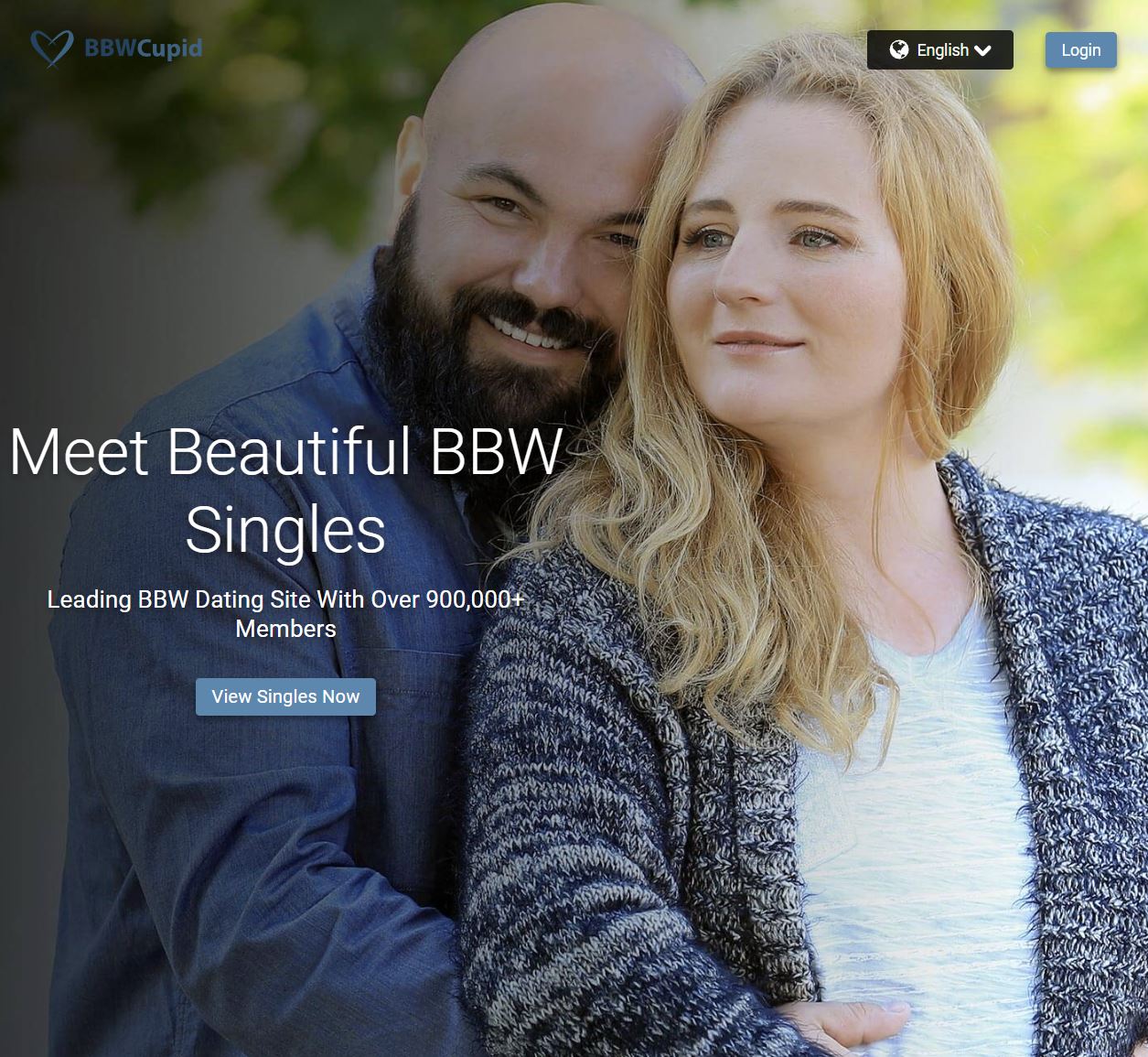 ---
BBWCupid at a Glance
Overall Rating – 3.5/5.0
| | |
| --- | --- |
| Userbase | 900,000+ |
| Sign-Up Time | Less than 3 minutes |
| Membership Cost | Starting at $9.58/ month |
| Payment Required? | No, free trial available |
| Avg. User Rating | 3.5/5.0 |
| Avg. User Age | 25-40 years old |
| Gender Ratio | 65% men | 35% women |
| Free Messaging? | No |
| Video Chat? | No |
| iOS App? | No |
| Android App? | Yes |
| Web Friendly? | Yes |
| Support Options | FAQ, Email |
| Launch Date | 2005 |
| Owned By | Cupid Media |
Is BBWCupid Right for Me?
If you are plus-sized, you know there are a lot of products out there that do not cater to you. Trust us, we've felt that struggle. While many people assume that clothing is the only product curvier people struggle with, we know that the issues stretch far and wide – even to online dating.
Trying to use a traditional dating site can be stressful, disappointing, and downright upsetting. This is because there is a strong culture of entitlement in fast-paced dating sites. Many users want to have instant access to singles they think fit their personal preferences and if they don't find them, they can become hateful and verbally abusive.
This can happen to any digital dater, but plus-sized singles see these things frequently. But it doesn't have to be that way! Sites like BBWCupid exist to be a safe place for bigger singles to be themselves and be appreciated for their beauty inside and out.
If you are tired of the frustration of traditional dating sites, BBWCupid may be right for you!
---
---
What is BBWCupid?
BBWCupid is a niche dating site owned by Cupid Media. The site is meant for men and women who are either plus-sized themselves or who are interested in dating plus-sized partners.
BBWCupid History
BBWCupid was launched in 2005 and quickly became one of the more popular sites under the Cupid Media umbrella. While it has seen its negative reviews (as all dating sites do), it hasn't suffered from any scandals or data breaches that we've found. Instead, the site has steadily grown to one of the most popular plus-size dating platforms in the world.
What Makes BBWCupid Different?
If you have used other Cupid dating sites, BBWCupid won't seem particularly new and special. However, it does well to stand out from other plus-size dating apps.
The main difference is the variety of premium memberships. These multiple types of memberships make it simple for users to customize their experience.
Another difference between BBWCupid and other dating sites is the acceptance of both plus-sized men and women. Many dating sites focus only on larger women and the men who love them, but BBWCupid is a space for plus-size singles of all genders.
Pros and Cons of BBWCupid
Pros
Diamond users can use advanced features like auto-translation, boosts, and incognito mode.
Premium users can access advanced matching, which can help lead them to the best singles on the site.
Users can sign up for free and can even respond to messages from premium users for free.
Cons
Free users can't send messages to others. They can only respond to messages from premium users.
Premium memberships are more expensive than memberships on non-niche dating sites.
The site has some issues with dead accounts and fake profiles.

How Does BBWCupid Work? – Features Overview
BBWCupid operates like a traditional search-and-match dating site. This means users will search for singles by location and skim through profiles to determine which users are worth a like and/or a message. Of course, the site does have a lot of extra features to make this process easier and more fun, like a simple sign-up process and premium amenities.
Signup process
As we mentioned, BBWCupid has a very streamlined sign-up process. It starts by clicking on our sign-up link, then filling out a basic questionnaire. It will ask you about your location, gender, email address, and age.
It only takes a few minutes to complete the process and begin using your BBWCupid account!
You are not required to fill in your profile/bio or upload a profile picture to start using the site, but you may want to. Users are much more likely to interact with a profile that shows off details about the person it belongs to.
If you want to fill in your profile, you can do so from your profile page. Photos need to adhere to BBWCupid's guidelines. That means no vulgarity, private info, pictures of children, nudity, etc.
Matchmaking Process
For most BBWCupid users there is no real matchmaking process. Users simply use their search filters to find singles in the right areas and then read profiles and look at pictures to determine who to message.
It is a simple system that gives users a lot of control over the matching process.
There is an exception to this process. Diamond members on BBWCupid gain access to a feature called "advanced matching." This feature helps users by showing them singles in their area that are more likely to match their personality and tastes.
Unique Features
Advanced matchmaking isn't the only premium feature on BBWCupid. There are also a large number of features that focus heavily on being more visible to other users. This includes doubling your profile space, highlighting your profile, ranking higher in search results, and priority messaging.
Of these features priority messaging is one of the most useful. When you send a message to a user, it can get lost in the pile of messages that the user receives. With priority messaging, you will be pushed to the top of the user's inbox so your message is easily seen and accessible.
Outside of features for visibility, there are features that make the site easier to use in general. This includes features like auto-translation, which instantly translates users' messages into your native language.
Another popular usability feature is the ad-free mode which removes annoying third-party ads on the site and app.

Free vs. Paid Memberships
When you sign up for BBWCupid, you are automatically given a standard, free account. With this type of account, users can search profiles, like members, and respond to messages sent from premium users.
For open messaging and access to advanced features, users will need to choose from one of three premium memberships – gold, platinum, and diamond. Here is a look at the features available for each type of membership.
Gold:
Communicate with all members
Search and like profiles
Use live chat
No third-party ads
Browse anonymously
Hide your profile
Platinum:
All Gold features
Rank above Gold and Standard members
Double your profile space
Advanced matching available
Auto-translate messages
Diamond:
All Platinum features
Rank above all other members
Priority messaging
Profile highlighting
Premium customer service

How Much Does BBWCupid Cost?
| Membership Type | Membership Length | Monthly Price | Total Cost |
| --- | --- | --- | --- |
| Gold | 12 Months | $10.83 | $129.99 |
| Gold | 3 Months | $21.66 | $64.98 |
| Gold | 1 Month | $33.49 | $33.49 |
| Gold | 1 Week | $66.92 | $16.73 |
| Platinum | 12 Months | $13.33 | $159.99 |
| Platinum | 3 Months | $26.66 | $79.98 |
| Platinum | 1 Month | $40.99 | $40.99 |
| Platinum | 1 Week | $79.92 | $19.98 |
| Diamond | 12 Months | $26.67 | $319.98 |
| Diamond | 3 Months | $53.32 | $159.97 |
| Diamond | 1 Month | $81.98 | $81.98 |
| Diamond | 1 Week | $164.00 | $41.00 |

What Kind of Relationships is BBWCupid For?
BBWCupid is a good dating site for finding all types of relationships. While the main focus of the site is serious dating that leads to marriages or long-term partnerships, there are a lot of ways to date casually on the site.
The ability to adjust the location and translate messages makes BBWCupid a great site for casual dating and hookups, especially for those traveling around the world.
No matter your dating goals, it is possible to find someone with similar expectations on BBWCupid.

The Bottom Line – Is BBWCupid Worth It?
BBWCupid is one of the nicest plus-size dating apps we have seen. It creates a welcoming space for bigger singles without giving off fetish vibes. The platform is easy to use and available both online and as an Android app. Overall, we definitely find BBWCupid to be worth downloading and giving a try!
---
User Reviews of BBWCupid
BBWCupid has an overall user rating of 3.5, which is pretty good for an online dating site. We noticed that the site is rated more highly on the app than it is online, so we scraped through user reviews to try to learn why.
What we found is that reviews on the app are more recent, which shows that the site has improved over the years and some of the negative reviews no longer apply.
Modern reviewers seem to love how easy it is to sign up and there are tons of testimonials from users who found great partners through the site.
Users that don't love the site mention the limited features for free users and problems with dead accounts. Overall, it seems that users who pay for a premium membership seem to have a better time on BBWCupid.

BBWCupid vs. The Other Guys
BBWCupid vs. eHarmony
eHarmony is one of the most popular dating sites in the world, but it isn't niche to plus-size singles. However, the site does let users discuss their body type and denote the body type they find attractive. On BBWCupid users can safely assume any user they meet is attracted to plus-size singles, which may make it feel more accommodating than eHarmony.
BBWCupid vs. Woo Plus
Woo Plus is a newer plus-size dating app that is making waves in the market. It seems to focus more on casual dating and isn't as accommodating to plus-size men. BBWCupid is well-liked because plus-size men feel just as welcome on the platform as plus-size women.
BBWCupid vs. LargeFriends
Large Friends is one of BBWCupid's biggest competitors, but they are actually very similar. Both sites are good for plus-size men and women and are simple to use. Large Friends does have a lot of blog content to help singles improve their dating life, which BBWCupid doesn't seem to have.

BBWCupid FAQ
Is BBWCupid a Fetish Site?
BBWCupid is a niche dating site but is not a fetish dating site. If users on BBWCupid are treating their matches disrespectfully or being sexually aggressive, they can be reported and will be removed.
Can Plus Size Men Sign Up for BBWCupid?
Yes! Plus size men are welcome on BBWCupid.
Is BBWCupid LGBTQ Friendly?
Yes, BBWCupid welcomes all singles to their site no matter their sexual orientation or gender identity.
Is BBWCupid Good for Serious Dating?
Yes! BBWCupid is a great site for finding serious partnerships that could lead to long-term romance or even marriage.
Is BBWCupid Good for Casual Dating?
Yes! Users who want something more casual can find the right matches on BBWCupid. We recommend mentioning your dating goals in your user profile to help weed out matches that only want a long-term commitment.
Does BBWCupid Have a Mobile App?
BBWCupid has an Android mobile app but does not have an IOS option at this time.
Do I Have to Be Plus Size to use BBWCupid?
No! Users on BBWCupid can be plus size or straight size, but all users must be open to dating plus size singles and behave in a kind manner to all other users.
How Can I Try BBWCupid for Free?
If you want to try BBWCupid, all you have to do is click on our sign-up link! It will take you directly to a free sign-up form that takes less than 2 minutes to complete. Once it's done, you will be able to browse through BBWCupid and access all its free features!