BLK is one of the most popular dating sites for black singles on the whole internet. It is a safe place where singles of color can meet and potentially find love.
That's a bold claim, one that shouldn't be taken lightly! That's why we put together this in-depth BLK review.
We've got all the info from the site's history all the way to the current membership costs. So, if you have been considering signing up for BLK Dating, be sure to check this review out.
Then, if you decide BLK is the site for you, you can follow our sign-up link to create your free account!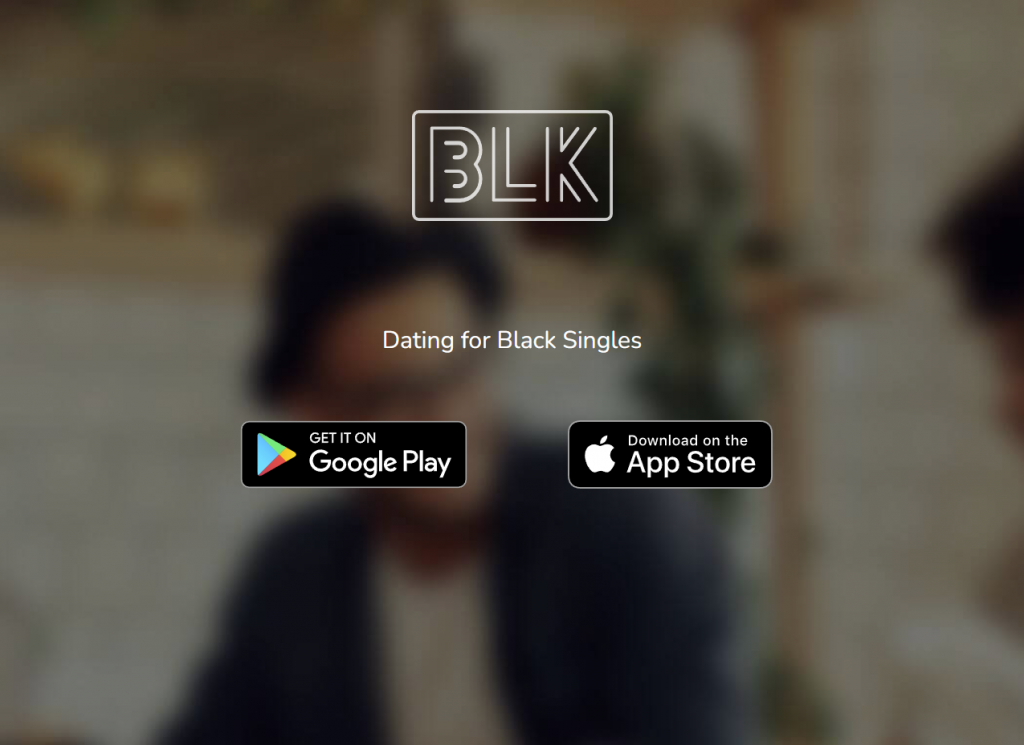 ---
BLK Dating App at a Glance

Overall Rating – 4.4/5.0
| | |
| --- | --- |
| Userbase | 2 million + |
| Sign-Up Time | About 5 minutes |
| Membership Cost | starting at $5.99 a month |
| Payment Required? | No, free trial membership available |
| Avg. User Rating | 4.4/5 |
| Avg. User Age | 20-35 |
| Gender Ratio | 52% men | 48% women |
| Free Messaging? | Yes |
| Video Chat? | No |
| iOS App? | Yes |
| Android App? | Yes |
| Web Friendly? | No, App Only |
| Support Options | FAQ page, email support |
| Launch Date | 2017 |
| Owned By | Match Affinity |
Is BLK Dating Right for Me?
BLK Dating is a very specific sight, so it may not be right for everyone. At first glance, it seems like a sight where people can meet black singles. The truth is that the site makes a point to keep the site exclusively limited to black singles.
So, if you are not a person of color or are a person of color who isn't black (native American, Asian, Polynesian, etc.) the platform is not for you. In our time on the app, we did see a couple of accounts that appear to be owned by non-black singles, but they were very few and far between.
That's because the BLK app is meant to be a safe space specifically for black singles. It is something to keep in mind when determining if the site is right for you.
---
---
What is BLK Dating?
The BLK Dating app is a modern, casual dating app that allows users to quickly like or pass on user photos. When someone likes a profile that also likes them, a match is made. It is a fast and easy way to meet people locally.
BLK Dating App History
BLK was created by Johnathon Kirkland in 2017. It was around the time of the horrific murder of George Floyd that Kirkland had the idea to create a safe space for black men and black women to meet. Since then, the app has been downloaded over 3 million times and has over 2 million active profiles.
What Makes The BLK Dating App Different?
BLK Dating App stands out from the competition because of its niche user base. The app operates as a safe space for black singles to meet and mingle. So if the user base looks a little small to you, it's only because millions of accounts you have no interest in simply aren't on the app!
We also love that BLK allows free messaging! Most modern apps make messaging a paid feature, but BLK wants all its users to get a great experience, even if they can't afford a premium membership.
Pros and Cons of BLK Dating
Pros
It only takes a few minutes to sign up for the app.
Users all have profile pictures because they are required to join the app.
It is free to message matches.
You get quite a few daily matches before the cooling-off period.
Cons
If you are interested in all ethnicities, BLK can feel limited.
You can't message users until a match is made.
There are no video chat or voice chat features on BLK.

How Does BLK Dating Work? – Features Overview
BLK is not an overly complicated dating app. If you have ever used another dating site, you can probably figure out the BLK interface with no additional help. For those who are using a dating app for the first time, or who are used to web-only dating platforms, things can get confusing, so let us explain to you how the BLK dating app works!
Signup process
BLK is app-only, so signing up starts with downloading the app. You can find it on Google Play and the Apple App Store. Once you've installed the app, click to open it and begin the sign-up process.
This begins with either entering a mobile number or signing up with Facebook. Both are fairly quick options, but signing in with a phone number is slightly more secure. Alternatively, signing in with Facebook provides you the benefit of the app pre-filling some of your profile information.
If you sign in with a phone number, you will be sent a code via text to confirm your account.
Once you have signed in, you will need to add an email address, name, gender identification, preferred dating gender, and birthday.
The app will ask about how you heard of BLK, but you can skip this question if you like.
The next step in the sign-up process is to upload a photo of yourself. This can be done by taking a selfie, uploading it from Facebook, or uploading it from your device.
You will also need to give the app permission to access your location so that it can find you local matches. Afterward, your account is finished and ready to use!
Matchmaking Process
When it comes to matchmaking, BLK keeps it light and in the hands of the user. There are no matching algorithms trying to push people together, just profile pictures, a bio, some fun fact, and the ability to say "yes" or "No."
When users get on BLK they can adjust their preferences and details in their account settings. These preferences get super specific, even covering topics like cannabis use.
Then, when users are ready to match, they will be shown a single user's photo. They can swipe up on the photo to see more details, then click the heart to like the profile or the "X" to pass. Afterward, they are shown another user's photo.
This continues until the user runs out of daily matches (premium users never run out of matches). If one of the like profiles from that day belongs to a user who liked your profile, you will be notified of a match.
Unique Features
BLK has a lot of fun features that help make the app unique. One is their newest feature – BLK Live. There, users can live stream and gain an audience to their profile.
Another interesting feature is the "see who liked you" area. This is a premium feature that allows users to view a list of profiles that have like their account. If they like any of them back, an instant match is made. It is the fastest way to get talking with users on BLK.

Free vs. Paid Memberships
BLK is one of those rare apps that is as easy to use for free as it is when paid. When you get on the app as a free member you are occasionally reminded of the things you could get for a premium membership, but it doesn't feel like the ads are being shoved down your throat.
It is completely possible to meet people and start a great relationship without paying for a premium membership.
Still, the premium memberships have their perks. Here is a quick look at all the features available to free and paid members:
Free
Create a full profile
Use the matching Zone
View live streams
Chat with matches
Premium
All free features
Get 5 super like per week
Get a monthly profile boost
Undo accidental passes
Get unlimited matching
Enjoy an ad-free experience
Elite
All free and premium features
See who has liked you (instantly match)

How Much Does BLK Dating Cost?
| In-App Purchases | # of Credits | Price Per Credit | Total Cost |
| --- | --- | --- | --- |
| Profile Boost | 5 | $0.49 | $2.45 |
| Profile Boost | 25 | $0.39 | $9.75 |
| Profile Boost | 60 | $0.29 | $17.40 |

What Kind of Relationships is BLK Dating For?
BLK dating is a perfect place for casual dating and making friends, but it could potentially be used to find long-term partners.
In BLK's settings, users can change their "looking for" goal. This lets you find profiles that are interested in the same things. Want to hook up one and never see each other again? You can do that. Want to find the mother or father of your future children? That's an option too!
BLK is well-rounded and can be effectively used for practically any type of single.

The Bottom Line – Is BLK Dating Worth It?
BLK is an anomaly in the dating app world in that the free membership includes a lot of features and the paid memberships are shockingly inexpensive. So when it comes to cost, BLK Dating is definitely worth it.
The only question is whether it is worth your time.
If you are a black single and want to only date other black singles, we think BLK is worth it. If you are open to dating all races and want to find good matches faster, BLK may not be worth the effort.
---
User Reviews of BLK Dating App
Users are raving about BLK! In fact, I don't know that we've ever seen such consistently high reviews for another dating site. On Google Play the average rating is 4.1 stars. On the Apple App Store, it is 4.6 stars.
The positive reviews all say the same things:
The app is easy to use
The singles are high quality
The free features are perfect
Negative reviews do happen, but they mostly seem to be frustrated with not knowing how to cancel paid memberships or feeling that the paid features aren't worth the cost.

BLK Dating App vs. The Other Guys
BLK Dating App vs. Black People Meet
If you have looked for black dating sites before, you probably came across Black People Meet. This site, while not bad, doesn't approach dating in the same way that BLK does. BLK keeps dating local and tries to match people with singles they could actually meet in real life.
Black People Meet has a shockingly high number of foreign accounts and will match users from all over the world. If you are not interested in international dating, BLK is the better choice.
BLK Dating App vs. eHarmony
When it comes to serious dating, eHarmony is the top in the game. They have a matching algorithm that puts singles together with their perfect match, which keeps interactions safer and more appropriate. While we know BLK Dating is the better choice when it comes to exclusively dating black singles, we have to point out that eHarmony is a top choice for anyone who wants core compatibility to rank highest in the dating totem pole.
BLK Dating App vs. Tinder
Tinder is one of the most popular casual dating apps on the market and it also offers free messaging for unpaid members. However, Tinder's user base is huge and isn't appropriately moderated, which leads to a lot of negative interactions.
If you are wanting to date casually without all the unwanted messages from people in which you have zero interest, BLK is a much better choice.

BLK Dating App FAQ
Is BLK Dating Expensive?
No. BLK dating is surprisingly inexpensive! The main accounts are free to use and premium memberships start as low as $5.99 a month!
Is BLK Dating Open to Queer Singles?
Yes! Users on BLK are allowed to choose from a variety of genders for themselves and their partner.
Is BLK Dating Open to Non-Black Singles?
Technically there is no hard and fast rule against non-black singles on BLK, but the site makes it clear that it is a safe space for black people. During our time on the site, we only saw two profiles that may have belonged to non-black singles.
Is BLK Dating Available on The Web?
No. BLK Dating is only available as an app for Android or Apple devices.