Catholic Match is a dating site aimed at helping Catholics find their perfect match. The site has been around for over 20 years and has helped many find their soul mates. The site offers a variety of features that help make finding a match easy and fun!
Catholic Match also has a strong community feel, with forums and chat rooms where users can get to know each other. The site also offers a "Success Stories" section, where users can read about other users who have found love through the site. Overall, the site is an excellent resource for Catholic singles looking for love.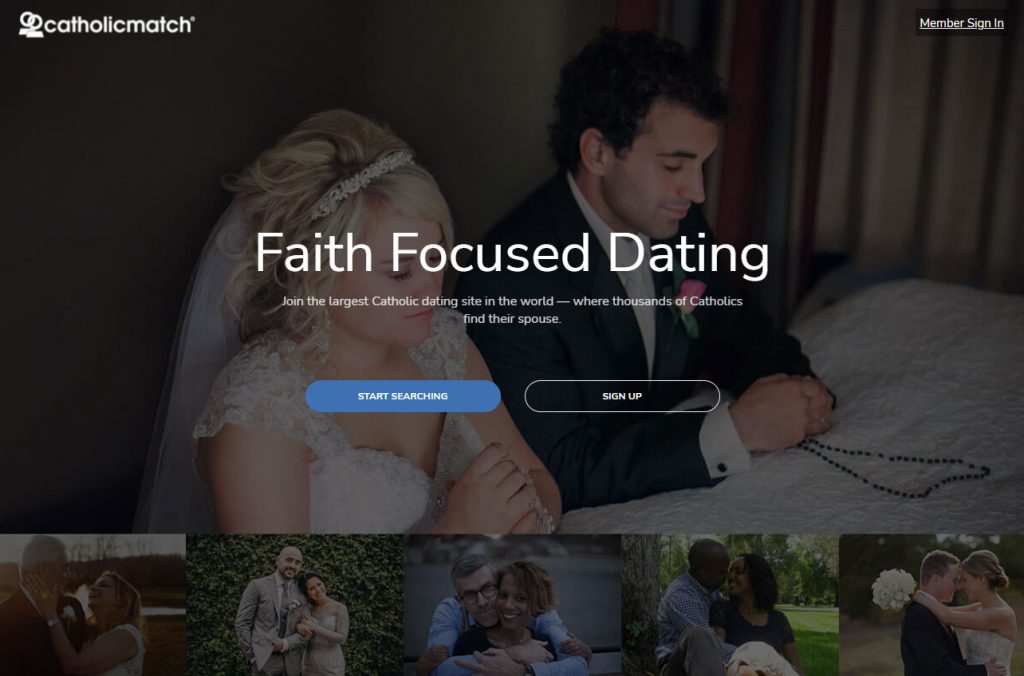 ---
Catholic Match App at a Glance

Overall Rating – 4.0/5.0

| | |
| --- | --- |
| Userbase | 1 million + |
| Sign-Up Time | 5 minutes |
| Membership Cost | Premium memberships start at $9.99/month |
| Payment Required? | Yes, free trial membership available |
| Avg. User Rating | 4/5 |
| Avg. User Age | 19-39 years old |
| Gender Ratio | 45% men | 55% women |
| Free Messaging? | No |
| Video Chat? | Yes |
| iOS App? | Yes |
| Android App? | Yes |
| Web Friendly? | Yes |
| Support Options | Email |
| Launch Date | 1999 |
| Owned By | Catholic Match Institute |
Is Catholic Match Right for Me?
If you're looking for a serious relationship with someone who shares your faith, then Catholic Match is a good choice for you. With over 20 years of experience in online dating, they've helped thousands of people find their perfect match. The site is easy to use and offers a variety of features, including a personality test, which can help you find the most compatible matches.
---
---
What is Catholic Match?
Catholic Match History
Catholic Match was founded in 1999 by Brian Barcaro and Jason LaFosse. The dating site was designed for Catholic singles looking for a way to connect with other Catholic singles in their area. The site became popular and eventually expanded to include members from all over the world. Catholic Match is one of the largest online dating sites for Catholic singles, with over 1 million members.
What Makes Catholic Match Different?
Catholic Match is different than other dating sites because it is specifically for Catholics. This means that you will be able to find people who share your same faith and values. You will also be able to find resources and support from the site that can help you in your journey to find love.
Catholic Match is open to singles of all ages and backgrounds, and it does not require its members to be Catholic to join. The service offers a number of features to its members, including a personality test, a matching system, and a private messaging system.
Pros and Cons of Catholic Match
As with any dating site, there are pros and cons to using Catholic Match.
Pros
The site offers a variety of ways to communicate with other members, including private messaging, chat rooms, and forums.
A paid membership gives you access to advanced filters relating to Catholicism, including faith level and liturgical preference.
There is a large community of members to interact with
The site is easy to navigate
Cons
Some users have reported that the number of matches on Catholic Match is not as high as on other dating sites.
The site does not have many features to make it stand out from the crowd
The trial does not include messaging, and membership can be expensive

How Does Catholic Match Work? – Features Overview
Getting started with Catholic Match is easy. Just take a few minutes to create a free profile, and start meeting people. Once you find someone you're interested in, you can send them a message and get to know them better.
Signup process
The signup process for Catholic Match is straightforward. You start by entering some basic information about yourself, including your name, location, and date of birth. After that, you're asked to answer some questions about your faith, including how often you attend Mass and whether you're a practicing Catholic.
Finally, you're asked to describe your ideal match, including what you're looking for in a partner and what you're looking for in a relationship. All in all, the signup process takes about 10 minutes.
Matchmaking Process
After creating your profile, you can start browsing through other users' profiles. Catholic Match also has several features that make it easy to find someone who shares your interests and is compatible with you. For example, you can search for people who have similar interests as you or live in your area. You can also filter your search results to only show people compatible with you.
Catholic Match also offers some ways to communicate with other members. You can send messages, chat, or even video chat with other members. You can also use the site's forums to discuss your interests with other members.
Unique Features
What makes Catholic Match unique is its focus on faith. This dating site is for Catholics who take their religion seriously and want to find a partner who shares their values. Catholic Match also offers some unique features, such as taking a personality test and seeing results that are compatible with your own. This can help you narrow down your search for a partner and make sure you're on the same page from the start.

Free vs. Paid Memberships
There are two different membership types on Catholic Match: free and paid. You can create a profile, browse other profiles, and receive messages with a free membership. With a paid membership, you can do all of that and send messages, have your profile highlighted in search results, and get read receipts on your messages.
Paid memberships start at $19.99 per month, with discounts available for longer-term plans. While Catholic Match offers a free trial, the paid membership lets you take full advantage of all features, including initiating conversations.

How Much Does Catholic Match Cost?
| Membership Type | Length | Price Per Month |
| --- | --- | --- |
| Premium | 1 month | $29.99 |
| Premium | 6 months | $14.99 |
| Premium | 12 months | $9.99 |

What Kind of Relationships is Catholic Match For?
Catholic Match is for those who are looking for a serious relationship. It is not a casual dating site. Of course, it's also meant for singles who follow the Catholic faith. Whether you're looking for a serious relationship or just want to find other Catholics to chat with, Catholic Match is a great place to start.
The site offers many helpful features, including regular updates from Catholic priests and bishops, to help you grow in your faith. And, of course, you can also use Catholic Match to find a potential spouse.

The Bottom Line – Is Catholic Match Worth It?
Yes, if you're a single Catholic looking for someone who shares your faith, this dating site is worth it. The site offers a convenient and easy-to-use platform, a large pool of potential matches, and reasonable prices. Overall, Catholic Match is a good choice for Catholics seeking a long-term relationship.

---
User Reviews of Catholic Match
In general, Catholic Match receives positive reviews from users. Many users note that the site is easy to use and navigate and that it is filled with helpful and friendly members. Some users also appreciate the site's commitment to safety and security and its Catholic-centric focus.
However, a few users complain about the high cost of membership and the site's lack of certain features. Overall, though, Catholic Match seems to be a popular and well-liked dating site for Catholic singles.

Catholic Match vs. The Other Guys
If you're curious about which dating site is the best for Catholics, you may want to check out these Catholic Match comparisons. It does a good job of comparing Catholic Match to other dating sites, so you can get a sense of how it stacks up.
Catholic Match vs Christian Mingle
Catholic Match and Christian Mingle are pretty similar when it comes to features. They both have a lot of features that make the dating process easy and fun. However, Catholic Match has more features that make it a better choice for Catholic singles.
For example, Catholic Match has a "Questions & Answers" section where you can ask questions about dating and relationships. Catholic Match also has an articles section on their website where you can learn more about dating.
Catholic Match vs Match.com
Catholic Match is probably a better option if you're looking for a serious, long-term relationship. This is because the site is geared towards helping people find a partner for marriage with someone who shares the same faith.
On the other hand, if you're just looking for a casual relationship or a date, then Match.com might be a better option.
Catholic Match vs eHarmony
In terms of userbase, eHarmony is the clear winner. The site has over 29 million members, while eHarmony has about 1 million. Catholic Match also has a lot more features than eHarmony. For example, Catholic Match has a discussion forum where members can post about topics, including theology.
Another advantage of Catholic Match is that it is specifically designed for Catholics, and this means that you can be sure that everyone on the site shares your values and beliefs. eHarmony is a more general dating site, so it may not be the best choice for Catholics looking for a partner who shares their faith.

Catholic Match FAQ
How Do I Sign Up for Catholic Match?
To sign up for Catholic Match, visit the website or app and click on the "Get Started For Free!" button. Once you have created an account with your email and password, you can begin filling out your profile and searching for matches.
How Do I Search for Matches on Catholic Match?
Visit the website or app and log in to your account to search for matches. Once you are logged in, you will be able to use the search feature to find matches based on your criteria. Set the desired age range, distance, marital status, and whether or not they accept church teachings.
If red appears behind one of the match filters, the filters are too strict that the dating pool has become too small. It's recommended to be more flexible with your filters to see more matches.
How Do I Communicate With Other Members on Catholic Match?
There are a few ways to communicate with other members on Catholic Match. You can send a "Like" to show interest, send a message, or engage in the forum. The video chat feature is a great way to get to know someone quickly and easily. You can also give your two cents on the "Hot Topics" forum, where users debate everything from whether or not it's okay to date outside the faith to which Catholic social programs are most effective.
How Long Will it Take Me to Meet Someone?
There is no set time frame on when you will meet someone through online dating, and it varies depending on how active you are on the site and how many other members are also using the site. However, with a large enough pool of members, you will likely find someone compatible with you relatively quickly.
How Can I Unlock a Message?
If you are a free member, you can unlock a message from another member by upgrading to a Premium Membership or wait ten days to view the message after it is received. You can also message matches if the like is mutual.
How Does Matching Work?
Matching is central to Catholic Match.com's success. By using a computer program to compare members' profiles and identify those who have similar interests and values, Catholic Match.com can bring together like-minded individuals who are more likely to hit it off and have a successful relationship. This matching system is based on many factors, including age, education, religious affiliation, and lifestyle.
How Can I Learn More About Temperaments?
If you want to learn more about temperaments, an excellent place to start is with Catholic Match's Temperament Quiz. The quiz will help you understand the different types of temperaments and how they interact. Once you know your own type, it can be easier to understand and relate to others.
What Are "Hot Topics"?
Hot Topics are topics of interest to users and have received engagement within the past three days. The Hot Topics list is viewable by all users, but only those users who are logged in can post new topics or reply to existing topics.