The dating industry is a $1.3 billion dollar industry, and it seems that every day there's a new app trying to get a piece of the pie. There are apps for every type of person no matter what your religion, race, or sexual preference is. One of such apps aimed at connecting Christians is the Christian Cafe.
If you like their vision and you're considering signing up then this review of Christian Cafe will steer you in the right direction and hopefully answer all your questions. Without further ado, let's see what Christian Cafe has to offer users in 2023.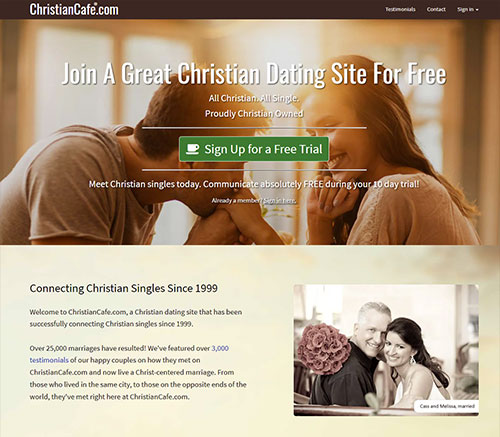 ---
Christian Cafe App at a Glance

Overall Rating – 4.0/5.0
| | |
| --- | --- |
| Userbase | 500,000 + |
| Sign-Up Time | 5 minutes |
| Membership Cost | Starting at $9.16/month |
| Payment Required? | 10-day free trial then payment is required |
| Avg. User Rating | 4/5 |
| Avg. User Age | 25 to 44 years old |
| Gender Ratio | 40% men | 60% women |
| Free Messaging? | Yes, but it's not chatting, instead you send an email. |
| Video Chat? | No |
| iOS App? | Yes |
| Android App? | Yes |
| Web Friendly? | Yes |
| Support Options | FAQs, email, forums |
| Launch Date | 1999 |
| Owned By | Not Disclosed |
Is Christian Cafe Right for Me?
As the name already suggests, this website is for Christians who want to date someone of their own faith. The app is designed for long-term relationships be it a romantic one or a friendship. If you take dating seriously and want to find someone who shares your faith, your values and your beliefs then the Christian Cafe is the perfect place for you. On the other hand, if you're browsing casually and have no intents to commit to anyone then consider joining another site.
---
Contents of Our Christian Cafe Review
---
What is Christian Cafe?
This dating app has been designed specifically for those who are of the Christian faith. The app is free to download and can be used on both Android and iPhones. As we already mentioned, this makes it a great option for those who want to meet someone of the same faith and values as them.
They pride themselves in having over 25,000 marriages and over 3000 testimonials from happy couples who live in a Christ-centered marriage. Christian Cafe has connected people both within the same country and on the opposite ends of the world.
Christian Cafe History
The history of Christian Cafe is quite secretive. There is no openly available information on the owners of the Christian Cafe app outside of what can be seen in the screenshot above . We do know that it was launched back in 1999 and according to their website, it's independently Christian owned. As they put it, "we share your Christian faith and values. It's truly Christians connecting Christians."
What Makes Christian Cafe Different?
The dating app market is overly saturated and it's becoming harder and harder to stand out especially for "oldies" like Christian Cafe that need to compete with innovative matchmaking algorithms that the newer apps offer. Christian Cafe has nothing of the sort. On the contrary, the overall design of the app seems quite outdated. But the app still attracts user-base for one simple reason – it's niche.
Since day one, Christian Cafe has targeted a clear demographic and positioned itself as an app designed by Christians for Christians. This messaging is clearly reflected in the name and the overall brand of the app. Branding and messaging aside, just the name already clearly states what you can expect from the app and who you can expect to meet there. So, people who are sure that they want to have a Christian partner can be assured that they won't have to swipe left and right, and scroll for hours to come across a suitable partner.
Pros and Cons of Christian Cafe
Pros
The target audience of the app is clearly defined and there are no surprises for the users. It's made specifically for Christian singles looking to meet fellow Christians.
It has both iOS, Android and web versions.
The premium packages are very affordable.
Cons
The free trial ends after 10 days and no features (even limited) are available unless you upgrade.
There is no instant chatting feature on the app, you need to send emails.
The app doesn't ask for gender preferences and even though you can still search for both women and men, the app by default, connects you with the opposite sex.

How Does Christian Cafe Work?
We already briefly noted that Christian Cafe is certainly not the most innovative app out there. On the contrary, the design and the features of the app are old-school. No bright colors, gamification features or AI powered matching algorithms. Christian Cafe has kept it simple.
Let's take a closer look at how it works and what features it offers to its users.
Christian Cafe Signup process
To sign up process of the app is quite straight forward. Here is a brief overview of what it looks like:
Download the app or open it on your browser.
Pick a username and insert your email address.
Enter your city, country, ZIP code, gender and date of birth.
Agree to the terms and conditions and your profile is almost set.
Once you're done filling out these basic details, the app will ask you to tell more about yourself. The questions vary from marital status to height, hair color, church involvement, lifestyle and whether or not you're willing relocate. It should take you no more than 10 minutes to answer these questions.
There is an optional section after this step, where the app asks you a number of open-ended questions. In their words it will help:
Increase your odds of receiving emails.
Show that you're serious about finding a partner.
Help others get to know you, and start a meaningful conversation with you.
The questions are nothing philosophical. For example,
Describe your Christian faith. Where are you at and what are your goals? What Scripture verses are important to you?
What are your favorite activities?
What are some of your personal goals in life?
To complete your profile, you need to upload photos. Uploading photos actually gives you 3 more days of free trail in addition to the default 7. The guidelines of photos on Christian Cafe are quite strict. For instance, they don't allow photos with bikinis, cleavage or excessive "skin." So, make sure to read their guidelines carefully before you upload photos.
Overall, the whole process of creating a profile will take you about 30 minutes. It can longer or shorter depending how much you think over your answers. All in all, we think the process of creating an account on Christian Cafe is simple and straight-forward.
Christian Cafe Matchmaking Process
The matchmaking process on Christian Cafe is manual. By this we mean that there are no fancy algorithms suggesting people you may like. You need to go through profiles manually and choose whether or not you want to message them. As such, there are four main ways that matchmaking takes place on Christian Café:
Quickmatch
Checking new members
Online pages
Advances search
Quickmatch
When you select this option, the app present you profiles of the opposite sex that are within your age range and geographic location.
Checking the new members
Christian Cafe recommends periodically checking the new members, who have just joined the app. If there is anyone who grabs your attention, send them an email introducing yourself.
Online pages
This section has the profiles of people who are active in the app who are currently logged in, so if you're impatient and want to get a quick response, consider browsing through these profiles.
Advanced search
Last but not least, you can do an advanced search on the app and look for potential partners.
Unique Features on the Christian Cafe Dating App
It's hard to come up with a novelty feature in the dating app world. While this feature is not extremely unique, it's certainly very interesting and very useful for people who like to be a part of a community. Christian Cafe has a Forum section very similar to Reddit, where you can chat with people and share your opinions, ask or answer a question on a given topic. It's also a great place to meet people.

Free vs. Paid Memberships
Christian Cafe offers a free trial which ends after 7 days or 10 days if you upload photos when signing up. The free trial allows you to use all of the app's features – search, message, see who viewed your profile, etc. After the free trial is over, you have to purchase a membership.
There are four types of subscriptions that all offer the same features but vary in duration:
1 year – $9.26/mth
6 month – $14.99/mth
3 month – $19.99/mth
1 month – $39.97/mth
You can also pay in one installment if you wish.

How Much Does Christian Cafe Cost?
| Membership Type | Length | Total Price | Price Per Month |
| --- | --- | --- | --- |
| Premium | 1 month | $34.97 | $34.97 |
| Premium | 3 months | $49.95 | $16.65 |
| Premium | 6 months | $79.95 | $13.33 |
| Premium | 12 months | $99.95 | $8.33 |

What Kind of Relationships is Christian Cafe For?
Christian Cafe is suited for people who are looking for lasting long-term relationships. The dating site also highlights friendships, so if you're looking for long-term meaningful relationships with people who share your religious views, give it a go.

The Bottom Line – Is Christian Cafe Worth It?
It is 100% worth trying IF you're a Christian who wants to be connected with fellow Christians and form a long-lasting relationship. It's not the only Christian dating app out there but it's one of the top ones, so if the criteria mentioned above apply to you then take advantage of the free trial and dip your toes in the water.
---
User Reviews of Christian Cafe
Christian Cafe has a 4/5 rating on sitejabber and 3.1/5 on Trustpilot. There are 943 reviews on the website and only 77 of them are 1s and 2s. The positive feedback revolves around these themes:
Easy and affordable billing.
User-friendly website.
It's easy to find someone who interests you and who finds you interesting.
The negative comments touch upon the following:
Users have come across scammers.
The free trial period is too short.
Finding someone who is in the same area is difficult.

Christian Cafe vs. The Other Guys
Christian Cafe is most certainly not the only dating app out there that offers faith-based experience for its users. Let's compare Christian Cafe to some its big competitors.
Christian Cafe vs. Christian Mingles
Christian Mingles also aims to connect faith-driven singles for meaningful and lifelong connections. It has a bigger user-base than Christian Cafe – about 15 million singles. The app and the website are more modern-looking but it's a lot more expensive, $49.99 a month, and the free trial comes with very limited features.
Christian Cafe vs. Christian Cupid
This app is also designed for the very same purpose, serve as a platform for Christian singles to meet. Signing up for Christian Cupid is free but again, the free version has very limited options. Memberships start at $8.33 a month.
The benefit of Christian Cafe compared this two is its full-feature free trial period, but if you don't mind paying upfront then do explore the other apps as well.
Christian Cafe vs. eHarmony
While eHarmony doesn't advertise itself as specifically designed for Christians, it situates itself as an app for serious long-term relationships. It may interest Christians seeking this kind of relationships. Not everyone on eHarmony identifies as a Christian, so if you're 100% sure that you exclusively want to date a Christian woman or a man then go for Christian Cafe. However, if you're open to other faiths but want a serious relationship then give eHarmony a try.

Christian Cafe FAQ
Is Christian Cafe free?
Christian Cafe offers a 100% free trial that lasts a week and you can get extra 3 days when you upload photos. After the trial period is over, you need to upgrade.
What is the male/female ration on Christian Cafe?
About 60% of the user-base is women while, 40% are men.
Can I check the profiles of users while on a free trial?
Yes, the free trial of Christian Cafe gives you access to all of its features including viewing profiles, sending and receiving messages.
What kind of people can I expect to meet on Christian Cafe?
The majority (if not all) of users are of Christian faith who are looking for long-term serious relationships.