We know what you're wondering – an online dating site for Christians to mingle? It may sound unusual if you're someone who associates online dating with casual relationships and hook-ups. But if you're a Christian, we think you're going to appreciate having a platform that helps you find singles who share your faith and moral values.
With over 15 million Christian singles on the platform, if you're looking for a God-centered relationship, you will have no lack of potential matches.
Still wondering if you should give this religious dating site a go? Take a look at our Christian Mingle review below. We'll break down everything the Christian Mingle app has to offer to help you answer to the question – "is Christian Mingle legit?".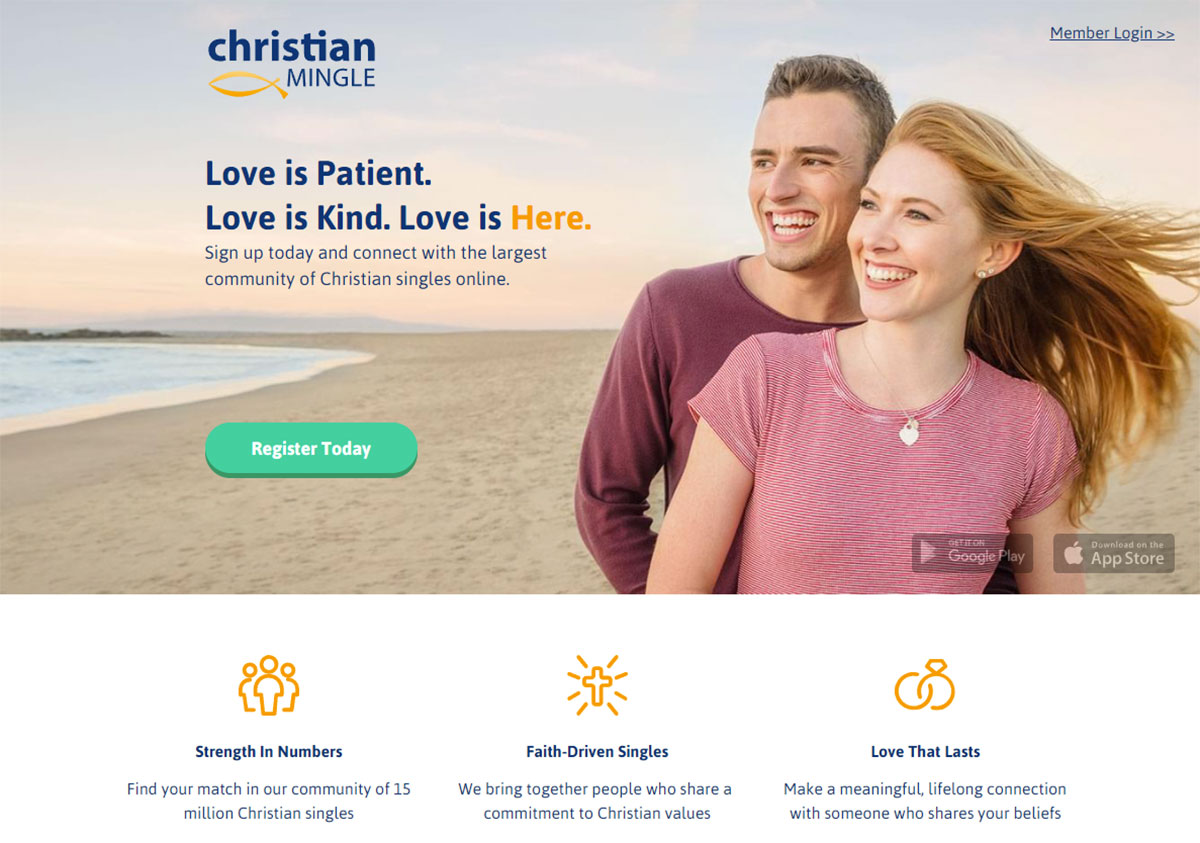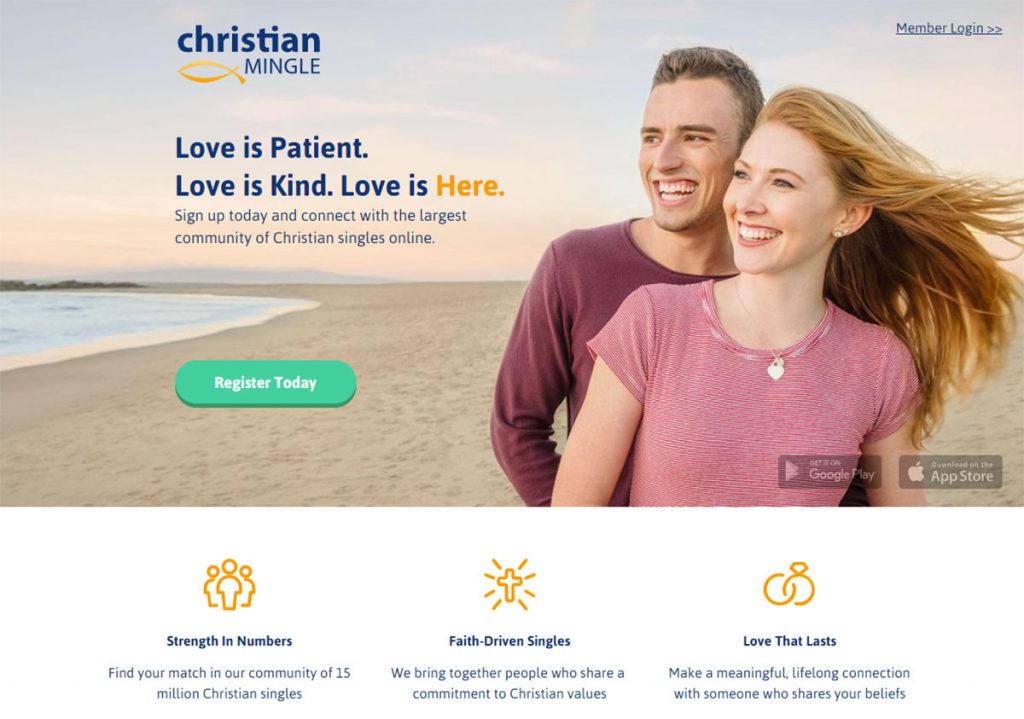 ---
Christian Mingle App at a Glance

Overall Rating – 4.7/5.0
| | |
| --- | --- |
| Userbase | 15 million + |
| Sign-Up Time | 5 minutes |
| Membership Cost | Starting at $24.99 |
| Payment Required? | No - free trial membership available |
| Avg. User Rating | 4/5.0 |
| Avg. User Age | 30 to 55 years old |
| Gender Ratio | 45% men | 55% women |
| Free Messaging? | For responding, not for initiating |
| Video Chat? | No |
| iOS App? | Yes |
| Android App? | Yes |
| Web Friendly? | Yes |
| Support Options | FAQ page and Help request form |
| Launch Date | 2001 |
| Owned By | Spark Networks |
Is Christian Mingle Right for Me?
Are you a God-fearing Christian? If you are, then chances are, you're more likely to find the right match for you on Christian Mingle than anywhere else. That doesn't mean that the dating site is only for devout Christians who visit the church regularly either, but it is catered more towards singles looking for a serious, committed relationship, with an emphasis on Christian faith and religion. If that is what you are looking for, Christian Mingle dating app certainly has a higher possibility of gathering potential matches who share the same values and goals as you do, than any other online dating sites.
---
---
What is Christian Mingle?
Christian Mingle is a highly popular niche online dating site that meets the needs of Christian singles looking for potential matches who share similar God-fearing faith and values, be it towards life or relationships. With over 15 million users on the platform, you may be pleasantly surprised to find just how many Christian singles are out there looking for a committed, lifelong partner. Christian Mingle dating site provides the platform and tools for you to proclaim your religion and faith-based values without qualms.
Christian Mingle History
Christian Mingle was launched in 2001 by Ben Peterson and Ryan Sanders, who became co-founders of Mingle Match, Inc., which owned Christian Mingle. In 2005, Mingle Match, Inc. was acquired by Spark Networks, which is also the owner of popular online dating sites such as Zoosk and Elite Singles, in an attempt to expand their market share in the online dating sector with niche interests. In two decades, Christian Mingle dating site now has over 15 million users.
To keep up with the evolving demands of the online dating community, Christian Mingle developed its app formats in 2014 and revamped its site in 2015 to optimize and refresh the features on the platform. They started providing daily matches and a look-book to facilitate the browsing process, which were much appreciated by their existing members. In 2014, a romcom with the same title, Christian Mingle, was released, featuring how a woman finds love through the Christian Mingle online dating site. Despite dismal ratings, the fact that a movie was made out of this online dating site goes to show its mass appeal, especially in the Christian community.
Despite being lauded as a religion-based niche dating platform in the 2013 Webby Awards, Christian Mingle dating platform was embroiled in a non-discrimination lawsuit in 2016, as it had previously only allowed a search for the opposite sex, and not the same sex. Even as the site now offers same-sex matches, it is not inclined to advertise on it.
What Makes Christian Mingle Different?
By calling it Christian Mingle, the dating site automatically filters non-Christians out of the dating equation. It is also distinctive in offering a platform with Christianity as the focal point, in which the relationships on this site are built upon.
On Christian Mingle dating site, Christian singles can freely discuss their faith and values, without fear of being judged or labeled as being too religious. In fact, on this platform, your piousness is appreciated, and through this platform, Christian singles can seek not just potential matches, but potential spouses, who are keen to pursue a long-term relationship as well.
Pros and Cons of Christian Mingle
Pros
Over 15 million Christian singles on the platform to browse for potential matches.
Sharing similar faith and values, relationships developed on the platform are likely to last longer, as evident from over a hundred pages of success stories, mostly ending in marriage.
Clean and simple interface to access, be it on web browser or on app.
Matches are displayed based on preferences, with a LookBook to swipe through profiles a la Tinder.
Each match has an indication of a compatibility percentage, according to your preferences, for your easy reference.
Sufficient free features to set up a complete profile, browse freely, and respond to messages.
Cons
Unlikely to find matches for casual relationships with no strings attached.
If you're not religious then conversations with devout Christians may come across as "preachy".
Although you're able to indicate your preferences for the site to generate suitable matches, there are no specific search functions available for you to filter based on a single criterion.
Paid membership is required to initiate conversations.
Only available in 7 countries, i.e. the USA, Canada, the UK, Australia, France, Germany, and Spain.

How Does Christian Mingle Work? – Features Overview
With over 15 million Christian singles on the platform, Christian Mingle is designed for a simple and fuss-free experience for all its users to set up their profile, browse, match, and kick-start a conversation with each other. Although the likelihood of establishing a connection increases with a paid membership, you will still have a fair share of opportunities to match with a free account, by responding to messages from paid members.
Signup process
As with most online dating sites, signing up for Christian Mingle simply takes around 5 minutes for you to fill up your basic information, such as the Facebook account, Apple account, or email address that you wish to use for signup, choose a password, enter your name, gender, birthday, and location, before you get to the page that requires you to upload your profile picture.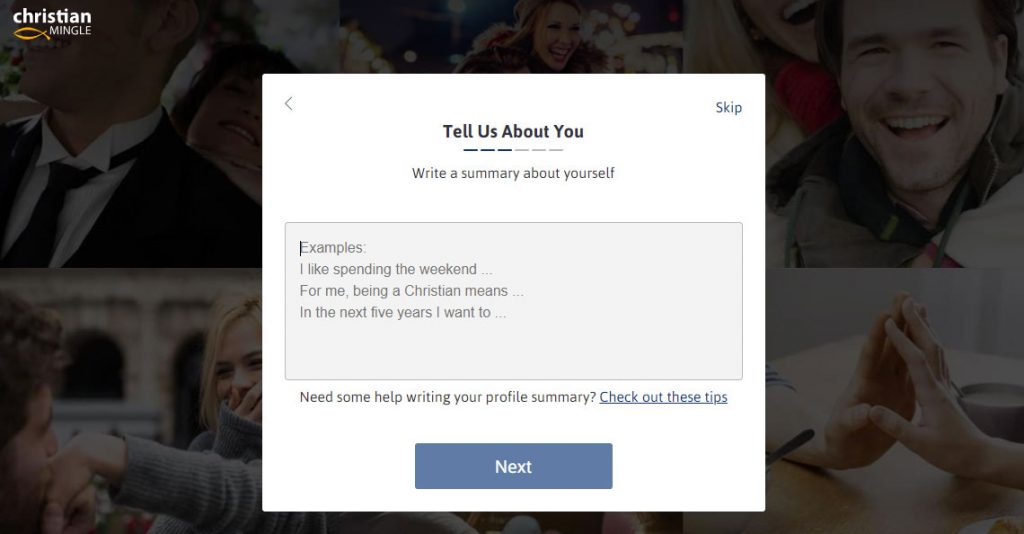 Subsequently, you will be requested to fill in further details on your profile, such as height, marital status, church attendance, occupation, and preference for kids, which you can leave them to fill at a later stage, although it is mandatory to fill in your religion and level of education. It is also optional to fill in a summary about yourself and identify your interests, although this information would be useful in matching you with other users on the platform. The last segment requires you to fill in who you are looking for, in terms of gender, age, distance, religion, and relationship type (which has no option for a casual relationship).
Matchmaking Process
Christian Mingle has a clean and simple interface, which makes it easy to navigate and browse for potential matches. Rather than manually searching for the profiles you desire, Christian Mingle requires you to fill up your profile and indicate your discovery preferences, so that they can filter the extensive list of profiles on the dating site for you.
The basic preferences you need to indicate include gender, age, distance, religion, and relationship type. There are also advanced preferences, such as height, level of education, frequency of church attendance, marital status, language, ethnicity, preference for kids, smoking and drinking habits, as well as willingness to relocate, that you can choose from.
There are two ways in which your potential matches are displayed on the platform. On one hand, you can choose to browse through pages of profiles, based on whether they are new to the platform, their online status, distance, or match percentage with you. On the other, you can view one profile at a time on the LookBook feature, so you can take a closer look at each profile before you decide if you like them.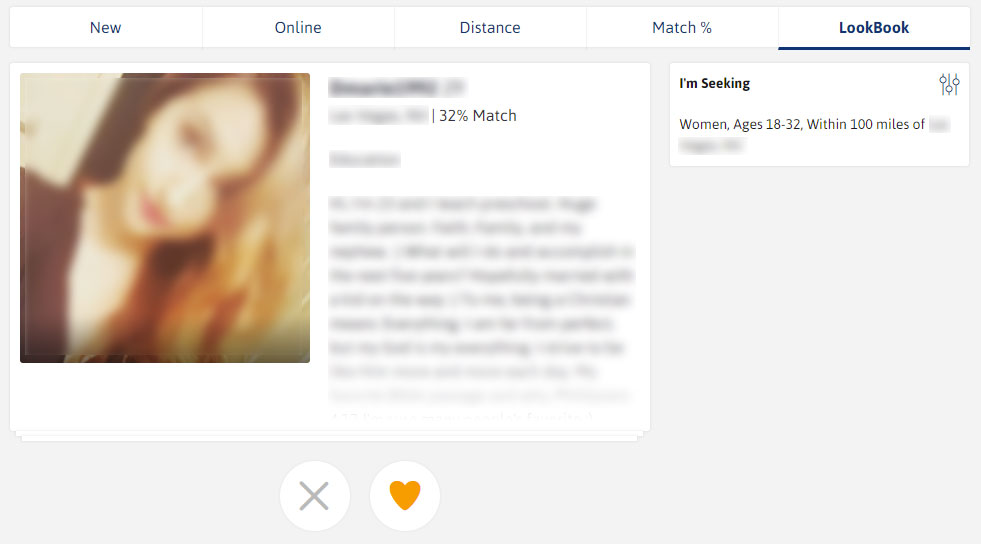 Once you do, you can click on the heart or send them a smile to show your interest. If you're keeping a free account, you may have to pray that they have a paid account to send you a message to start a conversation.
Unique Features
Having a match percentage indicated on each profile on the Christian Mingle dating app is a rather useful feature to gauge your compatibility with another user, before they get lost in a sea of profiles presented to you. However, this means that you will have to be diligent in entering sufficient information on your profile as well as preferences, in order for the percentage shown to have some degree of accuracy. It's great to see that most of the profiles on the Christian Mingle dating site are detailed and informative, which also show how serious they are in looking for the right partner who shares their values.
Although the LookBook feature on the Christian Mingle dating app is not entirely unique, the fact that the platform offers two different ways of displaying potential matches shows how it is catering to users with different browsing preferences, be it with a holistic view or one profile at a time. It also has an Activity section that keeps track of your activity on the platform, whether it's the profiles you have viewed or liked, or users who have liked you in return or viewed your profile.

Free vs Paid Memberships at Christian Mingle
Christian Mingle dating app is pretty generous with their free features, although having a paid membership would provide you access to all their features, which include profile display controls that allow you to hide your online status and browse anonymously, viewing read receipts so you know when your messages have been read by other users, and also the ability to initiate conversations freely with other users. Free Christian Mingle users will not be able to access these premium features.
With a free account, you will still be able to:
Set up your full profile, which includes uploading up to 6 profile photos and filling your profile biography.
Select discovery preferences and browse through all your matches to view their full profile.
Respond to messages from paid members.

How Much Does Christian Mingle Cost?
| Membership Type | Length | Monthly Price | Total Cost |
| --- | --- | --- | --- |
| Premium | 1 month | $24.99 | $24.99 |
| Premium | 3 months | $34.99 | $104.97 |
| Premium | 6 months | $12.49 | $299.94 |
| Spotlight (Add-on) | 30 days | $14.99 | $14.99 |
| Spotlight (Add-on) | 7 days | N/A | $6.99 |
| Spotlight (Add-on) | 1 day | N/A | $2.99 |

What Kind of Relationships is Christian Mingle For?
Christian Mingle is great for serious, long-term relationships, as most, if not all, of the singles on this platform have Christianity centered in their lives, which means casual flings or hook-ups are considered profane to them. On Christian Mingle, high quality matches go beyond superficiality, and reach deep in terms of beliefs, values, and desire to commit in a long-term relationship, preferably with marriage in mind. You should consider Christian Mingle as your preferred dating site only if you have such a relationship goal in mind.

The Bottom Line – Is Christian Mingle Worth It?
For Christians to navigate through the unpredictable online dating world can be precarious, for there may be temptations that test your faith, or seductions that lead to disappointments. In this Christian Mingle dating site review, we find that Christian Mingle is a safe space for Christians to find their like-minded soulmate, without being dismissed for being too holy, and having Christian values that cherish chastity and kindness are appreciated.
If you're looking for a quality match that has similar Christian values as you do, Christian Mingle is not just worth your time, it's going to save your time from thinking how to broach the subject of religion in dating conversations to find out whether the other party is right for you. Think about it – if you had met your soulmate on Christian Mingle, wouldn't it be a form of divine intervention as well?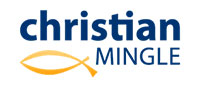 ---
User Reviews of Christian Mingle
As much as we love what the Christian Mingle dating site has to offer, it has a pretty low rating on Google Play with 1.7/5 and an average rating on Apple App Store with 3.7/5. This is mostly due to the premium membership, which most found to be too costly and unjustifiable, especially with the slow and laggy loading on both the app and web browser. While there are happy users who have found their perfect match on the dating site, there are also users who were dissatisfied with the quality of matches on the dating site.

Christian Mingle vs. The Other Guys
An online dating site that is centered upon Christianity may be few and far between, but there are still some other viable options in the vast online dating world that we can compare Christian Mingle against. If you're considering alternatives to the Christian Mingle dating app, here are a few online dating sites you may wish to consider.
Christian Mingle vs. Catholic Match
Both Christian Mingle and Catholic Match facilitate a dating experience that is grounded in religion, faith, and values. However, Catholic Match is stricter in only allowing Catholic singles to register on the site, with questions to validate your understanding of the Catholic religion. If you find such restriction helpful in sieving out profiles that better match your Catholic values, you may prefer Catholic Match, as Christian Mingle is more welcoming towards non-Christian users, so long as they share similar moral values in Christianity.
Christian Mingle vs. eHarmony
With its conscientious effort to encourage a meaningful, committed relationship, many may associate eHarmony as having religious affiliations, but it does not. Unlike Christian Mingle, eHarmony is a secular online dating site that does not focus on users' religious affiliations. If you're looking for a serious relationship that does not necessarily have to be based on your faith or religion, you may find eHarmony a more suitable platform to explore your options.
Christian Mingle vs. Elite Singles
Although Elite Singles does uphold similar standards, as compared to Christian Mingle, its basis is largely on the educational level and professional standing of users, while Christian Mingle is based on faith and religious values. If you're considering these two platforms, you are likely someone who is looking for high quality matches. If you consider the educational level of a user as a better determining factor of their compatibility, as compared to their faith in Christianity, Elite Singles may be a more ideal dating platform to find what you're looking for.

Christian Mingle FAQ
Is Christian Mingle only for Christians?
Christian Mingle welcomes users from all denominations of Christianity, which may include Anglican, Baptist, Catholic, Lutheran, and even provide options for you to indicate as Non-denominational, Not sure yet, or Other Religion. However, if you choose to be on the Christian Mingle dating site, you ought to join with the intention of looking for those who are similarly grounded in the values of Christianity.
What is Spotlight on Christian Mingle?
Spotlight is a membership add-on that helps you get more attention from other Christian singles on the platform by pushing your profile to the top of browse results. It can be purchased in 1 day, 7 day, or 30 day plans.
Can I access Christian Mingle through an app?
Yes, you can. Christian Mingle is available for download on Apple App Store and Google Play.
Will I be able to browse photos of other singles on Christian Mingle?
If you are a paid member you will be able to see all uploaded photos from anyone your interested in. If you are a free member you will only be able to see one main photo on their profile. If free members try to see additional images they will see this prompt telling them they have to upgrade.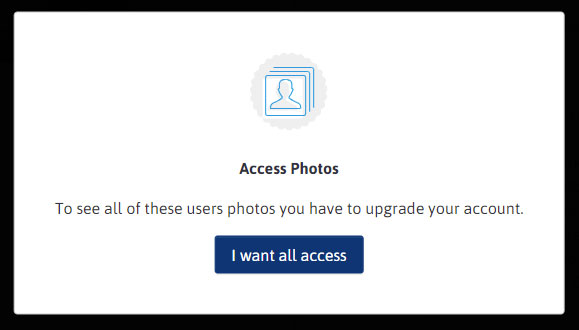 Is Christian Mingle legit?
There are more than 300 success stories on their website to tell you that Christian Mingle is legit. With good faith, you will be able to connect with fellow Christian singles who are similarly looking for a serious, meaningful relationship that lasts.
Can I cancel my Christian Mingle membership at any time?
You can surely cancel your membership with Christian Mingle at any time you wish, but note that you will not be able to receive any refund for the remaining period of the membership.