If you feel like you've tried every dating app out there without luck, we've got good news for you! Clover is a relatively young dating app that you may not have heard of, but should definitely look into.
The site is a modern hybrid of casual dating apps, algorithmic dating platforms, and youthful social platforms. Clover has managed to create a platform where singles can find matches based on compatibility while still enjoying the laid-back vibe of casual dating apps.
If that sounds like something that interests you, you don't want to miss this full Clover review!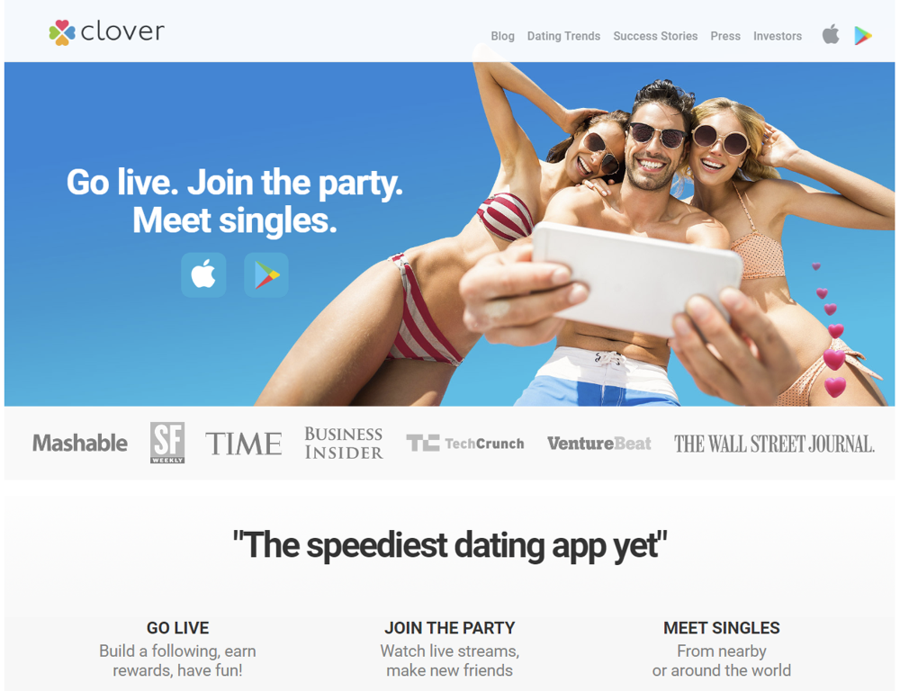 ---
Clover App at a Glance

Overall Rating – 4.1/5.0

| | |
| --- | --- |
| Userbase | 3 million + |
| Sign-Up Time | 5 minutes |
| Membership Cost | Premium starts at $10.00 a month |
| Payment Required? | No, free trial membership available |
| Avg. User Rating | 4.1/5 |
| Avg. User Age | 18-34 |
| Gender Ratio | 67% men | 33% women |
| Free Messaging? | No |
| Video Chat? | Yes |
| iOS App? | Yes |
| Android App? | Yes |
| Web Friendly? | No, app only |
| Support Options | FAQ page and email support |
| Launch Date | 2014 |
| Owned By | Clover Inc |
Is Clover Right for Me?
If you want to know if Clover is right for you, you should answer these four questions:
Are you under the age of 35?
Are you interested in serious romance but intimidated by sites like eHarmony?
Are you looking for the most modern approach to serious dating?
Are you prepared to pay for access to messaging?
If you answered yes to any of these questions, Clover may be right for you!
The platform is a fun hybrid of dating app designs that allow young singles a place to find and interact with truly compatible matches. It is a space where singles can focus on their future and meet long-term partners without dealing with the boring, formulaic approach offered by old-school dating sites.
---
Clover Dating App Alternatives
Does Clover not sound like the right app for you? Here are some other options we think you'll love!
---
---
What is the Clover App?
Clover is a dating app (no web-based option) that allows singles to interact in a natural, laid-back manner while also helping match people based on core compatibility. The platform has been around for less than 10 years, making it one of the younger popular platforms on the market.
Clover History
Clover was launched in 2014 on the Apple App store. The Android version of the app didn't launch for a few more years, but despite this, the app saw an influx of users. In fact, they had 50,000 members in just the first year.
Now, the app is home to millions of profiles from across North America.
What Makes Clover Different?
Clover recognizes that matching people based on compatibility doesn't work if those two people can't find a way to begin connecting. That's why they take such a social approach to the matchmaking process.
There are lots of ways for users to be social on the apps including virtual dates, mixers, games, and more. We'll go into more detail about these features late in this Clover review.
Pros and Cons of Clover
Pros
All users can access the messaging area for free.
The app is great for finding serious romance.
The app helps users create both real-world and virtual dates.
Cons
The percentage of compatibility score doesn't always seem accurate.
The age range of the app's users seems very young (18-34).
The premium membership is quite expensive.

How Does Clover Work? – Features Overview
We've been praising how unique the Clover app is, but does unique = confusing? Actually, Clover is very intuitive and most users are able to manage the app straight out of the gate. Read on to take a look at the features of Clover and how they work.
Signup process
In addition to modernizing the dating process, Clover has a modern approach to signing up for their platform. Specifically, they make sure the process is easy and fast. They know that confusing and convoluted sign-up steps can turn users off from using the platform, so there are a few simple ones to complete:
Download the app on your device.
Fill in a small amount of basic information (age, name, gender, profile photo, etc.).
Link the account to your email or Facebook profile.
Optionally, you can add information about your educational background.
Matchmaking Process
While Clover does utilize compatibility to help match singles, the majority of matching comes through meeting people on any of the many social aspects of the platform. You might meet someone on a live stream, in a mixer, while playing 20 questions, or while using the Dating on Demand feature.
Users can also use the traditional matching style of simply liking profiles that appeal to them.
With all these matching options, users will find themselves with no shortage of new people to meet and interact with.
Unique Features
Clover is a unique dating app with even more unique features. While they have a lot of standard features they've put their own polish on, there are a few features we haven't seen on many other dating sites. These include Dating on Demand, Digital Dates, and Mixers.
Dating on Demand
Dating on Demand is one of those rare features that made us say, "Woah, how is every platform not doing this?!"
Here's how it works:
Users change their profile settings to show they are available for dating on demand.
They see other users who also want to go on a date.
They say whether they are interested in a date with each person available.
If they say yes to a profile that said yes to them, they will connect and begin planning the details of the date!
That's right, it is like setting up your own blind date!
Digital Dates
One way that the Clover app has managed to continue thriving over the years is by implementing a digital date feature. This lets users meet each other and have a face-to-face encounter without having to meet in person.
Not only is this feature useful during International health crises, but is also perfect for staying safe and avoiding catfish while online dating.
Mixers
Mixers are the bread and butter of Clover. These are social areas based on hobbies, jobs, sexual orientation, or anything you choose. Users who associate with the theme of the mixer can join and interact with other users.
This is the main way that clover helps compatible singles meet each other. The social focus also helps users to feel more comfortable chatting, which can increase the odds of all users finding a great match on the app!

Free vs. Paid Memberships
Though it is completely free to sign up for the Clover dating app, free users are missing out on all the best clover features. Here is a look at the differences between a free and paid Clover membership.
Free Clover Features:
Create an account
Respond to messages from matched users
Look through user profiles
Play 20 questions
Join mixers
Send date requests in the Dating on Demand area
Paid Clover Features:
Send messages to anyone even if you aren't matched
Use all the site's features (Boosts, virtual dates, etc.)
Live video chat & voice calling
Send audio clips
Send videos
Send photos
Send gifts
Use advanced search filters
Free profile boost every week
See who checked out your profile
Sort your matches by age, income, location, and more
Get an ad-free experience

How Much Does the Clover Dating App Cost?
| In-App Purchases | Amount | Total Cost |
| --- | --- | --- |
| Premium Membership | 1 month | $10 |
| Premium Membership | 3 months | $37 |
| Premium Membership | 6 month | $56 |
| Boost | 1x | $2.99 |
| Boost | 5x | $12.95 |
| Boost | 10x | $19.90 |

What Kind of Relationships is Clover For?
Despite the laid-back appeal of Clover, the site is actually intended for finding meaningful relationships. The best part of clover is you won't even realize the heavy lifting the platform's features are doing in creating meaningful matches.
The platform feels fun and users will casually meet lots of people. But these interactions give users the best opportunity to meet singles with whom they are deeply compatible.
This leads to relationships that last longer and have a higher potential for leading to marriage.

The Bottom Line – Is the Clover App Worth It?
Clover is a really cool dating app. Though the premium memberships can get a little pricy, they aren't outrageously expensive. Plus, the paid features are actually useful in meeting people and making great matches. That's why we think Clover is worth it whether you sign up for free or pay for a premium membership.

---
User Reviews of Clover
It can feel overwhelming trying to sift through the thousands of reviews of dating apps. To make it easy, we did all the legwork for you! We've read through hundreds of reviews to weed out all the ones that feel like they were written by bots or by people that are angrier at their match than at the app itself.
What's left are the true reviews of what Clover has to offer. Here is a rundown of the most common complaint and praises of the Clover dating app.
Most Common Praises of Clover:
It is easy to recontact people you didn't mean to skip or who you change your mind about.
There are a lot of features and the way they are laid out makes them easy to use.
The live stream feature is fun to use and view.
If you can afford it, the premium features are definitely worth using.
Most Common Complains About Clover:
The cost of using basic features is far too expensive.
The search filters feel useless when anyone can message you.
If you make a mistake with your username, it costs $0.99 to fix it.
There are some bugs in the photo upload system.

The Clover App vs. The Other Guys
Clover vs. Bumble
Clover and Bumble are two popular dating apps on the modern market. They both feel casual but lead to serious relationships. The big difference is Bumble has a ladies-first approach to dating that requires women to send out all first messages.
Clover vs. eHarmony
eHarmony is a leading name in compatibility dating. It has a much more regal feel and can be a little boring compared to using a site like Clover. However, eHarmony has a lot of statistics that prove its system works. Overall, eHarmony is a bit better for older singles who know what they want out of a relationship.
Clover vs. Tinder
It doesn't even feel fair to compare Tinder and Clover. Clover has better features, a nicer-looking platform, and a focus on compatibility. Tinder is all about finding anyone near you as quickly as possible, even if you aren't compatible. Tinder does shine when it comes to user base size – the platform has over 75 million users and counting.

Clover Dating App FAQ
Has the Clover App had Any Data Leak Scandals?
As of 2023, Clover has not had any data leak scandals. It seems their advanced security features and data encryption has held up against any would-be hackers.
Which Payment Methods are Accepted on Clover?
Clover is exclusively available as an IOS or Android app, and they only accept payment through the digital payment methods available on those platforms. IOS app users will pay with Apple Pay. Android app users will pay with Google Pay.
What are Clover 20 Questions?
Clover 20 Questions is a fun feature that allows users to learn more about one another and reveal more about their personalities. Users can view other peoples' answers to the questions on their profile and compare to their own answers.
Do I Have to Link My Facebook to Clover?
No. You will need to link your Clover account to either your email or your Facebook. If you don't want to use your Facebook account (or don't have one), you'll simply need to choose an email that is associated with your Google Pay or Apple Pay service.
Can I Sign Up For the Clover App for Free?
Yes. It is completely free to sign up for Clover. You can try out all the free features for as long as you'd like and only upgrade to a paid premium account if and when you are ready.