Coffee Meets Bagel has been shaking up the online dating industry since 2012. The app is one of the most unique and impressive we've come across in years. However, that doesn't mean CMB is right for all singles.
Today, we are going to take a comprehensive look at the platform. We will look into their features, premium access, userbase, and more to help you determine if the Coffee Meets Bagel app is what you need in your dating life.
Ready to see if this is the app for you? Let's hop into our CMB review!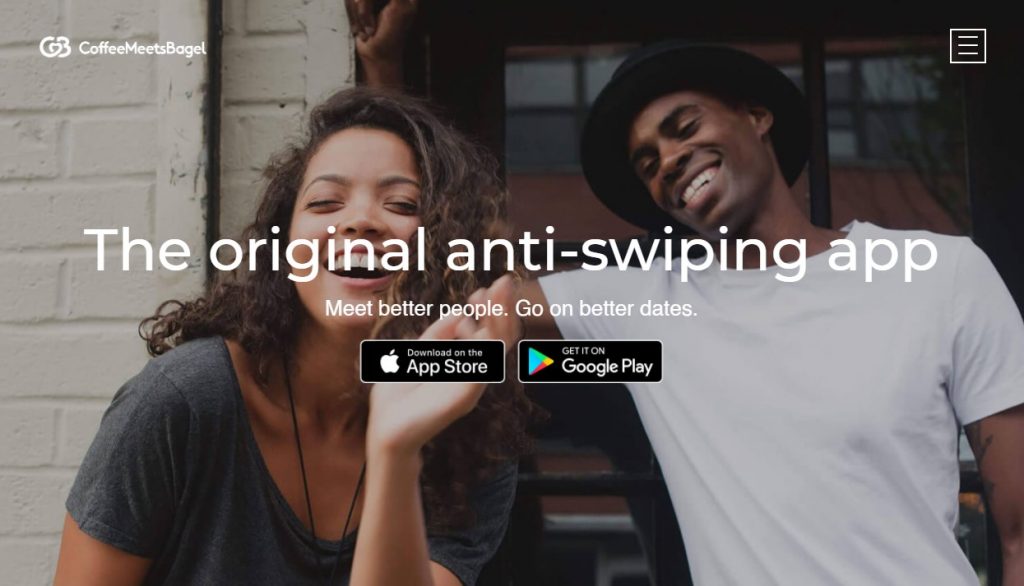 ---
Coffee Meets Bagel (CMB) App at a Glance

Overall Rating – 4.0/5.0
| | |
| --- | --- |
| Userbase | 10 million + |
| Sign-Up Time | Less than 5 minutes |
| Membership Cost | starting at $15.00 a month |
| Payment Required? | No |
| Avg. User Rating | 4/5 |
| Avg. User Age | 25-40 |
| Gender Ratio | 43% men | 57% women |
| Free Messaging? | Yes |
| Video Chat? | Yes |
| iOS App? | Yes |
| Android App? | Yes |
| Web Friendly? | App only |
| Support Options | FAQ, page |
| Launch Date | 2012 |
| Owned By | Arum, Dawoon, and Soo Kang |
Is Coffee Meets Bagel Right for Me?
Coffee Meets Bagel is a refreshing approach to serious dating in a world where hookup culture reigns king. Most serious dating sites feel old and stuffy, and you are hard-pressed to find a lot of singles under the age of 40.
CMB is different. The app keeps all the same positives of serious dating sites (the algorithm, the limited matches, no swiping) and incorporates it into a sleek app where you feel like the process is actually fun!
So, if you are looking for a partner who is truly compatible with you, then Coffee Meets Bagel may be worth a shot!
Of course, this is not the only dating app offering a high level of compatibility. Here are some other dating apps geared toward finding serious relationships online:
---
---
What is Coffee Meets Bagel?
Coffee Meets Bagel is a modern dating app that helps singles find true connections without the pressure and intimidation of old-school dating sites.
The concept is simple – CMB matches users with a selection of singles of their preferred gender that match based on a personality algorithm. Then, they give users some information about their matches to help them break the ice. These matches have an expiration date because if the users haven't made a connection yet, it is a sign they need to move on to a different match.
CMB History
Coffee Meets Bagel was created by three sisters, Arum, Dawoo, and Soo Kang, after they became frustrated trying to date in a large city. They spent time trying to discover why women weren't finding success on dating apps and found the large disparity in gender ratio was the main issue.
Thus, CMB was born. A dating app that caters to safe, serious dating and uses advanced algorithms to introduce singles who aren't complete creeps. The app has been excelling since its launch in 2012, but hit a road bump in 2019 when there was a major data link.
After this, CMB upgraded their security and has continued to provide both men and women a place to meet excellent partners.
What Makes CMB Different?
CMB isn't like standard dating apps where you swipe or search through images of all the singles in your area. Instead, an algorithm is used to specifically pick matches that are right for each user. 6 of these matches are given to users every day at noon.
This prevents people from getting overwhelmed by options and ending up with the wrong partner!
CMB also operates completely free. There are premium features, but none of the main communication features are behind a paywall. This makes the app more accessible to users from all walks of life.
Pros and Cons of CMB
Pros
The app creates a safe space for single women to meet great men.
The app is simple to use.
The main features are available for free.
The app helps you break the ice with users.
You can put your account on hold while you are pursuing a relationship.
There is a video chat functionality.
Cons
Premium features are only available to paid members.
Men can only show interest in users, the app decides if they are chosen as a match.
The process is slower than on non-algorithmic dating apps.

How Does CMB Work? – Features Overview
Coffee Meets Bagel is a highly unique dating app, but they keep things simple. Just because the app is innovative doesn't mean they want users getting lost trying to sign up or navigate their features.
If you aren't convinced, this breakdown of features will help convince you that anyone can use CMB!
Signup process
Signing up for CMB couldn't be easier! First, you'll need to download the app to your device. It is available in both the Apple App Store and on Google Play.
Then, open the app and agree to any permission or privacy statements. Afterward, you can choose to sign up with your phone number or with Facebook. Here is a quick guide for each method of signing up.
Signing up With Facebook
Tap "continue with Facebook."
Follow the prompts to connect to your Facebook account.
View and approve the permissions needed to link your Facebook information.
Check that the information on your profile is correct.
Signing Up With Your Phone Number
Tap "continue with phone number."
Input the phone number linked to your device.
The SMS approval code should autofill when you receive your confirmation text.

If it doesn't autofill, manually enter your verification code.

Complete your user profile and dating preferences.
Matchmaking Process
When you create your Coffee Meets Bagel profile, you will fill in information about yourself as well as your preferences in the people you date. This information is used by the CMB matching algorithm to find bagels (matches) to present to users each day.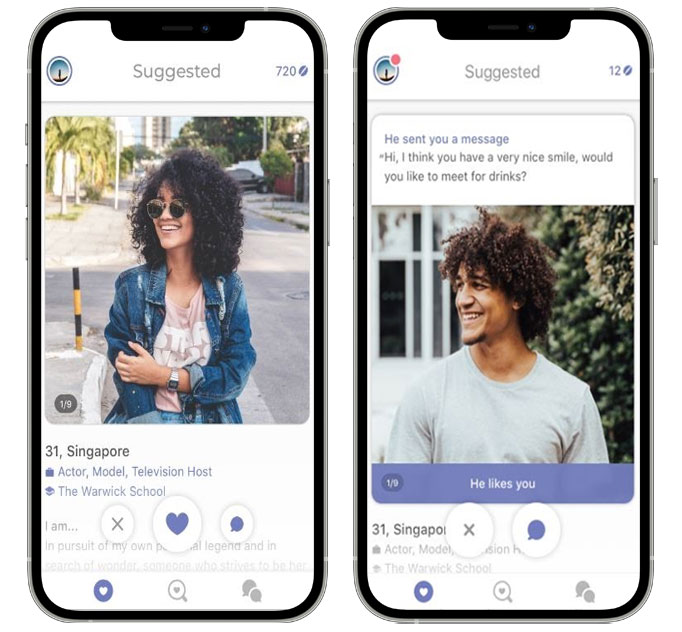 The app also has an area where you can search through users that aren't recommended by the algorithm and send them likes. If they like you back, you will be able to message them just like you can users in your daily bagels.
This section helps users feel like they have more control over their dating experience, though most success stories come from the traditional "daily bagels" area of the app.
Unique Features
Coffee Meets Bagel is already an interesting dating app, but they go above and beyond to ensure their features are fun, useful, and creative. Here is a selection of our favorite features, some free and some premium:
Bagels
Bagels is the cute name given to the selection of singles presented at noon each day. These matches are specifically picked based on the advanced CMB matching algorithm. There are 6 bagels presented daily, and they can be messaged or passed on. If you pass on a Bagel, you will need to be a premium member to "undo" your pass.
Video Chat
CMB added video chat when Covid 19 prevented users from safely meeting in public. Now, the feature is loved by users and is here to stay. If you find yourself meshing with one of your bagels, you can take your conversation live and get to know them face-to-face.
Read Receipts
Premium users have access to read receipts, which is a user-favorite feature. This nifty little amenity tells you whether or not a user has read your message. No more wondering if your message is being ignored or if it is unseen.
Bean Shop
Non-premium users can purchase many premium features a la carte through the use of CMB Beans. This in-app currency is available in the Bean Shop, which is open to all users from the moment they sign up.

Free vs. Paid Memberships
Free Membership Features:
Create A Full Profile
Navigate The App Freely
Get Your Daily Bagels
Like, Pass, And Chat With Daily Bagels
Receive Some Free Beans
Use The Bean Shop
Paid Membership Features:
View activity reports
Get unlimited Likes
Skip the Line
Monthly boosts
Read Receipts

How Much Does Coffee Meets Bagel Cost?
| Membership Type | Length | Total Cost |
| --- | --- | --- |
| Premium | 1 month | 34.99 |
| Premium | 3 months | 74.99 |
| Premium | 6 months | 119.99 |
| Premium | 1 year | 179.99 |

What Kind of Relationships is CMB For?
We've said that anyone can use CMB but should they use CMB? Well, it depends what you are looking for.
Coffee Meets Bagel is an excellent app for singles that want to find their soulmate. If you are looking for lasting love and the potential for marriage, kids, or overall romantic sustainability, CMB is a great app!
The app does have some areas where you can meet singles more casually, but the users there are usually also looking for serious relationships.

The Bottom Line – Is Coffee Meets Bagel Worth It?
Is Coffee Meets Bagel worth the time of signing up? Yes!
Is Coffee Meets Bagel's free membership worth using? Yes!
Is The Coffee Meets Bagel premium membership worth the price? It depends…
Take a look through the features a premium membership offers. For the majority of users, the features aren't needed to use CMB successfully!
So, while the app overall is worth it. We can't say for certainty whether you should spend money on the advanced features.
---
User Reviews of Coffee Meets Bagel
We think Coffee Meets Bagel is great, but what do the actual users have to say. Well, to find out we scrounged through hundreds of user reviews on Google Play and The Apple App Store. Here is a selection of some of the most common good and bad comments.
Positive Feedback:
The quality of matches are excellent.
The Discover area keeps the app from getting boring.
The app is completely functional without paying for a membership.
Negative Feedback:
The Android App is buggy and sometimes says it needs to be updated when no update is available.
There aren't always new users in smaller towns.
Notifications don't stack. Eventually, old notifications are overwritten.

Coffee Meets Bagel vs. The Other Guys
CMB has a lot of stiff competition. From other apps that focus on women first to sites with their own matching algorithm, here is how Coffee Meets Bagel stacks up against their toughest competition.
Coffee Meets Bagel vs. Bumble
Bumble is another site that was created to help female singles feel safe and empowered. However, that app hasn't figured out how to create an equal space for all gender and sexual orientations. CMB, on the other hand, caters to all singles including those in the LGBTQ community.
Coffee Meets Bagel vs. Flirt.com
Flirt.com is a casual dating app that caters to younger singles. While the age of the crowd on both apps is similar, the dating goals are not. If you want a serious romance, Coffee Meets Bagel is the app for you.
Coffee Meets Bagel vs. eHarmony
eHarmony is the original user of the matching algorithm, which may make you think they are better than CMB. The truth is, they both seem to be showing some great results. The big difference is that eHarmony is home to a more mature crowd. If you are a single under 40, you may prefer CMB.

Coffee Meets Bagel FAQ
What Is The Difference Between Suggested Users And Discovered Users?
Suggested users (Bagels) are picked based on CMB's matching algorithm. Discovered users are those that match the search filters set up by the user, but that don't match based on the algorithm.
Can I Get Free CMB Beans?
Beans can be acquired for free by inviting users to the Coffee Meets Bagel app.
Why Do Chats Expire?
Chats that are inactive for 7 days expire. This is to incentivize users to either maintain activity in their chats or move on to singles they find more interesting.
Can I Extend An Expiring Chat?
For 99 CMB Beans, users can extend an expired or expiring chat by 30 days. These Beans (CMB's in-app currency) can be purchased in the Bean Store.