Cupid.com is a dating site that most people have heard of, even if they've never used an online dating platform. That's because it was one of the very first on the market and has over 8 million users!
When you hear that a website has been around for over 2 decades, you may wonder if it is worth using now.
Is it terribly outdated?
Are the owners keeping it up-to-date and functional?
Today, we are going to look at Cupid.com and see if it is still a great dating site or just a relic of the past. Before you take the time to sign up for the site, we recommend checking out what we discovered during our research into this iconic dating platform!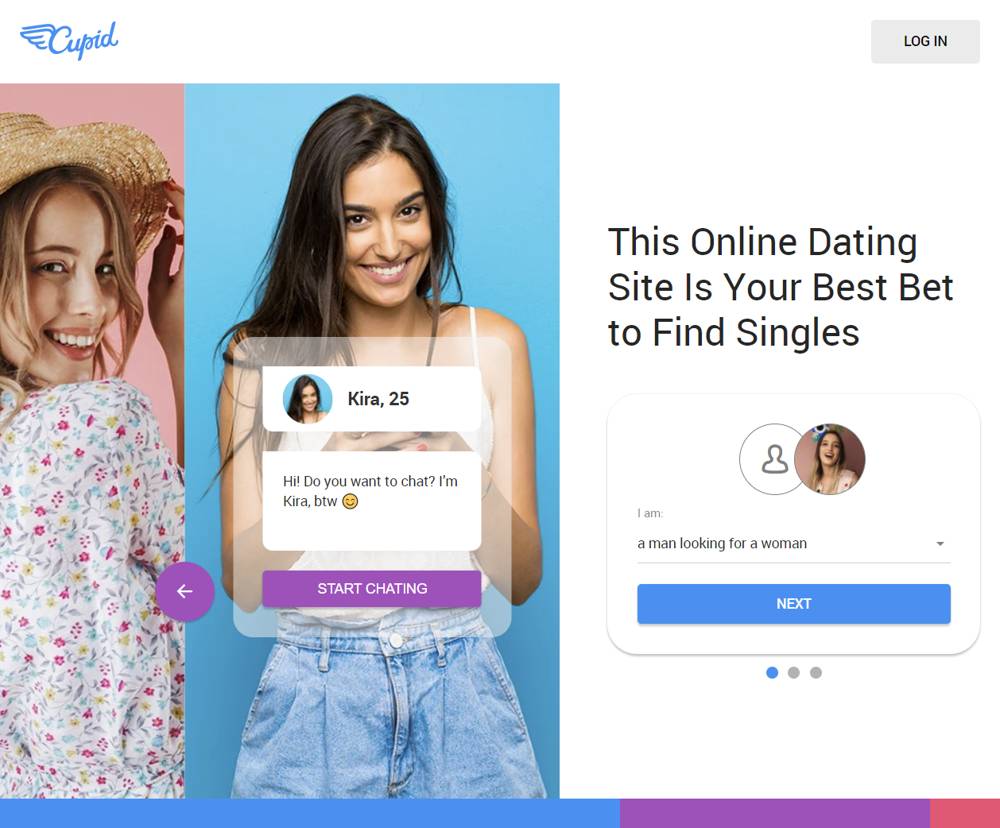 ---
Cupid.com App at a Glance

Overall Rating – 4.1/5.0
| | |
| --- | --- |
| Userbase | 8 million + |
| Sign-Up Time | About 5 minutes |
| Membership Cost | Premium memberships start at $1.29 a day |
| Payment Required? | No - free trial membership available |
| Avg. User Rating | 4.1/5 |
| Avg. User Age | 25 to 40 |
| Gender Ratio | 66% men | 34% women |
| Free Messaging? | No |
| Video Chat? | No |
| iOS App? | No |
| Android App? | No |
| Web Friendly? | Yes |
| Support Options | Self-Help, FAQ, Email |
| Launch Date | 2002 |
| Owned By | NSI Holdings Ltd. |
Is Cupid.com Right for Me?
Cupid.com is great for a specific demographic, but may not be for you. Singles in the UK who are looking for a site that offers a blend of casual and serious dating will really love Cupid.com. Women have a really great time on the app because they have much less competition than men. In fact, only an estimated 34% of the user base is female.
Users in other countries like the US and Canada may enjoy the site as well, but they are going to have fewer singles to choose from when compared to users in the UK.
Messaging is also restricted and only usable by paid users. So, if you are seeking a truly free dating site, Cupid.com is not for you.
---
---
What is Cupid.com?
Cupid.com is an OG dating site that has over 8 million users from around the world. This traditional dating site has gathered the attention of singles from all walks of life and sexual orientations.
Cupid.com History
Cupid.com isn't just one of the most popular dating sites online, it's one of the oldest. It was launched in 2002 with a focus on connecting singles in English-speaking countries like The US, UK, Australia, and Canada.
Originally, the site only operated out of the UK but had spread to other countries over just a few short years.
Over the last decade, the site has seen a lot of stiff competition. To combat that, it launched new features and had a complete redesign in 2016. The new design came with new, modern features that help users match with more compatible users.
What Makes Cupid.com Different?
Cupid has had a front-row seat to the changing tides of online dating and has done its best to keep users satisfied with updates to its features and functionality. Cupid.com is particularly interesting because for some reason it is extremely popular in the UK despite it being available in multiple countries.
It is perhaps the largest UK dating app and uses a blend of casual and serious dating techniques to make compatible bonds amongst its users.
Pros and Cons of Cupid.com
Pros
The site is super simple to navigate and looks great on most browsers.
It is free to sign up for the site and get a feel of the land before paying for a membership.
The matchmaking quiz makes it easy to find singles that are compatible with you.
Cons
Some users report a high occurrence of fake or dead profiles.
There is no dedicated app for the platform.
Messaging is not considered a free feature.

How Does Cupid.com Work? – Features Overview
To fully understand how Cupid.com could work for you, you need to know how it works in general. Here is a look into all the features and amenities that make up Cupid.com.
Signup process
The signup process for Cupid.com is pretty effortless. You simply need to choose your gender, sexual orientation, age, location, and input an email.
Of course, you will need to come up with a password to protect your profile and then verify your email. That's it!
With that 5-minute process out of the way, you are officially a Cupid.com user. You can begin the process of filling in your profile, uploading photos, and filling in your personality quiz.
Matchmaking Process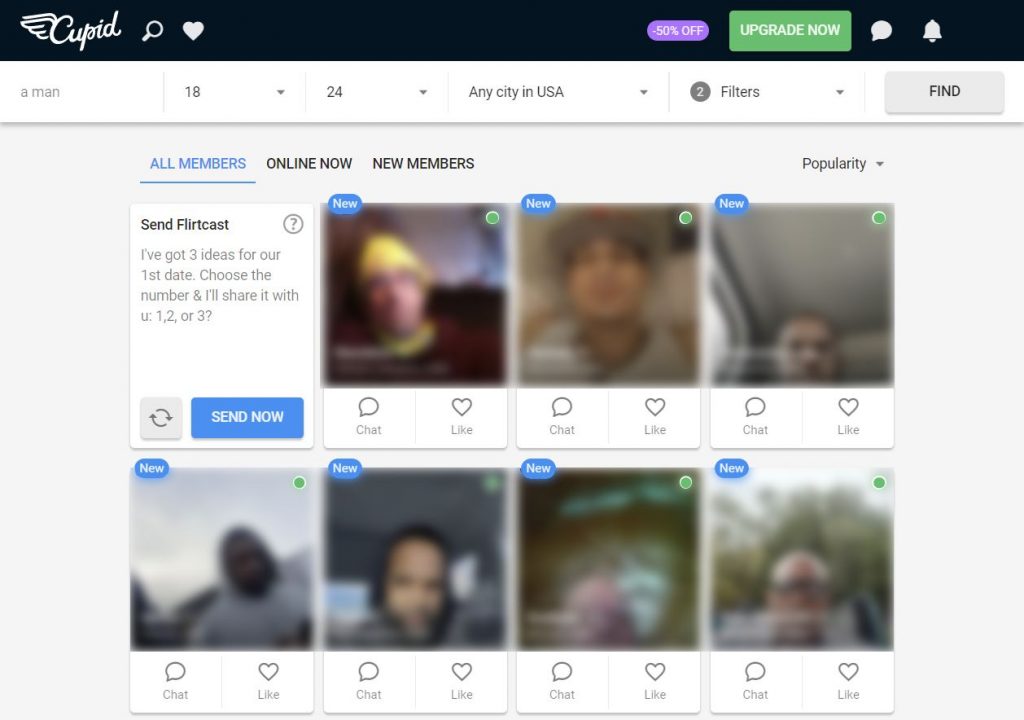 There are two ways to meet matches on Cupid.com.
First, you can simply search through nearby users and look at their profiles. If you like a profile, you can let them know and try reaching out.
The newest way to meet matches on Cupid is to use the Q-Match feature. This is a personality/hobby quiz that is used to help narrow down your nearby singles list to those who are most compatible with you.
This feature was added in 2016 and Cupid.com claims it can help users to go on better dates and potentially meet long-term romantic partners.
Unique Features
Q-Match isn't the only interesting feature on Cupid.com, they also have unique amenities like Safe Mode, LikeBook, Premium Support, and Extend Search.
Safe Mode
Before their redesign, one of the major complaints on Cupid.com was that scammers and weirdos would reach out to users, unsolicited. The new Cupid.com combats this with its Safe Mode feature.
Users can turn Safe Mode on full mode to only allow verified users to contact them, or they can turn it on basic mode to allow "reputable" users to contact them.
This greatly enhances the user experience on Cupid.com.
LikeBook
LikeBook is a swipe-style matching zone on Cupid.com where users can quickly like or pass on user photos.
If a person likes a photo of someone who liked their photo, a match is made. Then, those two people can begin messaging one another.
Premium Support
Paid users get access to more support features including dating support that helps users get more matches and have more success in their dating journey.
Extend Search
Paid users will be able to extend the search radius on their account to find singles outside their general area. This is a great way to avoid matching with friends, family, or coworkers while using Cupid.com.

Free vs. Paid Memberships
Free Cupid.com members get very little access to advanced features. Here is a breakdown of everything users can do as a free or paid member.
Free Cupid.com Features
Register for an account
Search for nearby singles
View and swipe in the Like Gallery
See when you have incoming messages
Paid Cupid.com Features
All Free Features
View, Send, And Respond To Messages
Share Photos In Your Messages
Share Videos In Your Messages
Access Premium Support
Extend Your Search Radius
See Larger User Photos
See Others' "Look For" Info

How Much Does Cupid.com Cost?
| Membership Type | Membership Length | Monthly Price | Total Cost |
| --- | --- | --- | --- |
| Premium | 1 Day | $38.70 | $1.29 |
| Premium | 1 Week | $33.32 | $8.33 |
| Premium | 1 Month | $30.58 | $30.58 |
| Premium | 1 Year | $27.83 | $333.96 |

What Kind of Relationships is Cupid.com For?
Cupid.com is built for users to find compatible partners and create long-lasting romances. However, that doesn't mean the site can't be used for something more casual. You will want to make it clear in your bio what type of relationship you are looking for because there are a lot of possibilities on Cupid.

The Bottom Line – Is Cupid.com Worth It?
Cupid.com is free to sign up for and easy to use. The only real problem is the paid membership is a bit pricey. If you are in the US where there are dozens of other dating sites available with huge numbers of users, you can probably pass on Cupid.com.
However, if you are in the UK and find that dating sites only show you the same 10 people over and over, you need to try Cupid.com! They have a massive UK following and have led thousands of people to great relationships. For UK singles, Cupid is definitely worth it.
---
User Reviews of Cupid.com
Cupid.com can be a hard one to find reviews for. Since there is no dedicated app, there is no easy place to look for verified user reviews. So, we decided to make it easy on you by searching through social platforms and business review sites (SiteJabber, BBB, etc.) for the info you desire. Here is our breakdown of the 5 most common complaints and compliments for Cupid.com.
5 Most Common Complaints About Cupid.com
The site is misleading with deals and charges, leading to surprising recurring fees down the line.
There are a lot of profiles that show red flags for being fake (being online 24/7, sending canned responses, etc.).
It can be difficult to delete your account or cancel a subscription.
The free trial is auto-renewed with the most expensive subscription option.
Non-UK users have fewer singles to choose from.
5 Most Common Compliments For Cupid.com
There are many charming men to meet, especially for UK users.
Though the site is pricey, the paid features work perfectly.
The users are mostly looking to take things slow and create real connections.
The site is designed well and can be used on a mobile browser without issue.
The Safe Mode is a big help in avoiding weirdos and creeps.

Cupid.com vs. The Other Guys
Cupid.com vs. OkCupid
For our head-to-heads we had to compare Cupid to the site it is constantly mistaken for, OkCupid! The two sites are shockingly similar when comparing user base, regions, and features. The main difference is that OkCupid users are mostly located in the United States while Cupid.com users are mostly located in the United Kingdom.
Cupid.com vs. eHarmony
eHarmony is another serious dating site that is pretty popular in the UK. Though the site does most of its business in the US, eHarmony has features that users worldwide love. Like one of the most advanced compatibility algorithms on the market and tracked statistics on the marriages created through the site. Cupid.com may offer more matches in the UK, but hasn't quite stepped up to the plate in other areas.
Cupid.com vs. EliteSingles
EliteSingles is a popular dating site where singles with great careers and high education can meet. It doesn't have as large a user base as Cupid.com but is one of the best modern dating sites for meeting future spouses. Cupid.com doesn't limit its use to those considered "elite," which makes it a much more accessible platform.

Cupid.com FAQ
Which Payments are Accepted on Cupid.com?
Cupid accepts all major credit cards, including:
Visa
MasterCard
American Express
Discover
Diners Club International
What is a Flirtcast?
A Flirtcast is a new feature on Cupid.com that allows users to choose a flirty message from a list of prewritten options. Then, they will send that message out to all the compatible singles in your area, prompting them to respond and begin a conversation.
How Can I Use Cupid.com on my Phone?
Cupid.com does not have a dedicated app for IOS or Android users. Instead, they have made their platform mobile-friendly. Meaning you can access the website from your phone's browser and have a great experience. In fact, the mobile site looks similar to most modern dating apps.
To use this feature on the go, you will need to maintain internet access on your phone through a data plan or a wifi connection.
Why is Cupid.com so Popular in the UK?
Cupid.com initially launched in the UK and was one of the first digital dating platforms in existence. This has cemented them a positive reputation in the UK, where they still do most of their business.
Can I Try Cupid.com for Free?
Yes! If you want to sign up for Cupid.com, it is completely free. Occasionally, the site even offers free trials to test out its premium features. To see what offers they may have available, follow our link and sign up for a free account.