Before modern dating sites could run, old-school dating sites had to crawl.
20 years ago if you were online dating, you were the butt of so many jokes. The platforms had to work hard to maintain relevance when most popular media was making the process of online dating look dangerous and pathetic.
Now, the world is so digital that nobody blinks at meeting a partner online! Dating.com is one of the old-school sites you can thank for that!
Operating since 1993, they've been through the motions and now remain as popular as ever. But with all these modern apps out there, is it still worth signing up for this OG platform? Check out this thorough Dating.com review to find out!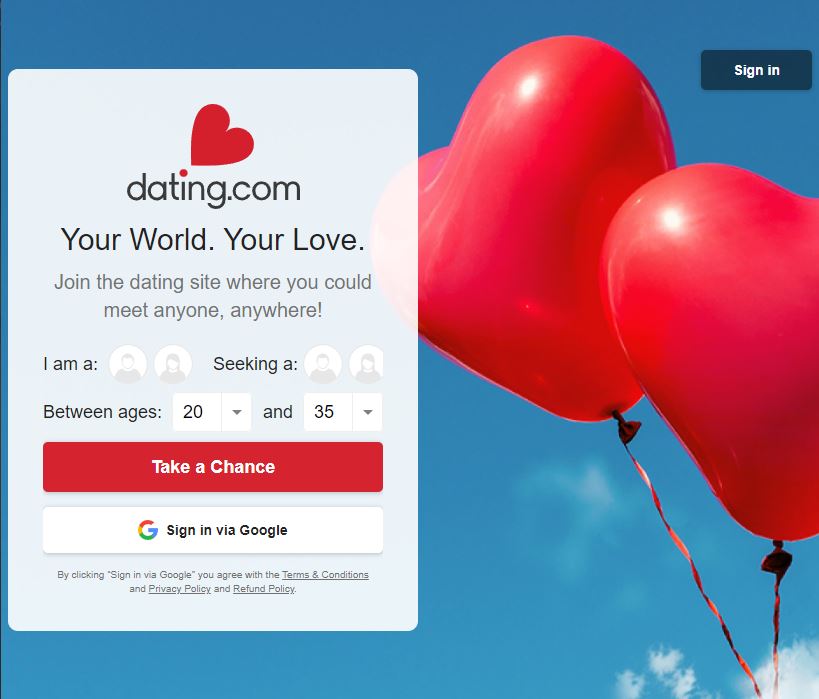 ---
Dating.com at a Glance

Overall Rating – 4.0/5.0
| | |
| --- | --- |
| Userbase | 73 million + |
| Sign-Up Time | Less than 5 minutes |
| Membership Cost | Paid with tokens. Tokens cost as low as $0.20 a piece |
| Payment Required? | No - but communications cost tokens |
| Avg. User Rating | 4/5 |
| Avg. User Age | 24-35 |
| Gender Ratio | 60% men | 40% women |
| Free Messaging? | No |
| Video Chat? | Yes |
| iOS App? | Yes |
| Android App? | Yes |
| Web Friendly? | Yes |
| Support Options | FAQ page, email support, Live Chat (for paid members) |
| Launch Date | 1993 |
| Owned By | SOL Networks Limited |
Is Dating.com Right for Me?
Dating.com is a bit polarizing. Many users love the platform and swear it is the best place to go to find matches without the high cost. Others say the platform is nothing but fake accounts that may be put there to trick you into spending money.
Luckily, you can sign up for the site for free. So, you aren't really risking anything to try the site out.
To find out if the site is right for you, we think the best bet is to head there, sign up for your free account, and see if the matches interest you.
If the users and platform don't feel good to you, you can easily switch to a different dating platform with a more modern approach to online dating.
Dating.com Alternatives
---
---
What is Dating.com?
Dating.com is a web-based dating platform that has transitioned into also having a dedicated app on IOS and Android. The platform is supposed to cater to those wanting serious relationships, but casual daters seem to enjoy the site just as much!
Dating.com History
Dating.com was launched in 1993 by Dmitry Volkov and only offered membership to members from a few select countries. Now, the site caters to singles from around the world! With this growth, the site has been able to push its message of global dating.
What Makes Dating.com Different?
Dating.com differs from standard platforms because they like to match users with singles from all over the world. They also provide paid services that can be purchased individually with onsight currency.
This means that users can adjust their overall spending based on the features they want to use.
It also means users can sign up completely free!
Pros and Cons of Dating.com
Pros
Signing up is fast, easy, and free.
You can find matches from other countries.
There are multiple ways to find matches.
Cons
You have to pay tokens to talk to each new match.
It can be hard to find real profiles in your local area.
The apps have been called "difficult to navigate."
You no longer get free tokens for signing up.

How Does Dating.com Work? – Features Overview
Dating.com is a fairly simple dating platform that doesn't utilize complex matching algorithms. The features are limited, which is good because tokens are limited and can get pricey. The main features include searching singles, communicating through instant message or email, and viewing user live streams.
Signup process
Signing up for Dating.com is simple. The only required information is your email and a password. You will be prompted to fill in a bio and other profile information, but you can skip these steps until you've decided the site is right for you.
If you are wanting to sign up with the app, you will first need to download it from the IOS or Android app store. Then, you can either manually enter an email or sign in with a linked Google account.
Matchmaking Process
There isn't a lot of active matchmaking going on at Dating.com. Your home page will have a large number of members of your preferred gender, but there is no real rhyme or reason for who is listed there.
You can narrow those profiles down by selecting an age range and location, but there are no other search filters available.
You can also search for users who are actively live streaming, but viewing the streams costs quite a few tokens.
Unique Features
Being an international dating site isn't the only unique feature of Dating.com. There is also the Today I Am feature, Live sessions, Let's Mingle, and Dual Communication Options.
Today I Am
Mark your profile with a stamp that expresses your dating interests. Looking for a casual romance, naughty meetup, pen pal, or something else? Move your slider around and let others know how you are feeling from day to day.
Live Sessions
If you want a lot of attention you can go live right on the Dating.com platform. Others can pay tokens to view your live stream. This feature is great for meeting multiple users at once and getting across who you are and what you are looking for without wasting tokens on dozens of messages with multiple matches.
Let's Mingle
This feature is a fast-track to communication. Input a message and the site will send it out to members that may be interested in you. Then, you wait for a reply from others in the Let's Mingle queue.
Dual Communications (Instant Message and Email):
Dating.com lets you send emails and instant messages. Instant messages are short and quick and good for sending to established matches. They cost far less per message.
Emails can be longer and sent out to anyone you are interested in. These cost far more tokens, so should be used wisely.

Free vs. Paid Memberships
You can sign up for Dating.com for free, but it would be misleading to say you can use the site for free. All communications and mingling features are locked behind tokens, which you purchase through a monthly membership.
Free members can:
Sign up
Browse profiles
See message requests (some users report these aren't all real accounts)
See who is live streaming
Change the "today I am" setting
Paid members can:
Spend tokens to message users
Spend tokens to view live streams
Spend token to create a live stream
Spend tokens to open or send images
Spend tokens to use the mingle features

How Much Does Dating.com Cost?
| Membership Type | Number of Credits | Total Cost | Price Per Credit |
| --- | --- | --- | --- |
| Small Bundle | 150 | $49.99 | $0.33 |
| Medium Bundle | 600 | $149.99 | $0.25 |
| Large Bundle | 1500 | $299.99 | $0.20 |

What Kind of Relationships is Dating.com For?
Dating.com is intended to be used for serious, global dating. However, over the years it seems to have transitioned into a platform that caters to casual daters and those seeking to meet new people from around the world regardless of relationship potential.
The modern version of Dating.com even includes an intentions marker that lets you tell people if you are currently looking for a friend, sexual partner, serious partner, and more. This can be changed at a moment's notice without spending any tokens.

The Bottom Line – Is Dating.com Worth It?
Dating.com is interesting in that it has a unique membership system that utilizes dedicated currency (tokens). This means that users can adjust their overall spending on the site a bit better than with an app that requires a consistent, monthly payment.
Unfortunately, it also means users can spend way more than they would on other dating apps with unlimited messaging and matching.
Overall, we think Dating.com is worth exploring, but may not be worth paying for. We recommend browsing the app and considering how much you'll spend to message a large number of matches.
---
User Reviews of Dating.com
Dating.com has been around for nearly 3 decades, so you better believe there are thousands of reviews to sift through. To be fair to the site, we are only going to look at reviews from the last year. This will best reflect all updates and changes to the platform.
What Positive Reviews are Saying:
It's easy to weed out users by age, location, etc.
Customer service responds quickly when there is an issue.
Most users are positive and interesting.
The web version makes it easier to navigate the site.
What Negative Reviews are Saying:
They wish communications were free.
Too many fake profiles.
Mingle option gives users from thousands of miles away.
When you have multiple matches, communication gets very expensive.

Dating.com vs. The Other Guys
Daitng.com has been around for decades and may even be the inspiration for many newer dating apps. So, how does it stack up with other platforms? Let's take a look at three popular sites for serious dating:
Dating.com vs. eHarmony
Both sites claim to be for serious dating, but eHarmony delivers on that promise far better than Dating.com. eHarmony has great moderation, fewer fake accounts, and a great algorithm for custom matching. Dating.com has a lot of users too, but the matching isn't as catered or useful.
Dating.com vs. Christian Mingle
Christian Mingle is a better site for serious dating than Dating.com. Still, the site also deals with fake profiles, which is a main complaint with Dating.com. You can also adjust your overall cost better on Dating.com. If you are looking for a Christian partner, Christian Mingle is a better choice for you.
Dating.com vs. Bumble
Dating.com and Bumble are both pretty equal when it comes to fulfilling the goal of serious dating. That's to say, they both say they offer it but tend to fall a bit short. Still, Bumble is a bit more modern and streamlined than Dating.com, which tends to attract a higher number of younger singles.

Dating.com Review FAQ
Can I Meet International Singles On Dating.com?
Yes! International dating is one of the easiest things to do on Dating.com. You can be shown singles from across the world, across your country, or in your hometown. Adjust your settings to explore matches from the place that is best for you.
Can I Meet Local Singles on Dating.com?
Yes. Dating.com has a large number of users from around the world, so there is potential to meet local singles.
Can I Pay One Fee For Unlimited Feature Access?
No. You buy tokens in packages and then spend the tokens on features. You can buy larger packages to lower the per/token cost.
Once I Pay to Message a Match, Are Future Messages With That Match Free?
No, you will pay tokens for every single message. You even pay tokens to open some messages.
Do My Unused Tokens Roll Over Each Month?
No. You subscribe to a certain number of tokens each month and must use them by the end of the payment period. When your monthly fee rolls over, your total is reset and unused tokens are taken away.
How Can I Pay For My Tokens?
You can pay for your monthly token allowance with a debit card, credit card, or crypto wallet.
What Is The Minimum Number Of Tokens I Can Buy?
The smallest token bundle contains 150 tokens and costs around $20 a month.
How Can I Save Money On Tokens?
The biggest drain on tokens is the email system. Each message costs 15 tokens. You can opt to use the instant messenger instead, which is only 1 token per message. Just remember to save your instant messages for online users as you will pay the 1 token even if the other user is offline.