Whether it was from commercials, internet ads, or from friends and family—the chances are high you've heard of eHarmony before. Arguably the most famous online dating app on the market, eHarmony has been serving millions of singles for over two decades.
But just because they're popular and have been around for a while, does that automatically mean eHarmony is the best dating app on the market? We wanted to find out. To answer this question (and a lot more questions), our team set out to conduct a series of in-depth eHarmony reviews. We scoured the site, the web, and leveraged our internal resources to find every important detail you need to know.
If you're ready to find out if this is the right dating site option for you, stick around for our detailed eHarmony review.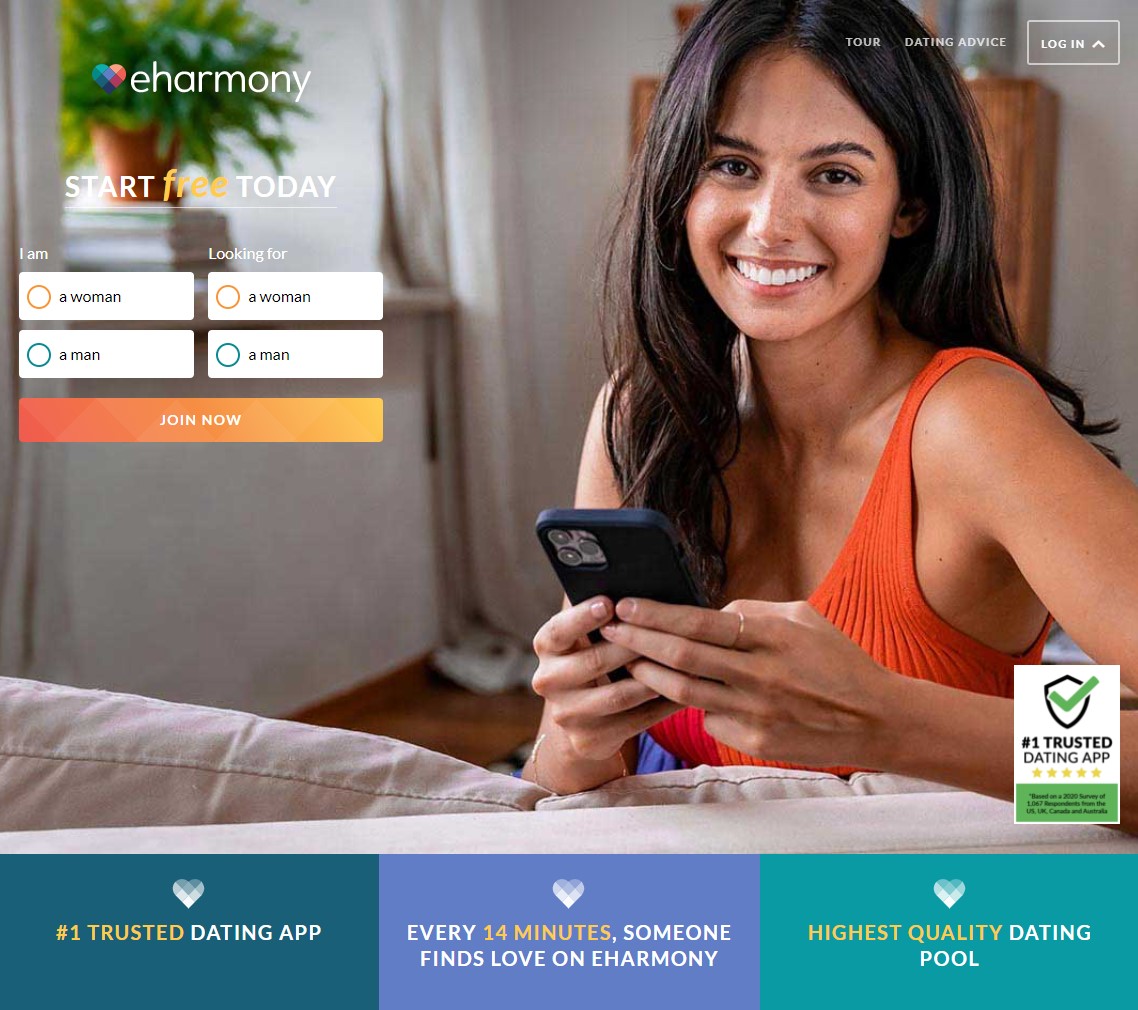 ---
eHarmony App at a Glance

Overall Rating – 4.8/5.0

| | |
| --- | --- |
| Userbase | 10 million + |
| Sign-Up Time | 25-30 minutes |
| Membership Cost | Starting at $35.90 |
| Payment Required? | Yes, but free trial available |
| Avg. User Rating | 4.6/5.0 |
| Avg. User Age | 28-60 years old |
| Gender Ratio | 51% men | 49% women |
| Free Messaging? | Only on free communication weekends |
| Video Chat? | Yes |
| iOS App? | Yes |
| Android App? | Yes |
| Web Friendly? | Yes |
| Support Options | FAQ, contact form |
| Launch Date | August 22, 2000 |
| Owned By | Privately owned by NuCom Group |
Is eHarmony Right for me?
The bottom-line findings of our eHarmony reviews and the answer to whether or not the app is right for you are—it depends. It depends on what type of relationship you're looking for. If you're looking for no-commitment dating or just casually getting to know some new people, eHarmony is not going to be a good fit for you.
If you're looking for a committed relationship and not a hookup or casual dating, eHarmony is right for you.
The dating app is wonderful for singles looking for more serious relationships. No, you don't have to want to get married tomorrow to enjoy eHarmony. As long as you're at least open to the idea of a committed relationship with someone special, eHarmony will be perfect for you.
---
---
What is eHarmony
eHarmony is an online dating company that's been serving serious singles for over two decades. While many people believe the app is a Christian dating service, it's actually a mainstream dating app. Most likely, the site's focus on serious relationships has led many to believe that it is a faith-focused site.
eHarmony History
The eHarmony brand was founded in August of 2000 in Los Angeles, California by Neil Clark Warren and Greg Forgatch. After raising an impressive $110 million in 2004, the dating app grew very quickly to be one of the giants of the industry. In 2018, eHarmony was sold to the German media company, ProSiebenSat.1 for an undisclosed amount of money. Currently, eHarmony is being run by NuCom Group, which is the e-commerce branch of the German media giant.
What Makes eHarmony Different?
eHarmony put its foot on the map by branding itself as the first online dating site to utilize scientific matchmaking. In other words, the app utilizes a questionnaire and algorithm to help match singles based on several different factors.
While eHarmony does have a small section of its dating app dedicated to swipe-style dating, the app follows a more traditional profile-based approach to matching singles. Additionally, we found during our eHarmony review that the app doesn't just "turn you loose" to chat with anyone you want however you want. Instead, there is a guided communication process that walks you through the process of getting to know one another.
Pros and Cons of eHarmony
Pros
Tailored specifically for singles looking for serious relationships
Over two decades of positive track record of matchmaking success
Available on iOS, Android, and via the web
Cons
Higher priced than many other dating app options
Not an ideal option for singles looking for no-commitment relationships
Sign up takes much longer (25-30 minutes)

How Does eHarmony Work? – Features Overview
While an initial cursory review of eHarmony may yield that it operates like every other dating site out there, that's actually not the case. eHarmony utilizes a lot of unique ways of matching singles together that we'll dive into shortly.
Does this process work? Well, according to the eHarmony site, over 2 million people have found love through the app. That averages out to about 90,000-100,000 people every single year (granted, we'd expect the numbers were lower when eHarmony launched are much higher now that it's grown in popularity).
Signup Process
The sign-up process at eHarmony is one of the longest and most intricate that you're going to find anywhere in the online dating scene. The entire process takes about 25-30 minutes and really works as a strong barrier to entry for people who aren't serious about the dating process.
During the eHarmony sign-up process, you answer a series of questions about yourself, your views on life, and your views on relationships. You even answer some psychology-type questions where they have you look at pictures and shapes and decide which one you like the most. The process is rather exhaustive, but based on the track record of eHarmony when it comes to matchmaking—probably worth it.
Matchmaking Process
eHarmony utilizes a matching algorithm as the driving force behind the way singles meet on the site. Instead of just giving you access to a big catalog of singles, eHarmony uses your answers from the sign-up quiz to show you the most compatible matches possible. As you can see, this is why it's so important to take the compatibility quiz seriously!
In addition to showing you your top matches, you do still have the ability to search through singles and use some swipe-style dating features to find what you're looking for. In our past eHarmony reviews years ago, these features weren't readily available. Instead, you had to 100% put your faith and trust in the eHarmony process.
Now, though, you kind of have the option to let the site do the work for you or take your fate into your own hands, so to speak.
Unique Features
When it comes to unique features we found during our recent eHarmony reviews, there were quite a few. Probably the most notable is and has always been the matching algorithm. When you see a match on the app, you get to see exactly how compatible you are (with a numeric score), and a breakdown of the different ways you are and are not compatible.
The newest feature that's fairly unique to the eHarmony platform is the video dating feature. Instead of having to give out your contact information to get to know someone, you can have a video chat date/call right from within the app. It's a premium feature, but a really neat one, especially for singles that like to meet virtually before considering meeting in person.
The eHarmony app also has the ability for you to verify your phone number via SMS message, which is a nice way to add some trust and validity to your profile. Additionally, if you're searching for singles and are worried about catfish or fake profiles, this is another great added check and balance.
Free vs Paid membership
We've provided several links throughout our eHarmony review for you to get signed up with a free trial account to check things out for yourself. And as you probably already know, the free trial doesn't quite give you access to all of the features you get with a paid account.
What do you get? Glad you asked. With the free eHarmony trial, you can:
Take the compatibility quiz
Set up your profile
Upload your profile photos
Search for singles in your area
See your matches profiles
Participate in Free Communication Weekends
The features that you don't get, though, that you will need to upgrade to receive are:
Unlimited messaging
See all other user's photos
The ability to filter your matches
Search for singles in your area by distance
Professional profile checks and reviews
Best Free Feature: The fact that you get to take the compatibility quiz and see all of your matches is by and far the best feature that comes with the eHarmony free trial.
Best Paid Feature: The video chat feature may be the coolest paid feature you get when upgrading your eHarmony account. It's such a convenient and safe way to virtually meet a match and see if you're interested in taking things any further.

How Much Does eHarmony Cost?
6 Months – $65.90 per month
12 Months – $45.90 per month
24 Months – $35.90 per month
All premium memberships at eHarmony are identical when it comes to features. You don't get additional privileges or features by choosing a longer-term or more expensive plan. The only thing you have to decide between is how long of a membership you want. Your options for that range from 6 months out to 24 months, which each option getting cheaper per month as you extend out.
Here are a few additional things you should know about the cost of an eHarmony membership.
All eHarmony memberships are set to auto-renew. You can shut this off at any time, though, and still get the full term of your membership.
eHarmony memberships don't always auto-renew at the same term length, so check your contract.
eHarmony frequently runs un-publicized sales that they only show to free trial account members.
Payment options include major credit cards and PayPal.
You can split your eHarmony payments up into one, two, three, or four payments.

What Kind of Relationships is eHarmony For?
The eHarmony dating app is 100% designed for singles looking for lasting relationships. In other words, it's designed for people who want committed relationships and not for people looking for casual dating.

The Bottom Line – Is eHarmony Worth It?
We think eHarmony is 100% worth it for singles looking for serious relationships. If you are tired of people playing games and want a chance at real and lasting love, then eHarmony is certainly going to be the right pick for you.
And if you're still not sure, we recommend you conduct your own eHarmony review! We've included a free trial link below that will allow you to do just that without the need to upgrade to a premium membership just yet.
Why not take the next step to find that special someone today!

eHarmony vs. The Other Guys
Curious how eHarmony stacks up against some of its competitors? Wondering how some eHarmony alternate options compare? Here are a few quick comparisons and some links to our dedicated comparison guides.
eHarmony vs. Tinder
If you're looking for a casual hookup or no-commitment dating, Tinder is ideal for you. But for anyone looking for anything with some semblance of seriousness or commitment, eHarmony wins by a mile.
Is eHarmony better than Tinder? Yes
eHarmony vs. Higher Bond
Comparing eHarmony with Higher Bond is a bit challenging as Higher Bond is a brand new site. That being said, if you're looking for serious Christian dating, Higher Bond is much more in tune with what you're looking for. If you're looking for traditional, non-faith-based dating, though, go with eHarmony.
Is eHarmony better than Higher Bond? No
eHarmony vs. Match.com
The eHarmony vs Match battle is "one for the ages" in the sense that for decades it was quite close. However, over the past five or so years, eHarmony really did a lot to upgrade their product and add new features. Match, on the other hand, has stayed relatively constant without many new features we've seen in our reviews.
Is eHarmony better than Match? You Decide

eHarmony FAQ
Is eHarmony a Christian dating site?
No, eHarmony is not a Christian dating site. While the site does have a ton of Christian singles and is often mistaken as a Christian dating site, that's not the case.
Why is eHarmony so expensive?
The word "expensive" depends on what you're looking for, as you get what you pay for in the world of online dating. While eHarmony does cost more than a lot of other dating sites, the quality of the matches and the matchmaking experience is elevated. If you're committed to finding someone special, eHarmony certainly delivers the value for what you're paying.
How many women are there on eHarmony?
49% of the members on eHarmony list their gender as female.
How many men are there on eHarmony?
51% of the members on eHarmony list their gender as male.
How can I see pictures on eHarmony without paying?
Unfortunately, the only way to see other members' pictures on eHarmony is by upgrading to a premium account. There are no ways around this.