Do you love the idea of meeting someone as intelligent, educated, and engaging as yourself? Elite Singles is a niche dating app for singles looking to find that special someone who shares their interests and goals.
The service is billed as the dating app for educated singles serious about meeting someone. So, if you're an elite single in search of another, we know why this Elite Singles review caught your eye. And we don't plan on disappointing as we dive deep into the Elite Singles online community.
You'll soon be able to decide if Elite Singles is a time saver or time-waster when it comes to quality matchmaking.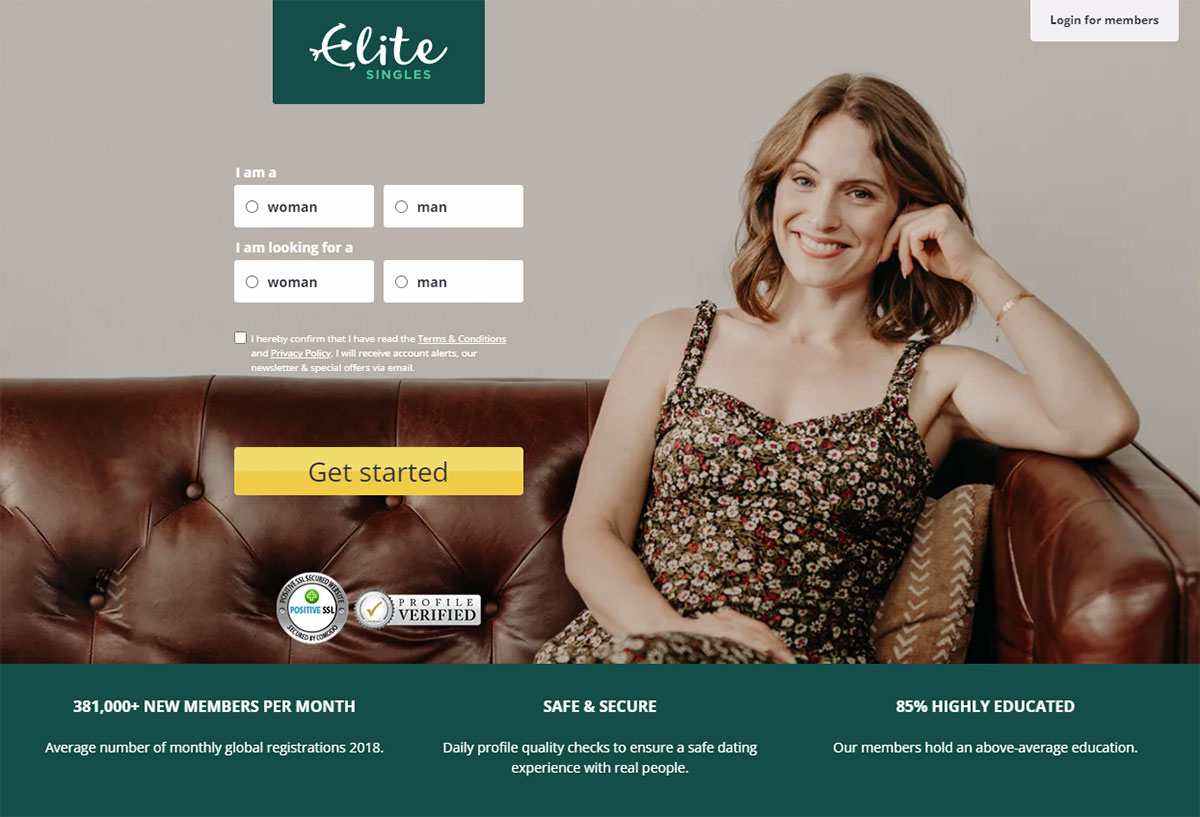 ---
Elite Singles App at a Glance

Overall Rating – 4.5/5.0

| | |
| --- | --- |
| Userbase | 13 million |
| Sign-Up Time | 15-20 minutes |
| Membership Cost | Starting at $44.95/month |
| Payment Required? | No – a free trial is available |
| Avg. User Rating | 4.1/5.0 |
| Avg. User Age | 30 to 55 years old |
| Gender Ratio | 44% men | 56% women |
| Free Messaging? | No |
| Video Chat? | No |
| iOS App? | Yes |
| Android App? | Yes |
| Web Friendly? | Yes |
| Support Options | Contact form and FAQs |
| Launch Year | 2009 (2015 in the US) |
| Owned By | Spark Networks SE |
Is Elite Singles Right for Me?
Are you over 30? Have you reached the stage in your life where you're established professionally and want the same for your personal life? If so, then turning to Elite Singles might be worth your time because it could save you some in the long run.
Unlike mainstream dating apps like Match.com or Zoosk, Elite Singles is a niche site for educated professionals. It's not a hookup or even a casual dating service. Instead, it's closer to eHarmony but with more flexibility to go beyond the algorithm's suggestions
---
---
What is Elite Singles?
Elite Singles is a dating site and app for singles ready to go all-in and find that special someone at a similar stage in life. More than 85% of the community has a college degree or higher, most in the 30 to 55 age range.
Elite Singles History
While Elite Singles is relatively new in North America, it was founded in Germany in 2009 under the Affinitas umbrella. Affinitas was also behind similar services, including eDarling and Attractive World. It introduced its "elite" brand to Canada and the US in 2013, positioned as an eHarmony competitor.
Later, in 2017, Affinitas made a match of its own, merging with Sparks Networks, forming Sparks Networks SE. And if the name sounds familiar, that's because Sparks is a major player in online dating with Zoosk, Christian Mingle, and Silver Singles, to name a few.
What Makes Elite Singles Different?
Elite Singles is a niche dating site focusing on highly-educated singles looking for committed relationships. It's got a touch of eHarmony with a more extensive registration process than casual dating apps, but the flexibility to reach out to members ignored by the algorithm.
In addition to a self-promoted high success rate, Elite Singles prioritizes safety and security. The service implements profile verification and fraud detection. Because of the vetting process, it's not a slam dunk that you'll become one of the elite. However, you'll find that it's not a pretentious, exclusive community either. As long as your information is verified, you should get the nod.
Pros and Cons of Elite Singles
Pros
An expansive member base with over 350,000 new users reported monthly
Self-reported 2,500 successful matches each month
Profile verification and fraud detection to weed out fake profiles
3-7 highly suitable algorithm-based matches daily
A unique Tinder-like "Have you met?" feature
Initial personality test explained in detail
Four contact methods
Available in 25 countries
Niche dating for educated professionals
Cons
Weekday-only customer service
Limited free trial features
Location limitations – most of the users are based in big markets

How Does Elite Singles Work? – Features Overview
Like eHarmony, Elite Singles has a more extensive registration process, asking new members to answer thought-provoking questions instead of the standards like body type, smoking, and religion. The answers kick-start the matching algorithm and give potential partners better criteria to gauge their interest.
Elite Singles members receive between three and seven daily suitable matches based on the math. But what makes Elite Singles different is users don't need to stick with those recommendations. They can scroll (in Tinder-like fashion) through 20 more additional possibilities each day that aren't as algorithm-driven. Or, users can wing it with a "what if?" feature, providing unlimited searches.
Signup process
Whether you're ready to take advantage of a free trial or dive-in with a paid membership, prepare to spend about 15 to 20 minutes getting the ball rolling. That's because Elite Singles' matching algorithm relies on answers to a unique personality test.
We suggest waiting until you have plenty of time to devote to the process, as your responses determine your potential matches, and there are just over 100 questions.
Matchmaking Process
Before you get to the good stuff and even see any of the elite singles near you, you've got to finish the personality test and profile verification. But, once you're in, you've got a few ways to go with the matchmaking process.
First, you've got the Elite algorithm that finds an average of five new and appropriate potential matches every day. But if you're not feeling what the math is sending, you can take control and use other tools like "Have you met?" or "What if?".
Unique Features
Like other dating apps, Elite Singles provides communication tools so you can send and receive messages. You can even see who's been checking out yours and leave comments on other members' profiles.
But, aside from the matching algorithm, Elite Singles has two custom features that might pick up the pace of locating that special someone.
Have you met?
The Have you met? tool is like a pared-down version of Tinder's swipe left or right. It goes beyond your three to seven daily matches with 20+ additional ones where you can assign an "X" or a smiley face.
But Have you met? picks up where Tinder leaves off because you get profile information, so you're not going solely on looks.
What if?
With What if?, the field is wide open. You can search the entire Elite Singles community and see if someone catches your eye that didn't catch the algorithm's attention.
We found that you get the best of both worlds with this app. You don't have to spend a lot of time because you've got the algorithm playing the role of matchmaker. But you can also take the opposite approach and lead the charge.

Free vs Paid Membership at Elite Singles
One of the most frequent questions we get about any dating site is if it offers a free trial. With Elite Singles, the answer is yes, but…
We can absolutely hook you up with a free trial to get you started with this niche dating app. But you'll want to know its limitations because there are quite a few.
Whether you sign up for a free trial or select a premium plan right off the bat, you need to fill out the personality test. You don't have access to the virtual Elite gates without it. The cool thing about it, though, is you get to see some of your results even if you're not ready to pay. That could give you valuable insight you can use whether you opt to pay for an Elite Singles membership or take your search elsewhere.
However, what you don't get when you stick to a basic plan is messaging capability, nor can you see member photos. Profile images are blurred to free users, probably the most significant limitation.
Free membership features:
Personality test – take and view some of the results
Create a profile
Upload images
Receive potential partner suggestions
Send smiles and likes
The feature list is much more robust if you're willing to pay for at least one month, as Elite Singles offers one, three, and six-month membership plans.
Elite Singles' paid membership includes all of the free features plus the following:
A thorough explanation of your personality test results
More frequent algorithm-suggested matches
Access to other user photos
The ability to send and receive messages from other singles
Read receipts for sent messages
Opportunity to leave comments on other members' profiles
See who has visited your profile
Use of the "Have you met?" and "What if?" features
Best Free Feature: Access to personality test results.
Best Paid Feature: "Have you met?" – as it's a cross between the daily suggested matches and a Tinder-type carousel of singles.

How Much Does Elite Singles Cost?
1 Month – Premium Classic ($59.95 per month)
3 Months – Premium Light ($57.95 per month)
6 Months – Premium Comfort ($44.95 per month)
Elite Singles tries to make sure that all users only match with "elite singles" as the name would suggest. One of the ways that they do this is by having their premium membership cost be a bit more that other dating sites on the market. The downside to this is that you're going to have a to pay a bit more. The huge upside is that you won't run into a bunch of fake accounts and people paying games at $59.95 per month.

What Kind of Relationships is Elite Singles For?
Elite Singles promotes it's for everyone, from single parents to Christian, gay, and Asian dating. However, the caveat is that users are highly educated and seek something substantial in a relationship. It's not a hookup or casual dating service.

The Bottom Line – Is Elite Singles Worth It?
We've spent quite a bit of time on our Elite Singles review, and we don't want to mislead you into thinking Elite Singles is worth it for everyone.
We found that Elite Singles is an excellent choice for college-educated singles over 30 who are serious about finding someone. They rely more on the algorithm to narrow the field instead of spending months on dozens of dates that don't go anywhere, and it seems to work. Elite Singles promotes that an average of 2,500 app users make authentic love connections each month.
However, we also found that the success rate is higher in the largest metropolitan cities, where the member base is significantly more substantial. So, that's something to think about if you live in a small town, as it could be frustrating to find other Elite Singles in your area.

---
User Reviews of Elite Singles
The stats speak for themselves, with about 25,000+ users finding long-term relationships each year through Elite Singles. However, nothing is all rosy in the world on online dating, and the negative side of Elite Singles revolves around something we've already mentioned – location.
We noticed a pattern with some members who went through the entire personality test and paid for a premium plan only to come up short on daily matches. It circles back to the metro area versus suburbs or small town users. While hundreds of thousands of new monthly members sound substantial (and it is!), this is a global dating app extending to 25 countries. So it might be challenging to find a massive pool of nearby potential matches unless you're in a big city.

Elite Singles vs. The Other Guys
If you've been reading through our Elite Singles review and already like what you see, then we encourage you to at least try the free trial to see what comes about from your personality test. But if you're still on the fence, you might find a few comparisons helpful, as there's a big beautiful world of online dating out there!
Elite Singles vs. eHarmony
We've been making quite a few comparisons of Elite Singles to eHarmony, so it only seems fair that we make it official. Yes, there are many similarities, as both sites cater to singles looking for long-term over casual relationships and rely on personality tests. eHarmony's registration is much more intricate, though, while Elite Singles narrows the field to highly-educated singles.
Elite Singles vs. Silver Singles
Just because the names are similar doesn't mean the services have to follow suit. But in this case, they do because there are quite a few crossover features between Elite Singles and SilverSingles. Both receive around 300,000 visitors per month and use an algorithm that narrows the field to about five ideal matches daily. However, whereas Elite Singles sticks to higher-educated professionals looking for a substantial relationship, SilverSingles caters to the 50+ crowd seeking anything from a casual hookup to the one.
Elite Singles vs. Match.com
You'll find that Elite Singles and Match.com veer off in two different directions. Match.com is more of a marketplace with catalog-style dating for singles all over the board, starting at 18. Elite Singles, on the other hand, is a niche dating site catering to highly-educated singles, primarily over 30, using an algorithm to propose the best partnerships.

Elite Singles FAQ
What makes Elite Singles different from other dating sites?
Elite Singles is a dating app for highly-educated professionals interested in connecting with equally educated singles. It's ideal for users who don't have a lot of time to wade through the dating pool, as Elite Singles' algorithm provides 3-7 of the best potential matches daily.
Is Elite Singles a free dating service?
No. Elite Singles is a premium dating app with one, three, and six-month memberships. While Elite Singles has a free trial, it provides limited access to the online community.
Does Elite Singles Have a Good Success Rate?
While all dating apps tend to keep their stats close to their chests, Elite Singles promotes 2,500 singles find love each month.
Will I come across a bunch of fake profiles on Elite Singles?
You never know what someone's capable of getting away with online. However, one of the best features of Elite Singles is its security protocols, including profile verification and fraud detection. So, while fake profiles can slip through, you should find far fewer on Elite Singles compared to many other dating apps.
What are the requirements to join Elite Singles?
Elite Singles has the word "elite" right in the title. But don't be deterred, as it's not one of those uber-exclusive websites with stringent criteria. Yes, you undergo profile verification, but it's primarily to make sure you are who you say you are, instead of being scrutinized for your background. Remember that 85% of users have an above-average education and are over 30. So, if you're not in that category, another dating app might be more suitable.