EME Hive may look familiar to some. That's because it was formerly known as EastMeetsEast and was one of the most popular Asian dating and social sites out there.
The platform helps Asian American people and Asian Expats to connect with others with similar cultural backgrounds. Whether users are looking to date, meet friends, or simply grow their community, EME Hive claims to offer it all.
Though the site sounds great, we can't help but notice some less-than-flattering user reviews. So, we decided to get to the bottom of the mystery by signing up ourselves. Today, we are going to go through everything we learned about EME Hive to help you determine if the platform is worth your time and your money.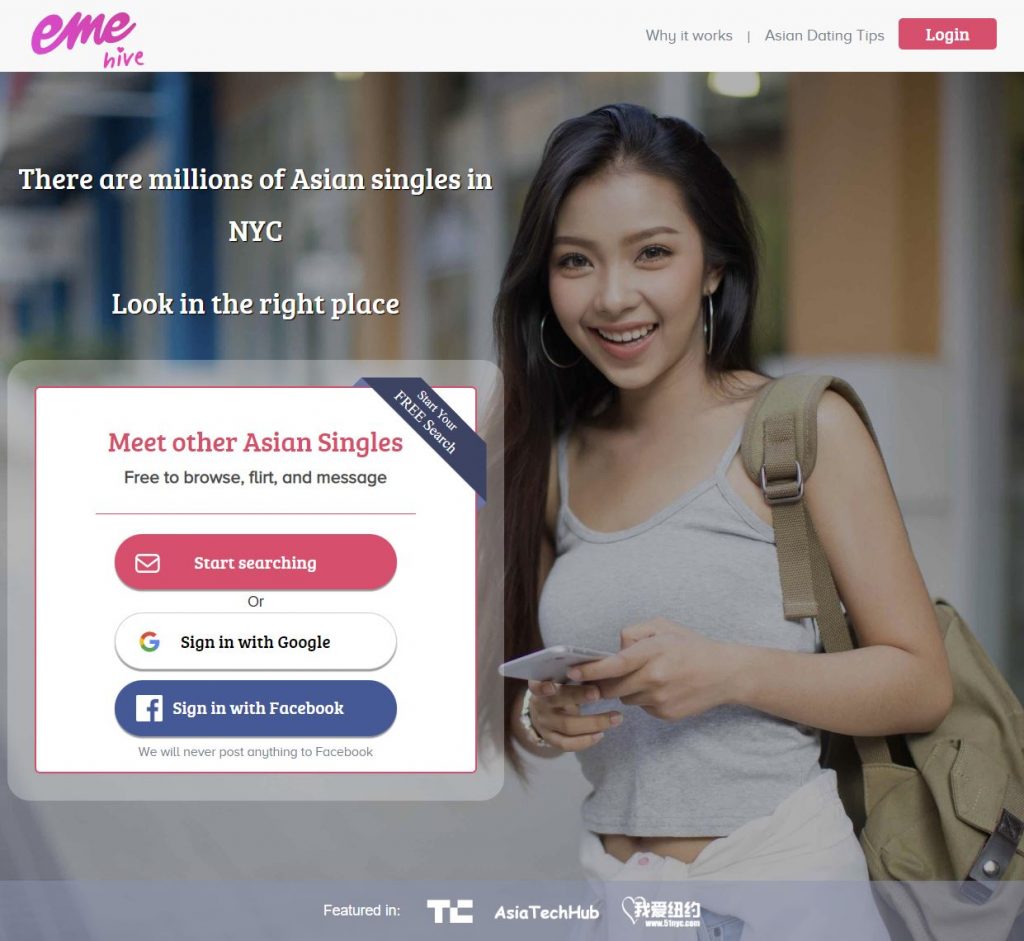 ---
EME Hive App at a Glance
Overall Rating – 2.9/5.0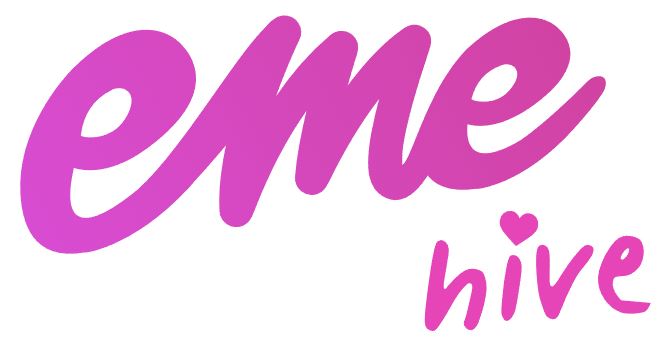 | | |
| --- | --- |
| Userbase | 1 million+ |
| Sign-Up Time | ~ 3 minutes |
| Membership Cost | Premium memberships start at $9.99/month |
| Payment Required? | No, free trial available |
| Avg. User Rating | 2.9/5.0 |
| Avg. User Age | 25-50 years old |
| Gender Ratio | 64% men | 36% women |
| Free Messaging? | Partially free messaging |
| Video Chat? | No |
| iOS App? | Yes |
| Android App? | Yes |
| Web Friendly? | Yes |
| Support Options | Contact form |
| Launch Date | 2013 |
| Owned By | EME Hive |
Is EME Hive Right for Me?
EME Hive has some serious potential. This platform is a place where Asian people can meet and interact in ways that lead to new relationships and friendships. If you are an Asian American or Asian ex-pat who struggles to meet people who understand you, EME Hive may be worth a try!
If you are concerned about some of the negative reviews on EME Hive, or just want a dating app with a more proven reputation, then you might want to check out some of our EME Hive Dating app alternatives:
---
---
What is EME Hive?
EME Hive History
EME Hive started in 2013 as EastMeetsEast. Created by Mariko Tokioka, a single Japanese American woman who saw a gaping hole in the market, the site has grown and rebranded over the years. Now, it services over 1 million users from around the world.
What Makes EME Hive Different?
Unlike other Asian Dating sites, EME Hive is reserved exclusively for Asian singles. This helps to protect users from fetishists who chase Asian singles with untoward intentions. Instead, users can potentially find real connections with people who share similar cultural backgrounds.
The site even claims to show details that are important to Asian singles, like information about the language skills of users and details about how long they've lived outside of Asia.
The thing that makes EME Hive really stand out is the curated matching. Instead of just searching through users on EME Hive (though that is an option as well), users will be given a weekly curation of matches that meet their criteria.
Pros and Cons of EME Hive
Pros
EME Hive is free to sign up for and search through singles.
There is a live streaming feature that helps users to ensure they are meeting real people.
The platform is great for Asian people to meet others they can relate to on a deeper level.
Cons
The platform is unkempt and doesn't have a modern or professional look.
Some of the site's text is written exclusively in foreign characters, though not all Asian people speak a language originating in Asia.
The platform has issues with crashing both online and on the app.

How Does EME Hive Work? – Features Overview
EME Hive has two types of members, free and premium. Free members can search through users on the site to determine if a premium membership is worth the cost. Outside of searching for members and sending winks, there isn't a whole lot that free members can do.
Premium members, on the other hand, get to access all the matching features and amenities of EME Hive.
Signup process
The Signup process for EME Hive is very fast and very easy. Users will fill in a questionnaire that discussed gender, sexual attraction, nationality, ethnicity, and age. All this basic data is used to quickly create an EME Hive account.
After an account is created, users can begin searching through users and can finish filling their profile with photos and information.
Matchmaking Process
EME Hive's most well-regarded feature is its personality-based matching algorithm. Premium users will receive a weekly group of curated matches that meet their requests, personality, and dating goals.
Though the company is hush-hush about how the algorithm fully chooses matches, we do know that details like the age a person was when moving out of Asia play a role in the process.
Users can look through their curated list and choose whether they like or dislike the options.
Unique Features
EME Hive has a few premium features that help convince users to sign up for a premium membership:
User Live Streams
Expert Matching
Unlimited Messaging
Read Receipts
Live Streams
Live Streams are one of the most interesting features on EME Hive. It makes the platform like a modern hybrid of Twitch and eHarmony! Free users can view live streams for free, but only premium users can start live streams. If you want to keep up with the best streams on EME Hive, the platform has a Twitter account that keeps users up to date on the most exciting streams.
Expert Matching
Premium users get access to the EME Hive matching algorithm. This expert matching system results in a weekly delivery of curated profiles that are more likely to lead to great conversations and potential romances.
The EME Hive algorithm is a bit like a well-guarded secret recipe, but users' search filters, personality, and cultural background are all taken into consideration.
Unlimited Messaging
Free users can send a single free message, but all other messaging features are reserved for premium users. Unlimited messaging allows users to send messages and respond to messages without limit. This applies to messaging curated matches and random users from the search area.
Read Receipts
Premium EME Hive users will automatically see read receipts on their messages. This is a simple feature that lets users know if their messages have been seen by the recipient. Users on modern dating sites enjoy read receipts because they prevent users from wasting time on matches that are unresponsive.

Free vs. Paid Memberships
Signing up for EME Hive is completely free, but free accounts are only given a limited amount of freedom. These accounts can access basic site features, like searching through users and sending smiles, but the best features are reserved for premium members only. Here is a quick look at all the features on EME Hive and who can use them:
Free Membership Features:
Register Account
Send Smiles
Watch Live Streams
See Who's Visited Your Page
Communicate in Live Stream Chat
Send a First Message
Paid Membership Features:
Unlimited Messaging
Read Receipts
Advanced Search Filters
Curated Profile Matching

How Much Does EME Hive Cost?
| Membership Type | Membership Length | Monthly Price | Total Price |
| --- | --- | --- | --- |
| Standard | 12 Months | $8.99 | $107.88 |
| Standard | 6 Months | $13.99 | $83.94 |
| Standard | 3 Months | $17.99 | $53.97 |
| Standard | 1 Month | $26.99 | $26.99 |
| Premium | 12 Months | $9.99 | $119.88 |
| Premium | 6 Months | $15.99 | $95.94 |
| Premium | 3 Months | $20.99 | $62.97 |
| Premium | 1 Month | $37.99 | $37.99 |

What Kind of Relationships is EME Hive For?
EME Hive's mission is to create a space where Asian people living outside of Asia can meet others that understand their unique cultural backgrounds. The goal is for users to be able to find lovers, friends, and more.
Though we think that concept is truly beautiful, the platform seems to be exclusively used for dating. In our time testing out the site we didn't find any users who seemed to want to be friends or make new acquaintances. Even the matching algorithm for premium users seems to indicate that serious romantic dating is the true goal of EME Hive.
If you are interested in a platform that has casual dating, friendship, and networking options, try out Bumble, Bumble BFF, and Bumble Bizz.

The Bottom Line – Is EME Hive Worth It?
EME Hive has a lot going for it. The platform has a large user base and utilizes modern features to help singles find great matches. If all of these features were available on the free platform, we'd definitely say the site is worth signing up.
However, a lot of these features are behind a pretty tall paywall.
When we see premium memberships at the price point of EME HIve, we expect there to be a large selection of premium features. With EME Hive, there are only a few additional features, and one of them is messaging.
So, we do believe that signing up for a free EME Hive membership is worth it. When it comes to a premium membership, there are other platforms that can offer more features for less.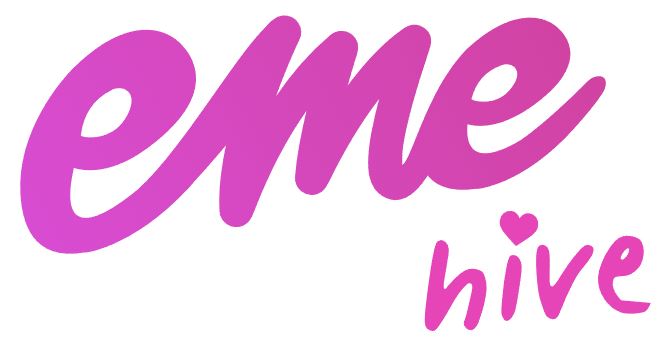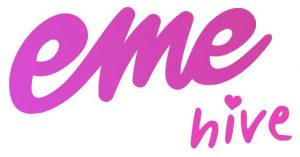 ---
User Reviews of EME Hive
EME Hive doesn't have the most incredible user rating out there, but it can be difficult to trust dating site reviews sometimes. After all, we've seen people leave bad reviews on a dating site after their girlfriend that they met on the site breaks up with them.
So, to give EME Hive a fair shake we flipped through hundreds of reviews and weeded out the ones that were clearly not about the app or its features. Then, we broke the remaining reviews down into the three most common positive reviews and the three most common negative reviews.
Three Most Common Positive Reviews of EME Hive:
You can make money from streaming.
Streaming chat makes it easy to make friends.
Fun app to waste time on.
Three Most Common Negative Reviews of EME Hive:
The UI is buggy and redundant.
The ads pushing for premium are overwhelming.
Users were pushed to pay for a premium membership to read messages in their inbox, only to find out the messages were from admin.

EME Hive vs. The Other Guys
EME Hive vs. AsianDate
EME Hive and Asian Date are both platforms specifically meant for Asian singles from around the world. Both sites have small but impressive user bases and some free and some paid features. The big difference is that AsianDate doesn't have any social features or live streaming, but its platform seems to be less buggy than EME Hive. AsianDate also has no algorithm matching.
EME Hive vs. EliteSingles
EliteSingles is a popular dating site for Asian singles despite not being an Asian dating site. The platform is for high-quality singles with advanced education and/or impressive jobs. This makes it a great place to meet matches that can lead to serious romance and sustainable relationships. EliteSingles also has far more users than EME Hive. EliteSingles has over 2 million active monthly users.
EME Hive vs. eHarmony
eHarmony is another popular dating site that isn't meant for only Asian Singles. However, it is similar to EME Hive in that it uses algorithm matching to push singles together. The algorithm on eHarmony is highly-regarded and the platform has created more long-term partnerships and marriages than any other dating site. EME Hive doesn't have any record on relationships created from their platform.

EME Hive FAQ
Is EME Hive Good For Making Friends?
EME Hive focuses mostly on helping users find romantic partnerships, but the live stream area of EME Hive is great for making friends. The open chat on the live streams is a perfect place to casually interact with other users.
Does EME Hive Have Live Streaming?
Yes! EME Hive lets users stream themselves or view other users' live streams. Some live streamers are there to make money, so it isn't the best place on the site to try and find dates.
Can Free EME Hive Users Respond to Messages?
No. Free ME Hive users can send a free message, but they can't read or respond to messages without paying for a premium membership or paying for site-specific currency (called diamonds).