So you've heard of Flirt.com, but you're not sure if this site is the right fit for you? We're glad you're here.
Flirt.com has been around for over 25 years, but does that mean they're any good? In short, the answer is maybe (depending on what you're looking for).
This site has taken everything users love about casual dating and developed a platform where singles from all walks of life can meet and mingle.
So, If you are someone who is interested in online dating but isn't looking for something too serious, you'll want to check out this Flirt.com review!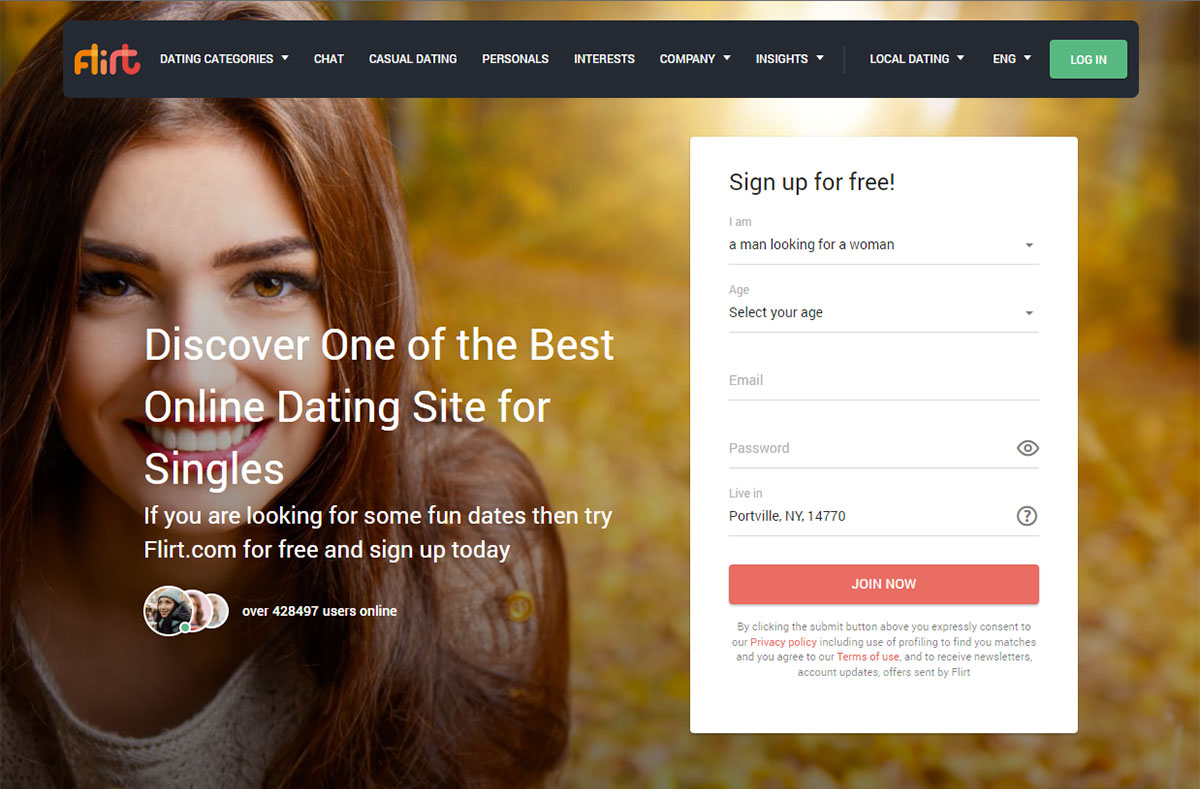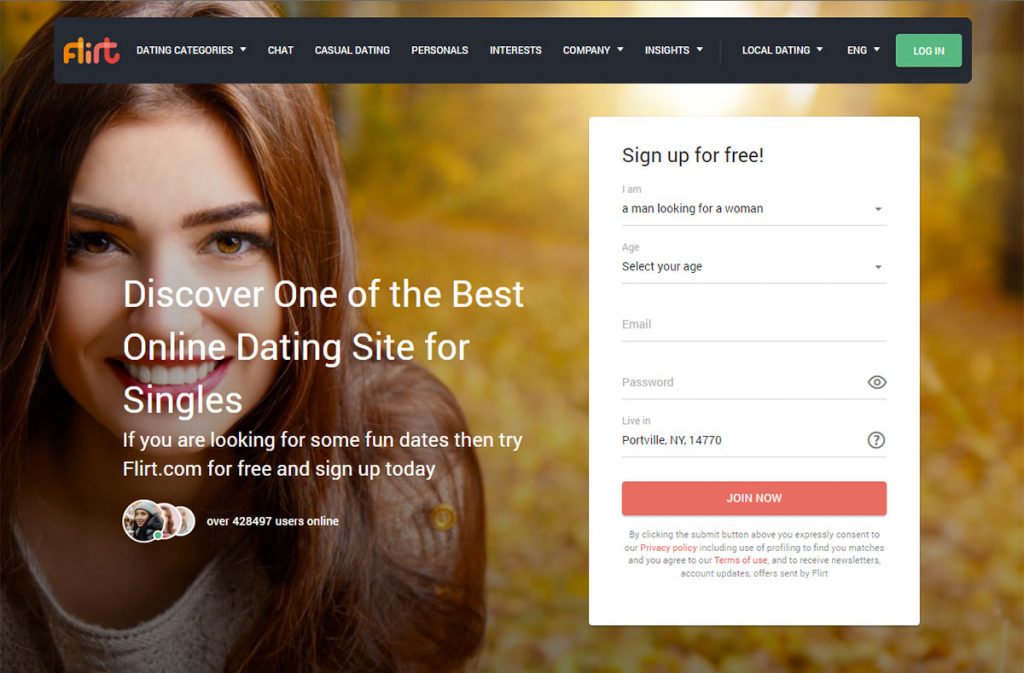 If that's not you, then we recommend checking out our list of the top dating apps for meaningful relationships.
---
Flirt.com at a Glance

Overall Rating – 3.9/5.0
| | |
| --- | --- |
| Userbase | 1 million + |
| Sign-Up Time | Less than 2 minutes |
| Membership Cost | Starting at $12.27 a month |
| Payment Required? | No |
| Avg. User Rating | 3.9/5.0 |
| Avg. User Age | 25-34 years old |
| Gender Ratio | 40% men | 60% women |
| Free Messaging? | No |
| Video Chat? | No |
| iOS App? | No |
| Android App? | No |
| Web Friendly? | Web only |
| Support Options | FAQ page, Email |
| Launch Date | Originally 1995, relaunched in 2009 |
| Owned By | Cupid Plc. |
Is Flirt.com Right for Me?
Flirt.com is easy to use, nice to look at, and has a large number of users. That means it is a good site for most singles to try.
Though Flirt.com's user base is large, most users tend to surround large cities. This means singles in rural areas may need to expand their search radius to find good matches.
So, is this site right for you? Well, compare yourself to other Flirt users.
The average user of Flirt.com is between 25 and 34, interested in casual romance, is fine with spending a little money on their dating platform, and open to the idea of exploring singles outside of their immediate location.
Sound familiar? If so, you'll likely enjoy your time on Flirt.com!
---
---
What is Flirt.com?
Flirt.com is a casual dating website where singles can meet and build relationships. The site can be used to meet flings, find short term partners, and even meet future spouses. It's all about how you use the site and how honest you are in your bio and communications.
The site doesn't have any dedicated mobile apps, but instead uses a mobile-friendly platform. This means users can access Flirt.com on the go from their phones and tablets.
This helps users' to keep their activity discreet, as they don't have to download a physical app to their devices for others to see!
Flirt.com History
Flirt.com was first launched in 1995, but was relaunched, in the form we all know and love, in 2009. This is after they were acquired by Cupid plc. The relaunch is what pushed Flirt.com to the success they have now. The look of the site was improved, a mobile-friendly layout was developed, and new features for paid users were launched.
The company, though around for decades, hasn't run into much in the way of scandals or controversy in that time. Sure, you get the occasional user who leaves a bad review saying they got catfished, but that's typical on any dating site.
What Makes Flirt.com Different?
Flirt.com works hard to stand out from other casual dating sites. Some well-known sites, like Tinder or Bumble, are known for using a fairly rushed system of matching. Flirt.com tries to improve upon this by creating multiple ways to slow down the matching process, break the ice with matches, and learn about users before opening up in the message area.
Flirt.com is also unique in removing their dedicated apps from the marketplace and using a mobile-friendly website instead. This increases user privacy and makes it simple for users with different devices to access the platform.
Pros and Cons of Flirt.com
Pros
The signup process is incredibly fast and easy.
You can get a good look at the site before buying a membership.
There are features to help shy singles open up to their matches.
Cons
The best features are reserved for paying members.
There are some fake accounts on the site.
There is no longer a dedicated app.

How Does Flirt.com Work? – Features Overview
Flirt.com is simple to understand and master. If you can get through the signup process (which is not difficult), you will be able to master the features of the site. Read on for more information about how to sign up and utilize Flirt.com's premium features.
Signup process
When you prepare to sign up for Flirt.com, you will want to be sure you have access to your email. You won't be able to do much without verifying it through the site!
If you have that prepared, the process is fast and easy!
Simply provide an email, gender, age, and location to begin. The site will ask you to confirm your email, then will ask you to upload a profile photo. You can choose to skip all the prompts for this and the profile creator until later.
Matchmaking Process
Flirt.com, being a casual dating site, doesn't use algorithms or advanced technology to hand pick matches. Instead, the platform lets you look through singles to choose for yourself who to talk to.
However, they don't just throw you into the deep end and hope you can swim.
There are a lot of fun features to help make the process of developing a relationship easier. This includes flirtcasts (ice breakers), search filters, the "liked you" gallery, and more.
You can adjust your pace of matching by switching from the search grid to the likes gallery. The latter area is much more similar to popular sites like Tinder.
Unique Features
Flirt.com may take a minimalist approach to online dating, but that doesn't mean they have no features to brag about. Three of the main features, Likes Gallery, Flirtcasts, and Request More Info, are even available to free users! Not many dating sites can say that!
Likes Gallery
The Likes Gallery is essentially the fast-paced, impulse dating area of Flirt.com. If you've ever used Tinder or Bumble, you know how this works. You will see a large photo of a user along with some quick bits of general information (name, age, location).
You will then either click a heart to show you are interested or click an X that says you aren't. If you click a heart on a profile from someone who also clicked a heart on you, you will be considered a match!
Flirtcasts
Flirtcasts are cute, pre-written icebreakers that help you open up to a variety of users. These are available on the main matching grid and can be refreshed until you find a prompt you like. When you send a Flirtcast, it goes out to multiple users in your area at once.
This can lead to you getting lots of responses in your inbox with very little effort!
Think of Flirtcasts as a great wingman at a bar. They see the pretty singles, they tee up a fun icebreaker, then they leave you to seal the deal!
Request More Info
Do you see a profile with a stunning photo but no bio or details? Flirt.com will let you send a nudge to that user reminding them to fill in their profile information. This lets you avoid interacting with potential fake accounts or scammers.

Free vs. Paid Memberships
Free Membership Features:
See Basic Search
Use Standard Search Filters
Access the Like Gallery
Send Flirtcast
View Activity Page
Get Live Notifications
Get 5 Free Chats
Paid Membership Features:
Unlimited chats
Bigger photos
Looking for info
Extended Search
Premium Support
Share Photos and Videos in Chat

How Much Does Flirt.com Cost?
| Membership Type | Length | Monthly Price | Total Cost |
| --- | --- | --- | --- |
| Premium | 1 month | $27.30 | $27.30 |
| Premium | 3 months | $15.30 | $45.90 |
| Premium | 6 months | $12.27 | $73.60 |

What Kind of Relationships is Flirt.com For?
Flirt.com is unique because it is best for creating flings and casual relationships. However, it has all the tools you need to create lasting connections as well!
If you are more focused on the casual side of things, you should use the likes gallery. This is a fast matching system, which is perfect for setting up fast, no-strings-attached dates.
The standard search grid with Flirtcasts icebreakers is better for anyone who wants to try making a deeper connection.

The Bottom Line – Is Flirt.com Worth It?
Let's just get it out there – Flirt.com is a great site that is worth it for anyone wanting a laid back approach to dating.
Sure, communication and advanced features are behind a paywall. But the cost of membership is comparable to similar dating sites, and you can try the site out for free before you buy. You even get 5 free messages on your trial account, which can help you sus out whether the profiles in your area are real or fake.
We love the two approaches to dating offered by Flirt.com, and think the simple interface makes learning the site easy for all users.
Overall, we think you will be impressed with what Flirt.com has to offer!
---
User Reviews of Flirt.com
The best way to learn about a dating site is to look at what long term users have to say. We headed TrustPilot to see what Flirt.com's customers have to say. Here is a quick look at some of the most positive and most negative feedback:
Positive Feedback:
The site is perfect for fun and casual dates.
The site has a creative and pleasant interface.
The casual nature is great for building confidence and preparing for future, serious romances.
Negative Feedback:
There aren't a lot of active users in smaller towns.
Customer service doesn't always respond.
You only get 5 free chats, then have to pay for more access.

Flirt.com vs The Other Guys
When it comes to popularity, Flirt.com is up there with some other big names like Match, eHarmony, and OkCupid. If you are searching for a good online dating site, chances are you've heard of all four.
If you need help determining which site is best for you, take a look at this quick comparison guide!
Flirt.com vs. OkCupid
Flirt.com and OkCupid are both hybrid dating sites that cater to casual and serious romances. The main difference between the sites is the age demographics. OkCupid has an older user base while Flirt.com users are mostly under the age of 35.
Flirt.com vs. Match.com
Match.com is a dating platform that pushes the idea of creating long, happy romances. Which is what really sets it apart from Flirt.com, where being laid back about romance is the entire idea. Both sites are highly rated by users and have useful premium features.
Flirt.com vs. eHarmony
eHarmony is the granddaddy of serious online dating. If you know anyone who has ever been paired with a great match based on an algorithm, you can thank eHarmony. Though their platform is incredibly well-regarded, Flirt.com is a much more enjoyable space for younger, more fun loving singles.

Flirt.com FAQ
Didn't Flirt.com Used To Have An App?
Flirt.com announced they were releasing a dedicated app in 2018, which was covered by a few different blogs and new sources. However, the app is no longer available on the market for unknown reasons.
How Do I Use Flirt.com On My Mobile Device?
Flirt.com is completely mobile-friendly. Simply open your device's web browser and navigate to Flirt.com.
Is Flirt.Com Expensive?
Flirt.com is similarly priced to other dating apps with the same number of users and features.