As one of the first sites on the online dating scene, FriendFinder has been around for close to 30 years. That makes it older than Facebook (and Myspace, for our mature daters). You know it has longevity, but is it a good dating site? We have the answer to that question and more in our detailed FriendFinder review.
We spent hours testing all the site's features, evaluating the membership base, and gauging the matching algorithm. Stay tuned for all of our thoughts, including how FriendFinder stacks up against other popular dating sites.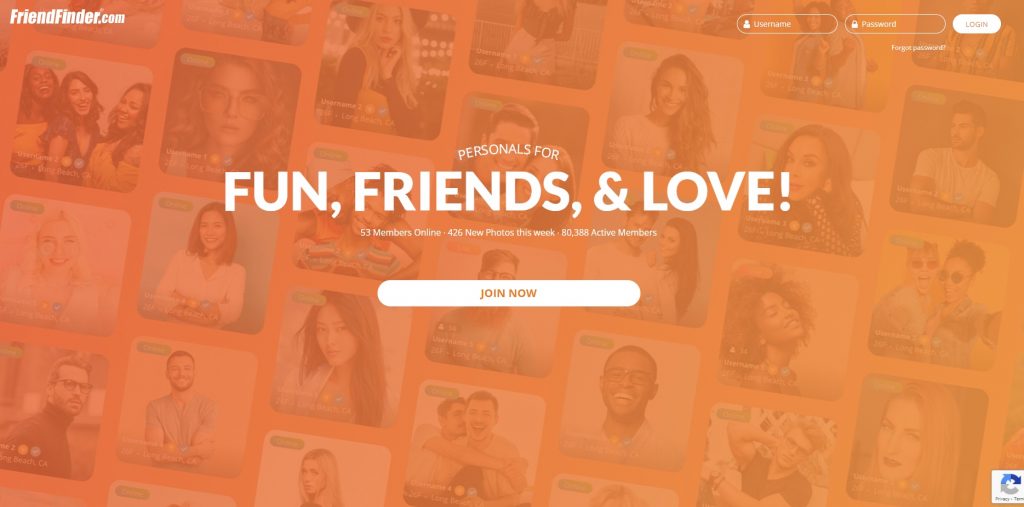 ---
FriendFinder at a Glance
Overall Rating – 3.0/5.0

| | |
| --- | --- |
| Userbase | 80,000+ |
| Sign-Up Time | 2 minutes |
| Membership Cost | Premium memberships start at $10.82/month |
| Payment Required? | No - free trial membership available |
| Avg. User Rating | 3.0/5 |
| Avg. User Age | From 25 to 54 |
| Gender Ratio | 70% men | 30% women |
| Free Messaging? | No |
| Video Chat? | No |
| iOS App? | No |
| Android App? | No |
| Web Friendly? | Yes |
| Support Options | web form |
| Launch Date | 1996 |
| Owned By | FriendFinder Networks |
Is FriendFinder Right for Me?
We're going to be honest – FriendFinder didn't come close to making our list of the best dating apps. Between the dated design, limited features, and lack of members, we didn't find many positives when preparing our review of FriendFinder.com.
Even so, FriendFinder appeals to a small share of the market. We recommend checking it out if you:
Don't want a serious relationship
Prefer using dating websites instead of apps
Miss using old social networks like Myspace
---
---
What is FriendFinder?
FriendFinder is a dating site and social network rolled into one. On the dating side of things, members create profiles and get matched with other members. They can also flirt, send messages, and tip guys and gals on the site.
On the social networking side, members can access chat rooms, groups, blog posts, and other features. Plus, they can add friends to grow their social networks. This works a lot like Facebook, with members having to approve friend requests.
Those are the basics but keep reading our FriendFinder review for more info. Next, let's look at the site's history.
FriendFinder History
So, pretty much everyone knows that Mark Zuckerberg (et al.) created Facebook while attending Harvard. But what about Andrew Conru? You might not know that name, but he and Mark Zuckerberg have a couple of things in common.
For starters, Conru was pursuing his Ph.D. at Stanford when he launched FriendFinder under the parent company Various, Inc. Pretty similar to Zuckerberg at Harvard, right? And also, like Zuckerberg, Conru pictured his site as a robust social network that would connect people from all over.
But as you know, there's only one Mark Zuckerberg, and FriendFinder is hardly in the same league as Facebook. So, what happened?
Well, for one thing, the members didn't get the memo that FriendFinder was meant to be a social network. Instead, the members used the site to arrange hookups, causing Conru to launch AdultFriendFinder to satisfy the market.
And that brings us to the next problem.
AdultFriendFinder didn't just satisfy the market – it saturated it. It quickly got lots of new members, including people who migrated from FriendFinder. FriendFinder was never able to catch up, and now, it only has a fraction of the members that AdultFriendFinder has.
Now, for the third issue…
Financial issues have plagued FriendFinder's parent company for years. Some people thought it would get on track after Penthouse Media Group acquired Various, Inc. and renamed the parent company FriendFinder Networks. Even with a new owner and name, the company ended up filing for bankruptcy protection in 2013.
The bankruptcy is in the rearview mirror these days, but money continues to be tight for FriendFinder Networks and the FriendFinder dating site. This is likely why FriendFinder hasn't put much money into maintaining the site.
What Makes FriendFinder Different?
FriendFinder is unique in a couple of ways. First, it puts a bigger emphasis on making friends than most dating sites do. Remember, it started as a social network, and many members still use the site for that purpose.
And second, it's more hookup-oriented than most dating sites. That's apparent when scrolling through the profiles. Let's just say we didn't find many buttoned-up folks when evaluating the site for our FriendFinder.com review.
Pros and Cons of FriendFinder
Pros
Robust search filters
Introductory videos
Optional profile verification
Cons
Lots of fake profiles
Outdated site design
Poor matching algorithm

How Does FriendFinder Work? – Features Overview
If you've been following our review of FriendFinder, you know we aren't sold on this dating site. Still, we know that you might want to try it for yourself, so we're going to go over the main features. First, though, let's go over creating an account.
Signup Process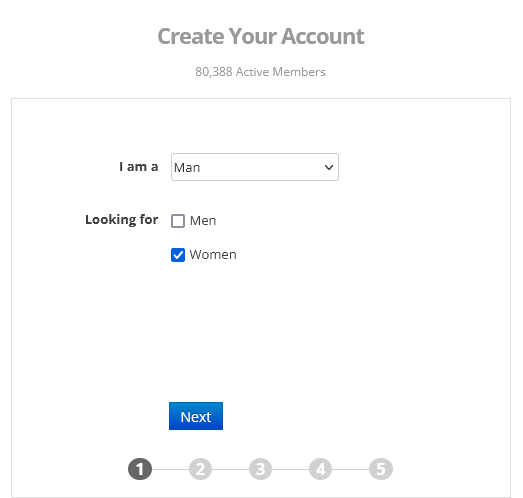 You can sign up and start browsing profiles within a couple of minutes. First, head to the FriendFinder website and click "Join Now." Then, complete the forms to set up your profile.
That takes less than two minutes, but it's a good idea to navigate to "Edit Profile" to complete the other fields. You can even take a short personality test so members can learn a little bit more about you.
Do you want to stand out on FriendFinder? Get some tips on writing a dating profile so you'll get noticed.
Matchmaking Process
We evaluated the matchmaking process for free and paid members when preparing our FriendFinder.com review. First, we looked at the matching system for free accounts, and we were not impressed. FriendFinder only lets free account holders set Cupid Preferences and use search filters, so you'll match on a superficial level.
The matching system isn't much better for paid members, to be honest. If you upgrade to a Gold membership, you'll access additional search features, but that's it. eHarmony, Zoosk, and other dating sites have superior matching algorithms, so we're going to pass on FriendFinder.
Unique Features
We noticed a lot of unique features when researching our review of FriendFinder. Check out some of the most interesting ones, along with our thoughts.
Chat Rooms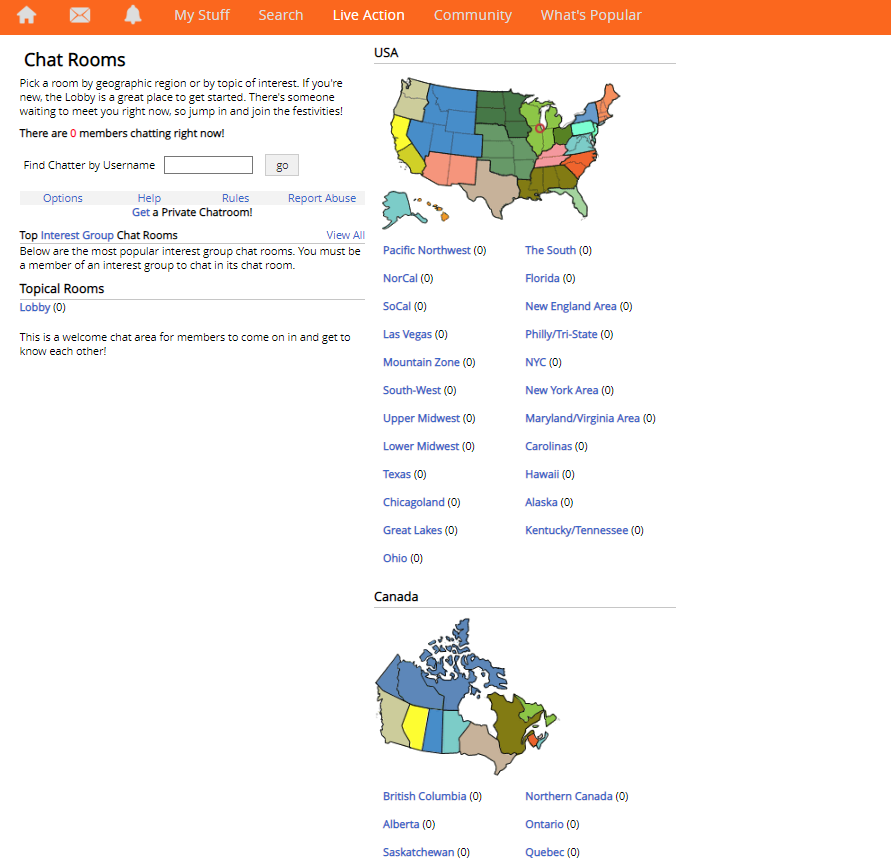 FriendFinder is one of the few dating sites with chat rooms. All members can join the public chat rooms, and paid subscribers can set up private chat rooms.
Unfortunately, the public and private chat rooms have around the same number of members. We monitored the chat rooms throughout the day and never saw more than three members inside at once. And get this – they were in three separate chat rooms!
Hot or Not
If you're used to swiping left and right on Tinder, you might like FriendFinder's new Hot or Not feature. You'll swipe through profiles, giving each one a thumbs up or down. Then, you can click on your Hotlist to see all the profiles you liked.
So, we want to like this feature, but we've seen other dating apps do it better. Take Zoosk, for instance. It also lets users like and pass on profile photos, but it provides more info than FriendFinder does. While FriendFinder just lets you see the picture, username, age, and location, Zoosk includes vital profile information.
Bling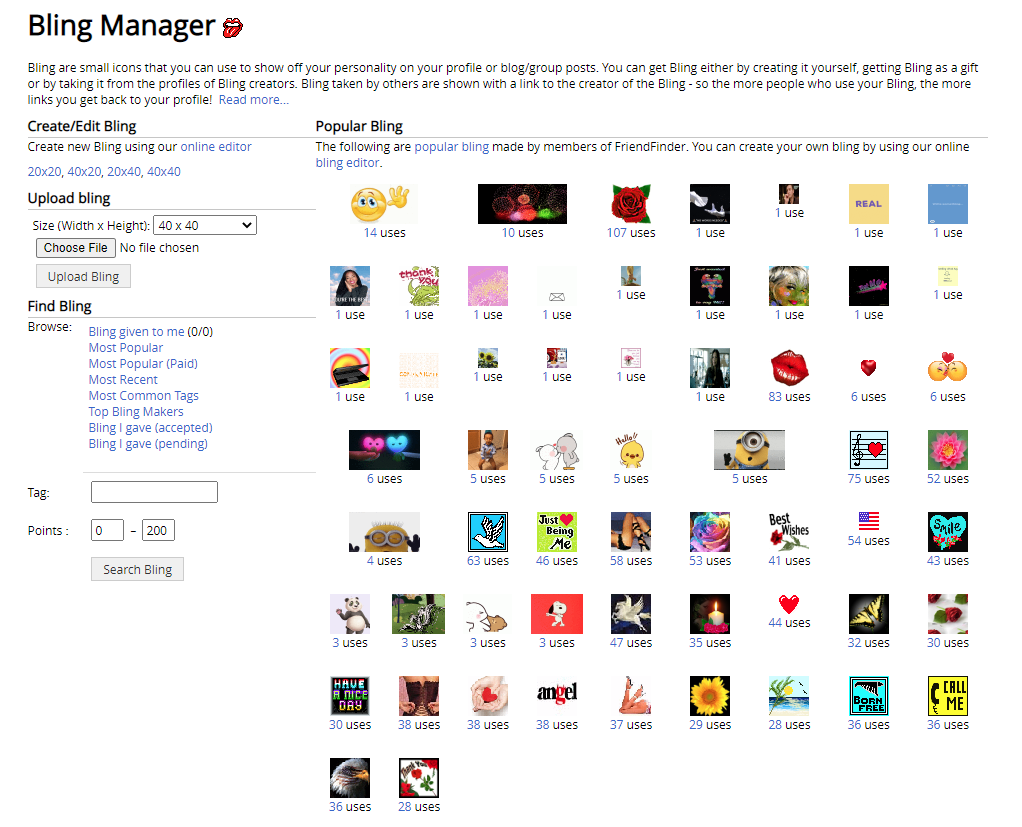 Members can create and add "Bling" to their profiles. Don't worry if you aren't the creative type, though. Just check out the Bling Manager to find something to add to your profile.
Now, this is definitely a unique feature, but it's also unnecessary. The bling is cute, but people have to click on your profile to see it. At that point, they're already interested, so a gif or image isn't going to make or break the connection.
FriendFinder Points Program
So, this isn't something you'll see on many dating sites. You can earn points on FriendFinder and use them to earn account upgrades, cash, and prizes. Plus, you can spend points to become another member's Top Fan. Did we mention FriendFinder gives us serious Myspace vibes?
You can earn points for free, so we think this is a pretty cool program. In fact, it's one of the best features we found when preparing our FriendFinder review.
Blogs and Magazine Articles
Because FriendFinder is partially a social network, user-generated blogs and magazine articles make up a big part of the site. Unfortunately, those features sound cooler than they are. The blogs and articles tend to range from stuff your mom shouldn't (but does) share on Facebook to Casual Encounters ads on Craigslist.

Free vs. Paid Memberships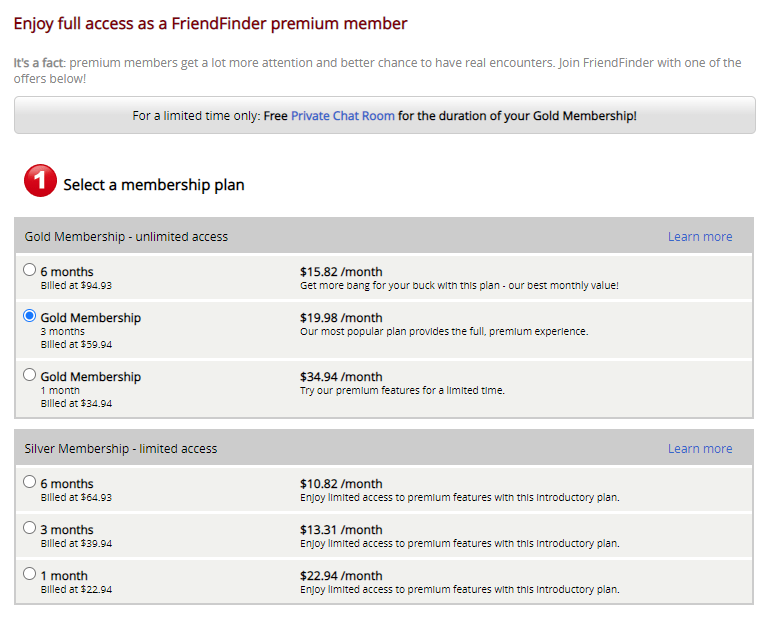 You can browse FriendFinder for free, but the features are extremely limited. As a free member, you can view profiles, flirt with members, and participate in the public chat rooms. The chat rooms are usually dead, though, so you probably won't get any one-on-one interactions as a free member.
FriendFinder offers two premium subscriptions – Silver and Gold. The Silver plan includes the following features:
View and contact members
Show near the top of search results (below Gold members)
Contact new members
View video intros
24/7 phone support
Limited access to the groups, blogs, and magazine features
If you want even more features, you can upgrade to Gold. The Gold membership includes everything that comes with the Silver plan. Plus, you'll receive the following as a Gold subscriber:
Show up at the top of search results
Be the first to contact new members
Full access to video intros, blogs, groups, and magazine features
View extra-large photos
Receive the ICQ, AIM, YIM, and MSN IDs of the singles in your network

How Much Does FriendFinder Cost?
| Membership Type | Membership Length | Monthly Price | Total Cost |
| --- | --- | --- | --- |
| Gold | 6 Month | $15.82 | $94.92 |
| Gold | 3 Month | $19.98 | $59.94 |
| Gold | 1 Month | $34.94 | $34.94 |
| Silver | 6 Month | $10.82 | $64.92 |
| Silver | 3 Month | $13.31 | $39.93 |
| Silver | 1 Month | $22.94 | $22.94 |

What Kind of Relationships is FriendFinder For?
FriendFinder is basically a hookup site. If you want something casual (and possibly just for the night), you'll find like-minded singles on FriendFinder. Also, some members hope to make friends on FriendFinder.

The Bottom Line – Is FriendFinder Worth It?
No, FriendFinder isn't worth it. As you can see throughout our review of FriendFinder.com, the dating site is outdated, clunky, and limited in features. It looks and acts like a relic from the past, and it can't keep up with modern dating sites.
Seriously, we are pretty sure we heard AOL call out "You've got mail" when we logged in. That's how dated this site seems. Even worse, it has a small, inactive membership base and a matching algorithm that's stuck in the 1990s.
So, what casual dating site should you use instead of FriendFinder?
We recommend using Zoosk if you want to keep things casual. Check out our Zoosk review to see why it's the best casual dating site available. Be sure to access the free trial inside of the review.

---
User Reviews of FriendFinder
Normally, it's easy to find user reviews of dating sites, but FriendFinder proved to be trickier. It used to have apps on Google Play and the App Store, but they've been removed. Making matters more challenging, FriendFinder user reviews on other sites are few and far between.
We aren't the type to back away from a challenge, so we decided to change our strategy for finding user reviews.
That's how we found ourselves on the Better Business Bureau's website. While the BBB doesn't have a listing specifically for the FriendFinder site, it does have a page for FriendFinder Networks.
The "F" rating was enough to grab our attention, so we spent some time reading through the complaints. A lot of the BBB's user reviews of FriendFinder included accusations of shady financial practices, so that's a glaring red flag.
Next, we hit up the Wayback Machine to access the old App Store reviews. We saw some positive reviews from years ago, but the comments became increasingly negative as the years passed by.
More often than not, the negative reviews included one of the following two complaints:
Disappearing Members – It sounds like FriendFinder is haunted because it has a serious ghost(ing) problem. The ghosts tend to come out after free members upgrade their subscriptions so they can respond to messages. Once payment is made, the senders disappear, never to be heard from again. People think FriendFinder is behind the messages to get people to pay for memberships.

Payment Issues – We also saw numerous complaints about payment issues, ranging from user bans after payment to overbilling. And sometimes, FriendFinder Network ends subscriptions early without refunding the money.
After looking at these FriendFinder reviews, it's clear that the site isn't what it used to be. While it could never go head-to-head with something like eHarmony, it used to be a pretty fun dating site. These days, it's too risky to use.

FriendFinder vs. The Other Guys
At this point in our FriendFinder.com review, you probably know that we don't recommend it. But which dating site should you use? Let's look at some of its competitors to see if there's a better option out there.
FriendFinder vs. Zoosk
While FriendFinder.com is hoping to reach 100,000 members, Zoosk has more than 40 million singles. Zoosk is also a casual dating site and has some social features, including Zoosk Live. If you want to start a casual relationship, we recommend Zoosk over FriendFinder.
FriendFinder vs. AdultFriendFinder
AdultFriendFinder is also part of FriendFinder Networks' portfolio of dating sites. Now, FriendFinder has a reputation as a hookup site, but AdultFriendFinder takes hookup culture to the next level. AdultFriendFinder has a much larger membership base, and the people here are really direct. If you're looking for hookups, AdultFriendFinder is better than FriendFinder, but we don't recommend it if you blush easily.
FriendFinder vs. SilverSingles
Like FriendFinder, a lot of older adults flock to SilverSingles. In fact, SilverSingles is set up for people who are 50 and over. It beats Friend Finder in every category, from the number of members (over 800,000) to the ease of use and matchmaking process. We highly recommend SilverSingles if you're looking for a mature dating site.

FriendFinder FAQ
Do FriendFinder Memberships Automatically Renew?
Yes, your premium subscription will automatically renew unless you cancel it. You can cancel it by clicking on "My Account" and going to "Billing History and Credit Card Info." Then, click "Off" next to auto-renew to prevent future billing.
How Do I Verify My Account?
FriendFinder uses ConfirmID to verify accounts. Go to "My Account" and click on "Confirm ID" to bring up the web form. Print the form, complete it, and mail it in to get your ID verified.
How Do I Search for Members with Verified Accounts?
You can protect yourself by only interacting with members who have gone through FriendFinder's profile verification process. Just click the "Verified Members" search filter to limit your results to members who have verified their profiles. Unfortunately, the search might not bring back many results since most members don't go through verification.
With so few verified profiles, you might not feel safe on FriendFinder. If that's the case, we recommend downloading one of the safest dating apps instead.
How Do I Contact Customer Support?
Click on "Contact" at the top of the website if you need to reach customer support. Then, you'll be directed to a feedback form where you can leave a comment or ask a question. You can also use the FAQ page to find answers to most of your questions. We evaluated the FAQ when researching our review of FriendFinder, and were impressed by the number of topics it covers.