Do you believe in fate? That everyone you meet, you meet them for a reason? Because Happn does, and they want you to find out if there's more to these chance encounters too.
Launched in 2014, Happn is a dating app that provides you the opportunity to connect with the people you've crossed paths with, through location tracking. In less than 10 years, it has crossed the mark of 100 million users and it's quickly becoming one of the leading dating apps in the world.
Just how good is Happn, and what is it good for? In this Happn dating site review, we'll get down to the details on Happn's features, its pros and cons, the user reviews and the matching process, so that you can decide if Happn is good for you.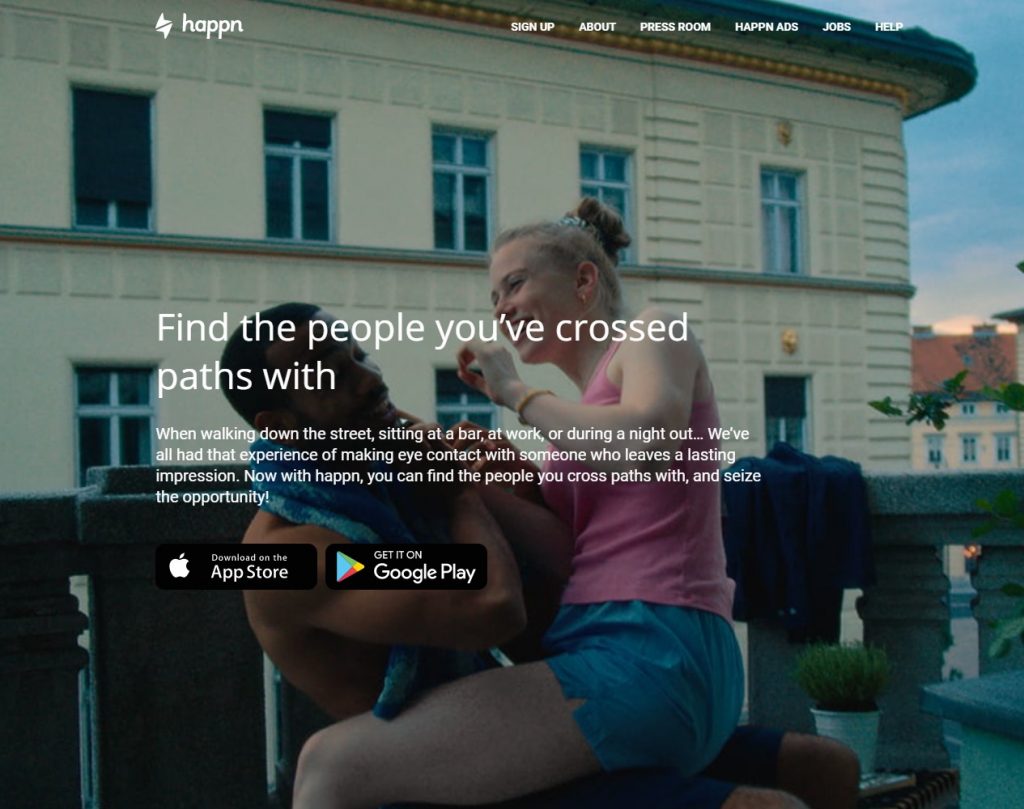 ---
Happn App at a Glance
Overall Rating – 3.9/5.0
| | |
| --- | --- |
| Userbase | 100 million + |
| Sign-Up Time | Less than 5 minutes |
| Membership Cost | Starting at $10 a month |
| Payment Required? | Yes, but free trial available |
| Avg. User Rating | 3.9/5 |
| Avg. User Age | 24-55 |
| Gender Ratio | 60% men | 40% women |
| Free Messaging? | Yes |
| Video Chat? | Yes |
| iOS App? | Yes |
| Android App? | Yes |
| Web Friendly? | App only |
| Support Options | FAQ page, email |
| Launch Date | 2014 |
| Owned By | FTW & Co. |
Is Happn Right for Me?
Happn is right for the romantic souls who believe in love at first sight and are looking to connect with someone within their vicinity, whom they've simply crossed paths with, and don't mind having their location tracked. However, that's provided if the person you've just met also happens to be on Happn.
While it is truly up to individuals on how they make this connection, whether they are simply looking for a fling or something more, we can't deny that this attraction starts off on a superficial level, since Happn doesn't ask for a lot of information on your profile to allow a deeper understanding of your personality.
With someone attractive right around the corner expressing mutual interest, it's inevitable that Happn is often used for people looking for quickies and hook-ups, rather than anything serious.
That being said, Happn does have fewer fake profiles than many casual dating apps, given the location-based matches, so if you're looking to have some fun and check out the people around your area, give Happn a go! In this Happn review, we're going to examine how you can best utilize its functions.
But, if you're looking for something a bit more serious here are some Happn alternatives we think you might like:
---
---
What is Happn?
Happn is a rapidly-growing dating app that uses real-time geolocation technology to detect users that have crossed paths in real life, enabling them to reconnect via the app. Growing at a rate of 1.5 million new users per month, it has surpassed the 100 million user mark, with more than 4.9 million messages sent and received on a daily basis.
Happn History
Launched in Paris in 2014, Happn is an online dating app founded by Didier Rappaport, who is also the co-founder of video-streaming site, Dailymotion, along with Fabien Cohen and Antony Cohen. Matching based on real-life location instead of algorithms, the founders placed an emphasis on real-life encounters to spark off a relationship, before considering interests and preferences.
With the promise that this app holds, they have received an investment from French VC firm, Alven Capital, even before the app has officially launched. While it began with 40,000 daily users, the app quickly expanded within 2 years to reach 10 million users and now, over 100 million users.
However, due to sexual allegations against Didier Rappaport in 2021, the co-founder and CEO left the company, and the role of CEO was taken over by Karima Ben Abdelmalek since.
What Makes Happn Different?
Although Happn's full-picture profile display, swiping function and feature to establish mutual interest are not new, Happn's premise is on its geolocation technology that tracks users who have brushed by each other in real life and offers an opportunity for them to reconnect through the app.
As the app sets itself apart by focusing on extending real-life and real-time encounters through the app, instead of limiting to virtual connections like most dating sites, it also increases the authenticity of the profiles you see on the app, especially when fake profiles have always been an issue for online dating apps.
Pros and Cons of Happn
Pros
Simple user interface makes it easy to use
Quick and smooth sign-up process
Real-life geolocation matching reduces the likelihood of fake and bot accounts
Real-time location matching increases the chances of connecting with a real person within the vicinity in a short amount of time
Invisible mode available to pause the sharing of your location and profile with other users
Free to communicate with other users as long as mutual interest has been established
Paid features include video chatting for 5 sessions per month at a maximum of 1h each time and sending flashnotes to users who may not have liked you back yet
Cons
Potential of being stalked, although exact location is not shared with other users
Only able to find the person who has caught your eye on the streets if they are also a Happn user
Limited information to be provided for the profile
No filtering of searches
Profile feed is not automatically filtered by algorithm based on preferences
Only works on an app, not so much on a web-browser

How Does HappnWork? – Features Overview
Happn was developed to allow people who met by happenstance to further their potential relationship through the app. This can be done through its real-time geolocation technology integrated within the app that tracks its users' proximate location and feeds that to other users who are within the same area, around the same period of time.
Once these users pop up on the feed, one can choose to swipe left or right to indicate whether you like them. If the person you've liked also likes you back, a crush is established, and the two parties are free to start a conversation with each other. For better results, one can opt for premium features to boost your profile and send flashnotes to get the attention of those who have yet to like you.
Signup process
Signing up for Happn is simple, and it will take you less than 5 minutes to complete it. Here are the steps to do so:
Download the Happn app, either on an Apple or Android device.
Set up your account via your phone number or either one of your Apple, Google or Facebook accounts.
Click to agree to their Terms of Service and privacy clauses.
Provide your account information or phone number.
Enter the verification code they've sent to your account or phone number.
Fill in your first name and date of birth.
Select your gender and the gender you would like to meet.
Upload your profile photo.
Fill in your email address, and you're in.
Upon signing up, the next step is to update your profile. There are specific questions prompting you to provide more information about yourself and your preferences, for example:
Type of relationship you're looking for
Your height
Your exercise habits
Your cooking skills
Your ideal vacation
Your nightlife habits
Your preference on smoking
Your preference on kids
City you live in
While these questions are optional to answer, it may help if you wish to connect with someone closer to your ideals. There's also a prompt to get you to obtain a "Certified profile" badge through a video, but it's skippable as well.
For an app that tracks the overlapping of users' location, it's necessary to allow the app to track your location, but there's an invisibility mode you can select, should you wish to turn the geolocation off.
Matchmaking Process
Happn prioritizes real-time location matching over algorithms based on preferences or behavior. Therefore, the feed that a user receives is mainly based on distance and not the preferences you've indicated on your profile or the choices you've made on individuals through swiping. This allows the matching to only occur between individuals who were at the same place around the same period of time, rather than matching individuals virtually.
From the feed, users can decide whether to like an individual by swiping on their profile or premium users can send flashnotes to someone they're attracted to for a quicker response. Once mutual likes have been given and a crush is confirmed, the conversation begins.
Unique Features
Just how is Happn legit? Happn's key feature is its geolocation technology that can provide real-time location data of another user you've just bumped into but did not get a chance to talk to. The common location or close proximity provides room for further conversation, especially if both are single and happen to be on Happn.
Another unique and important feature is the ability to be on invisibility mode for 8 hours, so that your location and profile won't be on constant display to other users, wherever you're at or wherever you've been.
A new feature that Happn has included is the ability to answer a question on your preference with an audio file on your profile page, so other users can get a chance to hear your attractive voice.
Premium users can also rewind to the profiles you've seen earlier just to review your choices once more. Understanding the need for a face-to-face virtual connection, Happn provides premium users a platform for video calls with their crush, up to 5 times a month.

Free vs. Paid Memberships
While Happn's free trial is sufficient in establishing a connection with someone who also has an interest in you, premium users simply get a higher chance of getting noticed. With a free account, you get to:
Set up your profile with profile photos and basic information such as gender, age, height, as well as preferences in partying, smoking and kids.
Include an audio recording of your preferences in your profile.
Browse profiles near you or users you've come across in real life.
Show your interest in users with a like, with the hope that they'll like you back, before you can start a conversation.
Set your profile on invisibility mode when you don't wish to be seen by other users.
With a premium account, however, you can also:
Browse through the app without ad interruption.
Boost your profile for 24h for higher visibility by other users.
See who has liked you without you liking them.
Send up to 10 flashnotes daily to users who have yet to like you back.
Filter your searches according to your preference.
Send out unlimited likes.
Rewind the profiles you've seen earlier in case you've had a change of mind.
Video call your crush(es) up to 5 times a month for an hour each time.

How Much Does Happn Cost?
| Membership Type | Length | Monthly Price | Total Cost |
| --- | --- | --- | --- |
| Premium | 1 month | $24.99 | $24.99 |
| Premium | 6 months | $25.00 | $89.99 |
| Premium | 1 year | $10.00 | $119.99 |

What Kind of Relationships is Happn For?
Although Happn encourages a connection in reality by extending real-life chance encounters for a possibility of a meaningful relationship, it simply allows users to discover and chat up other users around the same area in a quicker and more convenient way. This increases the likelihood for a casual relationship or a hook-up because of the proximity of the users, before getting the chance to get to know each other.
Also, even though signing up and setting up a profile on Happn is quick and easy, it also means that not much information is required in the profile of users, especially since the matching is not based on preferences or algorithms. The lack of information on each user makes it difficult to understand each other better, unless an effort is put in by both parties to do so during conversation.

The Bottom Line – Is Happn Worth It?
Is Happn a scam? In case you're wondering, from this Happn dating app review, we're happy to report that with 100 million users on the app in less than 10 years, it's a pretty impressive feat for a dating app, and there must be a reason for it. Happn is fuss-free and easy to use, although it might be useful to have more fields to include in the profile for those who wish to understand the person a little more before swiping.
Nonetheless, Happn gives you an opportunity to turn a chance encounter into a potential relationship. Imagine the story you get to tell your kids when love-at-first-sight does blossom into something more, then tell me if it's worth it.

User Reviews of Happn
While most users find the interface intuitive to access and easy to use, hence earning its overall 4 out of 5 star rating, there have been complaints of the app crashing rather frequently and that the location tracking isn't accurate. Also, it appears that the feed you get may be limited in areas with less Happn users.

Happn vs. The Other Guys
There are a number of dating apps that may be similar to Happn, so let's compare them for you to get a sense of each app to see which is more suitable for you.
Happn vs. Tinder
Due to its interface and the ability for you to swipe profiles to indicate your interest, it's easy to associate Happn with Tinder. While both apps cater to those looking for a casual relationship, the obvious difference is Happn's ability to track actual profiles that you've come across in real-time. As a result, Happn appears to have less fake profiles on the app, as compared to Tinder.
Happn vs. Elite Singles
While Happn selects matches based on location, Elite Singles is based on educational background and professional career. As the name suggests, Elite Singles is an exclusive dating site for elite professionals with a higher premium membership fee, whereas Happn can be used by anyone looking to meet people around your vicinity, regardless of their background and educational levels.
Happn vs. Zoosk
Zoosk relies on behavioral matching and smart pick technology to sieve out potential matches for its users, whereas Happn's feed is simply based on the location of its users. Both apps are geared more towards those looking for a casual fling, although Happn begins with a real-life, real-time encounter.

Happn FAQ
Can I access Happn via a desktop computer?
Yes, you can log in via a desktop computer, but its effectiveness relies on its location-tracking technology. If you were only accessing the app via your desktop computer, you may not be seeing as many profiles as you'd have liked.
Can I stop the location-tracking at any time?
Yes, you have the option to turn on the invisibility mode for 8 hours at any time, under your preferences, although you may need to do so manually every 8 hours.
Is Happn good for serious relationships?
Although there seems to be more people looking for fun and nothing serious on Happn, there's always a possibility of establishing a deeper relationship after a connection has been made. Since Happn begins with a real-life and real-time encounter, it's up to individuals to make the most out of this experience.