As one of the more popular dating apps dedicated to the LBTQ+ female community, HER's influence goes beyond the dating app with its strong advocacy in LBTQ+ causes and the match events that they organize in cities worldwide. Users' loyalty to this dating app can be strong as a result, but is HER suitable for all lesbian and bisexual women in the community?
In this review, we dug deep into the female-centric dating app, assessed its features, explained the process of signing up, compared it against other dating apps with a similar target audience, so that you can make a better, and more informed decision as to whether HER is suitable for you. Read on to find out our honest opinion on HER.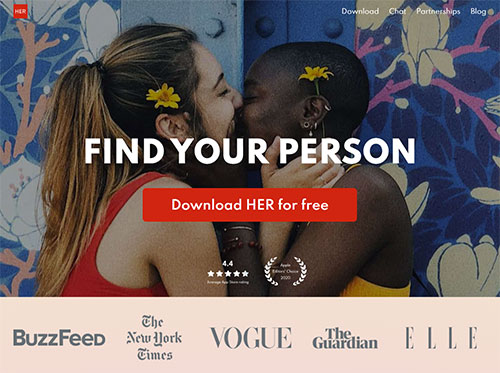 ---
HER Dating App at a Glance

Overall Rating – 4.2/5.0

| | |
| --- | --- |
| Userbase | 8 million + |
| Sign-Up Time | Less than 5 minutes to register, but verification may take a couple days |
| Membership Cost | Starting at $7.50/month |
| Payment Required? | No - free trial membership available |
| Avg. User Rating | 4/5 |
| Avg. User Age | 20 to 35 years old |
| Gender Ratio | 0% men | 100% women |
| Free Messaging? | Yes |
| Video Chat? | No |
| iOS App? | Yes |
| Android App? | Yes |
| Web Friendly? | No - App Only |
| Support Options | FAQ page and email contact |
| Launch Date | 2013 |
| Owned By | Robyn Exton |
Is HER Right for Me?
If you're a queer woman, HER is a great place for you to join a community of like-minded women, seeking love, friendship, and companionship. More so than casual flings, HER is a platform that builds a strong relationship among women, be it in friendship or in love. It's also a safe place where women can openly express their affection for one another.
However, it's not a platform for cis-gender male users or anyone looking for a heterosexual relationship, especially with its strict registration criteria.
---
Contents of Our HER Dating App Review
---
What is the HER Dating App?
Rather than simply classifying HER as a dating platform, it is more of a social network site, connecting women who may be lesbian, bisexual, or simply queer. With over 8 million users in this niche market, HER has built one of the largest LBTQ+ communities online, and their holistic service also includes physical match events.
HER History
Originally launched as Dattch, which refers to date catching, in 2013, HER was rebranded in 2015 to highlight its women-centered niche in the online dating market. The app was founded by Robyn Exton, who was frustrated by her own online dating experience as a queer woman, which led her to decide to learn how to code, so she could build her own dating app that empowers the LBTQ+ community.
Driven by her strong conviction, HER eventually became a platform for queer women to not just date, but also share their interests as a community, and gather together in physical events to extend virtual connections into real-life interactions. In the process, HER has also managed to raise funding from several sources, including investors from Y Combinator, Garry Tan and Michael Birch, and Reddit's Alexis Ohanian, that helped to contribute to the app's development. Since 2015, HER has shifted its headquarters from the UK to San Francisco, where its growth has accelerated.
What Makes HER Different?
Unlike most online dating sites where the interactions stay within the virtual realm, HER's comprehensive offerings go beyond online dating. With a focus on building a strong and cohesive community of LBTQ+ people, the platform allows them to communicate and share their opinions freely on the platform among communities of different interests, and there are opportunities to meet up during events too.
While HER continues to incorporate features to facilitate online dating among queer women, its strong standing within the LBTQ+ community is largely due to its commitment to build a safe and empowering environment for them to date, interact, and express themselves, without the fear of being harassed and threatened. Hence, HER's features do not simply revolve around viewing of profiles, matching, and chatting, it also includes the ability for you to post content and sharing interesting links/videos, much like a social networking app.
Pros and Cons of HER for LGBTQ+ Dating
Pros
Niche community of LBTQ+ women, created by queer women, for queer women only
20 sexualities and 21 gender options to choose from in the profile section
Users are able to post content and share interesting links or videos through their profile, which can be seen on their friends' feed, similar to how it works on social media
29 communities on different identities and interests available on the platform for users to interact, post content, and discuss issues that matter to them
Event listings are available for users to consider joining one in their city to shift the relationship from online to physical
Despite the numerous functions, the platform is still intuitive to navigate
Strict criteria and verfication process to ensure no cis-gender male users are on the platform
Users can communicate with other users for free, so long as you're mutual friends or you've matched with each other
Cons
Limited likes and swipes for free account users
No manual search function available
Accessible via app only, and not on web browsers
Only available for women seeking other women

How Does HER Work? – Features Overview
There are 3 core components to HER, whereby users are able to find suitable dates, socialize within communities, and attend queer events. To seek matches, users can browse through the profiles in their feed, send a friend request or like a profile they're interested in to establish a match, before they can send messages to each other.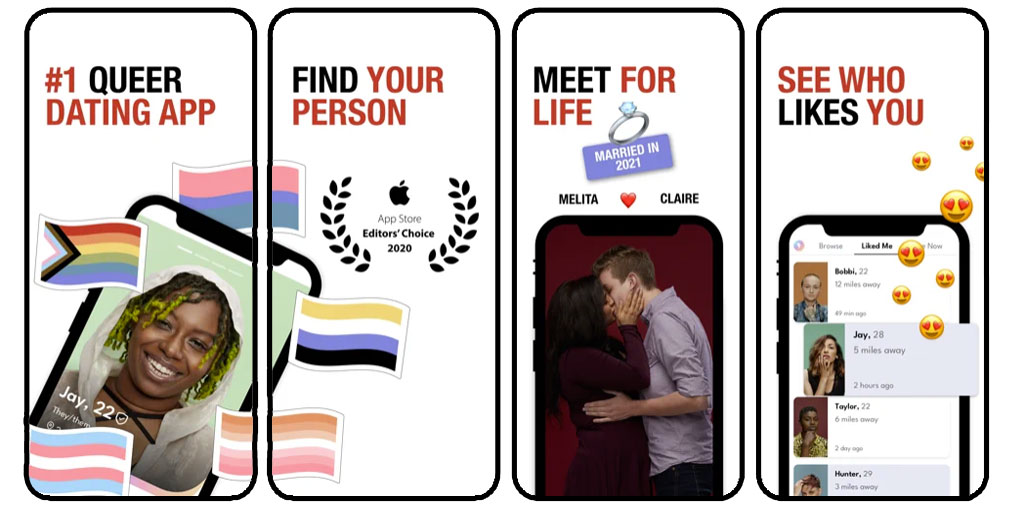 There are also communities of different interests set up on the platform, so users can join and seek out like-minded individuals that they may wish to send a friend request to, and get to know them better. Furthermore, users can view the event listings on the dating feed for a chance to meet potential matches in real-life events taking place in the city.
Signup process
To ensure the community is safe and exclusive to queer women, signing up for HER requires verification with a selfie that can take as long as a couple of days to process. The process can be expedited if you link your social media account to the site. In any case, you can simply follow the steps below to first register an account on HER:
Download app on Apple App Store or Google Play
Continue with Apple account, phone number, Facebook or Instagram
Enter your account information or phone number with your country code, and wait for the confirmation code to be sent to you
Fill in your first name, birthday, and email address
Upload your profile pictures (up to 6)
Enter your pronouns (She/her, He/him, They/them, Ze/hir/hirs, Prefer to self describe)
Enter your sexual identity and gender identity
Indicate your relationship status
Indicate what you're looking for
After which, the app prompts you to answer a series of optional questions you may choose to skip and complete later. The questions include your height, horoscope, preference for pets, and whether you drink or smoke. You may also choose to enable your notifications as well as location access for the app to detect the matches closest to you.
Matchmaking Process
There are a few ways you can get to know a potential match through the platform. The standard way is by browsing through the profiles fed to you by the app and swiping right for those you have an interest in to see if there's a match. Once matched with another user, you can chat them up with the chat function.
Another way is by adding a user as a friend. Perhaps you've seen their posts in the communities you've joined on the app and found them interesting. You can either like their post, comment on it, or view their profile to see if you wish to swipe right or add them as a friend. Either way, once they've added you as a friend or liked you back, both of you can begin to chat.
You can also browse through the list of events available in your feed and choose to join one in your city, so you can get to meet single queer women during the event for a chance to match up.
Unique Features
While HER's browsing and swiping features are similar to many online dating apps available in the market, what truly sets HER apart is its feeds. Every user's feed provides them with updates from friends they've added and communities they've joined on the app. The feed also has a section on event listings, which users can choose to indicate their attendance within the app for further updates on their feed. The feed makes HER work like a social networking platform than just another dating app.
One other unique feature of HER is the communities it has included within the app to facilitate more social interaction among users. Through the 29 communities that users can join based on their own interest, for example, in traveling, gaming, pets, or movies, they can choose to upload a post with text, pictures, links or gifs, comment and like other users' posts, or get to know more about different users through their posts and decide if they wish to like them or add them as a friend. These are alternative approaches for users to connect and interact via the app, without simply relying on browsing and swiping through profiles.

Free vs. Paid Memberships
With a focus on building a strong community of queer women, HER offers a number of free features that won't restrict you from getting to know one another. These free features include:
Setting up your profile with up to 6 photos, bio, preferred pronouns, gender, sexual identity, relationship status, height, horoscope, preferences, and answering prompt questions
Browse through profiles and filter them by age as well as distance
Like profiles for a possibility to match
Once matched, users can access the chat function to strike up a conversation with each other
Add other users as a friend, and once it's accepted, both friends can send messages to each other and view each other's updates on their feed
Join communities, upload a post on the communities they join, like and comment on posts within the communities
View event listings, post a comment on it, share it, or choose to attend it
Although having a free account is enough for you to connect with another like-minded user on the app, a premium account simply offers more. Here are the additional functionalities that you can enjoy with a premium account:
You can send unlimited likes/swipes
You can view the full profile of who liked you
You can see all the members who are currently online
You can change your current location on your profile
You can access advanced filtering options
You can rewind the profiles you might have previously skipped
You can check if your messages were read
You can browse under incognito mode
No ads shown while browsing
There's a separate add-on fee if you wish to boost your profile.

How Much Does the HER Dating App Cost?
| Membership Type | Length | Total Price | Price Per Month |
| --- | --- | --- | --- |
| Premium | 1 month | $14.99 | $14.99 |
| Premium | 6 months | $60 | $10 |
| Premium | 12 months | $90 | $7.50 |

What Kind of Relationships is HER For?
So, is HER legit? Well, HER is a platform that was built for dating, but has extended to so much more. With the communities it has built within the app, HER has become more of a social networking site than a dating app.
Within the platform, users can choose to become friends, instead of matching. Even though there are still users looking for a potential partner on HER, which is very much possible, a large portion of users seem to simply enjoy being part of a community of queer women, readily sharing their posts in the communities they are in, and interacting with one another through the comments on the posts.

The Bottom Line – Is the HER Dating App Worth It?
Any queer woman looking for a safe platform to interact, communicate, and date other queer women would find HER to be worth it. Through HER, women of similar inclinations may feel less alone in their preferences and orientations.
On this app, you won't just be communicating with other queer women one-on-one, you can join communities of queer women to share your thoughts, opinions, and experiences, and finally meet the people who may understand what you're going through. For the sense of belonging and empowerment, HER is surely worth it.

---
User Reviews of HER
For an app that has a rather high rating of 4.4/5 on Apple App Store and 3.7/5 on Google Play, HER has a surprising number of negative reviews, mainly on the large number of scam and bot accounts appearing on the site, despite its stringent verification process. Some were frustrated over the numerous paywalls they had encountered on the site as well. Nevertheless, there are also a number of positive reviews from those who have found their soulmate through the app.

HER vs Other Dating Apps
Although there aren't many niche dating apps for LBTQ+ women like HER, there is an increasing number of dating apps that are becoming more inclusive and diverse. Here, we compare a few of HER's competitors, so you may have more options to consider.
HER vs. Pink Cupid
Between the two, which are both catered to queer women, Pink Cupid's member profile page is definitely more extensive than HER. Also, HER doesn't have any search option for you to decide on the types of profile you wish to see on your feed, but there are plenty of search options on Pink Cupid. If you prefer to take matters into your own hands when it comes to looking for a match, perhaps Pink Cupid is more suitable for you.
HER vs. Zoe
HER and Zoe both support the LBTQ+ community and are similar in many ways, especially with the ability to browse and swipe through profiles. However, Zoe's features are more targeted towards establishing a connection between individuals, while HER is focused on building communities within the platform. For those who are simply interested in finding a potential partner, you may wish to cut through the noise and start with Zoe.
HER vs. Tinder
The obvious difference between HER and Tinder is that the former only accepts LBTQ+ women users, while the latter is available for all. Therefore, Tinder has a much larger user base, as compared to HER. However, HER provides a safe haven for queer women to interact and get to know each other better without being judged, which is something the Tinder app cannot guarantee.

HER Dating App FAQ
Can I use HER for free?
Yes, you can! There are many features you can access on HER with a free account, such as browsing profiles, swiping, matching, chatting, and joining communities. However, you may have a limited number of swipes to use with a free account.
What happens when I run out of swipes?
You simply have to wait. As the swipes are limited on a daily basis, you should be able to continue swiping the next day. If you can't wait, you can purchase a premium account to enjoy unlimited swipes.
Do I need a premium account to join the communities in HER?
No, you don't. You are free to join any of the communities you see on the app, and you can even upload a post, and comment on posts, within the communities you're in.
Can I cancel my premium account on HER at any time?
Yes, you can, and you can still access the paid features till the end of the subscription period. However, that also means you won't be able to get any refund for the remaining subscription period. Do note that simply uninstalling the app from your device doesn't stop the subscription. You'll have to access your Apple App Store or Google Play to stop the auto-renewal payment.