Hundreds of dating sites launch each year, and most go unnoticed. That wasn't the case for Higher Bond, though. This dating site started generating buzz months before it launched by promising to take a quality-over-quantity approach to Christian dating. According to Higher Bond, this approach will lead to meaningful connections while helping members avoid burnout.
Higher Bond made that announcement right after we'd published a report on online dating burnout and fatigue, and we couldn't wait to find out if it came through. We marked our calendars for the launch date and eagerly awaited the opportunity to review it.
The time has finally arrived, and we dug into everything, from the algorithm to the quality of the profiles. Now, we're ready to share that info with you.
Are you ready to find out if Higher Bond lives up to the hype? Let's dig into the details.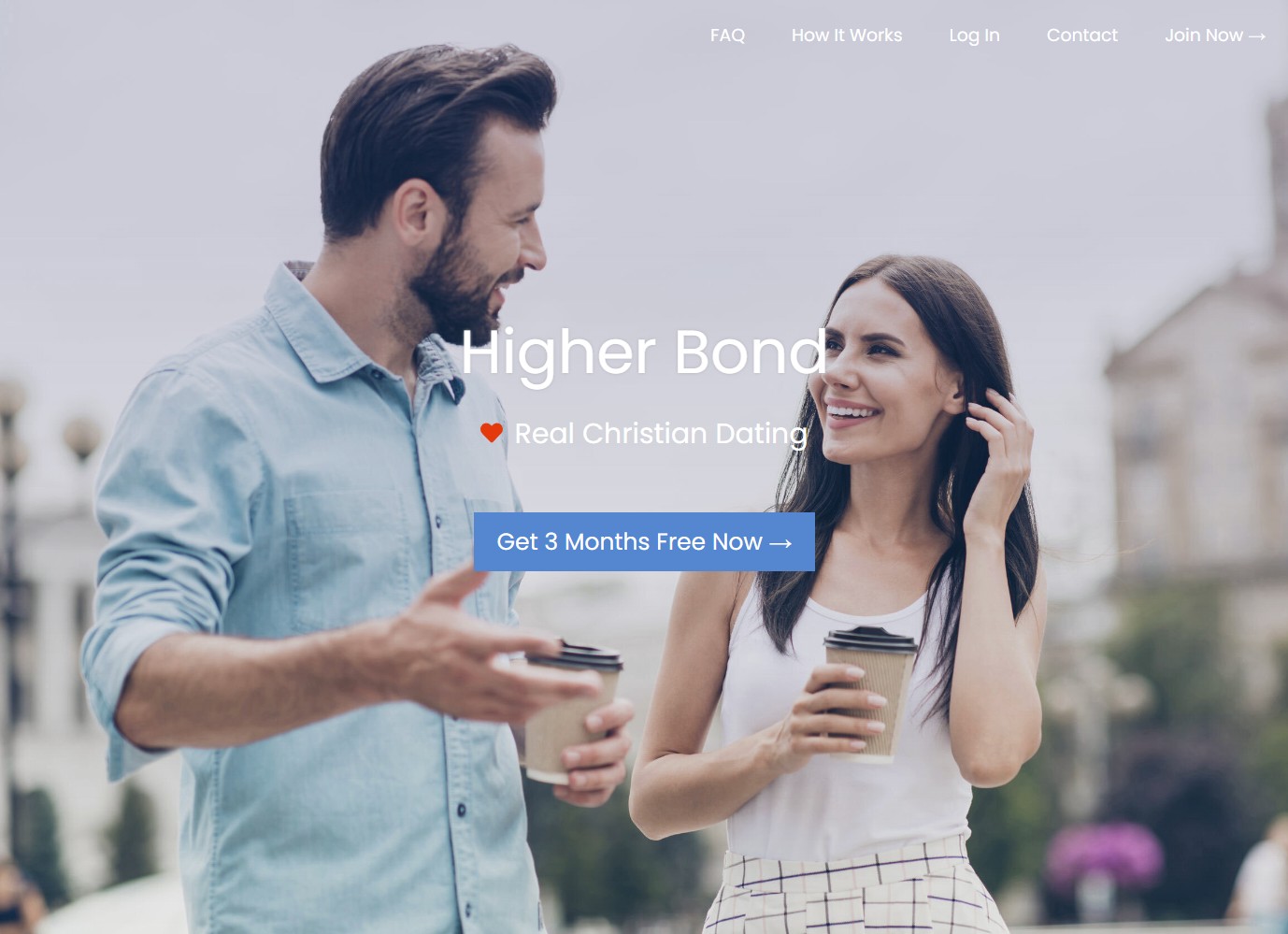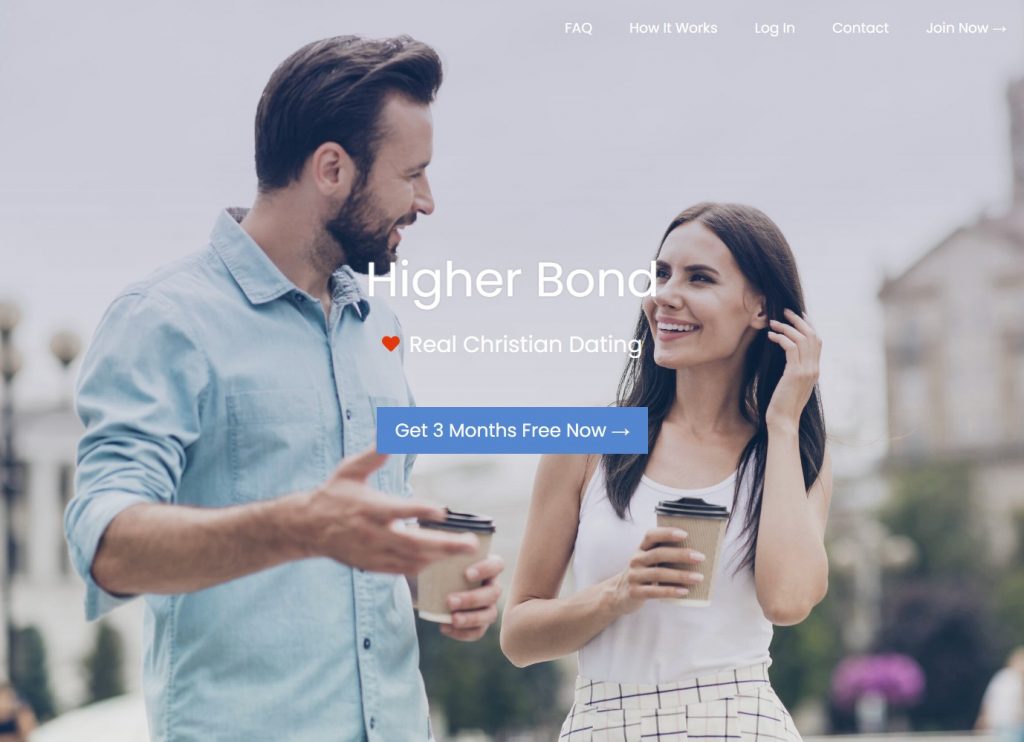 ---
Higher Bond App at a Glance

Overall Rating – 4.5

| | |
| --- | --- |
| Userbase | N/A |
| Sign-Up Time | 20 minutes |
| Membership Cost | Starting at $14.95 a month |
| Payment Required? | No, first three months are free |
| Avg. User Rating | 4.5 |
| Avg. User Age | N/A |
| Gender Ratio | 60% Female: 40% Male |
| Free Messaging? | Yes |
| Video Chat? | No |
| iOS App? | Yes |
| Android App? | No |
| Web Friendly? | Yes, currently web-only |
| Support Options | Email |
| Launch Date | 2022 |
| Owned By | Higher Bond, LLC |
Is Higher Bond Right for Me?
We've spoken to numerous Christians who are worried about the state of online dating. Some are burned out and tired of swiping through hundreds of profiles without making any connections. They're worried they're going to remain single for life.
Others are afraid that they're going against their faith by interacting with dozens of men or women online instead of getting serious with a single person. Some of them even mentioned that their religious leaders warned them about getting overwhelmed by too many choices, so they knew they were making a mistake, but they weren't sure how to fix it.
We also encountered some folks who were tired of Christian dating sites because they only match people on a surface level. They told us that there's more to religion than the type of church they go to and the number of times they pray a week, but Christian dating sites don't understand that.
If you can relate to these concerns, Higher Bond is the Christian dating site for you. It's honestly the solution to all of these dating problems.
Instead of giving you hundreds or thousands of choices, you can only view 3-5 profiles a day. Your conversations are limited even further. You can initiate one conversation a day, so you won't find yourself juggling numerous singles.
And possibly most importantly, it goes beyond the surface level to find out how your faith guides your daily life. Then, it matches you with like-minded people.
That's the long answer. Our short response is, "Yes. Higher Bond is right for all Christians who want to pursue serious, faith-filled relationships without the temptation."

---
---
What is Higher Bond?
Higher Bond is a Christian dating site designed for religious singles who are ready to start meaningful, serious relationships.
It goes beyond asking people what their beliefs are and finds out how their religion shapes their lives. The site digs into everything, from how often members go to church to their feelings about traditional gender roles and R-rated movies.
While each pairing is rooted in faith, Higher Bond also takes other factors into consideration, including finances and lifestyles. That way, it matches people who share more than faith. Members are paired based on their overall compatibility, leading to connections that last a lifetime.
Higher Bond History
Higher Bond officially launched in August 2022, so it doesn't have much history quite yet. Still, there are a couple of details we'd like to share.
First, it's important to understand that Higher Bond is 100% Christian-owned, explaining how it gets Christian dating right. The developers understand the nuances of religious dating and the importance of prioritizing deep connections over a sea of choices.
Second, Higher Bond brought in members of the religious community and relationship counselors to help them create the dating algorithm. By bringing the two sides together, the team built a matching algorithm that creates faith-filled relationships that can stand the test of time.
What Makes Higher Bond Different?
While most dating apps focus on quantity above all else, Higher Bond is designed to facilitate real connections. Instead of letting members view all the profiles, each person receives 3-5 matches a day, which refresh every 24 hours.
Members can send a message to one of those matches, but that's it. The site only allows members to start one new conversation daily, reducing the chances of leading people on and ghosting. This limit also increases the likelihood that these connections will move into the real world.
The matching algorithm also sets Higher Bond apart from other Christian dating sites. The company received input from faith leaders, pastors, and relationship counselors when designing it. Most Christian dating apps focus solely on the religious side or the relationships side of things, making it hard for those connections to last. By prioritizing both, Higher Bond is poised to have a high success rate.
We are also impressed (and surprised) by Higher Bond's commitment to quality. We've been reviewing dating sites for so long that we're practically immune to half-written, unfinished profiles. You won't find that on Higher Bond, though. Profiles have to be completed (with care), or they won't be accepted.
That loops into our final point, which is safety. All users have to undergo profile verification to get approved. That means all the profiles on Higher Bond belong to real people.
Pros and Cons of Higher Bond
Pros
An algorithm designed by faith leaders, pastors, and relationship counselors
Helps members build real connections
Doesn't cause online dating burnout or fatigue
Higher Bond staff manually verifies all profiles
Members with free accounts can respond to messages
Premium membership is free for the first three months
The Higher Bond iOS App recently launched.
Cons
Only available to Christians in the United States
Still new, so the member base is small (but growing by the day)
Mobile app is not yet available for Android users.

How Does Higher Bond Work? – Features Overview
Because Higher Bond is so new to the scene, you're probably wondering how it works. It's much easier to navigate than most dating sites out there. In fact, it kind of feels like meeting folks in your congregation instead of connecting online. Still, it's a good idea to learn about the features before checking it out.
Signup process
You'll need five minutes of time, an email address, and a profile picture to sign up for Higher Bond. Once you have everything, navigate to the website and click "Join Now."
After entering your name and password, submit the info and verify your email address. Then, the site will take you through the matchmaking questionnaire.
The questionnaire is divided into six sections, covering:
Faith
Lifestyle
Relationships
Finances
Communication
Interests
You'll also fill out an "About Me" section. Now, some dating sites let you phone it in when filling this section out, but not Higher Bond. If the section doesn't add value to your profile, your membership won't be approved until you fix it.
Finally, you'll add your education level and occupation before moving on to your body type and a few additional details, including your thoughts about children. Then, you'll add your profile photo.
And then something that we really love about Higher Bond happens. The next screen will ask you to verify your account by submitting a selfie. You'll have to complete a specific action when taking the selfie and send it to Higher Bond. A real person will review your picture and verify your profile!
Matchmaking Process
The algorithm matches members based on their answers to the questionnaire, location, and sexual orientation. That might not sound very impressive on the surface, but after reviewing the questions, we're really pleased with the matching system.
Because Higher Bond received input from religious leaders, its questionnaire includes things that other Christian dating sites ignore. For instance, your views on swearing and R-rated movies might be part of your religious beliefs. The same is true for how much intimacy you're OK with before marriage, and Higher Bond covers it all.
This dating site really thinks of everything, so you can find a partner who shares your belief system and outlook.
Unique Features
As we've mentioned, Higher Bond is quite a bit different from other dating sites on the market. We've already discussed some differences. Now, let's look at the unique features you'll find on this site.
Guided First Messages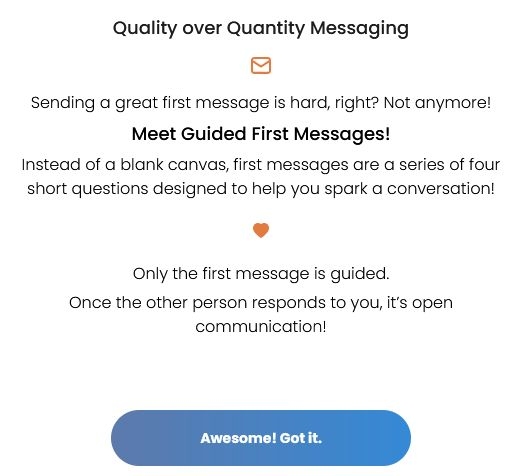 You can only initiate one message a day, so you want to get it right. Fortunately, Higher Bond provides Guided First Messages to help you get the ball rolling. Choose a prompt and craft the perfect get-to-know-you message to send to a match.
Batch Matching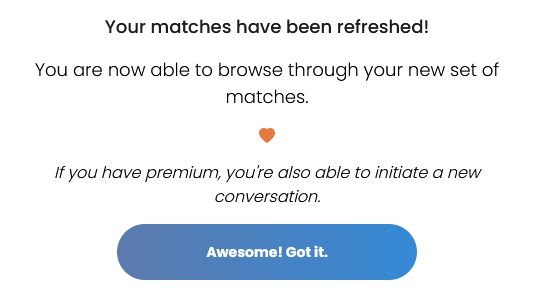 Most apps provide a constant stream of matches and let members look at all the profiles, leading to online dating fatigue and burnout. Higher Bond sends all of your matches at once each day. These matches don't change until the following day, so you only need to log in once every 24 hours.

Free vs. Paid Memberships
As part of its launch, Higher Bond is offering users free premium memberships for three months. After that, users can pay for a premium membership for one, three, or six months. The memberships include the same features, but the monthly cost varies based on the length of the subscription.
Free members can respond to messages, see members' main profile photos, and view basic profile information.
Paid members can:
Initiate and respond to conversations
See all the match's uploaded photos
View extended profile information, such as the member's testimony and habits

How Much Does Higher Bond Cost?
| Membership Type | Membership Length | Monthly Price | Total Cost |
| --- | --- | --- | --- |
| Free | Unlimited | Free | Free |
| Premium | 1 Month | $28.95 | $28.95 |
| Premium | 3 Months | $17.95 | $53.85 |
| Premium | 6 Months | $14.95 | $89.70 |

What Kind of Relationships is Higher Bond For?
The members on Higher Bond are ready to start serious, faith-filled relationships. They aren't interested in dating around and are ready to find forever partners. Many of them are hoping to find the person they're going to marry.

The Bottom Line – Is Higher Bond Worth It?
Higher Bond is an excellent choice for Christian singles who want to pursue serious relationships instead of meaningless connections. The matching algorithm does a fantastic job of combining faith, interests, and dating styles and creates matches that can last the long term.
We've tried numerous Christian dating sites over the years, and this one does the best job of nailing down what's needed in a faith-filled partnership. The matching algorithm goes beyond the basics and matches people based on how they live out their faith in their daily lives.
Also, the matching and messaging limits are a breath of fresh air. Far too often, we find ourselves bogged down looking through one profile after another, which is exhausting. Profile overload also isn't effective for forming meaningful relationships. The limit makes you consider each person you see, leading to intentional dating.

---
User Reviews of Higher Bond
Because Higher Bond just launched, we're waiting for more user reviews to get a better idea of what members think of the site. Still, we're excited about what Higher Bond has to offer and expect to see lots of positive reviews in the coming weeks and months. We'll keep an eye on the message boards and review sites and update this section once we have more information.

Higher Bond vs Other Christian Dating Apps
Higher Bond vs. Christian Mingle
Christian Mingle members receive up to seven matches per day instead of five and can browse other profiles. Since Christian Mingle has over 15 million members, users often complain about having too many choices – making it hard to form real connections. We prefer Higher Bond over Christian Mingle since it's easy to make real connections that carry over into the real world.
Higher Bond vs. Christian Café

Christian Café's questionnaire doesn't dig deep into people's faith, relationship styles, or interests. Also, it appears that many of the members don't log in very much, so you're unlikely to make a connection. We think Higher Bond's in-depth questionnaire, batch matching system, and active user base are superior to what you'll find on Chrisitan Café.
Higher Bond vs. ChristianCupid
ChristianCupid is part of Cupid Media, so it's a relatively trusted Christian dating site. Still, we experienced option overload and got annoyed by the number of incomplete profiles on the site. We don't think ChristianCupid leads to the same meaningful connections you can make on Higher Bond.

Higher Bond FAQ
How Much Does Higher Bond Cost?
New members receive a free premium membership for the first three months they use the site. Then, they must pay for the membership. It costs $28.95 for one month. The cost goes down to $17.95 a month for three months or $14.95 a month for six months.
Who Can Join Higher Bond?
Higher Bond is open to Christian singles in the United States. People must be 18 or older to join.
Do Memberships Automatically Renew?
Yes, memberships are set to renew automatically. You must cancel 72 hours before your subscription ends to stop it from automatically renewing.
Can I Continue Conversations with Matches?
Yes. While you can only initiate one conversation a day, you can continue active conversations for as long as you want.