As one of the most trusted niche dating sites in the world, LatinAmericanCupid doesn't have any trouble attracting members. While that's a good sign, popularity is just part of the equation when choosing a dating app. You also need to consider the quality of the members, the matching algorithm, and other critical factors.
And that's just what we did when evaluating this dating site. Keep reading our LatinAmericanCupid review to get all the details.
---
LatinAmericanCupid at a Glance

Overall Rating – 3.9/5.0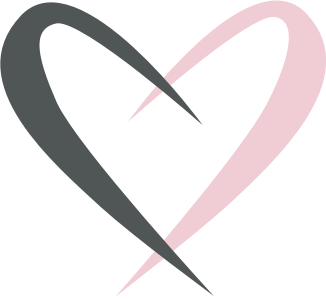 | | |
| --- | --- |
| Userbase | 5 million + |
| Sign-Up Time | > 1 minute |
| Membership Cost | Premium memberships start at $13.75/month |
| Payment Required? | No - free trial membership available |
| Avg. User Rating | 3.9/5 |
| Avg. User Age | From 25 to 44 |
| Gender Ratio | 58% men | 42% women |
| Free Messaging? | Yes (with paid members) |
| Video Chat? | No |
| iOS App? | No |
| Android App? | Yes |
| Web Friendly? | Yes |
| Support Options | FAQ, phone, email, mail |
| Launch Date | 2003 |
| Owned By | Cupid Media |
Is LatinAmericanCupid Right for Me?
While some people use LatinAmericanCupid for local and casual dating, that's not really its purpose. You're part of the core demographic if you're a:
Latin American interested in a serious relationship with a Westerner
Westerner seeking a long-term romance with a Latin American
If you fit the core demographic, LatinAmericanCupid is right for you. Otherwise, check out our dating app reviews to find a more suitable option.
---
---
What is LatinAmericanCupid?
You might have a general idea of what this dating site is, but we went beyond the basics when gathering info for our review of LatinAmericanCupid. Learn about its history, find out what sets it apart, and check out the pros and cons.
LatinAmericanCupid History
Cupid Media launched its fifth niche dating site, LatinAmericanCupid, in March 2003. The site quickly gained a reputation for facilitating serious relationships between singles in Latin America and the Western world.
While it was popular from the start, it reached a new level when Dating Group acquired Cupid Media in 2021. The acquisition helped Cupid Media double down on its efforts to promote genuine connections in Latin America and other markets. Because of that, we expect LatinAmericanCupid's' membership base to grow even more in the coming years.
What Makes LatinAmericanCupid Different?
LatinAmericanCupid puts an emphasis on real connections instead of superficial relationships. This is different from many international dating sites that operate more like mail-order bride companies than dating sites. Most of LatinAmericanCupid's members hope to find true love, and the site makes it easy through a simple communication system that includes instant message translation for premium members.
It also stands out for the quality of the membership base. Cupid Media uses Microsoft Advertising and social channels to attract diverse, high-quality members, and it's paid off in dividends. Most of the members take dating seriously, so you're less likely to experience flaky, interested singles.
And finally, LatinAmericanCupid does a much better job than most dating sites when it comes to shutting down scammers. Unfortunately, they still pop up, but the support team is aggressive in its approach. Along with constantly monitoring the site, it takes fast action when members report fake profiles and scammers.
Pros and Cons of LatinAmericanCupid
Pros
High-quality membership base of motivated singles
Automatic message translation for premium members
Members are more communicative than on other dating apps
Men receive more first messages and responses than on most dating sites
Active fraud prevention team quickly takes down scammers' profiles
Cons
LatinAmericanCupid doesn't have an iOS app
Need to pay for a membership to use most of the features
Intrusive ads on free accounts
Few options for local dating
Some fake profiles, but you can vet members by conducting a reverse image search

How Does LatinAmericanCupid Work? – Features Overview
Are you thinking of joining LatinAmericanCupid? Let's take a closer look at how it works, starting with the sign-up process. We know this info isn't usually part of LatinAmericanCupid reviews. However, it'll make it easier to dive in if you decide to sign up.
Sign-up process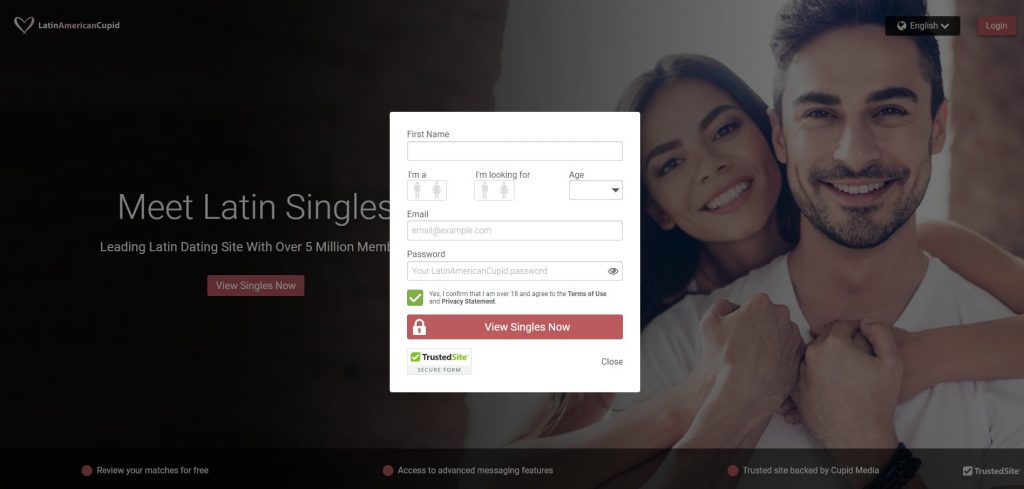 While some dating sites make you jump through hoops (or spend a lot of time) to sign-up, it's fast and easy on LatinAmericanCupid. First, head to LatinAmericanCupid's website and select "View Singles Now" to sign up.
You only need to enter your name, gender, and a few other details before browsing singles, but we recommend putting a little more time into creating your profile. Simply select the drop-down menu at the top of the page to edit your profile, answer personality questions, add your hobbies and interests, and select CupidTags. You'll also want to upload profile photos.
It takes around 20 minutes to complete all of these steps. While not required, you can expect better matches and more messages if you complete your profile. Now, if you want to test the waters before going through all the steps, you can start browsing profiles in about 30 seconds. If you do that, though, you might wonder why no one is noticing your dating site profile.
Matchmaking Process
If you have a free membership, your matches will be based on your personal preferences. Navigate to "Matches," click on the three-dot menu, and select "Improve Matches." Then, edit your match criteria to find singles who will grab your interest.
Paid members get access to a more advanced matching system that includes Mutual and Reverse matches.
Out of the two, Mutual Matches is our favorite. Think of these as two-way matches. Basically, you and the other members meet each other's match criteria. Reverse Matches are one-way matches, but they go in the opposite direction of basic matches. Instead of matching with people who meet your criteria, you match with people when you meet theirs.
LatinAmericanCupid's matchmaking process is "middle-of-the-road". Without a lengthy personality test, it can only match you based on personal preferences. That means you might find out you don't have the same communication or relationship style as the people you meet. However, the numerous match preference filters allow you to have control over you who you connect with, and that can lead to long-term love.
Unique Features
At first glance, LatinAmericanCupid might look like any other international dating site. However, it has some features that make it stand out from the competition. We tested those features when researching our LatinAmericanCupid review, and now, we're going to go over some of our favorites.
Instant Message Translation
Members speak an assortment of languages, but they can all connect by using instant message translation. You just need to click the translation link to see chats in your native tongue. Then, you can write back, and your match will see the message in his or her language.
You can unlock this feature for all of your messages by upgrading to a Platinum or Diamond membership. Otherwise, you will need to communicate with a Platinum or Diamond member to use this feature.
Double the Profile Space
Platinum and Diamond members stand out in search results with double the profile space. You can see these large profiles when scrolling through your matches. As you can imagine, it's easy to drum up interest when your profile is twice the normal size.  
Insider Tip: Do you want to use LatinAmericanCupid without paying? Browse your matches, looking for members with double the profile space. Since they're paid members, you can communicate with them without upgrading.
CupidTags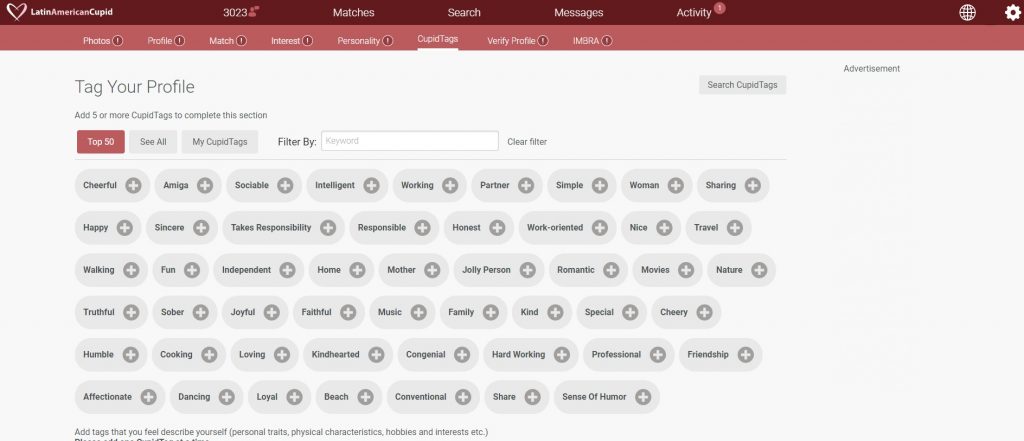 You don't have to spend a lot of time writing your profile on LatinAmericanCupid. Instead, you can add CupidTags to your profile to show the world who you are and what you want out of a relationship. Also, you can use CupidTags to search for members with similar interests.
While CupidTags speed up the process, we still recommend spending some time on our profile. As we mentioned earlier in this review of LatinAmericanCupid, members with completed profiles get the most messages.
Robust Search Filters
LatinAmericanCupid has more search filters than most apps. While they're all helpful, the ability to search for people who do or don't want to relocate is our favorite. Knowing members' intentions ensures that you don't spend time with someone whose future plans don't align with yours.

LatinAmericanCupid Memberships – Free vs. Paid

Are you on the fence about paying for a membership to LatinAmericanCupid? You can find out if the site's a good fit with a free membership. Free memberships allow you to do the following:
Match by interests, lifestyle, and age
Send likes
Send and reply to messages from paying members
The Gold membership is the cheapest paid option and lets you do the following:
Send and receive unlimited communications without restrictions
Hide your profile and photos
Browse without intrusive ads
If you want even more features, you can upgrade to a Platinum membership. After paying, you'll access the following features:
Double the profile space
Additional search features, including searching by ethnicity, dating intention, and lifestyle
Mutual and Reverse Matches
Instant message translation
Rank above free and Gold members
And finally, you can get the ultimate membership by going with the Diamond plan. This membership has the following premium features:
Priority messaging so your messages are at the top of inboxes
Rank above all members
Diamond icon located on your profile (shows serious dating intentions)
Premium customer service

How Much Does LatinAmericanCupid Cost?
| Membership Type | Membership Length | Monthly Price | Total Cost |
| --- | --- | --- | --- |
| Diamond | 1 Week | $160.00 | $40.00 |
| Diamond | 1 Month | $79.98 | $79.98 |
| Diamond | 3 Months | $53.32 | $159.97 |
| Diamond | 12 Months | $28.33 | $339.98 |
| Platinum | 1 Week | $80.00 | $20.00 |
| Platinum | 1 Month | $39.99 | $39.99 |
| Platinum | 3 Months | $26.66 | $79.98 |
| Platinum | 12 Months | $14.17 | $169.99 |
| Gold | 1 Week | $67.48 | $16.87 |
| Gold | 1 Month | $33.74 | $33.74 |
| Gold | 3 Months | $22.49 | $67.48 |
| Gold | 12 Months | $11.25 | $134.99 |

What Kind of Relationships is LatinAmericanCupid For?
LatinAmericanCupid attracts members in Latin America and Western countries who want serious relationships that might lead to marriage. While the site attracts some casual daters, this is mainly a dating site for serious relationships.

The Bottom Line – Is LatinAmericanCupid Worth It?
LatinAmericanCupid is the best Latino dating app, and absolutely worth it if you're part of the intended demographic. It's an excellent fit for Latin Americans who want to start a serious relationship with Westerners and vice versa. However, it's not nearly as good of a fit for casual or local dating.

---
User Reviews of LatinAmericanCupid
With 3.9 stars out of 5, most of the LatinAmericanCupid reviews are positive. We read through to identify the common themes. Check out what people like and dislike about this niche dating site.
A Large Number of Latin American Singles – LatinAmericanCupid has a large membership base for a niche site. You can easily spend hours looking through profiles without running out of options.
Engaged Members – Most people who set up profiles on LatinAmericanCupid are ready to chat with members. This site has fewer flakes than you'll find on other international dating apps.
Men Don't Have to Make the First Move – Based on the LatinAmericanCupid reviews left by members, women often send the first message on this dating site. That doesn't mean guys can't reach out first, but they don't always get a chance. Seriously, the messages come fast on here.
Solid Search Filters – The dating site offers lots of search and matching filters, which is good considering the large membership base. If you don't set any criteria, you can become overwhelmed with options. That's why members suggest using the filters to improve the quality of the profiles you see.
Some Scammers – People also complain that scammers reach out to them from time to time. They noticed an interesting trend among the scammers, though. Profiles with one photo usually aren't legit. Find out how many photos to add to your profile so you aren't mistaken for a scammer.
Buggy App – It's true that the Android app can be glitchy, but the LatinAmericanCupid website is smooth. If you have problems with the app, we recommend switching to the website (even if you still use it on your phone).
Lots of Ads – The ads can be pretty intrusive if you have a free account. Fortunately, you can enjoy an ad-free online dating experience by upgrading to a paid membership.

LatinAmericanCupid Alternatives to Consider
A review of LatinAmericanCupid wouldn't be complete without seeing how it stacks up against the competition. We've selected three popular dating apps to compare against LatinAmericanCupid.
LatinAmericanCupid vs. Tinder
Tinder has lots of users in Latin America, but it's mainly used for local hookups. You can use Tinder Passport for international dating, but most Tinder members don't want to get serious, especially not with someone overseas. Skip Tinder and use LatinAmericanCupid instead if you're seeking a serious commitment with someone in one of the target markets.
LatinAmericanCupid vs. Amigos.com
As one of FriendFinder Networks' dating sites, Amigos.com has a solid reputation. However, it's used to connect Latinos in Latin America and around the world instead of Latin Americans with Westerners. It's a great site if you're looking for a Latino/Latina connection but go with LatinAmericanCupid if you want the pairing to include a Westerner.
LatinAmericanCupid vs. InternationalCupid
InternationalCupid is also part of Cupid Media and specializes in connecting people around the world. Even so, it has fewer members and Latin Americans than LatinAmericanCupid does. If you live in Latin America or want to date a Latin American, we recommend LatinAmericanCupid.

LatinAmericanCupid FAQ
How Much is Instant Message Translation?
Premium memberships start at $13.75 a month. However, that's for a Gold membership, meaning you won't get instant message translation and some other important features. You can unlock instant message translation and other premium features for as little as $17.50 a month.
How Do I Set My Match Preferences?
Go to your matches and click on the three dots on the right-hand side of the page. Select "Improve matches" to add more preferences. We recommend adding and removing preferences to change up your matches. You might miss out on someone if you're criteria are too strict, so this will help you see what you're missing.
How do I Access the FAQ on LatinAmericanCupid's Website?
Click on the gear icon on top of the website to open the drop-down menu. Then, select "Help." Type in a keyword or question to bring up a list of topics. You can select from the list to read the FAQ.
How Do I Translate a Message?
You can translate a message if you have a Platinum or Diamond membership or if you're talking to someone who does. A "translate" link will pop up in your messages. Click on it to see the message in your preferred language.