Are you tired of reading one confusing LoveAgain review after the next? We understand. The online reviews are split down the middle, with some people raving about the site and others saying it's a scam. We decided to get to the bottom of it by testing all of LoveAgain's features and evaluating the membership base. Now, we're ready to remove the confusion and let you know if this dating site is worth your time.
Unlike some of the reviews of LoveAgain, the info here is based on real experiences and data. There's no sugar coating here, so let's dive in so you'll learn everything you need to know about LoveAgain.
---
LoveAgain App at a Glance
Overall Rating – 2.5/5.0
| | |
| --- | --- |
| Userbase | 500,000 + |
| Sign-Up Time | Less than 1 minute |
| Membership Cost | Premium memberships start at $27.83/month |
| Payment Required? | No - free trial membership available |
| Avg. User Rating | 4.6/5 |
| Avg. User Age | From 40 to 70 |
| Gender Ratio | 57% men | 43% women |
| Free Messaging? | No |
| Video Chat? | No |
| iOS App? | No |
| Android App? | No |
| Web Friendly? | Yes |
| Support Options | Phone, email, web form |
| Launch Date | 2012 |
| Owned By | NSI Holdings LTD |
Is LoveAgain Right for Me?
LoveAgain is a niche dating site, meaning it's designed for a specific market. LoveAgain might be right for you if you're:
40 or older
Looking for a serious relationship
Re-entering the dating scene after going through a breakup or divorce
But don't create your account yet, even if you're part of the core demographic. Keep reading our review of LoveAgain to find out if this is the best mature dating site out there.
---
---
What is LoveAgain?
You've probably heard people talking about LoveAgain but might not know much about its history or what it offers. That's not a problem since we cover all that info in our LoveAgain review. Let's start with the history before looking at how it's different from other dating sites.
LoveAgain History
Cupid plc launched LoveAgain in 2012 with the hopes of making a splash in the U.S. market. However, the tides quickly turned after BBC Radio 5live broadcast a damaging report about Cupid plc and its portfolio of dating sites.
It was a long report, so we'll cut right to the chase.
Basically, previous members accused Cupid plc of sending fake messages to members to get them to pay for accounts. See, you can't read messages unless you have a paid subscription. The men interviewed for the story quickly subscribed after receiving the messages, read them, and replied.
And in each instance, the women immediately lost interest. It's easy to see why they think the whole thing was a ploy to help Cupid plc increase its revenue.
That report was enough to get Cupid plc out of the dating game. NSI Holdings LTD purchased LoveAgain and the rest of Cupid plc's websites in 2014, and it's been under that ownership ever since.
We'd like to say that LoveAgain's reputation has improved since NSI Holdings LTD acquired it, but that's not the truth.
Members still complain about receiving fake messages to get them to subscribe. And it's not just with LoveAgain. We've heard the same accusations from members who used other dating sites in NSI Holdings LTD's portfolio. On top of that, the App Store suspended one of the company's apps in 2021 due to inauthentic activity.
What Makes LoveAgain Different?
While it's not the only mature dating site out there, it's one of the few that tries to make dating fun for the 40 and over crowd. Flirting is big on LoveAgain, which isn't always the case with these kinds of dating sites. Unfortunately, a lot of the flirting seems to come from bots or scammers.
Pros and Cons of LoveAgain
Pros
Diverse userbase
Easy to use
One-day membership for those who want to try without committing
Regular discounts on memberships
Cons
Lots of fake profiles
Unpaid members can't read messages
Reports of using fake messages to increase the number of paid subscribers
Free membership is extremely limited
Web-only

How Does LoveAgain Work? – Features Overview
LoveAgain is pretty easy to use, but it's a good idea to familiarize yourself with the sign-up process and features. That way, you won't have to waste any time researching if you decide you want to use this dating site.
Sign-up Process
It takes less than 30 seconds to sign up for an account on LoveAgain. Just head to LoveAgain's website and fill out the short form. Then, select "Start Now." After that, you can add a photo or start browsing profiles.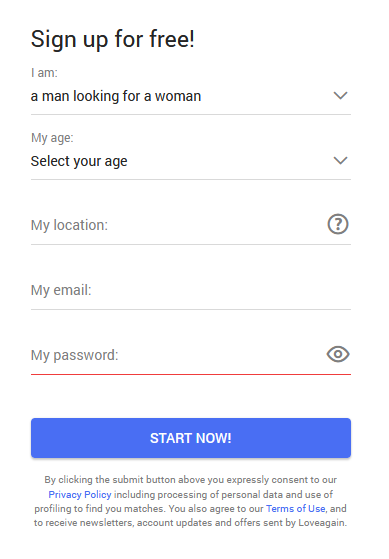 However, it's a good idea to navigate to your profile and fill out the additional info. It only takes about five minutes and will help you stand out against other members.
---
Matchmaking Process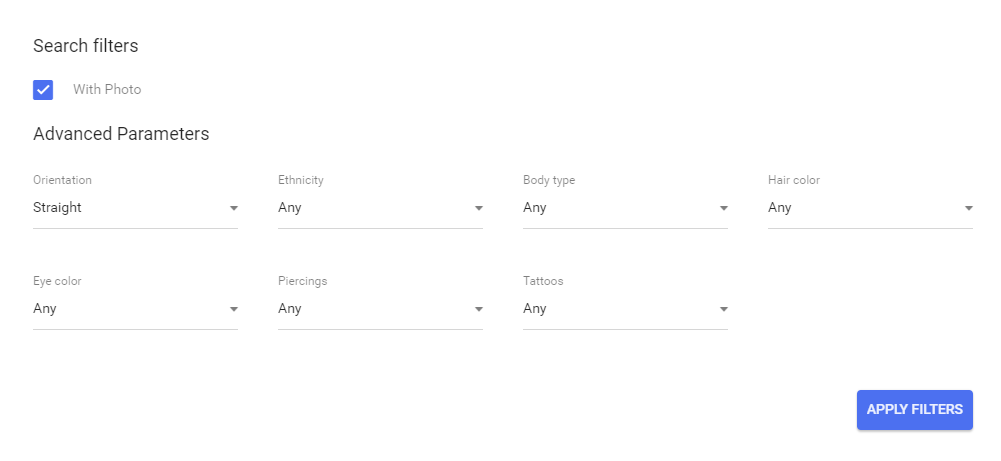 Both free and paid subscribers use search filters to find members who meet their criteria. As a free member, you can access the following search filters:
Sexual orientation (straight, bisexual, or both)
Ethnicity
Body type
Hair color
Eye color
Piercings
Tattoos
Paid subscribers have access to additional search filters.
Additionally, both free and paid members can use the Like Gallery to get matches. You can like or pass on members, and the site will learn more about you with each action. You can also see who liked you and see your matches.
We tested all the matching options when researching our LoveAgain review and weren't impressed. The matchmaking system is far too basic, so you'll have to do most of the work yourself. If you want a site with a more advanced matching algorithm, we recommend using one of the best dating apps of 2022.
---
Flirtcast
Do you want to break the ice with a lot of people at once? Flirtcast lets you do just that. You can create your own message or use the template to reach out to singles. Unfortunately, the site has so many scammers that Flirtcasts often get ignored.
---
Expiring Messages
Messages have a countdown clock and disappear if the recipient doesn't respond in time. At first, we thought this feature was kind of neat. After all, it's annoying to hear back from someone months after sending a message.
However, members say these messages are often fake. The countdown clock forces them to take fast action and subscribe, only to get ghosted after paying.
---
Safe Mode
Safe Mode allows you to control who contacts you. Basic Safe Mode prevents suspicious members from reaching your inbox. Full Safe Mode is even more powerful since only verified members can reach out to you. While this will help you cut down on scammers, we haven't found a way to eliminate them completely on LoveAgain.

Free vs. Paid Memberships
The free membership is meant to let you test out the site, but it's low on features. You can browse profiles, send and receive likes, and send up to five chats. However, the messages you receive will be hidden behind a paywall unless you upgrade your membership.
The paid membership plan includes the premium features needed to make connections. Paying subscribers receive the following features:
Unlimited chats
View larger photos
See "looking for" information
Extended search
Premium support

How Much Does LoveAgain Cost?
Below you'll find a the latest pricing recorded at the time of our LoveAgain review:
| Membership Type | Membership Length | Monthly Price | Total Cost |
| --- | --- | --- | --- |
| Premium | 3 Month | $39.76 | $119.28 |
| Premium | 1 Month | $43.68 | $43.68 |
| Premium | 1 Week | $47.60 | $11.90 |
| Premium | 1 Day | $1.29 | $1.29 |

What Kind of Relationships is LoveAgain For?
LoveAgain says it specializes in serious relationships for mature singles. However, we've noticed that a lot of the members are more into flirting than getting serious. There's a disconnect between what the site claims to be and what it is.

The Bottom Line – Is LoveAgain Worth It?
No. While some LoveAgain reviews rave about the dating site, we're not sure they're authentic. Based on our experience with the site, we think it's low-quality and has few interested members.
We also weren't thrilled about getting a bunch of messages within a minute or two of signing up. It happened so fast that we didn't even have time to upload a photo. We couldn't help but wonder if the LoveAgain team sent the messages to get us to pay for an account. Either that or the site's overrun by bots.
So, if LoveAgain isn't worth your time, what should you use? eHarmony is our top pick for singles looking for serious relationships. And if you're 50 or over, you can't beat SilverSingles. (Click to learn more about Silversingles Free Trial)
---
User Reviews of LoveAgain
LoveAgain has a 4.6 out of 5-star rating online, but that score does not seem sincere. Many of the positive reviews sound similar, making us think they might be fake. Also, our personal experiences were far from positive, adding more credence to the possibility that the reviews are fake.
We scoured all the LoveAgain reviews and picked out the ones that sounded the most authentic. Take a look at what those users had to say about the mature dating site.
Fast Sign Up – If you want to jump right into online dating, you can be up and running in seconds on LoveAgain. We do recommend editing your profile to add additional info, though.

Easy to Use – Members who don't like a lot of bells and whistles enjoy the fact that LoveAgain is so easy to use. If you can point and click, you can use this dating site.

Lots of Attractive Profiles – You won't have any trouble finding profiles with attractive men and women on here. While that can be a positive, check out our next point.

Fake Profiles – The number of fake profiles on LoveAgain is pretty alarming. Members complain that these fakers clog up their inboxes, and they rarely get any interest from legitimate people.

Few Members Willing to Converse – Some members send out broadcast messages and then don't reply if anyone shows interest. This seems to be a theme on this dating site, so you're not likely to make solid connections.

Trouble Canceling – Paid members often have trouble canceling their memberships. The site promises to send a cancellation code that doesn't arrive.

Non-Responsive Customer Support – Some of LoveAgain's user reviews state that customer support so pretty much non-existent. You might not get a response if you send a message. While LoveAgain promises premium support for paid subscribers, we're worried that's just another trick to get people to take out their credit cards.

LoveAgain vs. The Other Guys
So, you've seen how LoveAgain performs on its own, but how does it look next to the competition? Check out how it stacks up against eHarmony, EliteSingles, and SilverSingles.
LoveAgain vs. eHarmony
Both dating sites are meant for serious relationships, but eHarmony knocks LoveAgain out of the water. eHarmony's compatibility-based matching algorithm is far superior to LoveAgain's match preference filters. Many of eHarmony's members find partners within a year of signing up, so it's well worth the membership. It's not only better than LoveAgain – eHarmony is the best dating app for serious relationships, period.
LoveAgain vs. EliteSingles
EliteSingles is also a mature dating app, only it caters to professionals. If you're an ambitious single 30 or over, you'll have more success on EliteSingles than LoveAgain. EliteSingles uses the five-factor model of personality to match members and is responsible for over 2,000 relationships a month.
LoveAgain vs. SilverSingles
Both LoveAgain and SilverSingles are mature dating sites, but SilverSingles caters to the 50 and over crowd. SilverSingles sends members matches based on the five-factor model of personality, has an engaged membership base, and helps thousands of members find love each month. If you're 50 or over, SilverSingles is a much better choice than LoveAgain.

LoveAgain FAQ
Can I Try LoveAgain Without Paying?
Because free accounts are so limited, many people want to upgrade to premium features. The site doesn't offer a free trial. However, you can subscribe for a single day or week if you'd like. A one-day membership costs $1.29, while a one-week membership is $11.90. That breaks down to $1.70 a day.
How Do I Search for Members in Other Countries?
Navigate to the homepage and click the drop-down menu next to your location. Then, click on "All States" and select "Countries." Next, choose the country and city you want to search and click "Find" to update your matches.
How Do I Block or Report a Member?
Go to the member's profile and click on the three dots to the right of the username. Then, you can click "Block" or "Report."