Luxury Date is a niche site where wealthy, successful men can meet attractive, loving women. It isn't a platform that is right for everyone, but if Sugar Dating or Older/Younger dating is your thing, you'll definitely want to check out this Luxury Date review!
From the cost of membership to features like secret albums and advanced searching, we've broken down exactly what you get when you become a member on Luxury Date.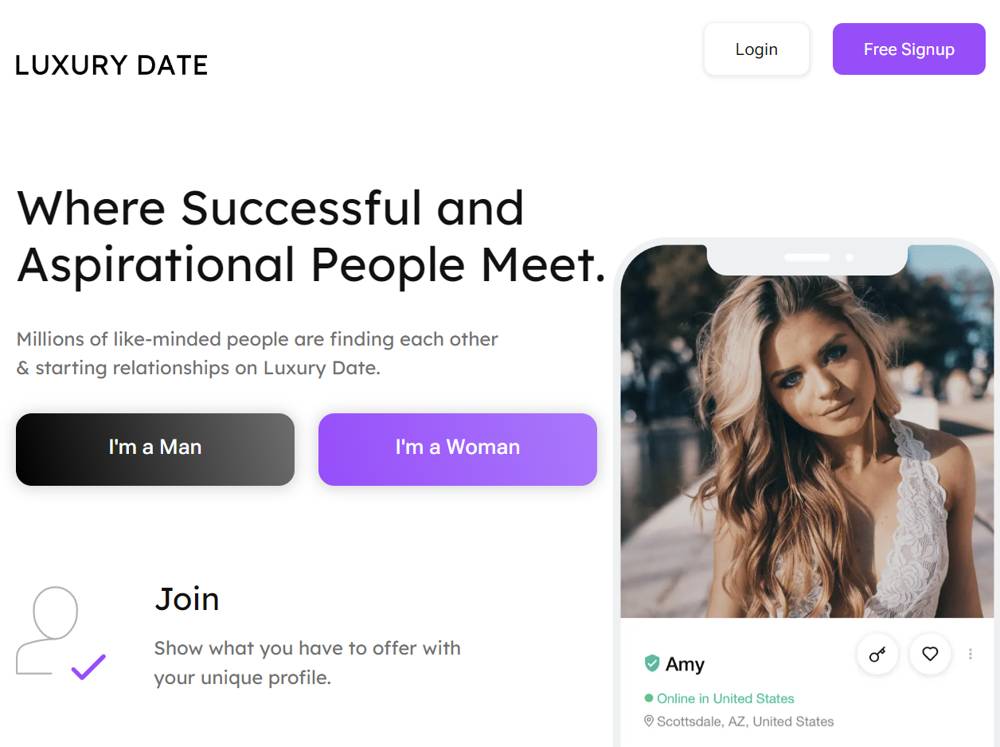 ---
Luxury Date App at a Glance
Overall Rating – 3.5/5.0
| | |
| --- | --- |
| Userbase | 1 million + |
| Sign-Up Time | 10-20 minutes |
| Membership Cost | Premium memberships start at $0.29 per credit |
| Payment Required? | No, free trial membership available |
| Avg. User Rating | 3.5/5 |
| Avg. User Age | 20 to 30 for women and 45+ for men |
| Gender Ratio | 60% men | 40% women |
| Free Messaging? | Free for women | Paid for men |
| Video Chat? | No |
| iOS App? | No |
| Android App? | No |
| Web Friendly? | Yes |
| Support Options | FAQ page, Contact form |
| Launch Date | 2014 |
| Owned By | Basef LTD |
Is Luxury Date Right for Me?
Let's cut to the chase, if you are not looking for a Sugar Dating relationship, Luxury Date is not the right dating platform for you!
However, if you are interested in meeting older, wealthy men or younger, attractive women, you may be in luck.
Luxury Date creates a high end space where men can show off their wealth and power for younger women to see. Women are always free to join and use the site, which helps keep the gender split closer to even. Many sugar sites end up filled with men and no women, but Luxury Date doesn't have that problem.
We love that there are user verification options, but we wish there were more ways to verify user income. Overall, if you are looking for a high-quality sugar dating site with a good selection of features, Luxury Date is right for you.
---
---
What is Luxury Date?
Luxury Date is a top-quality sugar dating site where men with established careers and a great income can use those facets to attract young, beautiful women.
Luxury Date History
Luxury Date is owned by Basef LTD which is a runout of Cyprus and is the parent company of another sugar dating site known as SecretBenefits. Basef LTD was created in 2018. The two dating sites, before joining under Basef LTD, were launched around 2016. Luxury Date has quickly grown in popularity and now hosts over 1 million users.
What Makes Luxury Date Different?
Luxury Date is different from traditional dating sites because it doesn't create a place where people are trying to impress one another with their personalities, wit, and charm. Instead, it allows men to use their wealth and power as a feature of their attractiveness.
In essence, LuxuryDate is a sugar dating platform, so it naturally stands out from the dating sites you may be used to. So we should be asking, what makes Luxury Date stand out against other sugar dating sites?
Well, one thing they do that users love is let all women join the site for free. That helps prevent the issue others sites have where the platform is 80% men and 20% women. Additionally, all users on Luxury Date can upload private videos that prove they are a real person.
Pros and Cons of Luxury Date
Pros
Women don't have to pay to use the platform.
There are ways to prove your identity, which helps avoid scammers and catfish.
The platform is nice to look at and easy to navigate.
There is a good mix of men and women.
Cons
The site is expensive to use if you are a man.
There are no mobile app options for LuxuryDate. It is web-based only.
You have to upload a minimum of 10 photos to your profile.
The site does not work for traditional or casual dating.

How Does Luxury Date Work? – Features Overview
Luxury Date is built for men to woo women. They do this by spending credits on things like messages, secret photo requests, and photo messaging. Profiles on the site are built around wealth and success for men and beauty and charm for women.
Signup process
Signing up for LuxuryDate takes some time and patience, so follow this step-by-step guide to keep from getting lost:
Join the site by providing a name, email address, location, age, and gender.
Verify your email address.
Fill in your profile information. This spans multiple pages, so be patient.
Upload your regular profile photos.
Upload your secret album photos.
Complete your verification video.
Once you have been verified, you will be able to utilize the whole Luxury Date platform. Women will instantly have access to all their available features. Men may need to pay to use all the features.
Matchmaking Process
Matching on Luxury Date is based exclusively on location and search filters. There is no magic algorithm to pair great couples. Instead, users simply search through profiles and interact with the ones that leave them intrigued.
Interactions can be done through messaging or requesting access to private photos. All of these actions will cost men credit to perform. Women will be able to use their available features for free.
Unique Features
The most unique feature on Luxury Date is the secret photo album. This is a special album of private photos users upload and reserve for the users they like on the platform. Men can request to view a woman's secret album and she can deny or grant access.
If she grants access, the man knows that she is a bit interested in him as well.
Another unique function of Luxury Date is the use of the credit system. Instead of paying for a monthly membership, men buy bundles of credits and use those credits to perform actions on the site. The downside of this type of system is that men who use the site often are likely going to spend a lot more money than they would on an all-inclusive membership plan.

Free vs. Paid Memberships
When it comes to men's profiles on Luxury Date, there is a clear difference between what they can do for free and what they pay for. Here is a quick breakdown of each:
Free Luxury Date Features
Look through profiles
See limited number of photos on profiles
Like profiles
Request access to photo albums
Paid Luxury Date Features
Unlock a conversation with a user
See secret photo albums (to which you've been granted access)
Each of the "paid" features cost 10 credits. Credits are purchased in bundles up to 1000 at a time.

How Much Does Luxury Date Cost?
| Credits Type | Number of Credits | Price Per Credit | Total Cost |
| --- | --- | --- | --- |
| Best Value | 1000 | $0.29 | $289 |
| Elite | 500 | $0.34 | $169 |
| Introductory | 100 | $0.59 | $59 |

What Kind of Relationships is Luxury Date For?
Luxury Date is meant for casual flings between older men and younger women. In many circles, this is referred to as sugar dating. However, there is no guarantee or implication that the men on Luxury Date are going to provide things for the women they date.

The Bottom Line – Is Luxury Date Worth It?
If you are a young woman who wants to date a wealthy man, Luxury Date is totally worth your time. It is free to use, and the gender ratio is really great.
Men, it may be another story. If you like to play a numbers game and talk to dozens of women at once, this site can get pretty expensive pretty fast. However, if you only want to talk to a couple ladies at a time and are interested in dating beautiful, younger women, Luxury Date is worth a try.
---
User Reviews of Luxury Date
Users of Luxury Date have a lot to say about the platform. We've found many verified reviews praising the site as one of the safest sugar dating platforms out there. However, we've found other users who aren't so pleased. Here is a look at the most common good and bad reviews of the LuxuryDate.com site.
Good Reviews:
Luxury Date has hundreds of beautiful women with great profiles and photos.
The search options are extensive and great to narrow down results.
The platform is less expensive than another luxe dating site that charges hundreds of dollars a month.
Bad Reviews:
The site isn't explicit about sugar dating but the users are all forward with their intentions to sugar date.
Some of the users seem fake or act like they are paid to message you (Note: Luxury Date denies this claim)
There is no app available right now, so users have to use their computers to access the site.
If you talk to too many women the site gets expensive very quickly.

Luxury Date vs. The Other Guys
Luxury Date vs. Elite Singles
Elite Singles is a luxury dating site that focuses on traditional dating between men and women who are both "elite." It is not a sugar dating site at all. Luxury Date focuses mostly on elite men and the women simply need to be attractive. Overall, Elite Singles feels like the more legitimate, safe site.
Luxury Date vs. SeekingArrangement
Luxury Date and SeekingArrangement are both sugar dating sites. The difference is that SeekingArrangement is very upfront about what is happening on their platform. They help the women on their site to verify the identities of their dates and even verify income information. On Luxury Date users can upload videos to show they are real people, but there doesn't seem to be any option to make sure the men are truthful about their income and success.
Luxury Date vs. SugarDaddie
SugarDaddie is a popular sugar dating app, but it has been rife with rumors about fake profiles, catfish, scammers, etc. The plus side to SugarDaddie is that their profiles are extensive, which gives users a lot of information to work with. Some people have complained about Luxury Date's legitimacy as well, but to a much lesser extent.

Luxury Date FAQ
Is Luxury Date a Sugar Dating App?
Yes. Luxury Date seeks to match wealthy men with beautiful women and the presumption is that the women will benefit from the wealth of the men they're involved with. This makes LuxuryDate a sugar dating platform.
What is Sugar Dating and Is It Legal?
Yes. Sugar Dating is completely legal. The simplest explanation is that the women in these relationships know they will be treated well because their date has money. However, there is no expectation that the women will be paid to go on a date or have sex. Those two acts fall under the titles escorting and prostitution and may not be legal.
Do Women Pay to Use Luxury Date?
No. Women on Luxury Date do not have to pay to use the site or any of its features! That is how Luxury Date ensures there are plenty of women on their platform.
Are Luxury Date Users Real?
LuxuryDate may have some users that are fake (as do most sugar dating platforms), but in our experience, they do have mostly real accounts on their platform. Still, be careful when using these sites and never give your private or financial information out to anyone you meet online.
Does Luxury Date Use a Credit System?
Yes! Luxury Date does not use a monthly membership. Instead, they charge men to buy bundles of credits. Those credits are then used to unlock photos and messages on the site. It is a bit like buying tokens at an arcade.
Do Luxury Date Credits Roll Over Each Month?
Yes. Your Luxury Date credits never expire and once they have been spent to unlock photos or a message, those items remain unlocked forever.
Can I Sign Up On Luxury Date for Free?
Yes! Men and women can both sign up for free on Luxury Date! All you have to do is follow our sign-up link and be prepared to fill in your profile and upload 10 user photos!