MexicanCupid is easily one of the most popular international dating sites out there. Hundreds of thousands of people log in each month, but is the site worth your time? After hours of research, we have the answer to that question – and we're ready to share it with you.
It might have taken us hours to come up with the answer, but our MexicanCupid review is quick and to the point. Instead of boring you with the little details, we'll get straight into the important facts and must-read info.
Let's get started, so you'll know if you should use this international dating site.
---
MexicanCupid App at a Glance
Overall Rating – 3.7/5.0


| | |
| --- | --- |
| Userbase | 1.5 million + |
| Sign-Up Time | > 1 minute |
| Membership Cost | Premium memberships start at $11.25/month |
| Payment Required? | No - free trial membership available |
| Avg. User Rating | 3.7/5 |
| Avg. User Age | From 25 to 44 |
| Gender Ratio | 60% men | 40% women |
| Free Messaging? | Yes (with paid members) |
| Video Chat? | No |
| iOS App? | No |
| Android App? | Yes |
| Web Friendly? | Yes |
| Support Options | FAQ, phone, email, mail |
| Launch Date | 2005 |
| Owned By | Cupid Media |
Is MexicanCupid Right for Me?
Are you a Mexican dreaming of marrying a Westerner? Or maybe you're a Westerner hoping to meet and marry a Mexican man or woman. If either of those sounds like you, MexicanCupid was designed for you.
This isn't to say that you won't find casual daters and Mexican singles looking for love close to home on MexicanCupid, too. However, those folks are in small supply and would be better served by using a different dating site.
Do you fit into the demographic? If so, keep reading our review of MexicanCupid to learn more or click the link below to try the app for yourself. However, if you prefer to date locally, check out the five best dating apps of the year for some ideas.
---
---
What is MexicanCupid?
You've heard the name MexicanCupid, but what is it? As part of our MexicanCupid review, we're going to take you through the site's history, unique attributes, and more. Let's start by looking at MexicanCupid's origin story. It might not be as dramatic as something out of Marvel Studios, but it'll provide you with some important insights.
MexicanCupid History
Cupid Media unveiled MexicanCupid in December 2005. As part of the trusted Cupid Media network of niche dating sites, MexicanCupid created a lot of buzz right away, especially in Mexico and the United States.
While it has a decently sized membership base for a niche site, that's expected to grow in the coming years, thanks to Dating Group's acquisition of Cupid Media in 2021. Cross-promotion between the companies means more people will hear about MexicanCupid. Also, the acquisition has allowed Cupid Media to invest more time and money into attracting high-quality, motivated singles for this and other niche sites.
What Makes MexicanCupid Different?
Some dating sites that pair Westerners and Mexicans operate like transactional mail-order bride services, but not MexicanCupid. This niche dating site facilities real romantic connections that often lead to happy marriages.
MexicanCupid makes forming those connections easy with features like automatic profile translation for all members and instant message translation for paid subscribers. It also lets members search by relocation intentions to find singles who want to date and marry someone living in another country.
When considering all of this, it's clear that MexicanCupid is the rare dating site that promotes happy, balanced relationships between Mexicans and Westerners. People come here to form equal partnerships that will stand the test of time.
Pros and Cons of MexicanCupid
Pros
High-quality membership base
Most members are seeking long-term relationships
Women often initiate conversations
Robust search filters
Instant message translation for Platinum and Diamond members
Cons
Fewer members than Zoosk, eHarmony, and other mainstream dating sites
Some fake profiles
Few options for local dating

How Does MexicanCupid Work? – Features Overview
Most reviews of MexicanCupid just provide a quick overview, but we want you to jump right in if you decide to use the site. Check out how to sign up, look at some features, and learn more about this dating site. Then, you'll be ready to start dating if you decide MexicanCupid is right for you.
Sign-up Process
Signing up for MexicanCupid is a breeze. Get started by going to MexicanCupid's website, clicking "View Singles Now," and inputting the info. The site only requires your first name, age, gender, and gender you're looking for in a match. Then, enter your email and password to look at profiles.
You'll be redirected to the home screen, where you'll see a popup to add your photo. You can also access the menu at the top of the page to upload your photo, answer the personality questions, select CupidTags, and add your hobbies and interests. Finally, click "Edit Profile" to complete the remaining fields.
While you can start browsing profiles in less than 30 seconds, it takes around 20 minutes to complete your entire profile. You'll find that most members spend the extra time and are quick to ignore people who don't.
Matchmaking Process
MexicanCupid lets unpaid members set their match criteria. You can make selections in the following categories when setting your match criteria:
Gender
Age
Location
Appearance
Lifestyle
Background/cultural values
While this doesn't look like much, you'll have several options inside the categories. Even so, the basic matching system shows you so many profiles that you might find yourself overwhelmed. Instead of finding "the one" right away, you'll have to talk to lots of people to form a connection.
Fortunately, MexicanCupid uses a more sophisticated matchmaking system for paid members. If you upgrade, you can still use the match criteria while accessing Mutual and Reverse Matches.
Let's start with Reverse Matches.
So, the basic matching system pairs you with people who meet your criteria. Well, Reverse Matches go in the opposite direction. Your matches won't meet your criteria, but you'll meet theirs. We actually think this is an effective way to meet people.
Mutual Matches are a combination of Basic and Reverse Matches. Both of the members meet each other's criteria, so you can expect a stronger connection.
We evaluated these matching systems when reaching our review of MexicanCupid, and discovered Reverse and Mutual Matches are superior to the site's basic matchmaking system. Still, the matching algorithm isn't as powerful as you'll find on eHarmony or other top dating sites for serious relationships. Still, it's an effective way to meet interesting people and form connections.
Unique Features
MexicanCupid has some features that make it stand out among other international dating sites. These extras are rare among niche dating sites, giving MexicanCupid an edge.
Communicate with Paid Members
Most dating sites only let you communicate after paying. However, you can chat with paying members on MexicanCupid. You will need to upgrade to a paid membership if you want to connect with someone with a free account, though.
Instant Message Translation
This is one of our favorite features on MexicanCupid. You'll find lots of people who speak English and Spanish on the site, and many hope to connect. Fortunately, Platinum and Diamond memberships include instant message translation. The feature works so quickly that you'll converse in real-time.
It's worth noting that there's a workaround to paying for instant message translation. It works for free members when chatting with Platinum and Diamond subscribers.
CupidTags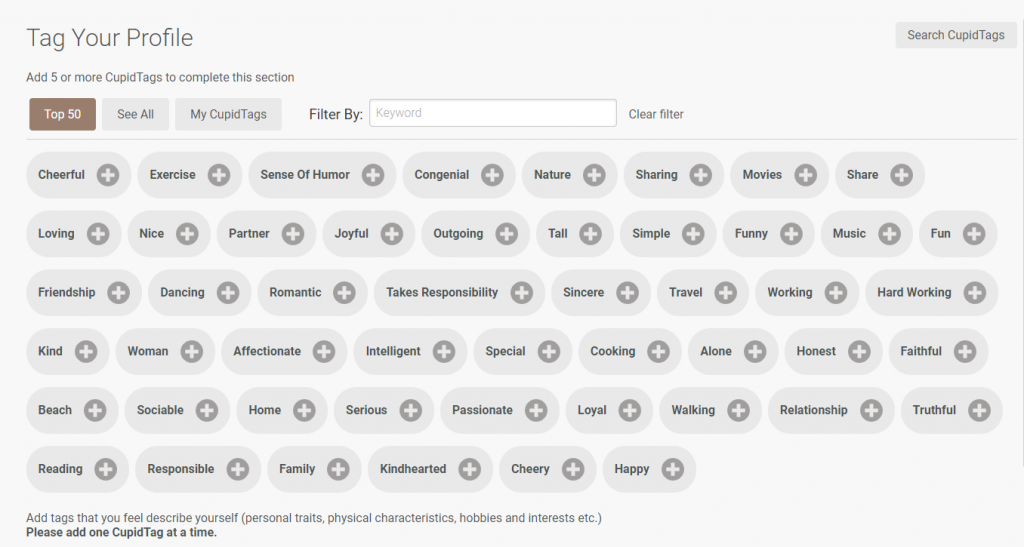 If you grew up around social media, you're used to glancing at hashtags to get the main point. While you won't find standard hashtags on MexicanCupid, CupidTags are similar. You can add CupidTags to your profile and search by them to find members who meet specific criteria.
Search by Relocation Status
MexicanCupid is known for connecting people in Mexico with singles in the United States and other countries. With that in mind, members can add their future relocation plans to their profiles. Plus, you can search for members who want to relocate or stay at home.
Rank Above Members and Priority Messaging
Both Platinum and Diamond members can rank above others in the search results. Also, Diamond members benefit from priority messaging, meaning the messages they send go to the top of the recipient's inbox. These special features make it easier to stand out among the competition.

Comparing Free and Paid Mexican Cupid Memberships
You'll have the option to use MexicanCupid for free or to pay for an account. Standard (free) memberships include three main features. Your account will let you:
Set match preferences
Send and receive likes
Communicate with paid members
If you're serious about making a connection, you can upgrade to one of three premium subscriptions: Gold, Platinum, or Diamond. Gold is the most affordable of the three premium plans and lets you:
Communicate with free and paid members
Hide your photos and profile
Browse without ads
The Platinum plan is the middle of the three premium subscriptions. If you choose this plan, you'll receive the following features:
Double the profile space in search results
Access to exclusive search features
Reverse and Mutual matches
Instant message translation
Rank above other members (except Diamond plan subscribers)
And finally, you can subscribe to the Diamond plan. As the highest membership tier, it includes some extras meant for serious daters. You'll access all the features that come with the previous plans, along with the following Diamond features:
Priority messaging, so your messages go to the top of singles' inboxes
More exposure in the search results by ranking above all other membership tiers
Diamond icon on the profile to highlight your intent for serious dating
24/7 customer service, including on holidays

How Much Does MexicanCupid Cost?
| Membership Type | Membership Length | Monthly Price | Total Cost |
| --- | --- | --- | --- |
| Diamond | 1 Week | $160.00 | $40.00 |
| Diamond | 1 Month | $79.98 | $79.98 |
| Diamond | 3 Months | $53.32 | $159.97 |
| Diamond | 12 Months | $28.33 | $339.98 |
| Platinum | 1 Week | $80.00 | $20.00 |
| Platinum | 1 Month | $39.99 | $39.99 |
| Platinum | 3 Months | $26.66 | $79.98 |
| Platinum | 12 Months | $14.17 | $169.99 |
| Gold | 1 Week | $67.48 | $16.87 |
| Gold | 1 Month | $33.74 | $33.74 |
| Gold | 3 Months | $22.49 | $67.48 |
| Gold | 12 Months | $11.25 | $134.99 |

What Kind of Relationships is MexicanCupid For?
MexicanCupid is designed for serious international relationships between Mexicans and Westerners. Most of the Westerners live in the United States, although singles in other Western countries can join, too.
Regardless of the location, the serious daters don't just want to become live-in partners. Many of them hope to progress things all the way down the aisle. While everyone goes at their own pace, many of the people here are ready to commit quickly.

The Bottom Line – Is MexicanCupid Worth It?
MexicanCupid is a great choice if you are a Mexican looking for a Westerner to date seriously or vice versa. Americans and Mexicans enjoy the most success on this dating site, but it works for people living in other Western countries as well.
While it's worth it when it comes to international dating, we'll have to pass on local dating. Some Mexican singles use it for this, but the results are mixed. Check out our dating app free trials for sites that are ideal for local dating.


---
User Reviews of MexicanCupid
With an average user rating of 3.7 out of 5, members are generally pleased with MexicanCupid. We spent time going over the MexicanCupid reviews and noticed some common themes among previous and current members. Let's take a closer look at what real members think of this international dating app.
Chatty Members – You won't find a lot of flaky singles on this dating site. The members tend to be extremely responsive to messages, so it's easy to get the conversation going.
Men are in High Demand – MexicanCupid has flipped the script, with men in high demand here. Men say their inboxes are often full of messages from women, so guys can be selective.
Members Get Serious Fast – Since long-term relationships that lead to marriage are the main goal, people here don't take things very slow.
Paying is Important – A lot of the reviews of MexicanCupid included complaints about the free memberships. The Standard plan only has three main features, so you can't do much with it. Fortunately, you can add lots of features by upgrading your membership.
Some Catfish – Some members have encountered fake profiles on MexicanCupid. They say that these profiles usually only have a single pic. We recommend conducting a reverse image search before connecting with someone. If you discover the profile's fake, report it to customer service.
Some Members Ask for Money – Unfortunately, we heard lots of complaints about members asking their matches for money. Some of the people who ask for cash are catfish, while others want money and a connection. It's never wise to send money to anyone before meeting in person.

MexicanCupid vs The Other Guys – Similar Dating Apps
It's hard to know if a dating site is right for you until you see how it compares to the competition. Check out how MexicanCupid stacks up against some of the top dating sites in Mexico and the Western world.
MexicanCupid vs. LatinAmericanCupid
LatinAmericanCupid is also owned by Cupid Media, so you know it's a site you can trust. It focuses on the long-term relationship between Latin Americans and people living in the Western world. It has more than five million members, but you won't find as many singles living in Mexico as you will on MexicanCupid. If you're interested in a Mexican-Western connection, MexicanCupid is the better fit.
MexicanCupid vs. Tinder
Tinder is the most popular Mexican dating app, but it's meant for hookups and casual encounters instead of long-term romance. Now, you can use it for international dating if you have Tinder Passport, but most Tinder users stick to local dating. If you're into international dating that leads to something serious, MexicanCupid is the way to go.
MexicanCupid vs. Zoosk
While often used for local dating, Mexican and Western singles also hop on Zoosk to date internationally. Zoosk has more than 40 million members, which is much more than MexicanCupid.
However, Zoosk isn't a niche site, so those members come from around the world, and many want something casual. Again, MexicanCupid wins when it comes to serious relationships between Mexican and Western singles.

MexicanCupid FAQ
Why Did My Session Time Out?
MexicanCupid has several security measures in place, including limits on non-activity. If you open the site and don't use it for 20 minutes, you'll need to log back in to browse singles.
Can I Filter Messages?
Because the singles on MexicanCupid are so chatty, you might find your inbox full of messages. Some of the members might not meet your criteria, causing you to become overwhelmed. MexicanCupid lets you set up a Message Filter to send messages from those who don't meet your criteria into a Filtered inbox.
Navigate to your messages and click the three dots on the right-hand side of the page. Then, select "Create Filter" to filter your messages.
What Membership is the Best Value?
Platinum plans provide the best value for singles. Unlike Gold members, Platinum subscribers receive instant message translation, exclusive search features, and improved matches, along with other features.