Military Cupid – one of the only dating sites that directly connects military singles with partners prepared for that lifestyle. After all, it isn't easy being a military spouse! It takes a true connection and a lot of commitment to survive some of the struggles of military life, and Military Cupid aims to provide those connections.
The site is modeled after other Cupid Media dating platforms, which makes us wonder how well it is actually catered to military singles. That's why we took a deep dive into the site and tried it out for ourselves.
If you want to know if Military Cupid can find you the partner you've been waiting for, this review is for you!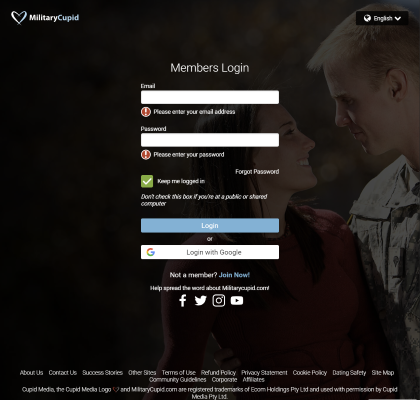 ---
Military Cupid at a Glance
Overall Rating – 3.2/5.0
| | |
| --- | --- |
| Userbase | 600,000+ |
| Sign-Up Time | 2 minutes |
| Membership Cost | Starting at $11.25 |
| Payment Required? | No, free trial available |
| Avg. User Rating | 3.0/5.0 |
| Avg. User Age | 25-35 years old |
| Gender Ratio | 40% men | 60% women |
| Free Messaging? | Partially free |
| Video Chat? | No |
| iOS App? | No |
| Android App? | Yes |
| Web Friendly? | Yes |
| Support Options | Help page, Contact form |
| Launch Date | 2006 |
| Owned By | Cupid Media |
Is Military Cupid Right for Me?
Military Cupid is a niche dating site that covers a very specific demographic. Military singles reportedly struggle with dating. The impact of military life has ended the best of relationships, so finding a partner who knows what they are in for is important. We love that Military Cupid offers singles a place to do that.
However, the overall site has a few kinks that need to be worked out before it can be truly effective for Military singles. From problems with fake accounts and catfishing to the limitations of free and low-price members, we understand why some users aren't happy with the platform.
In general, we think that users who are looking to pay for premium service or who are willing to rifle through dud accounts can have an incredible experience on Military Cupid. If you are looking for something that takes a little less effort to gain success, algorithm-based sites might be a better choice for you.
---
---
What is Military Cupid?
Military Cupid is a dating site owned by Cupid Media, one of the most well-known digital romance companies in the world. The platform is intended for singles in the military or those looking to date singles in the military.
Military Cupid History
Military Cupid was launched in 2006, 7 years after the creation of Cupid Media. Though the site itself has had fairly smooth sailing since its launch, there have been issues related to the digital military dating industry.
Specifically, there have been concerns raised about people seeking to scam military workers out of their money and benefits through the use of these dating apps. Luckily, Military Cupid has plenty of blog posts and guides to help users avoid scams.
What Makes Military Cupid Different?
We have seen a couple of different military dating sites, and we like that Military Cupid doesn't seem to pander to service men and women. The site uses traditional dating strategies and features that actually work to find partners.
The site also provides a variety of membership levels to help users cater their experience to their budget.
Pros and Cons of Military Cupid
Pros
Singles can curate their experience around their needs and budget.
The interface is easy to learn for users with and without a digital dating experience.
Users on the site know the other singles are accepting of the complex lifestyle of someone in the military.
Cons
There are some issues with fake accounts and tag chasers.
There is no IOS app for Apple device users.
The premium membership is fairly expensive.

How Does Military Cupid Work? – Features Overview
Like most Cupid Media sites, Military Cupid comes with a wide array of features for users to integrate into their dating routine. These features – from the sign-up process to the bonus amenities – are the core of any dating site. So what is a full-scope review without examining them in detail?
Signup process
The first feature of the dating site is the simple sign-up process. Unlike some sites, the sign-up process on Military Cupid is incredibly fast and simple. Users need to provide a username, email, location, and gender identification/ sexual attraction preferences.
With this info submitted, users will gain access to their base accounts and can immediately start searching for singles.
Though not necessary, we recommend users hold off on searching until they've taken the time to add a profile photo and complete their bio and profile information. This will greatly help with the matchmaking process.
Matchmaking Process
Military Cupid does not use personality or algorithm matching. Instead, users are given a huge selection of singles in their immediate vicinity from which they can narrow down their results. This makes search filters an important part of the Military Cupid experience.
Despite search filters being so important, Military Cupid only offers basic options. These include:
Diamond members (the most expensive membership) have access to an advanced matching algorithm. This is based on some of the users' preferences but isn't a fully-crafted personality algorithm like we've seen on other dating sites.
Unique Features
Military Cupid also offers many advanced features to help improve the dating experience. Some of these features involve getting your profile in front of more users. Examples of these types of features are; ranking above other members, double the profile space, profile highlighting, getting better matches, and ranking above ALL members.
Other features are meant to help users have a more enjoyable user experience. These features are things like incognito mode, no ads, instant message translation, and priority messaging.
The last set of features are those that some people may think should be offered for free but aren't. This includes the ability to read incoming messages, respond to messages, and access premium customer service.

Free vs. Paid Memberships
Users are welcome to sign up on Military Cupid for free. They will be able to create their account, search for users, and like and favorite profiles. However, that is where free access ends.
All other features are considered premium and require a payment to use. Here is a quick breakdown on which membership tier is needed for which features:
Gold Features:
Basic matching
Like profiles
Open access to messenger
Live chat option
Browse anonymously
No third-party ads
Platinum Features:
All Gold features
Rank above free and Gold members
Double profile space
Advanced matching
Auto-translate messages
Diamond Features:
All Gold and Platinum features
Priority messaging
Rank above ALL members
Profile highlighting
Premium customer service

How Much Does Military Cupid Cost?
| Membership Type | Membership Length | Monthly Price | Total Cost |
| --- | --- | --- | --- |
| Gold | 12 Months | $11.25 | $134.99 |
| Gold | 3 Months | $22.49 | $67.48 |
| Gold | 1 Month | $33.74 | $33.74 |
| Gold | 1 Week | $67.4 | $16.85 |
| Platinum | 12 Months | $14.17 | $169.99 |
| Platinum | 3 Months | $26.66 | $79.98 |
| Platinum | 1 Month | $39.99 | $39.99 |
| Platinum | 1 Week | $79.92 | $19.98 |
| Diamond | 12 Months | $28.33 | $339.98 |
| Diamond | 3 Months | $53.32 | $159.97 |
| Diamond | 1 Month | $79.98 | $79.98 |
| Diamond | 1 Week | $160.00 | $40.00 |

What Kind of Relationships is Military Cupid For?
Based on the profiles on the site as well as the marketing information provided by Military Cupid, it is clear to see that the goal of the site is for people to find long-term partners. This is a place where future spouses can be found.
However, that doesn't mean casual daters aren't welcome! We have seen quite a few reviews from users who are enjoying the casual dating scene on Military Cupid, they are just far and few between.
We recommend mentioning your dating intentions in your profile, so others know what to expect when messaging you.

The Bottom Line – Is Military Cupid Worth It?
Military Cupid can be a great site for many people and we do think it is worth it. The ability to adjust the cost of the site and include only the features you need is something that makes all Cupid Media sites great.
The reason we think Military Cupid is especially helpful is that the name alone makes it clear what the site is about. Users don't have to struggle with telling a match they are in the military and wondering how they are going to take it.
Overall, Military Cupid is great because it takes away the stress of dating as a military worker and even provides some options for dating in foreign countries (auto-translation features).
---
User Reviews of Military Cupid
To find users' reviews of Military Cupid we searched in two places – Military Cupid's website and The Military Cupid Android App. Below, we will look at the most common reviews from each.
User Reviews of MilitaryCupid.com
Positive: "Military Cupid helped me find my true love. We've been together for 5 years."
Positive: "Our relationship started out as just friends, but now we've been together for almost 5 years."
Positive: "I met my spouse on Military Cupid and it was easy."
Positive: "It's easy to meet people all over the world on Military Cupid."
What Users Think of the MilitaryCupid App
Negative: "You can't do much without paying for a membership."
Positive: "As a serviceman, this app is a game changer."
Neutral: "I am enjoying meeting people on the app, but it is a little buggy."
Positive: "I haven't dealt with any matches that hate the military."

Military Cupid vs. The Other Guys
Military Cupid vs. eHarmony
When it comes to finding serious romance, eHarmony is often considered the be-all, end-all dating site. They utilize advanced algorithmic matching to help users find great partners, which could be useful to military workers. Military Cupid does have some advanced matching for Diamond users, but the site can also be used for casual dating and finding friends.
Military Cupid vs. Tinder
If you are using Military Cupid for casual dating, you may also be considering a swipe-dating app like Tinder. Both apps let you adjust your location to help find singles when on the road, which is great. Military Cupid; however, has some translation features for Diamond members that Tinder does not provide.
Military Cupid vs. Match.com
Match.com is another popular dating option for those that want to vary between serious and casual dating. While it is similar in vibe to Military Cupid, it doesn't have all the same premium features. Additionally, there is no expectation of being involved in the military on Match.com. Not worrying about negative reactions to being a service member is one of the best parts of Military Cupid.

Military Cupid FAQ
Is Military Cupid a Global Dating Site?
Yes. Users on Military Cupid to find singles nearby, or anywhere in the world. This makes it a great choice for military workers who are stationed overseas. There are even translation services on the site to help in this effort.
Is Military Cupid Good for Finding a Spouse?
Yes. Military Cupid is a great site for trying to find long-term partners and spouses. While casual dating is an option on the site, the information we found in user reviews and profiles shows that most users are interested in finding potential spouses or life partners on Military Cupid.
Do Refugees Use Military Cupid?
There is no rule against refugees on Military Cupid, which means there is the possibility of running into members who are seeking a way out of their home countries. This is not the intention of Military Cupid and it is advised that users approach foreign singles with caution.
Are Most of the Users on Military Cupid Actually In The Military?
Not all users on Military Cupid are actively in the military. We don't have specific percentages for the entire site, but we know that 3 out of the 10 people we met on Military Cupid were actively in the Military and 2 more were veterans.
How Do I Sign Up for Military Cupid for Free?
If you are interested in signing up for Military Cupid, all you have to do is click our convenient sign up now button! It will take you to a free sign-up page where you only need to enter some basic info and your email to join the site!