There are many reasons for people to go on online dating sites. Some may be seeking a meaningful relationship, while others are just looking for casual ones with no strings attached. Many may not even know what they want, and they're hoping to find out through online dating. Regardless of what you wish to get out of this experience, OkCupid is likely to fulfill your curiosity, and hopefully bring you much more than what you'd expect out of an online dating site.
Well, first things first. As one of the most popular dating sites in the world with over 50 million users, it's apparent that OkCupid has answered the needs of many, but is it suitable for you? Let's go down to the details in this review to take a look at the features of OkCupid, so you can decide if this online dating site has all you need.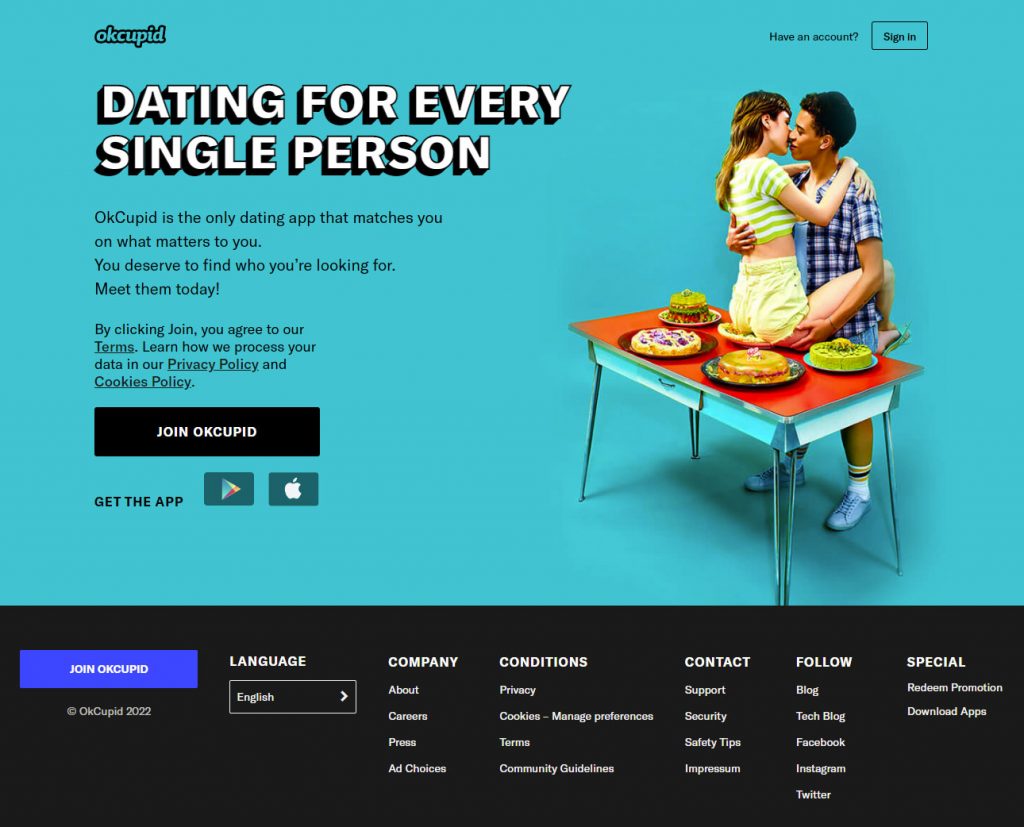 ---
OkCupid App at a Glance
Overall Rating – 3.7/5.0
| | |
| --- | --- |
| Userbase | 50 million + |
| Sign-Up Time | 5-10 minutes |
| Membership Cost | Starting at $19.99/month |
| Payment Required? | No - free trial membership available |
| Avg. User Rating | 4.1/5 |
| Avg. User Age | 18 to 44 years old |
| Gender Ratio | 55% men | 45% women |
| Free Messaging? | Yes |
| Video Chat? | No |
| iOS App? | Yes |
| Android App? | Yes |
| Web Friendly? | Yes |
| Support Options | FAQ page and email contact |
| Launch Date | 2004 |
| Owned By | Match Group, Inc. |
Is OkCupid Right for Me?
For an online dating site that is gearing towards inclusivity, it's honestly hard to think of who OkCupid might not be right for. Perhaps if you're looking for matches above 45, you might find fewer matches than you'd have liked. Otherwise, OkCupid has included all 22 gender and 13 orientation options in your profile to choose from, offering a space for everyone to date freely.
While OkCupid has often been associated as a platform for hook-ups and casual relationships, there have been cases of meaningful relationships developed through the site, even leading to marriages as well. Therefore, no matter what kind of relationship you're looking for or which orientation you're inclined towards, OkCupid is a useful platform to put it all out there for an opportunity to find someone suitable for you.
---
---
What is OkCupid?
OkCupid is one of the top online dating sites in the US with over 50 million users and 100,000 of them online at any point in time. A strong advocate of inclusivity, OkCupid is the first online dating site to include as many as 22 gender and 13 orientation options in the user's profile, widening its audience to include LGBTQ daters.
OkCupid History
OkCupid was launched in 2004 by four students from Harvard university, Chris Coyne, Christian Rudder, Sam Yagan, and Max Krohn. What originally began as a site with personality tests and quizzes quickly evolved into a popular online dating site, after they allowed registered users to contact each other based on their personality derived from these tests. Till today, these personality questionnaires remain a big part of OkCupid and its matching process.
In 2007, OkCupid was named one of the Top 10 dating sites in the world and was subsequently acquired by InterActiveCorp (IAC) that owns Match Group, Inc. in 2011. Since then, the site has made several impactful moves to solidify its place as one of the most popular dating sites in the world, one of which is the introduction of profile options that allow users to indicate their gender identity with 22 selections and sexual orientation with 13 selections.
Even with the large amount of information gathered from the personality questionnaires, OkCupid began to experiment on users to further validate their preferences and determine the factors affecting the matching process, which was revealed in 2014, leading to widespread criticisms. They have also had issues with data protection regulations due to the user information used in their research.
What Makes OkCupid Different?
From its extensive personality questionnaires to the monthly update on the site's dating data on its blog, OkCupid is a data-centric dating site that relies heavily on the personality results for its matching process and analysis. With 5,000 personality questions available for users to not only answer, but also indicate its importance to them, OkCupid is able to generate a compatibility percentage that allows users to make better, informed choices on their matches. Premium users are also able to indicate deal breakers to exclude users who possess such undesirable qualities from your list of recommended matches.
In addition, OkCupid's increasing focus on inclusivity, especially for LGBTQ community, makes them a front-runner among other online dating sites. Its latest update allows all users to indicate their preferred pronouns on their profile page.
Pros and Cons of OkCupid
Pros
Caters to a wide range of genders and orientations
Improves matching algorithm with in-depth personality questions
Generates overall compatibility percentage for users' consideration
Enables premium users to identify deal breakers and exclude users with these deal breakers from matching
Allows users to communicate with each other for free upon matching
Splits potential matches into different stacks, based on recommendation, match percentage, vaccination status, people around the world, online status and location
Cons
Restricts a number of features behind a paywall, for example, you need a premium account to view who liked you, who's new to OkCupid, and the popular profiles on OkCupid
Increases complexity of its interface with its massive list of personality questions and preferences
Lacks video chat functionality
Lacks manual search functions
Risks of data breaches

How Does OkCupid Work? – Features Overview
Primarily, OkCupid matches singles based on their personality and preferences indicated on the site. Rather than manually searching for profiles you may be interested in, OkCupid's matching algorithm filters profiles automatically according to your preferences as well as your compatibility percentage. A separate paid add-on is available for you to boost your profile for 30 minutes to increase your matches.
Your matches are presented individually for you to swipe left or right, according to your interest. Once mutual interest has been established, both parties can start chatting with each other to establish a connection.
Signup process
Signing up for OkCupid takes somewhere between 5 and 10 minutes, due to the need to fill in some personality questions and preferences, so that the site can provide suitable matches for you. Simply follow the process below, and you'll access the free account for a start:
Visit okcupid.com or download the OkCupid app and click on 'Join OkCupid'.
Fill in your email address and choose a password.
Fill in your first name, birthday, country, city, and zip code (for US residents only).
Indicate your gender and the gender you wish to date.
Indicate your desired relationship type (non-monogamy options available) and age range.
Add your profile photos.
Provide a self-summary and answer 15 personality questions for OkCupid to calculate match percentage.
Validate your phone number and email, and you can begin to browse through your matches.
Matchmaking Process
As OkCupid's matching process is very much dependent on the personality and preference selections you've indicated, by answering more questions, it'll increase the accuracy of your compatibility percentage with your matches, allowing the site to present more suitable matches for you.
The site presents these matches in different stacks. Other than the ones recommended by the site, you'll find matches that are highly compatible to your personality and preferences, users who are online, those who are nearby, and even users with a vaccinated profile badge.
You can then indicate your interest by swiping through each profile. Once matched with a user who's also interested in you, both of you will be able to send each other messages and start a conversation – all with a free account!
Unique Features
One of OkCupid's unique features is its extensive list of questions on your personality and preferences that will help to curate your matches and generate a compatibility percentage for your reference. With a premium account, you'll also be able to go further and indicate deal breakers that can filter out users whose personality you won't be able to accept.
OkCupid's wide range of questions is not limited to personality and preferences. Within a user's profile, they are also able to choose from 22 gender selections and 13 orientation options, as well as indicate their preferred pronouns to be addressed.
While not quite a unique feature, the ability for free account holders to chat with other users as long as there's a match is a feature that's very much appreciated, and likely contributed to the site's popularity.

How Much Does OkCupid Cost?
| Membership Type | Length | Monthly Price | Total Cost |
| --- | --- | --- | --- |
| Basic | 1 month | $11.99 | $11.99 |
| Basic | 3 months | $7.99 | $23.97 |
| Basic | 6 months | $5.99 | $35.94 |
| Premium | 1 month | $39.99 | $39.99 |
| Premium | 3 months | $26.66 | $79.98 |
| Premium | 6 months | $19.99 | $119.94 |
| Boost (Add-on) | 1x | N/A | $7.99 |
| Boost (Add-on) | 5x | N/A | $35.95 ($7.19 ea) |
| Boost (Add-on) | 10x | N/A | $59.90 ($5.99 ea) |
Free vs Paid membership
By opening up its chat function for free account holders who have matched to start a conversation with each other, it's entirely possible for users to establish a relationship through the site for free. Other features for a free account include:
Setting up your profile and answering thousands of personality questions to improve your matching algorithm and compatibility percentages.
Uploading up to 10 profile photos.
Browsing through matches based on the site's recommendation, match percentage, vaccination status, overseas location, online status, and proximity.
Liking profiles for a chance to be matched.
Accessing messages upon being matched.
While these free account features may be sufficient to connect with matches, OkCupid's paid features provide a broader range of matches for your consideration and increase your likelihood to find matches. Examples of these premium features include:
Expanded matches based on those who've liked you, new users and popular users on OkCupid.
Viewing all users who liked you and every introduction made to you to leave the choice of matching in your hands.
Sending unlimited likes.
Indicating deal breakers to filter out those with qualities you're unable to accept.
Accessing all answers to the personality questions in other users' profiles.
With a premium account, you'll also enjoy an ad-free experience on the site. For profile boosts, however, you may have to purchase a separate add-on.

What Kind of Relationships is OkCupid For?
With OkCupid's inclusivity, the site is open to all kinds of relationships, be it monogamous or polygamous, straight or LGBTQ, casual or serious. There's still a large percentage of users looking for casual flings, but with the increasing effectiveness of its personality-based matching, there's a growing number of users who are able to develop meaningful relationships through the site.

The Bottom Line – Is OkCupid Worth It?
Thanks to the site's origin, the extensive personality questionnaire and compatibility percentage on the site simply make it easier for individuals to decide if the other party shares the same opinions and ideals as you do, hence improving the quality of the matching process.
As an online dating site that welcomes a wide variety of genders and sexual orientations, matches may sometimes get lost in the mix, but OkCupid's matching algorithm automatically filters your matches based on your personality and preferences, thereby saving you the trouble of searching for your own matches within a substantial pool of users.
As long as you're patient enough to answer these personality questions, the results of your effort, shown through the quality of the matches you find through the site, may prove to be worth it.
---
User Reviews of OkCupid
With an average rating of 4.3/5 on Apple App Store and 3.7/5 on Google Play, OkCupid has generally received favorable reviews for the personality-based matching algorithm and the compatibility percentages that it generates, helping numerous couples find their other halves, with some even leading to marriage. However, it has also received negative reviews for the number of features restricted to free account holders and the inability to have an overview of all your potential matches.

OkCupid vs. the Other Guys
With OkCupid's broad range of users, there are a number of online dating sites that it's in direct competition with. Take a look at the comparison below to see which site you may prefer.
OkCupid vs. Tinder
Both OkCupid and Tinder adopt the carousel swiping method for users to indicate interest. While a majority of users on both platforms tend to be looking for casual relationships, Tinder fully embraces this trend, as OkCupid continues to finetune its personality questions and matching algorithm, so that its users have a real shot at developing a serious, long-term relationship.
OkCupid vs. Zoosk
While both sites largely depend on algorithms to filter matches for users, OkCupid based it on users' personality and preferences, while Zoosk uses its behavioral matching and smart pick technology to determine users' preferences. Also, Zoosk allows users to customize search functions to find their own matches, but OkCupid filters your matches automatically, based on the preferences you've selected and your personality compatibility percentage with each other.
OkCupid vs. eHarmony
If you think OkCupid's personality questions are extensive, eHarmony's compatibility quiz is even more so, as the latter is dedicated to users looking for a long-term, committed relationship. eHarmony also offers a video dating feature that OkCupid doesn't have, allowing matched users to have a video call with each other via the app, before the actual meet-up.

OkCupid FAQ
How long does OkCupid's free account last?
Great news! OkCupid's free account is available for an unlimited period. You can sign up without adding any payment information, so you won't get charged unknowingly.
Is OkCupid available to sign up via web browser?
Yes, it is. OkCupid is not only available for download on Apple App Store and Google Play, you can also sign up via okcupid.com on your web browser.
How reliable are the personality answers on each user's profile?
It's as reliable as the user wants it to be. As these questions help to determine a user's compatibility percentage, each user should answer as truthfully as possible. Also, free account users will have to answer the same question first, before seeing the other party's answer. Premium users, however, are able to see each user's answers, before answering the questions themselves, hence there's a possibility for them to tweak their answers to increase the compatibility percentage with any user they're interested in.
Are there fake accounts on OkCupid?
Unfortunately, it's difficult to eradicate all fake accounts from online dating sites, although the personality questions do help to sieve out most of them. Nevertheless, users of online dating sites should remain vigilant and avoid providing sensitive information to another user.