Do you feel like you're hunting unicorns on apps like OkCupid and eharmony? Sure, they're full of eligible singles, but finding a lesbian or bisexual in the bunch takes a little bit of magic and a lot of good luck.
Instead of searching for love among a sea of heterosexuals, you can enjoy your time in the majority on PinkCupid. Because it was designed specifically for lesbians, bisexuals, and bicurious women, straight people are the unicorns on this dating app.
All those singles just waiting to be snatched up is enticing, but does PinkCupid live up to the hype? Let's dig in, so you'll know if creating an account is the gateway to finding love.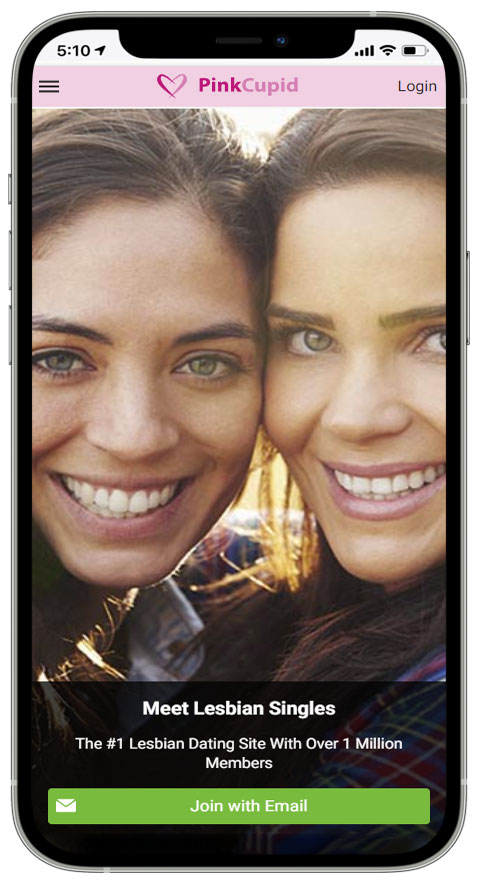 ---
PinkCupid App at a Glance

Overall Rating – 4.0/5.0
| | |
| --- | --- |
| Userbase | 1 million+ |
| Sign-Up Time | 1 minute |
| Membership Cost | Starting at $9.48 |
| Payment Required? | No - free trial membership available |
| Avg. User Rating | 3.6/5.0 |
| Avg. User Age | 18 to 50+ years old |
| Gender Ratio | 100% women |
| Free Messaging? | Yes |
| Video Chat? | No |
| iOS App? | Yes |
| Android App? | Yes |
| Web Friendly? | Yes |
| Support Options | Online, telephone, fax, and email |
| Launch Date | 2006 |
| Owned By | Dating Group |
Is PinkCupid Right for me?
PinkCupid might not have the bells and whistles you'll find on other dating apps, but it doesn't really need them. Because it focuses on personality over first impressions, it helps people form real connections without the extras.
And while this is a niche dating site, it's still diverse. You'll find singles of all backgrounds and age groups here, along with people looking for everything from casual flings to long-term relationships.
Because PinkCupid offers free memberships, there's no risk when trying it, and you just might find that special someone. Give it a go and see if your match is out there.
---
---
What is PinkCupid?
PinkCupid is a niche dating site created for lesbians, bisexuals, and bicurious singles. It started as part of Cupid Media's network of dating sites before Dating Group acquired it in 2021. While it's not rich with features, it has all the basics you need to find a relationship or casual date.
Reviewing PinkCupid's History
When Cupid Media launched in 1999, it had a clear vision: to provide niche dating options for those often delegated to the fringes. It started with AsianDating.com and followed it up with other apps before finally launching PinkCupid in 2006.
PinkCupid and the other sites performed so well that Dating Group acquired Cupid Media in 2021. Dating Group also focuses on niche apps, making it an acquisition made in dating heaven.
With so many years under its belt, you might expect PinkCupid to have a skeleton or two in the closet, but that isn't the case. Now, Dating Group has faced some serious backlash because of its app, AnastasiaDate. Lots of people think it's a scam, but that scandal's so far away from PinkCupid that you won't have to worry about the stink transferring to you when using the app.
What Makes PinkCupid Different?
At first glance, PinkCupid doesn't look all that different from other dating apps, except that it's filled with lesbians and bisexuals instead of the usual suspects. Still, some key features separate it from the crowd.
First, it's ahead of the pack when it comes to free accounts. Have you noticed that most dating apps only let free users look from a distance without taking action? Your free account will grant you access to advanced search filters, and you can communicate with paid members.
As far as those matches go, PinkCupid's advanced matching algorithm is in a league of its own. Paid users have access to reverse and mutual matches, making finding love as easy as checking the mail. PinkCupid also offers profile verification, so it's a safe place for singles to meet. While you can use the app without verifying your identity, this feature lets you weed out those men that creep up from time to time. Profile not verified? Move on because Joline might actually be Joe.
Pros and Cons of PinkCupid
Pros
Fast sign-up and Profile verification option
Singles looking for everything from casual hookups to long-term relationships
Advanced matching algorithm for paid members
Translation feature for Diamond members interested in international dating
Cons
Lack of video messaging
The free account doesn't allow access to many of the features
Men infiltrate the site from time to time
More expensive than other apps unless you pay by the year

How Does PinkCupid Work? – Features Overview
While pictures populate profiles on PinkCupid, the app focuses on personality traits and long-term goals instead of eye-catching dimples and perfect hair. You can use the advanced search tool to find people you're interested in or dive right into your algorithm-selected matches. Plus, you can unlock the advanced matching algorithm with a paid membership for more precise matching.
Beyond the algorithm, it works much like other dating apps. You can like profiles, send messages, and chat with singles.
PinkCupid Signup Process
If you like to move fast when dating, PinkCupid surely won't slow you down. You can sign up for an account faster than you can load a U-Haul, so you don't have to let off the gas when looking for love.
But here's the thing…you don't want to stick to browsing. You want to make connections. That means you'll need to spend a little bit more time completing a full profile.
Did you just groan at the thought of spending hours filling out a profile? That might be the natural reaction, but this is a groan-fee process. You can fill out most of the profile by checking boxes, so you'll reach the finish line in five or ten minutes. And everyone's a winner after crossing the line since the information you provide will feed the algorithm so it can send matches your way.
Matchmaking Process
PinkCupid uses a basic matchmaking algorithm for free and Gold accounts. You can navigate to the matches section of your profile to see a list of women that share things in common with you.
When you open a person's profile, you'll see some basic information highlighted in green and pink. The green means you match with the person in that category, while pink means you differ. If you see a lot of green down the page, you know that person is a solid match, so you can reach out to take the next step.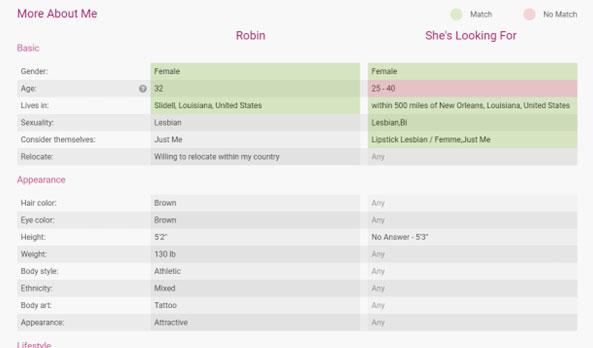 Do you want the site to put a little more effort into matchmaking for you? You can turn the app into an instant matchmaker by upgrading to a Platinum or Diamond account. Then, you'll have access to advanced matchmaking features, including mutual and reverse matches.
Mutual matches provide one of the best opportunities for finding love. PinkCupid analyzes all the data, and when it finds two people that match each other's criteria, it creates a mutual match. Basically, you tell the app what you want, and it'll find it for you.
Reverse matches are a bit different. In this instance, you'll match their criteria, but they might not match yours. This might not be as solid as a mutual match, but you'll be amazed by who you can meet when you change your criteria a bit.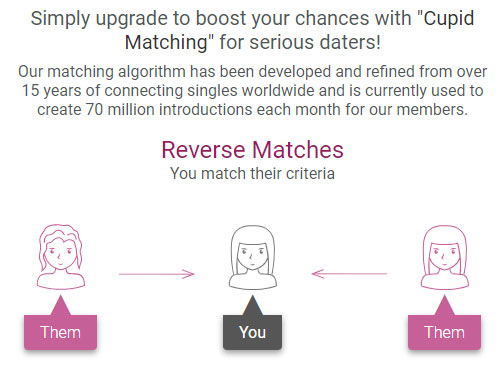 Unique Features on the PinkCupid Dating App
PinkCupid is a pretty straightforward dating app, much like what you'll find from other companies. Still, there are a few unique features that set it apart.
CupidTags
PinkCupid might be focused on personality, but that doesn't mean you have to write an essay to make a match. Instead, you can add CupidTags to your profile to let people know more about your personality and interests. Oh, and you can click on tags to search for profiles, too, so you can find people who are interested in video games or advertise themselves as drama-free.
Instant Notifications that Go Beyond Matches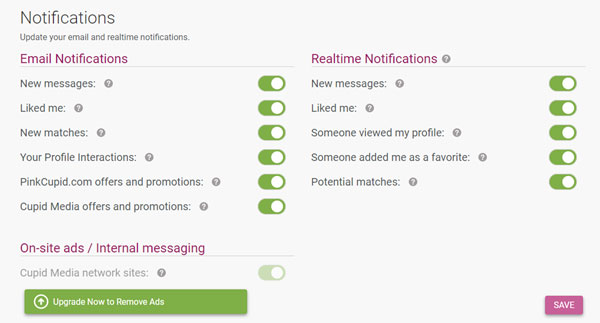 You can also get instant notifications if the app finds potential matches or if someone adds you to their favorites. Oh, and the app will even send a notification if someone views your profile. Then, you can react instantly instead of trying to reignite a spark a few days or weeks later.
Anonymous Browsing
If you have a paying membership, you can hide your profile while browsing anonymously. That's a great option if you want to go on the prowl instead of letting messages pile up in your inbox.
Profile Verifications

You want to pluck someone out of the dating pool, and you'd much prefer to reel in a real person instead of a catfish. Thanks to the voluntary profile verification option, you're less likely to connect with a scammer on PinkCupid. You can get verified to let others know you're the real deal and then connect with people with verified profiles.

Free vs Paid Memberships
You can dive right in and start finding matches on PinkCupid with a free account. These features include:
Basic matching
Ability to like profiles
Power to communicate with paying members
That's a great starting point, but you can unlock even more features with a paid membership. If you go for the Gold, you can:
Communicate with all members
Use live chat with instant messenger
Send and receive messages
Browse anonymously
And you'll do all that without intrusive ads.
What if this was a really good month, and you want to put those extra dollars to use? The Platinum membership provides even more. If you upgrade, you'll:
Rank above other members
Double your profile space
Get better matches due to the advanced matching algorithm
Be able to translate messages into your language
Finally, you can go all out with a Diamond membership. You'll get everything available in the previous tiers, along with some extras. Upgrade your account to unlock:
Priority matching
Ability to rank above all members
Profile highlighting
Premium customer service
Best Free Feature: The freedom to communicate with paying members stands out on this app. Most dating apps put a muzzle on those who don't buy memberships, so it's nice to have conversations without putting down the money.
Best Paid Feature: Finding a date is easy as could be with PinkCupid's advanced matching algorithm. Available with Platinum and Gold memberships, the reverse and mutual matches can level up your dating game.

How Much Does PinkCupid Cost?
| Membership Type | Length | Total Price | Price Per Month |
| --- | --- | --- | --- |
| Gold | 1 Month | $24.98 | $24.98 |
| Gold | 3 Months | $49.98 | $16.66 |
| Gold | 12 months | $99.96 | $8.33 |
| Platinum | 1 Month | $29.98 | $29.98 |
| Platinum | 3 Months | $60.00 | $20.00 |
| Platinum | 12 months | $120.00 | $10.00 |

What Kind of Relationships is PinkCupid For?
PinkCupid is kind of like the local lesbian bar, minus the beer goggles. Some women are looking for long-term relationships, while others want something casual. And then some are seeking out friendships with the hopes of those relationships turning into love connections.
With such an extensive assortment of users and goals, it's really a good fit for any single lesbian looking for a match. "Single" is the operative word here. While you can choose "Other" or "Prefer Not to Say" under marital status, there isn't an option for married women.

The Bottom Line – Is PinkCupid Worth It?
Numerous women have found long-term love on PinkCupid. There's something about being on an app full of women looking for women that will give you a little extra swagger when making connections. The active user base is smaller than some lesbian dating apps, but it makes up for the lack of quantity with quality. Also, you can sign up for free, so you won't risk a thing by checking it out
---
User Reviews of PinkCupid
User reviews are all over the place with PinkCupid. First, up can browse through some positive testimonials on PinkCupid's website.
Unfortunately, others haven't been quite as happy about their experiences. Some people complain about the glitchy app, while others point out that men sneak in and contaminate the dating pool.
Also, some people have lodged complaints about the lack of active users. Even with over a million profiles, people don't always actively engage on the app. At any given time, you might find around 200 users online, and that's from around the globe.
While that's a big difference from other dating apps, PinkCupid is far from dead. When you sort the results by the time last active, you'll find lots of women who were recently on the app. It's kind of like going to a bar to find a date. You can go to the same bar every day, and sometimes, it'll be dead, and other times, it'll be hopping. But unlike a bar, you can reach out to people who aren't present without being creepy.

PinkCupid vs Other LGBTQ+ Dating Apps
Are you already thinking of cheating on PinkCupid? All's fair in dating and relationships, so see how it stacks up against other popular bisexual and lesbian dating apps.
PinkCupid vs. Thurst
While PinkCupid is all about the ladies, Thurst is open to all queer-identifying people. Created by a Black developer, people of color make up a significant portion of the customer base. The app is known for having robust privacy features that create a safe space for people who need to keep their sexuality under wraps.
Is Thurst better than PinkCupid? No
PinkCupid vs. HER
With more than ten million users, the pond is stocked with potential matches on HER. While it started as a lesbian app, it's now open to bisexuals, pansexuals, and other queer-identifying women. It does a great job of building a community, even helping members stay up-to-date on events that could lead to love.
Is HER better than PinkCupid? Yes.
PinkCupid vs. Lex
Are you tired of the photo-first aspect of online dating? You can get back to basics with Lex, a text-centered lesbian dating app. While the weekly personal ad format is ideal for old-school users, the concept can be lost on people who are used to swiping and liking profile pics.Is Lex Better than PinkCupid? No

PinkCupid FAQ
How much is a PinkCupid membership?
You can open an account for free on PinkCupid. If you decide to pay to unlock more features, you'll choose from the Gold, Platinum, and Diamond plans. The Gold is the least expensive and includes premium features.
How do you pay for membership?
You can pay via credit card, debit card, Google Pay, paysafecard, bank transfer, or Skrill. Once you pay, you have the option to auto-renew your membership if you wish.
Can you meet singles from around the world?
PinkCupid has members from around the world, and it facilitates connections by translating messages into your native language. You have to become a Diamond member to unlock this feature.
How many matches will you get?
The number of matches is based on the app's algorithm. Still, you can expect to be matched with hundreds of singles.