It's easy to feel alone and isolated from the dating scene if you have herpes or any other STD. But it doesn't need to be that way!
With more than 1 million people getting infected with an STD every day, you are anything but alone. And yet a long-term relationship can seem daunting or impossible.
Dating while having an STD should be daunting no more. Positive Singles claims to be the #1 dating app for people with herpes and STDs with more than 2 million registered members.
Does that mean that it's the best? We wanted to find out! Through thorough research, we have for you a detailed, honest review of Positive Singles which will tell you if it's the app for you.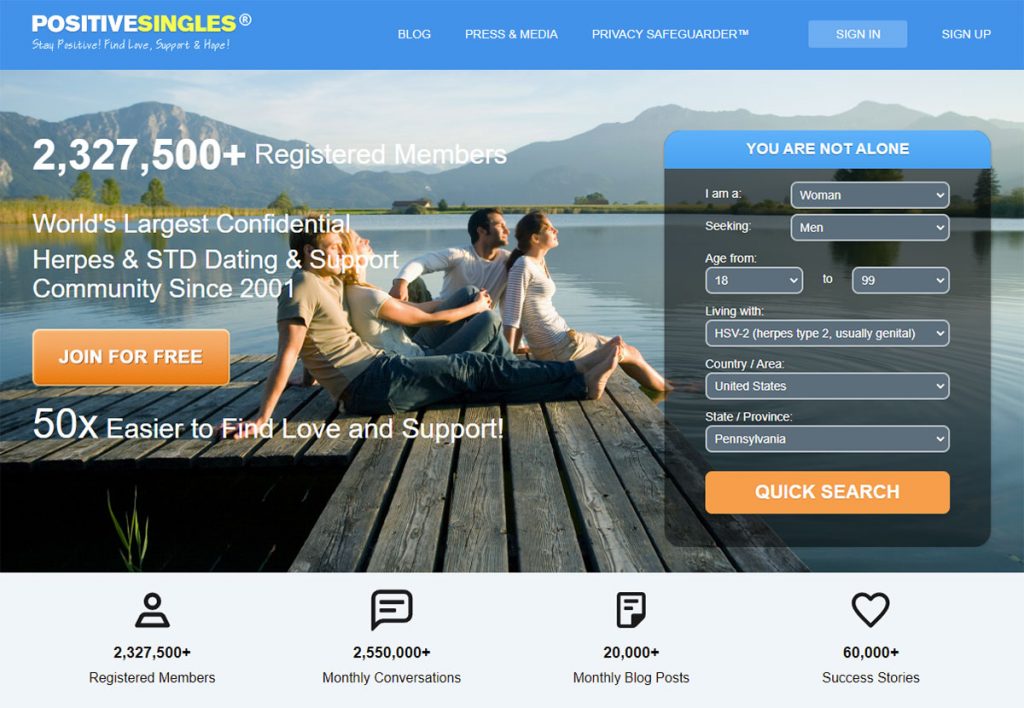 ---
Positive Singles App at a Glance
Overall Rating – 3.6/5.0
| | |
| --- | --- |
| Userbase | 2.3 million + |
| Sign-Up Time | 5 to 15 minutes |
| Membership Cost | Starting at $15.95/month |
| Payment Required? | No - free trial membership available |
| Avg. User Rating | 3.2/5.0 |
| Avg. User Age | 25 to 35 (but you can find people from 18 to 55+) |
| Gender Ratio | 70% men | 30% women |
| Free Messaging? | No |
| Video Chat? | No |
| iOS App? | Yes |
| Android App? | Yes |
| Web Friendly? | Yes |
| Support Options | FAQ, e-mail, postal mail |
| Launch Date | 2001 |
| Owned By | Privately owned and represented by Janelle Marie |
Is Positive Singles Right for Me?
It really depends on what you're looking for.
If you are looking for a community to belong to, companionship, affection, and long-term or serious relationships, then Positive Singles is for you. If you are looking for casual relationships or simply getting to know people without strings attached, then Positive Singles is unlikely to be a good fit for you.
---
---
What is Positive Singles?
Positive Singles is an online dating company seeking to bring together people loving with herpes, HIV, and other STDs.
The app promises 100% confidentiality in handling your sensitive information and has a range of protections in place to make you feel comfortable browsing profiles and meeting new people.
Positive Singles History
Positive Singles was founded in 2001 and is based in Vaughan, Ontario. It is readily available in North America and Europe. In the two decades that followed, Positive Singles rose to the top, acquiring a staggering 2,3 million users.
The run hasn't been entirely smooth, however. In 2011 a lawsuit was filed against Positive Singles, accusing the company of sharing photos and profile data with other dating apps. Positive Singles lost the case in 2014. More class action or singular lawsuits have been filed since, all with the similar complaints. In 2020 Positive Singles enhanced its privacy protections for its users.
What Makes Positive Singles Different?
What has distinguished Positive Singles is its niche audience: people living with HIV, herpes, or other STDs often feel isolated or excluded from the dating game.
Positive Singles changes all that by creating a safe space where people with STDs can meet, chat, and explore whether they have a future together.
We found that the app is geared to keeping you protected and active. You don't need to disclose sensitive information about who you are until you are ready to meet up with your perfect match. The Positive Singles community also is supportive. People in it share information on STDs and offer mutual support, but also branch out to more topics and interactions.
Pros and Cons of Positive Singles
Pros
Several layers of protection of privacy
Unverified accounts get suspended in 48 hours
Must have an STD to sign up
Blogging by members
Cons
The site's loading time is long
Inactive members are suspended
Free Membership is fairly limited
Users have complained of fake profiles

How Does Positive Singles Work? – Features Overview
Even from its landing page, Positive Singles makes it clear who it is for, and what information you will be required to enter to sign up.
The entire process, however, is pleasant, encouraging, and swift, so we're diving into it right away.
Signup Process
The signup process for Positive Singles is pretty straightforward and quick- if you already know what you want to say in some of its stages. That said, it's also quite elegant in how it immediately gets all the vital questions out of the way and then lets you have fun.
You start off giving your basic info, like name, e-mail, age, gender, and who you're looking for. Then you select what STD you are living with together with demographics such as your ethnicity and height. There's a quirky headline you should think up, like a motto or something that can express who you are or what you want in a nutshell.
Finally, you get your standard boxes to write out a few things about yourself and then about who you are searching for.
After all, you're there to get some matchmaking done!
Matchmaking Process
Positive Singles has a pretty sophisticated search function. If you have a paid membership, you can use a wide range of different filters, from education level to location or even zip code, to find possible matches.
There are also a lot of people that do use the app so you have a lot of chances to find quality matches. Even with the free membership, you can like and draw the attention of other members. If a paying member sends you a message, you can reply and have a chat.
Unique Features

Positive Singles' best and unique feature by far is its support network.
Not only do you have a lot of users adding to the community through blog posts and the like, but the dating site's own customer service and support is geared to helping people cope with STDs. Positive Singles' Resource Center is full of references and links to even more support and advice on all the issues that can stem from them.
There is also a unique "swiping" system, called "Let's Meet" where you swipe right to like someone. If they also do it, then you have a mutual match. Together with the "First Date Ideas" feature, where users list activities and context for your ideal first date, you can definitely get a quality match.

Free vs. Paid Memberships
Signing up and becoming a member on Positive Singles is free.
You can create your profile for free and do a basic search for free. However, most of the features that makes Positive Singles unique require a paid membership.
How does that look, in comparison?
Let's have a look at the following table:
| | | |
| --- | --- | --- |
| Feature | Free PS Membership | Paid PS Membership |
| Create your profile | Yes | Yes |
| Answer messages | Yes | Yes |
| Basic search | Yes | Yes |
| Advanced search | No | Yes |
| Wink | Yes | Yes |
| Initiate chat | No | Yes |
| Quick exit | No | Yes |
| Access to counseling | No | Yes |
| Invisible mode | No | Yes |
Best Free Feature: Being able to create a full profile and upload a full set of photos.
Best Paid Feature: There are many that compete for first place, but we think the advanced search and the access to an STD counselor are by far the best.

How Much Does Positive Singles Cost?
| Membership Type | Length | Monthly Price | Total Cost |
| --- | --- | --- | --- |
| Premium | 1 month | $29.95 | $29.95 |
| Premium | 3 months | $19.95 | $59.85 |
| Premium | 6 months | $15.95 | $95.70 |

What Kind of Relationships is Positive Singles For?
Positive Singles is designed for people looking for companionship and long-lasting relationships. If you are a person living with STDs and looking for commitment or simply a serious chance at it, this is your dating app.

The Bottom Line – Is Positive Singles Worth It?
We think Positive Singles is definitely worth it if you're looking for a safe space to explore and find a serious, long-lasting relationship.
If you want a place where you don't ever need to have a difficult conversation about yourself, if you don't want to ask or answer questions in a difficult awkward context, then Positive Singles is a no-brainer.
But don't just take our word for it. Try out Positive Singles for yourself! We've included a free trial link below that will get you set up and accustomed with the app's interface. You might even get a worthy match from the get-go!
So, take the plunge and try Positive Singles out today!
---
User Reviews of Positive Singles
In general, users are satisfied with the Positive Singles online dating app. Scores given vary from 2.5/5 stars to 5/5 stars.
Users that have rated the app with a high score mention how user-friendly the platform is. They are also happy with the feeling of having a safe space to explore and meet new people. They are also satisfied with there being many users.
Users unhappy with the site mention that there are a lot of fake profiles and that the free trial is rather restrictive. There were also some complaints that the servers don't work during certain times in the day, or the site generally is slow to respond.
On the whole, users tend to agree that Positive Singles is worth a try!

Positive Singles vs Other STD Dating Apps
We feel it's only fair to compare Positive Singles to other online dating apps that seek to offer a similar service, rather than sites that don't. So, here's what we found!
Positive Singles vs. Meet People With Herpes (MPWH)
Positive Singles seems to be more inclusive than WPWH thanks to being open to people with more STDs than just herpes. Positive Singles' interface allows people to list more STDs, whereas in MPWH they will need to disclose on their own, which may be a harder experience.
The free versions of Positive Singles and MPWH are pretty compatible in what they allow you to do, however (you can't initiate chat or send messages).
Positive Singles vs. HSV Singles
Again, HSV Singles seems to be more focused on single people with herpes looking for love and companionship than people with STDs in general like Positive Singles. The HSV Singles free trial version is compatible with that of Positive Singles, since it doesn't allow you to send messages or initiate chat.
Positive Singles vs Meetpositives
Like Positive Singles, Meetpositives is an inclusive community for people with all kinds of STDs. It is quite new and offers a 3-month free premium membership for its first 10,000 subscribers. It doesn't quite have a free trial version available before this offer expires and its user base isn't as extensive as Positive Singles.
Positive Singles vs. H-Date
Unlike Positive Singles, H-Date is completely free to use. H-Date focuses on people with herpes rather than people with other STDs. Because it's free to use, it has a large user base but not as large as the one in Positive Singles. It also won't be helpful if you want to avoid awkward conversations about other STDs.
Positive Singles vs. Pos Date
This dating app focuses only on people with HIV seeking to find love, rather than being inclusive for all STDs like Positive Singles. Pos Date has a free trial that allows you to make a full profile, like in Positive Singles. You can't initiate chat or messages but you can send "flirts", pretty much like in Positive Singles. However, the site is focused on HIV positive people only.

Positive Singles App FAQ
Is Positive Singles a dating app for people with a variety of STDs?
Yes! Positive Singles is geared to helping you get the difficult questions answered before you even say hello.
How many women are on Positive Singles?
About 30% of the Positive Singles users are ladies.
How many men are on Positive Singles?
About 70% of the Positive Singles users are gentlemen.
Can I chat on Positive Singles without paying?
Only if a paying member messages you first.
Can I make a full profile for free?
Yes! The free trial allows you to create a full profile, including photos
Can I search for people for free?
Yes! You can even let them know you're interested by sending a "wink". But for detailed searches, you need to have a paid membership.
Can I find a match for free?
With a bit of patience and luck, yes! It's a lot more efficient if you have a paid membership, but people will find your profile with a free trial, too.