ThatCupid has a pretty small user base compared to most modern dating apps, but it has a fierce following. In fact, it has one of the highest user ratings of any niche dating site we've seen.
That made us wonder, what does ThaiCupid have to offer that makes people love it so much?
To answer that question, we went straight to the source and tried out ThaiCupid for ourselves. Today, we are looking at everything we learned during our research so you can decide if this dating app is right for you!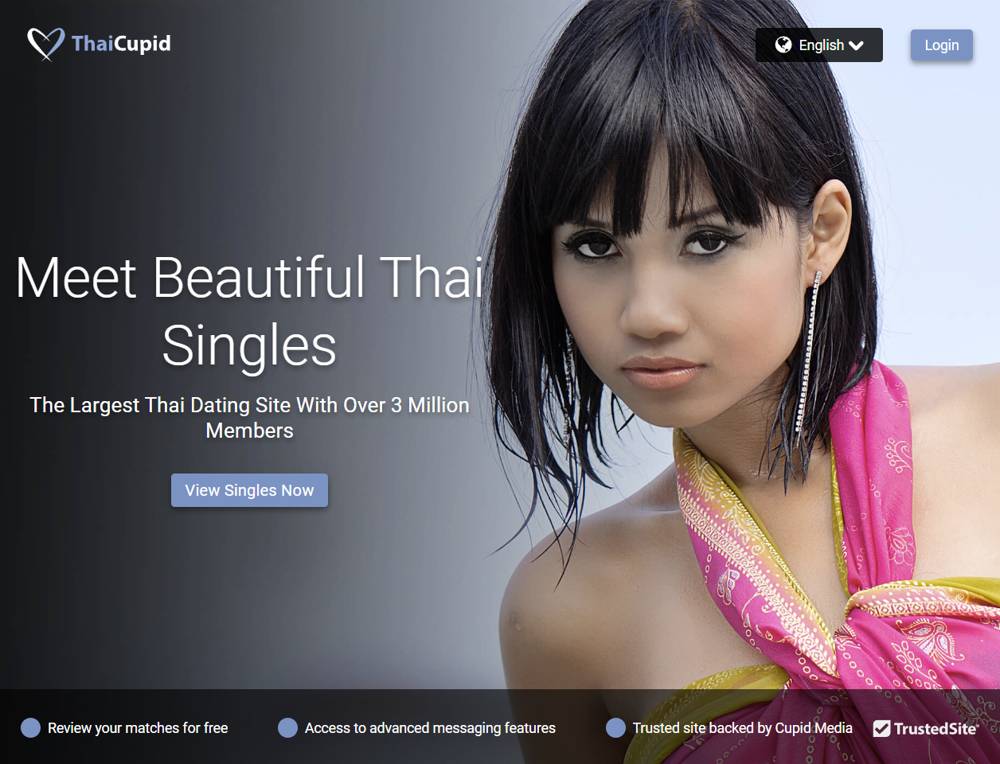 ---
ThaiCupid App at a Glance

Overall Rating – 4.0/5.0
| | |
| --- | --- |
| Userbase | 150,000 + |
| Sign-Up Time | Less than 1 minute |
| Membership Cost | Premium memberships start at $11.67/month |
| Payment Required? | No, free membership available |
| Avg. User Rating | 4/5 |
| Avg. User Age | 18 to 35 |
| Gender Ratio | 68% men | 32% women |
| Free Messaging? | Yes |
| Video Chat? | Yes |
| iOS App? | Yes |
| Android App? | Yes |
| Web Friendly? | Yes |
| Support Options | FAQ, Email, Phone, and Standard Mail |
| Launch Date | 2002 |
| Owned By | Cupid Media |
Is ThaiCupid Right for Me?
ThaiCupid may have a high user rating, but it isn't right for everyone. The purpose of that app is to connect singles from all over the world with the general intention to relocate to new parts of the world. So, if you are looking for a local dating experience, ThaiCupid isn't the best app for you.
However, if you are trying to expand your dating search and are open to meeting a foreign partner, ThaiCupid is a fun option!
The platform is inexpensive to try and the premium memberships come with a lot of interesting features. Read on for more details about what ThaiCupid has to offer.
---
---
What is ThaiCupid?
ThaiCupid is a global dating site that focuses on matching Thai singles from around the world. If you are interested in international dating, this may be a good site to begin your journey. Let's take a look at some of the details that make ThaiCupid so unique.
ThaiCupid History
ThaiCupid was launched by the popular dating company Cupid Media, which has over 60 million users across its multiple international/niche dating platforms. Though Cupid Media began in 2000, ThaiCupid wasn't launched until 2002. It was one of the first additions to a selection of dating apps that now spans over 33 platforms.
What Makes ThaiCupid Different?
ThaiCupid is strikingly similar to other platforms under the Cupid Media umbrella, as they use a well-loved formula in creating their niche dating apps. So, the real question isn't what makes ThaiCupid different, but what makes all Cupid Media sites stand out.
First, these sites focus heavily on making international matching easy. They do this by letting users search for singles beyond their local GPS location and offering automatic translation services to their premium users.
Cupid Media says they believe love shouldn't be restricted to those in your neighborhood, and ThaiCupid is one example of a platform that lets you break your local dating chains.
Pros and Cons of ThaiCupid
Pros
ThaiCupid allows users to sign up and test out the platform completely free.
There is no limit to how long users can utilize their free membership.
There are premium features that help users communicate across language barriers.
You don't have to be from Thailand to join the platform.
Cons
Like most international dating sites, there are a lot of bot accounts trying to pull users into purchasing advanced memberships.
The translations are not always accurate when it comes to conversational versions of languages.
Due to the nature of international dating, the platform is not good for people seeking casual romance.

How Does ThaiCupid Work? – Features Overview
ThaiCupid, like other Cupid Media sites, has an interesting approach to paid versus free accounts and has an intense profile creation process. All this can make the platform seem more or less appealing to users depending on the goals of their dating journey.
Before you take the time to make it through the sign-up procedure for ThaiCupid, take a look through some of the key features of the site.
Signup process
The signup process on ThaiCupid is very fast. All you need is to add a first name, gender, age, email, and password. The entire form can be finished in as little as 30 seconds! However, the profile creation process is where things get a bit lengthy.
First, you will need to upload some profile photos to increase the likelihood that members will reach out to your account. This isn't required, but according to ThaiCupid can lead to 10x more attention from other users.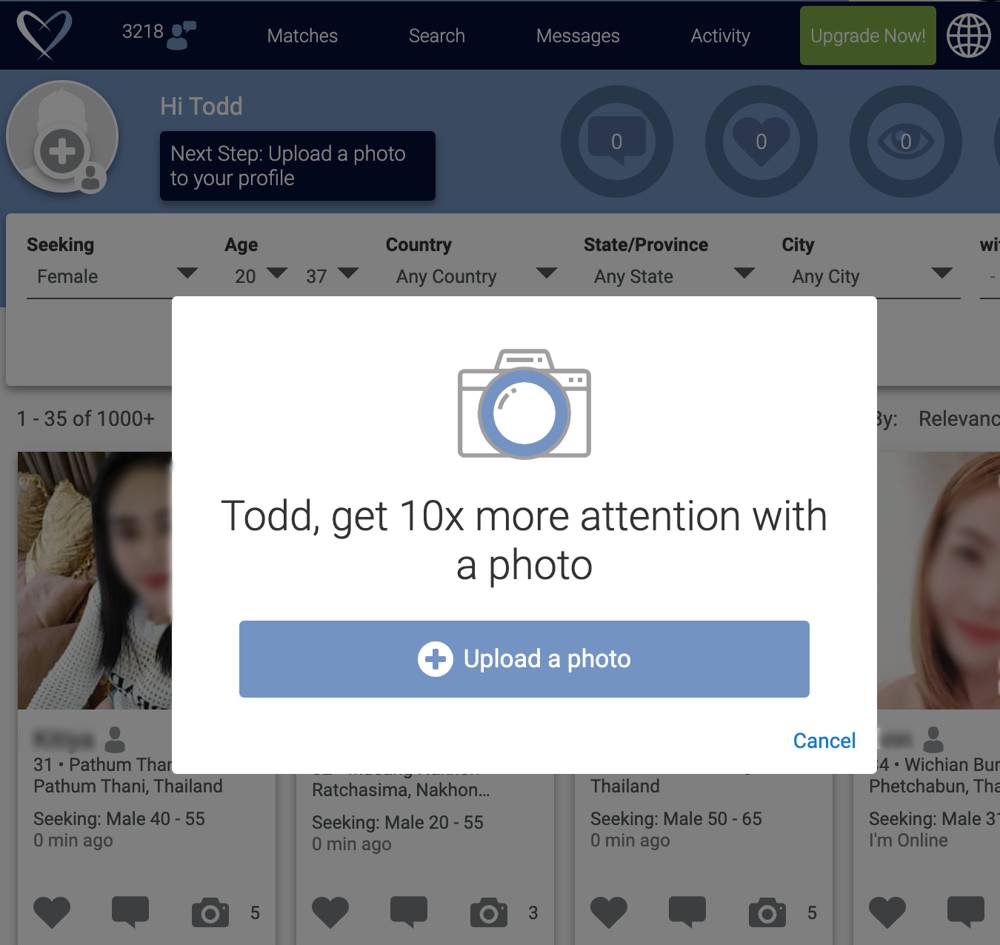 In addition to profile photos, there is a lot of additional information to input into your account. The basic profile will ask for your full description and takes a few minutes to complete. Then you will need to navigate the account bar to fill in information about your match criteria, interests, and personality, and add cupid tags to your profile.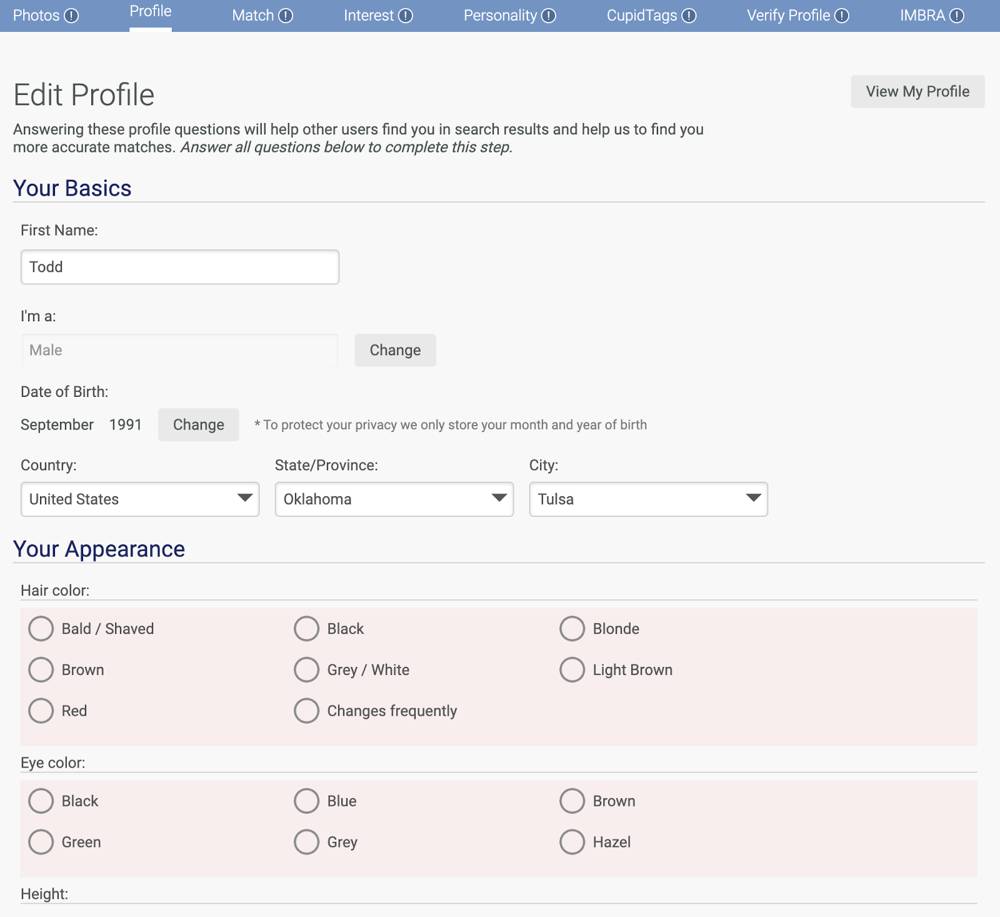 Overall, the process can take up to half an hour to complete. It is optional but crucial to successfully using the ThaiCupid platform.
Matchmaking Process
Users will see profiles that match their search criteria and preferences. The site allows users to enter a ton of information about themselves and their dating goals, which makes it easier to find good matches.
Some of the criteria users can use to narrow down their matches include:
Dating gender preference
Dating age preference
Location preference
Match's hair color, length, and type
Match's eye color
Match's height, weight, BMI, and body type
Match's tattoos, piercings, etc.
Match's hobbies
Match's smoking preferences
Match's drinking preferences
Match's family situation (housing, children, employment, etc.)
Match's annual income
Match's willingness to relocate
Match's culture and race
Match's specific bust, hips, and waist measurements
Unique Features
If you have ever used a Cupid Media dating site before, you are likely familiar with the features available on ThaiCupid. If not, you should know there are a few unique features that make these sites really stand out. Features like Auto Translate and The Advanced Matching Algorithm.
Here is a better look at how these two features work:
Auto Translate
ThaiCupid has singles from all over the world including the US, Australia, UK, and Thailand. Users match with singles globally, which means language barriers can sometimes be an issue. Luckily, Platinum members get access to the ThaiCupid auto-translate feature.
This translates any messages in a foreign language into the user's spoken language. It's not just Thai and English! ThaiCupid has dozens of languages that it can translate!
Advanced Matching Algorithm
The Advanced Matching Algorithm is reserved for platinum ThaiCupid members and uses active learning to help determine the best matches for each user. This means that the app notices which users you like and dislike to help create a pool of the best possible matches. The system can, supposedly, lead to more connections and real-world meetups.

Free vs. Paid Memberships
There are a lot of amenities on ThaiCupid, but they aren't all available without a paid membership. Here is a quick guide to the features available for free members vs. paid members:
Free ThaiCupid Features:
Basic Matching
Show Interest
Respond to Paying Members
ThaiCupid Gold Features:
All Standard Features
Communicate With All Members
Live Chat on Instant Messenger
Send and Receive Messages
Ad-Free Experience
Browse Anonymously
ThaiCupid Platinum Features:
All ThaiCupid Gold Features
Rank Above Other Members
Double Your Profile Space
VIP Profile Highlighting
Exclusive Search Features
Advanced Matching Algorithm
AutoTranslate Messages

How Much Does ThaiCupid Cost?
| Membership Type | Membership Length | Monthly Price | Total Cost |
| --- | --- | --- | --- |
| Diamond | 1 Week | $184.00 | $46.00 |
| Diamond | 1 Month | $91.98 | $91.98 |
| Diamond | 3 Months | $59.99 | $179.97 |
| Diamond | 12 Months | $30.00 | $359.98 |
| Platinum | 1 Week | $92.00 | $23.00 |
| Platinum | 1 Month | $45.99 | $45.99 |
| Platinum | 3 Months | $29.99 | $89.98 |
| Platinum | 12 Months | $15.00 | $179.99 |
| Gold | 1 Week | $79.48 | $19.87 |
| Gold | 1 Month | $39.74 | $39.74 |
| Gold | 3 Months | $25.83 | $77.48 |
| Gold | 12 Months | $12.92 | $154.99 |

What Kind of Relationships is ThaiCupid For?
ThaiCupid, being a Global dating site, is meant for those who are seeking a serious commitment. Often, users are looking for a partner from across the globe who is willing to relocate and marry soon after. This makes the site useful for some dating niches as well like Sugar Dating.
If you are new to digital dating or are looking for something local and casual, ThaiCupid is not the right platform for your dating needs.

The Bottom Line – Is ThaiCupid Worth It?
It is completely free to sign up for ThaiCupid, so if you want to scope out an international dating site, ThaiCupid is super worth it! However, there are a few details about the platform that might make users want to skip on the premium membership.
There are far fewer users on ThaiCupid than on a mainstream dating site like eHarmony or OkCupid.
The platform does seem to have some bot accounts that are used to draw in users.
The most premium feature (auto-translate) has been reported as not being completely accurate.
For those reasons, we think users should consider the entire picture before deciding to spend money on a premium ThaiCupid membership.
---
User Reviews of ThaiCupid
If you look up the reviews for ThaiCupid you may be shocked at how high the user ratings are. Now, it is important to point out that there are very few public reviews of the app, so a high or low rating will affect a score much more heavily.
For instance, on iOS ThaiCupid only has six 5-star reviews, but those six reviews are out of ten total.
This leaves them with a high score despite the lower-score reviews on the site. To help you get a clear view of how users really feel about the site, we've looked through reviews on multiple platforms to bring you the top three complaints and top three compliments for ThaiCupid.
Top 3 Complaints
After a short time browsing the site the company will lock the account and ask for a passport photo to reopen. This made many users feel uncomfortable.
You will receive dozens of messages when you sign up but once you pay to read them all, they disappear or are from obvious bots.
The Android app is buggy and links take you to the wrong part of the platform.
Top 3 Compliments
There are a lot of really interesting people available to meet on the app.
The search function and profile tags make it easy to find perfect matches.
The platform is legitimately fun to use.

ThaiCupid vs. The Other Guys
ThaiCupid vs. eHarmony
The main difference between ThaiCupid and eHarmony is that eHarmony is a standard dating site, not a niche one. This means eHarmony has millions of users, has users of all ethnic backgrounds, and utilizes more mainstream matching measures. While this may lead to better matching overall, it doesn't cater to those who are specifically seeking a Global dating experience.
ThaiCupid vs. OkCupid
Many people think OkCupid is owned by the same company as Thai Cupid, but that's not the case. Thai Cupid is owned by Cupid Media while OkCupid is owned by Match Group. This means the platforms are completely different visually, in price, and structure. OkCupid is a local dating option and lets users take a serious or casual approach to dating.
ThaiCupid vs. VietVibe
When it comes to international dating two companies know what they are doing – Cupid Media and World Singles Network. Thai Cupid is a Cupid Media site that offers auto-translation, extensive search settings, and free and premium memberships. VietVibe is a World Singles Network site with all the same features available! The big difference is that World Singles Network sites come with the ability to automatically search singles from all the other niche platforms owned by the parent company.

ThaiCupid FAQ
Is ThaiCupid a Mail Order Bride Service?
No. While many Global dating sites out there are just a cover for mail-order-bride services, Thai Cupid is not one of them.
Is ThaiCupid Legal to Use?
Yes! ThaiCupid is just a regular dating site that lets users meet singles no matter where they are located in the world. It is completely legal to use!
Is ThaiCupid a Scam?
Some users have complained about fake accounts on ThaiCupid, but our research hasn't shown that the website is a scam. Still, we always recommend that users be careful when communicating with people online and do their best to not share any private or financial information with their matches.
Do I have to be Thai to sign up for ThaiCupid?
No. Users on ThaiCupid can sign up from anywhere in the world no matter their race or ethnicity.