Is The League the most exclusive dating app on the market?
If not, it's pretty close!
This app is all about matching elite singles and creating a space where passion and compatibility meet.
It seems online dating always leans in two directions. Either sites are too focused on the fast track to sex or they are so obsessed with creating marriages that they feel old and stuffy. It's like trying to find a date in a retirement home!
The League breaks away from these standards by providing an exclusive space where there is a focus on long-term companionship and also a sleek, modern user interface.
The only downside, it can be difficult to join the fun!
If you are considering applying to The League, do yourself a favor and check out this review. That way, you'll know exactly what you're getting into!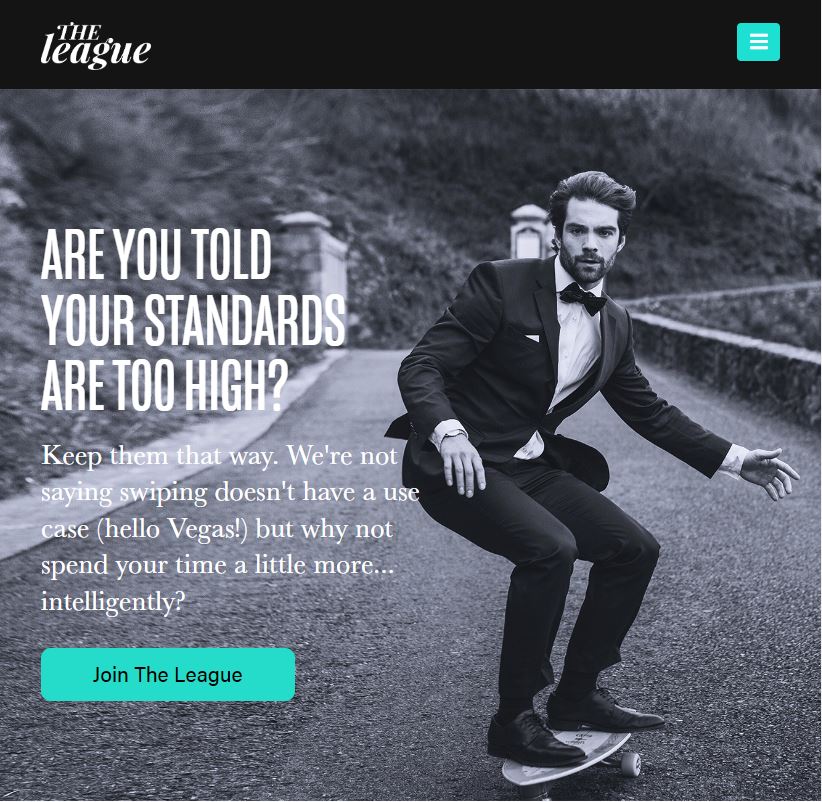 ---
The League App at a Glance

Overall Rating – 4.1/5.0
| | |
| --- | --- |
| Userbase | 150 million + |
| Sign-Up Time | Less than 10 minutes |
| Membership Cost | starting at $67 a month |
| Payment Required? | No |
| Avg. User Rating | 4.1/5 |
| Avg. User Age | 28 |
| Gender Ratio | 48% men | 52% women |
| Free Messaging? | Yes |
| Video Chat? | Yes |
| iOS App? | Yes |
| Android App? | Yes |
| Web Friendly? | App only |
| Support Options | FAQ page, email support |
| Launch Date | 2014 |
| Owned By | Amanda Bradford |
Is The League Right for Me?
Joining the league takes one of two things – patience or money. If you are after one of the coveted free membership, you will need to fill out an application and wait for approval. The better your application looks, the faster you'll start enjoying the site.
If you don't feel like waiting for free access (or don't think you'll get approved), you can always pay your way into The League app. This choice is easier, but is also incredibly expensive.
So, that's the bottom line. Are you willing to pay a lot of money to find love? Are you willing to wait for your chance to try for free? If both answers are no, The League isn't for you.
---
---
What is The League?
The League may be the answer to Bonnie Tyler's most pressing question – where have all the good men gone?
The entire purpose of The League is to be a dating space where all the singles are high-quality and the matching process is purposeful. No more endless swiping until you stumble upon someone who thought your profile pics were pretty hot.
If you are wanting to elevate your digital dating experience, The League is the app you want.
The League History
Amanda Bradford founded The League in 2014 after finding herself fed up with standard dating apps. She wanted to create a social platform where connecting and dating was between the most elite singles.
Since its launch, the app has managed to draw in over 150 million users, which is made even more impressive when you consider it is one of the most expensive dating apps on the market!
The app has seen its fair share of controversy, specifically surrounding how difficult it is to join. There have been users that complain that the wait list for free members creates an elitist atmosphere where only the rich can succeed.
Now, The League works hard to get through their waiting list in a timely fashion, which helps reduce the frustration of users who can't afford the monthly fee.
What Makes The League Different?
The League may be the most luxurious dating app out there. Users are instantly given access to their League concierge, who can help navigate them through the complex platform. There are very few sites out there that have this kind of one-on-one customer service.
The League also has amenities we haven't seen on other dating apps like private clubs, live parties, and profile stats.
Pros and Cons of The League
Pros
The users on The League are all high quality.
The League can be used to create serious, sustainable connections.
The features are available to free users as well once they are approved for membership.
The app is available on IOS and Android devices.
Cons
The memberships on The League are incredibly expensive.
Free members have to apply and sit on a waiting list to join.
The features can get a bit overwhelming.
There are additional private groups to apply to after gaining membership.

How Does The League Work? – Features Overview
The League is one of the more complex dating apps on the market. We won't judge you if you are feeling overwhelmed at the thought of trying it out. The good news for you is that we have already done all the research so we can show you the ins and outs of The League.
Signup process
Despite how elite The League is, the signup process is really simple. All you need to do to sign up is download the app and fill in a bit of information:
Your Name
Your Birthday
Your Location
Links To Your Linkedin And/Or Facebook
Your Email
Your Phone Number
A Fully Complete Bio
Your Dating Preferences
After you create your account, you will have two options: get on the free member waitlist or pay for instant access.
Matchmaking Process
The League uses an algorithm that looks at your profile, preferences, location, and previous connections to help find you the best daily prospects. You will have the opportunity to view these profiles and decide to like or pass on the profile.
If you like a prospect who has liked you, a connection is made.
Another way to meet singles on The League is through live speed dating events. Each tier of membership will have access to three separate speed dating events.
Unique Features
We've mentioned a few times in this League review that the app has a modern approach to luxury dating. The features of the site are included because research shows that they are useful in building meaningful connections. Let's take a look at some of the most popular features on The League and see how they improve the dating experience:
Concierge
League members are going to have access to a lot of features, and it can get overwhelming. Luckily, they have their concierge. A "League concierge" is a real person that is assigned to a user to help guide them through using the site, give them advice, and make the entire dating process smoother.
Read Receipts
All League members will automatically get read receipts in their messages. This helps to create a sense of transparency in the chat room, which is part of the luxury experience.
League Live
The League believes that being able to interact with matches face-to-face before meeting in person is a crucial part of the dating process. This is why there are League Live events where users can interact and have a digital speed dating party.
Opener Messages
Breaking the ice is the hardest part of starting a new connection. The League is there to help with a selection of opener messages that are proven to get your match talking and your foot in the door.
Private Clubs
There are multiple, luxury clubs on the League app, and they are all fiercely private. You will have to go through a process of applying to enter the club and meet the users within. Your concierge will help you through this process.
Profile Stats
If you want to know how well your dating journey is going, check out your profile stats. See who is looking at your page, how many lookers are matching, and how many matches are staying to chat. The stats go into detail about what the information means and your concierge can help you understand how to improve your numbers.

Free vs. Paid Memberships
The League is unique in that free members have access to a large number of features. That's because not anyone can be a free member. It takes time and a good application to gain access as a free member, so you aren't just being thrown the scraps like on many other dating apps.
Don't believe us, just take a look at the list of features free and paid members can use.
Free Membership Features (Waitlist):
Access To The App
Create Your Profile
Link Your Social Media (So Your Connections Can Be Auto Removed From Your Matches)
Upload Photos
Up To 65% Off Upgraded Membership
Guaranteed Acceptance If Three Friends Refer You
Additional Free Membership Features (After Acceptance):
Three Potential Matches During Happy Hour
League Live Speed Dating Access
5 Daily Friend Requests
Paid Membership (Investor Tier) Features:
Instant Access To All Features
7 Daily Prospects
3 League Live Party Chats per event
Custom Bio
Unlimited Power Moves
Unlimited Rematches
See Who Liked You
7 Daily Friend Requests
Refresh Likes In Real Time
Match And Chat With One Click
Enhanced Profile Privacy
Concierge Support

How Much Does The League Cost?
| Membership Type | Length | Total Price |
| --- | --- | --- |
| Guest | Unlimited | Free (Requires Waitlist) |
| Member | 1 month | $299.99 monthly |
| Owner | 1 month | $399.99 monthly |
| Investor | 1 month | $999.99 monthly |

What Kind of Relationships is The League For?
The League is intended for singles who are looking for a long-term, serious relationship with someone who is well-established in their life and career. That's why they've created such an elite environment within which rich and powerful singles compete for connections.
If you are looking for something casual, The League is not the right place for you.

The Bottom Line – Is The League Worth It?
The League is a very impressive dating app, and if you can afford it, it is absolutely worth it. The features cater toward building real connections and there are enough amenities to help justify the high cost.
If you can gain access through the waitlist, the app is even more worth it because you are saving the cost of membership!
The only people who won't find The League worth it are those who don't want to wait for access and also don't want to spend a lot of money on their dating app.
---
User Reviews of The League
If you've read any of our dating app reviews, you know we believe deeply in the importance of looking at user reviews to learn what it is really like to find love on a platform. The League has fine reviews overall, but what do the one-star users have to say? Let's take a look at the most common positive and negative comments for The League.
Positive Feedback:
The matches are always really high quality.
The Speed Dating events are fun.
You get better and more frequent matches than on cheaper dating apps.
The user base values intellect and creativity.
Negative Feedback:
The app is difficult to navigate.
The concierge feels "spammy."
The app isn't intuitive, which can make you miss a lot of features.
The waitlist is long.

The League vs. The Other Guys
The League isn't the only elite dating app on the market. If you are looking for some additional high-end options, you might come across Elite Singles, Millionaire Match, and Raya. Here is a quick look at how The League compares with these apps:
The League vs. Elite Singles
Elite Singles considers "elite" to mean "rich." There isn't a lot of focus on your career or how you got your money, just that you have it. The League focuses more on your professional success and overall intellect instead of just focusing on your net worth.
The League vs. Millionaire Match
Millionaire Match is another site that focuses more on wealth than it does intellect or professional standing. Millionaire Match also, though meant for traditional dating, deals with a lot of Gold Diggers and Sugar Babies sneaking their way onto the app. The League's elite membership system helps to avoid this problem.
The League vs. Raya
Raya is well known as the celebrity dating app. It may be the only site that is more exclusive than The League! Some people wait for months to gain access to Raya, and they have no way of building a profile before they are accepted. One positive of Raya, though, is that all members get the exact same features for a much lower price than The League.

The League FAQ
How Long Is The Waitlist?
The League doesn't say how long you will be on the waitlist, but do say that the quality of your profile and photos are part of the deciding factor. Some reviewers say they have been on the waitlist for a few months.
Is There A Way To Get Off The Waitlist Faster?
Yes. If you get three members to send you a referral to The League, you will instantly gain membership access.
Is There A Membership Level Between Base Member And Investor?
Yes. If you want something in between base membership and "Investor" membership, try the mid-tier "owner" membership level.