Love it or hate it, online dating has come a long way thanks to the creation of Tinder. Tinder's casual approach to digital dating and widespread popularity helped the world accept that finding a partner online is a normal thing to do in the 21st century.
But, Tinder does have a bit of a reputation as a place where hot people find casual sex partners. Today, we are diving deep into Tinder's app, features, and users to find out if this app can actually be used to find long-term romance.
If you are thinking about downloading Tinder or have given up on it in the past, this review is for you!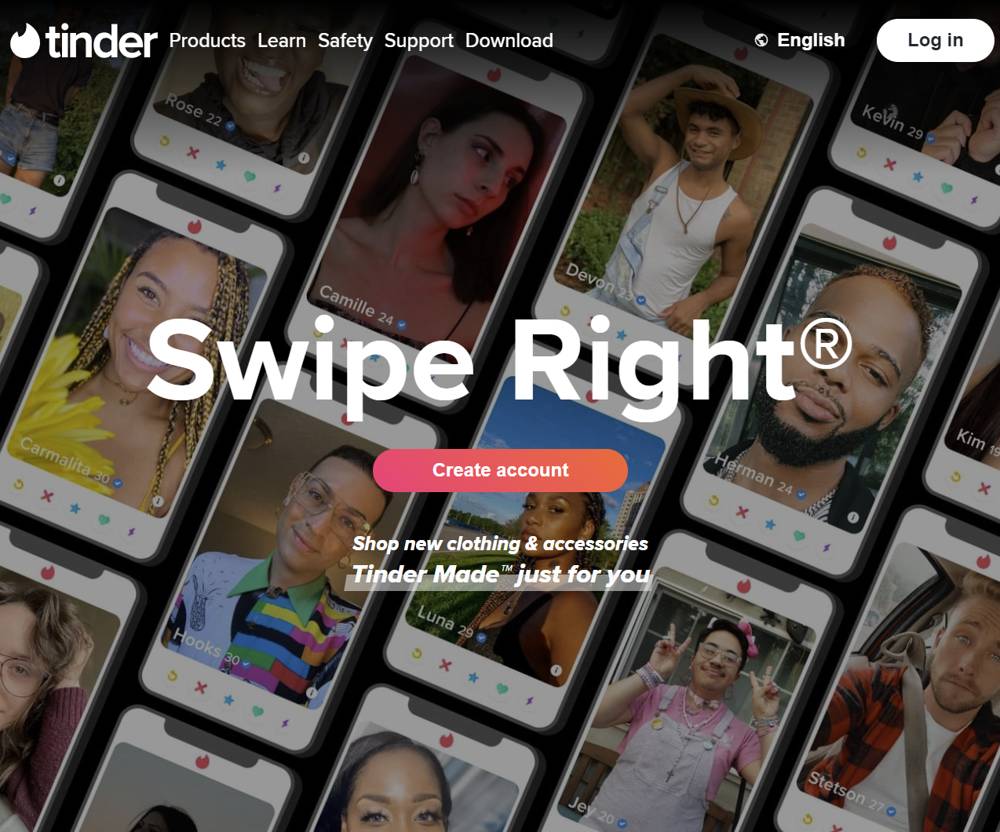 ---
Tinder App at a Glance
Overall Rating – 3.1/5.0
| | |
| --- | --- |
| Userbase | 75 million + |
| Sign-Up Time | About 5 minutes |
| Membership Cost | Premium memberships start at $1.67/month |
| Payment Required? | No, free membership available |
| Avg. User Rating | 3.1/5 |
| Avg. User Age | From 24 to 35 |
| Gender Ratio | 73% men | 27% women |
| Free Messaging? | Yes |
| Video Chat? | Yes |
| iOS App? | Yes |
| Android App? | Yes |
| Web Friendly? | Yes |
| Support Options | FAQ page, Fax, Email |
| Launch Date | 2012 |
| Owned By | Match Group, Inc. |
Is Tinder Right for Me?
What are you looking for in your dating journey?
For many users, a free dating site is the only thing that matters. That might draw them to Tinder only to leave them disappointed. The truth is, Tinder is no longer the only dating site offering free membership options. So, take some time to consider where Tinder can actually help you.
If you are in a small town and dating sites usually don't have local singles, Tinder may be a good option for you.
If you are looking to date casually and don't want the pressure of intense personality matching, Tinder is for you.
If you like to treat dating like a numbers game meaning the more people you talk to the more likely you'll find the right match, Tinder is for you!
Tinder is designed for younger singles who are just starting out with online dating and looking to keep things fun, relaxed, and inexpensive. If you're looking for something a little bit more meaningful you're probably better off with one of the alternatives:
---
Tinder Dating App Alternatives
Still not sure if Tinder is the best dating app for you? It's important to really understand your options (especially if you plan on spending any money). Here's a breakdown of all the best online dating apps to help you decide.
---
Contents of our Tinder Review – Jump Ahead:
---
What is Tinder?
Tinder is one of the most popular dating apps in the world. With over 75 million users, this platform has had exceptional growth since its creation over a decade ago. Let's take a look at some of the history and details that make Tinder stand out in the crowd.
Tinder History
Tinder was launched in 2012 as an online dating and geosocial networking app. This meant people could find partners and friends anywhere they were in the world just by giving Tinder access to their GPS data.
Though that idea is common now, at the time it was fairly revolutionary. It had never been done so successfully. The app was launched in a Hollywood incubator by Sean Rad. By 2014 it was seeing around one billion "swipes" daily!
The company has rebranded a few times and is now owned by the Match Group, inc. Despite the shifts in the company, the iconic red flame logo remains.
What Makes Tinder Different?
Tinder is open about being a casual social app, which lets users come in with the right expectations. We've seen many apps that claim to be about serious romance, but the reality leaves users disappointed.
Tinder also stands out from other dating apps by remaining one of the freest dating platforms on the market. They have added some paid membership options to their platform, but free users have always been able to fully use the site and its communication features.
Though many of their features (swiping to match, matching by location, etc.) don't feel very unique, it is important to note that they are often the standard other sites base their features on.
Pros and Cons of Tinder
Pros
Tinder is completely free to use and the paid options are nice, but not necessary.
The platform can be used on most devices as it is available on the web, on Android devices, and on IOS devices.
Tinder lets users meet new people virtually anywhere in the world.
Tinder is simple to use.
Cons
Tinder focuses heavily on casual matching, which makes it more difficult to meet long-term partners on the platform.
To use the web-based version of Tinder, users must log in with a Facebook account.
Tinder has issues with scam accounts and catfish.
If you say something embarrassing to a match on Tinder, you may see yourself online in Tinder-mocking social groups.

How Does Tinder Work? – Features Overview
We can't go through a Tinder review without breaking down the app's most iconic features. From the signup process to free vs. paid amenities, here you will find all the information you need to determine which Tinder membership is best for you.
Signup process
The Tinder sign-up process is one of the quickest and easiest out there. The app isn't trying to help anyone find true love, so there is no need for a 20-minute personality test or deep psychometric evaluation. Instead, users need only follow these 6 simple steps:
Download the Tinder app on your mobile device
Select "Create Account"
Provide your phone number and go through the verification process
Enter your email and verify it (if prompted)
Link an account to your profile (Apple, Google, Facebook)
Create your profile
If you want to access Tinder on the web, you must log in with your linked social media account.
Matchmaking Process
Tinder doesn't offer a lot of options in the way of true "matchmaking"." Instead, the site lets users match themselves based on their gut reactions to the bio and photo of nearby singles. When using Tinder, you will see the singles in your area, one at a time. You can swipe left if you don't like a person or swipe right if you do.
The other people on the app are also swiping on your photo.
If you swipe right on a picture of someone who swiped right on your picture, you will be notified of the match! Then, you can message that user through the Tinder app.
Unique Features
Further down, we will look at all of Tinder's free and paid features. But first, we are looking at three of the most unique features available on the app – message before match, top picks, and super Boosts.
Message Before Match
A popular feature on Tinder is the Super Like. This is a limited feature that you can use to show a user that you are very interested in them. Along with a super like is the option to attach a message before you match. This note goes straight to the user's inbox along with the notification of your super like. The message has to be less than 140 characters (about the length of a tweet), so make sure you get right to the point!
Top Picks
Remember when we said Tinder doesn't do much to actually match people other than referencing their location? Well, Top Picks is the exception to that! Users with a Gold or Platinum Tinder membership will be given a daily set of top picks. These are users that most match a user's profile, preferences, and behaviors.
According to Tinder, users who match with a top pick are more likely to go on an actual date.
Super Boosts
Super Boosts are an easy way to get more matches on Tinder. It works by pushing your profile to the top of the list for singles in your area. This means you aren't missing out on matches simply because you are too far down on the list for users to see!
This feature is only available as an a la carte purchase and isn't available to subscribers in all locations.

Free vs. Paid Memberships
Tinder is completely free to use, but there are a lot of advanced features available to those willing to pay premium prices. Here is a quick breakdown of everything you get on a free membership vs. a paid membership.
Free Features:
Match with users
Use the Chatroom
Use Video Chat if Enabled By Both Parties
Tinder+ Features:
All Free Features
Unlimited Likes
Unlimited Rewinds
Use Tinder Passport
Hide Advertisements
Tinder Gold Features:
All Tinder+ Features
5 Weekly Super Likes
1 Monthly Boost
See Who Likes You
New Top Picks Every Day
Tinder Platinum Features:
All Tinder Gold Features
Message Before Matching
Prioritized Likes
See Likes Sent in Last 7 Days

How Much Does Tinder Cost?
| Membership Type | Membership Length | Monthly Price | Total Cost |
| --- | --- | --- | --- |
| Platinum | 1 month | $26.99 | $26.99 |
| Platinum | 6 month | $13.50 | $81.00 |
| Platinum | 12 month | $9.00 | $108.00 |
| Gold | 1 month | $22.49 | $22.49 |
| Gold | 6 month | $11.25 | $67.50 |
| Gold | 12 month | $7.50 | $90.00 |
| Plus | 1 month | $13.49 | $13.49 |
| Plus | 6 month | $6.75 | $40.50 |
| Plus | 12 month | $4.50 | $54.00 |

What Kind of Relationships is Tinder For?
Have people found real love on Tinder? Yes, absolutely! We know there are dozens of people who found their life partners on Tinder and love the app for it.
Still, the bottom line is that Tinder is not intended for finding committed romances. The site is more useful for low-pressure dating and meeting hookups. If you are okay with a more casual approach to dating, Tinder has exactly what you need.
If you are looking for a fast-track to marriage, you might want to try a site like eHarmony or Elite Singles.

The Bottom Line – Is Tinder Worth It?
Tinder is free to use, so it is pretty easy to say that signing up is worth it. Users can use Tinder alongside more serious dating apps to help increase their chances of meeting matches and practicing talking to singles.
Users that are into casual dating will especially love Tinder and may even find the premium, paid membership worth their money.

---
User Reviews of Tinder
People seem to have a love/hate relationship with Tinder. We have found while going through their reviews that many low-star reviews are written by people who are angry that they didn't perform well with their matches. This can give you a false sense that Tinder performs poorly.
So, to help you get a real idea of Tinder's reviews, we have looked for the most common complaints and compliments from users that actually pertain to the app.
Top Tinder Compliments:
Users enjoy the free version just as much as the paid version.
With Tinder Gold, there are almost too many matches to communicate with.
The app is simple and easy to use.
Top Tinder Complaints:
There is a bug that makes matches disappear on the app but not on the web. This makes users think the person unmatched them when they didn't.
The prices of premium features have increased over the years.
The number of daily swipes for free users is too low.

Tinder vs. The Other Guys
Tinder vs. Grindr
If you think of Tinder as a hookup app, you will be shocked by Grindr. Grindr is an app that makes no attempt to hide that its purpose is to help users meet up for casual romantic encounters. The big difference between Tinder and Grindr is that Grindr is meant to be used by gay and bisexual men to meet other men.
Tinder vs. Bumble
Bumble has a lot of the same features as Tinder and you can tell the amenities were heavily based on those enjoyed by Tinder users. However, Bumble has a woman-first approach to casual dating which makes it a safer place for women to find matches.
Tinder vs. OkCupid
OkCupid is a dating app/ website that has a lot of similar attributes to Tinder. The users are mostly casual and there is a swipe-to-match option. However, OkCupid is different because it provides algorithmic matching based on a questionnaire and site behavior. That means matches are more meaningful and long-term partners can be more easily found than on Tinder.

Tinder FAQ
Is Tinder Good For People in Small Towns?
Yes! Tinder has over 75 million users, meaning even those in smaller towns are likely to find lots of singles on the Tinder app.
Do Users Have to Pay for Premium Memberships to Use Tinder?
No. Users are welcome to stay on their free Tinder membership as long as they like. However, free users do have to put up with lots of pop-up ads advertising paid services.
Does Tinder Offer Social Events?
Yes! Tinder has started implementing digital events like Swipe Night and Swipe Party to the app.
Swipe Night is a digital, interactive mystery event that users can participate in directly on the app.
Skype Parties are user-created digital social events where users can join with friends and see the matches available to each. Help each other choose who to swipe right on and turn your dating journey into a fun social event.
What is Tinder U?
Tinder U is a way for college students to streamline their online dating and have more fun doing so. With Tinder U, profiles can highlight which school they attend and keep their matches focused on other college students.