Let's be honest for a second – endless scrolling is exhausting. Most dating apps give you access to hundreds of profiles a day, and you can end up with online dating burnout in no time. That's why the upcoming dating app Where We Met grabbed our attention. It claims to be the solution to dating burnout, so we had to check it out.
We spent a lot of time reviewing the dating site's features, and we're going to let you in on our findings. Keep reading our Where We Met review to see if it lives up to its promise.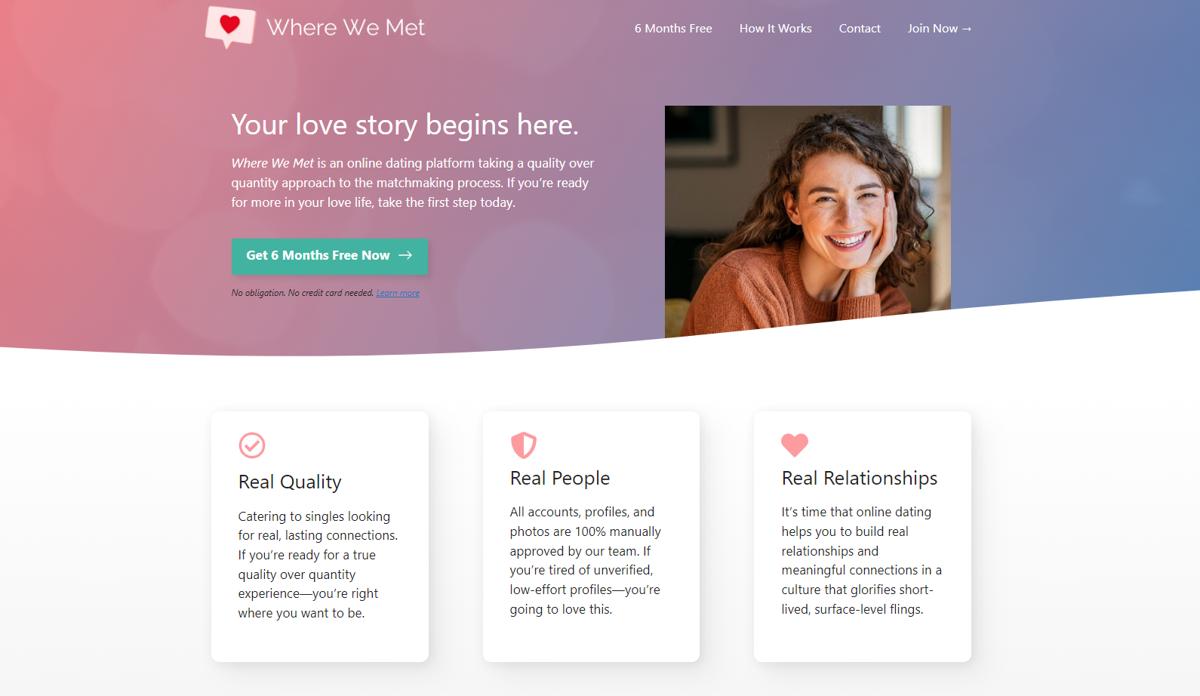 ---
Where We Met App at a Glance
Overall Rating – N/A
| | |
| --- | --- |
| Userbase | N/A |
| Sign-Up Time | 10 minutes |
| Membership Cost | First six months free! |
| Payment Required? | No - free trial membership available |
| Avg. User Rating | N/A |
| Avg. User Age | N/A |
| Gender Ratio | N/A |
| Free Messaging? | Yes |
| Video Chat? | No |
| iOS App? | No |
| Android App? | No |
| Web Friendly? | Yes (web only) |
| Support Options | Email |
| Launch Date | 2023 |
| Owned By | Where We Met, LLC |
Is Where We Met Right for Me?
Where We Met isn't like the other dating sites out there. Instead, it's set up for people who are tired of mindless scrolling and superficial connections. It's right for you if you:
Want to form genuine, long-lasting relationships
Prefer quality over quantity
---
---
What Makes Where We Met Different?
Most dating apps are all about quantity. The idea is if you scroll through hundreds of profiles, you'll find "the one." While that's the norm, Where We Met takes a drastically different approach.
It sends members 3-5 high-quality matches a day. Members can look through those matches and pick one person to message. However, Where We Met allows members to continue previous conversations while initiating a new one.
While we still need to see it in action, Where We Met seems like it's the antidote to online dating fatigue. It allows people to date and interact with intention instead of just scrolling and sending mindless messages. As you can see throughout our review of Where We Met, we think this is an excellent approach to online dating.
Pros and Cons of Where We Met
Pros
Focuses on genuine connections
Eliminates online dating fatigue and burnout
Six months of premium for free if you sign up now
Manual profile verification protects members from catfish and scammers
Free members can respond to messages
Cons
Small user base since it's so new
No mobile app, but that helps members avoid burnout and fatigue
Few options for casual daters

How Does Where We Met Work? – Features Overview
We evaluated every aspect of the site when creating our Where We Met review. Now, we're going to take you through the site, from signing up to going over the features. Then, you'll be ready to claim your free trial and use the dating site.
Sign-up Process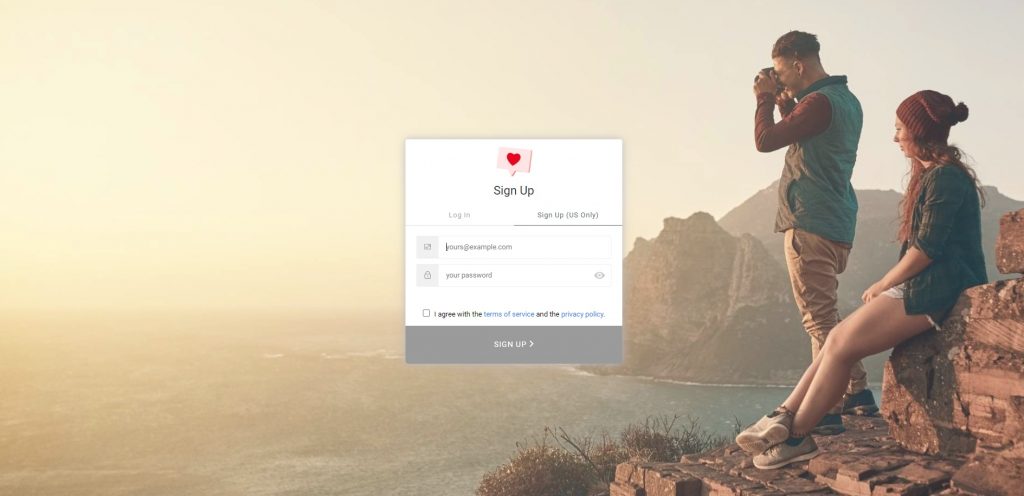 You just need about ten minutes, an email address, and a phone to snap a verification picture to sign up. Start by claiming your six-month free trial to Where You Met. Then, input your info and answer questions in four categories: lifestyle, relationships, finances and politics, and communication.
Finally, follow the site's instructions to verify your account. Since each profile is manually reviewed, you'll need to upload a selfie showing you completing a specific action.
Unique Features
Now, it's time to look at the site's unique features. We've touched on some of these earlier in our review of Where We Met, but we'll go into more detail now.
Batch Matching
The system sends members 3-5 matches a day, and they refresh every 24 hours. These matches are selected based on how members match in these categories:
Lifestyle
Relationships
Finances and politics
Communication
By limiting the number of matches you see, you're more likely to pay attention to what's in front of you. Basically, you won't get sucked into the mindless scrolling that occurs on so many dating apps.
Guided First Messages
We know that writing the first message is hard. Well, it usually is, but Where We Met makes it easy with Guided First Messages. The app will have you answer four questions when creating your first message. Then, you'll send the message, and if the member accepts it, you two can chat.
Guided First Messages will help you get your foot in the door, but you'll need to continue the convo. Check out our dating app messaging advice for some guidance.
Initiate One New Conversation a Day
Are you tired of getting a lot of generic messages in your inbox? We're talking low-effort messages like "Hey." You won't have that same problem on Where We Met since the dating site only allows members to start one conversation a day.
We expect members to put more time and effort into messaging because of the hard limit. After all, you don't want to waste your one message on something generic.

How Much Does Where We Met Cost?
| Membership Type | Membership Length | Monthly Price | Total Cost |
| --- | --- | --- | --- |
| Premium | 6 Month | Free! | Free! |

What Kind of Relationships is Where We Met For?
Where We Met is set up for people seeking serious relationships. Because of the batch matching system, it's not meant for casual daters who want to cycle through dates. Instead, Where We Met facilitates genuine connections between singles who want long-term partners.

The Bottom Line – Is Where We Met Worth It?
Yes! Where We Met is worth it if you're tired of constant scrolling and want to focus on forming genuine connections. We will need to update our review of Where We Met once we hear back from users, but so far, we're impressed with the dating app and think it's worth it.
We know that some people want access to more profiles than they'll get on Where We Met, though. If you're in that category, check out the best dating apps for serious relationships.
---
Where We Met FAQ
Does Where We Met Have a Mobile App?
No, you have to use the website to access matches and communicate on Where You Met. You can use the web version on your mobile device, though. The lack of an app isn't an oversight. Instead, it's part of the site's dedication to intentional dating without burnout.
Is Where You Met Available in Multiple Countries?
No, Where You Met is available in the United States. We'll keep an eye on this and update our review of Where We Met if it becomes available in other countries.
When Does Where We Met Launch?
The site doesn't officially launch until January 23, 2023. You can claim your free trial to Where You Met now, though. You'll get six months free, starting when the site launches.
Why Did I Get the Same Matches Two Days in a Row?
It will take some time for the membership base to grow. Many members will get fresh matches each day. However, it might take longer for the membership base to increase if you live outside of an urban area. We'll update our Where We Met review once we get more info about the number of members across the country.