Are you looking for love in all the wrong places?
Well, check out Zoosk–the dating app that might just be right for you! With over 35 million users and counting, Zoosk is one of the biggest dating apps out there. But does bigger mean better? And is it worth your time and money? Keep reading for our honest review.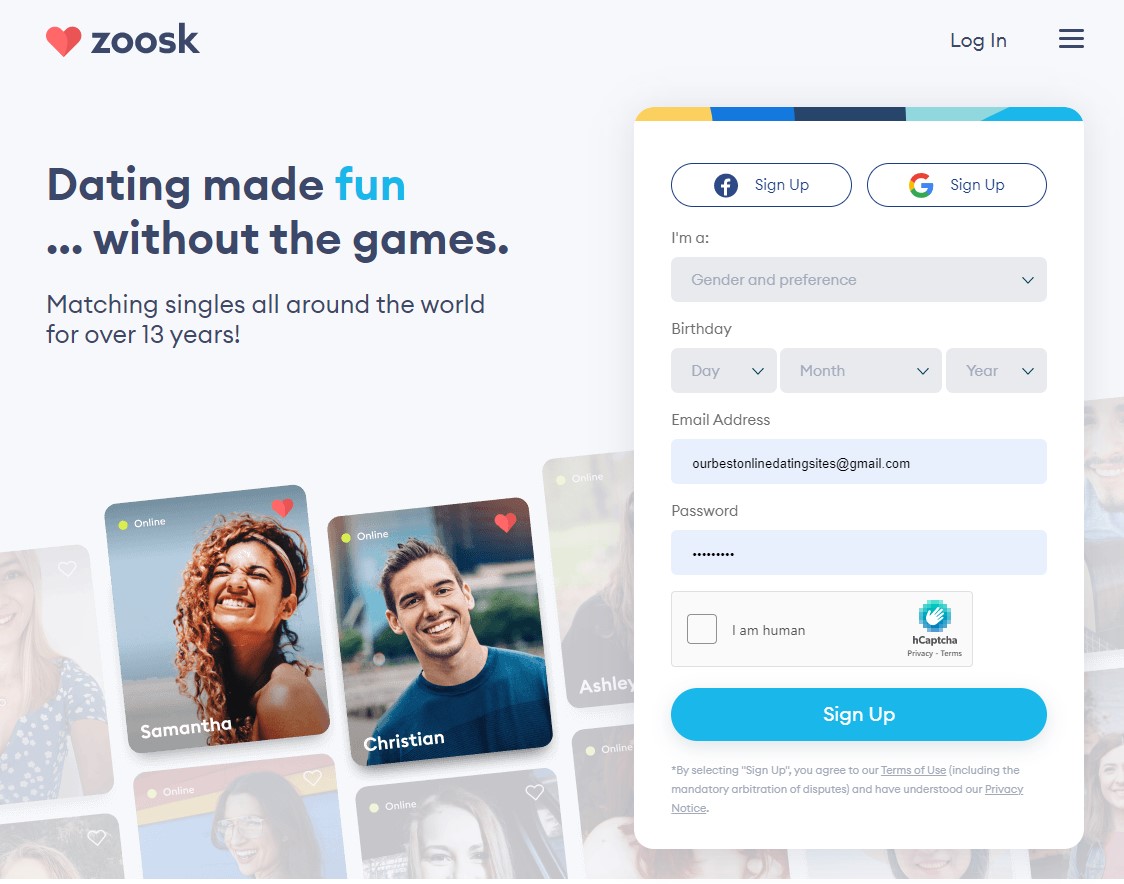 ---
Zoosk App at a Glance
| | |
| --- | --- |
| Userbase | 10 million + |
| Sign-Up Time | Less than 5 minutes |
| Membership Cost | Starting at $12.49 |
| Payment Required? | Yes, but free trial available |
| Avg. User Rating | 4.3/5.0 |
| Avg. User Age | 18-45 years old |
| Gender Ratio | 48% men | 52% women |
| Free Messaging? | Yes, but limited |
| Video Chat? | No |
| iOS App? | Yes |
| Android App? | Yes |
| Web Friendly? | Yes |
| Support Options | FAQ, contact form |
| Launch Date | 2007 |
| Owned By | Spark Network |
Is Zoosk Right for Me?
Zoosk isn't a niche app like many of today's dating sites. Instead of focusing on long-term relationships over casual dating, or vice versa, you get a bit of everything.
It's not over the top with unique features. However, Zoosk is relatively affordable, offers a free trial, and covers the bases with a carousel function, messaging, SuperSends, and profile boosts. Additionally, the vast field of 35 million members considerably narrows as Zoosk gets to know you. Its Behavioral Matching algorithm combined with Smart Pick technology presents you with the best potential singles in your area.
So, if you're looking for a straightforward dating service focusing on quality and quantity, you can't go wrong taking five minutes to sign up and see it for yourself.
---
---
What is Zoosk?
Zoosk is a premier dating app with more than three million messages sent daily from its 35 million user accounts. It's ranked as the number one dating app in the Apple app store for its affordability, easy-to-use platform, and track record of successful matches.
Zoosk History
Zoosk is an online dating service that launched in December 2007. Shayan Zadeh and Alex Mehr, the company's co-founders, attended graduate school at the University of Maryland after meeting as undergrads at home in Iran and joined forces to create a new site based on their custom algorithm.
Under their stewardship, Zoosk achieved great success, ranking among the top 25 best-selling apps on Apple. The company also received accolades like hitting the top 2,000 of Inc. magazine's 2014 "Top 5,000 Fastest-Growing Private Companies in America" and ranked 29th on The Wall Street Journal's "The Next Big Thing 2011."
However, Zoosk lost money despite the recognition due to its rapid expansion. So, Spark Networks (Christian Mingle, JDate, Silver Singles, etc.) acquired Zoosk in 2019, turning Spark into North America's second-largest revenue-generating dating company.
What Makes Zoosk Different?
You'll notice some similarities to other services, like a carousel function resembling Tinder's swipe left or right.
However, Zoosk's Behavioral Matching and Smart Pick Technology is what sets it apart.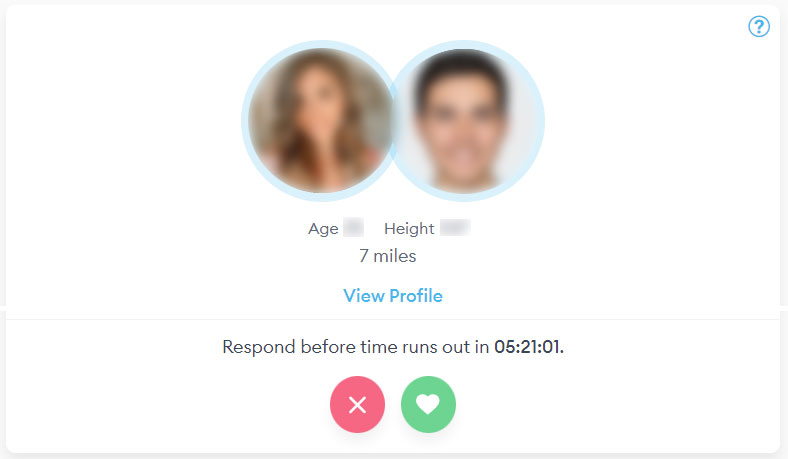 Not only do you have matches right out of the gate, but Zoosk gets to know you. Then, it refines its recommendations the more you use the service, swiping on carousel images and sending and responding to messages.
Zoosk also stands out for its verification systems. We'd imagine that a few fake profiles slip through the cracks here and there. But you'll find that they're not as prevalent with Zoosk's Facebook verification, ensuring profile accuracy. Additionally, you shouldn't discover that the cute 30-year-old is really 58, as the app also implements photo verification through real-time video selfies.
Pros and Cons of Zoosk
Pros
A proprietary algorithm that continually updates potential matches based on your in-app activity
35 million+ members covering 80 countries and 25 languages
A significant discount offered for six-month commitments
Facebook verification and video images keep fake profiles to a minimum
No credit card needed for the free trial
Account set-up takes less than five minutes
Nearly 50-50 male-female ratio
Cons
The free trial doesn't allow new users to sample every feature
Lack of video messaging
Customer service isn't efficient

How Does Zoosk Work? – Features Overview
Zoosk was developed to match up singles quickly and easily using data-driven intelligence. It has an extensive database of singles (we'd say 35 million+ is a lot!), allowing for highly customizable search options. So, you've got the quantity and can quickly narrow it down for the quality.
You can take advantage of the carousel that works like other apps' swipe right or left or get straight to messaging. And, if you're really anxious to see progress, you've got optional paid add-ons like profile boosts and super send introductions that'll give you the edge.
Signup Process
We know that a quick registration isn't always the best. After all, how can a dating app get to know you if it doesn't know anything about you?
Well, with Zoosk, you'll find that it handles its introduction process differently than many competitors. Yes, it's only going to take you about five minutes to sign-up and answer some basics like location, height, body type, religion, education, etc. But the process continues well beyond the first few minutes, extending through the daily matchmaking process courtesy of behavioral matching.
To get the most from Zoosk, though, gather up a few of your best (and most current) pics. Zoosk implements photo verification, so no digging up your prom picture from decades ago! You can always go back to this upload step, but you know that images can make or break a potential love connection.
Matchmaking Process
We just mentioned Zoosk uses behavioral matchmaking. You'll find that the more you're active on the app, the better the suggestions.
That's because the algorithm is consistently updating. It uses your initial information from registration but integrates your in-app preferences. So, every time you take action, like replying to or sending messages, Zoosk gets a better idea of what you're looking for in that special someone (or one-night hookup). Plus, Smart Pick technology is also at play within the carousel of singles. Every time you give a yes or no to someone's profile, you're affecting future options.
Unique Features
While there's nothing jaw-dropping about Zoosk's service, we like the way that it uses its Smart Pick and Behavioral Match technology to keep refining its potential matches for you. A few of the other notable features also deserving the spotlight include the Carousel, SuperSends, and Facebook verification.
The Zoosk Carousel
Even if you've never used Tinder, you're undoubtedly familiar with its swipe right or left operation. You're essentially giving a quick yes or no to other users that appear in your feed.
Zoosk has a similar feature called the carousel. Potential matches line up in a loop, and you can either click the green checkmark or the red X. If both of you opt for the checkmark, Zoosk will make the connection. Oh, and if you're really (really!) interested, you can give them a gold star.
SuperSends
The SuperSend feature is ideal for busy people who like to get right down to business. Instead of sending a single introductory message to another single you'd like to connect with, you can send one to a bunch of potential matches.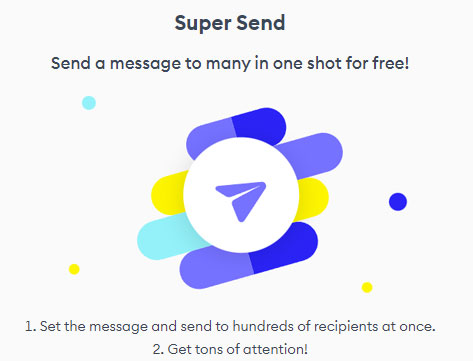 It's more efficient at first, but you might be a lot busier in the long run!
Facebook Verification
OK, it's not as sexy as a SuperSend or carousel of singles, but Zoosk's Facebook verification keeps you from being duped or tricked. The Facebook verification connects your Zoosk account with your Facebook profile. That way, you tell the world (at least the Zoosk community) that you're who you say you are, and they are, too (at least you hope so)!
Free vs. Paid Membership
Zoosk has a free option available for those who are just curious about the site and want to test it out before making any commitment. However, certain essential functions such as initiating online conversations with other members are through paid memberships.
The good news is that Zoosk has a few ways to play it. You can pay a bit more and try it for a month or go all-in for six or 12 months and save more than half of the regular price.
So, here's what you get if you opt to take five minutes and set up a free trial.
Create a dating profile on Zoosk
Add your most impressive (and most recent) photos
Explore the Zoosk app for yourself
Locate singles near you
View profiles and pictures of local singles
Receive and reply to messages from paid premium members
Buy coins and give your profile some love
The basic membership is enough to get the ball rolling and see what the Zoosk experience is all about, anyway. But it puts others in the driver's seat, as you can reply but can't send messages. So, if you're looking for more features, here's what the paid membership adds to your experience.
Communication capability, both sending and receiving
Insider information as to who has viewed your profile
Everything that Zoosk's algorithm and Smart Pick technology offers
Super Send options
Live chat opportunities
Best Free Feature: The opportunity to see what the Zoosk community is like and what kinds of singles are interested in communicating with you.
Best Paid Feature: Zoosk's proprietary technology that considers your carousel preferences and in-app activity to locate the best potential matches for you.

How Much Does Zoosk Cost?
| Membership Type | Length | Monthly Price | Total Cost |
| --- | --- | --- | --- |
| Premium | 1 month | $29.95 | $29.95 |
| Premium | 3 months | $19.98 | $59.95 |
| Premium | 6 months | $12.49 | $74.95 |
| Premium | 1 year | $12.49 | $149.88 |

What Kind of Relationships is Zoosk For?
If there's one thing you can say about Zoosk, it doesn't box itself into one category. Zoosk covers everything from casual hookups to users looking for long-term relationships, unlike some niche dating apps.

The Bottom Line – Is Zoosk Worth It?
We consider Zoosk to be somewhat like the Target of the dating app industry. You could go to a unique gift shop, grocery store, pharmacy, or home goods retailer for your purchases. But Target covers them all under one roof, so it's convenient and relatively affordable.
Zoosk operates similarly. You could sign up with a niche site and narrow the focus. But, with Zoosk, you get singles who are all over the board – younger, older, looking for love, just interested in something casual, etc.
It's easy to get started with the dating app with a five-minute registration process. So, unless you're laser-focused on what you're looking for, we think it's well worth the time to give Zoosk a go. If you're on the fence, stick to the free trial to get a good feel for the community. You can always upgrade later.
---
User Reviews
As with any dating service, user reviews are all over the board. Those who found love (or what they were looking for) are ecstatic with the service, while we noticed a pattern of criticism from others. Most of the negative reviews revolved around the auto-renewal of membership plans and recommendations of matches that lived too far away. Additionally, some users felt that there were too many inactive profiles.

Zoosk vs. The Other Guys
There are so many dating sites competing for your attention. So, we thought we'd do a little match-up of our own, comparing Zoosk to some of its top competitors.
Zoosk vs. Elite Singles
Elite Singles is billed as a premier dating site for professionals. Therefore, it has the niche designation lacking with Zoosk. If you're OK with a slightly higher membership price for access to singles who are more established in their career and clear about what they're looking for, then Elite Singles is the way to go. However, if you're testing the online dating waters, looking to meet a variety of people in your area, and like the Tinder-style of swiping through a carousel of possibilities, then give Zoosk a shot.
Zoosk vs. Tinder
Although we've referenced Tinder a few times in this review, one of the few things Zoosk has in common with Tinder is the carousel of selections. While Zoosk uses checkmarks and Xs, and Tinder is all about swiping left or right, it's the same premise. If that's what you're most focused on, we suggest sticking with Tinder, as it's what it does best.
Zoosk vs. Silver Singles
Silver Singles is Zoosk's sister app under the Spark Network umbrella. However, the services are very different, and this is an easy one. If you're over 45, we suggest Silver Singles over Zoosk. While Zoosk has plenty of members in their 50s, 60s, and 70s, it doesn't cater to those demographics nearly as well as Silver Singles.

Zoosk FAQ
What is Zoosk?
Zoosk is a global dating site and dating app service that uses behavioral matching to get to know its members and connect them with the best potential matches in their area.
Is Zoosk better for casual dating or singles seeking long-term relationships?
Both. Zoosk isn't a niche dating site. Instead, there's a situation for everyone within its 35 million+ membership from hookups to commitment, with casual dating in between.
What's the breakdown with singles on Zoosk?
You'll find that it's nearly a 50/50 ratio of men to women on Zoosk, with women skewing just slightly higher. Even though singles are all over the board age-wise, the majority are between 18 and 45.
Will I come across fake profiles on Zoosk?
Unfortunately, it's nearly impossible to escape most dating apps' occasional fake or incorrect profiles. However, Zoosk uses Facebook verification for accurate profile information and real-time video photos to ensure that posted pics are current and not from decades ago.
Is Zoosk a free dating app?
Yes and no. While you can take advantage of a free trial to test the waters, the only way to access all features is through a paid membership.