AfroIntroductions is the world's largest and most well-known African dating website. AfroIntroductions is dedicated to helping you meet your soulmate no matter where you are in the world — serious matches are firmly on the agenda.
You can create a new account on the AfroIntroductions mobile app in just a few minutes and start creating your love story. Let's dive deeper into AfroIntroductions and find out what the free trial offers and what the paid features entail.

---
AfroIntroductions Free Trial Breakdown
One of the things we like about AfroIntroduction is that they have some of the most comprehensive free trial offers available. Here are the essential functions that you will get free of charge on AfroIntroductions when you sign up:

| | |
| --- | --- |
| Trial Length | Unlimited |
| Trial Cost | 100% free |
| Sign Up Time | Less than 30 seconds |
| Send Messages? | Yes (when messaged by a paying member) |
| Receive Messages? | Yes |
| Video Chat? | No |
| Add Images? | Yes |
| View Images? | Yes |
| Browse Singles? | Yes |
| Filter Search? | Yes |
| Create/Edit Profile? | Yes |
| View Profiles? | Yes |
Is the AfroIntroductions Free Trial Worth It?
If African dating is on your radar, AfroIntroductions is a great website to start. The free version gives all the features you need when you're first starting to use a dating app. You can create your profile, upload your photos, find members you like, respond to an unlimited number of messages from paying members. As generous as the free trial is, it does have limits. For example, you cannot initiate conversations (you can't send the first message).
Creating a profile will take less than 30 seconds for you, so go ahead and do that and explore the app for free. Disclaimer: If you don't know which photographs you're uploading, it'll take you much longer, possibly days, to narrow down your choices based on input from friends and, in extreme circumstances, a new photoshoot.
Still on the Fence? Here are some great alternatives (with free trials):

How to Start Using AfroIntroductions for Free
To start using AfroIntroductions, you need to create an account. You can do this both on the desktop and via the app.

The steps are straightforward:
Click either on the "View Singles Now" section or "Login" section and then "Join Now,"
Enter your first name, gender, age, and whether you want to date a boy or a girl,
Type your email and create a password,
WOW, you're done!
When you sign up, you only have access to the free version of AfroIntroduction. But when you go to the Profile section, it gives you the option of getting AfroIntroduction Premium.

Features the AfroIntroductions Trial Includes:
You can always refer back to the table above for an overview but in this section, we will take a deeper look at the free features that AfroIntroductions offers.
Respond to Unlimited Messages from Paying Members
The free version of AfroIntroductions allows you to respond to unlimited messages from paid members! Yes, that's correct. You can communicate with other members without ever having to take out your wallet.
Discover Prospective Dates
You can view as many profiles as you like and discover prospective dates via the free version of AfroIntroductions. You can also see all members' profiles and profile pictures in full size and learn more about them.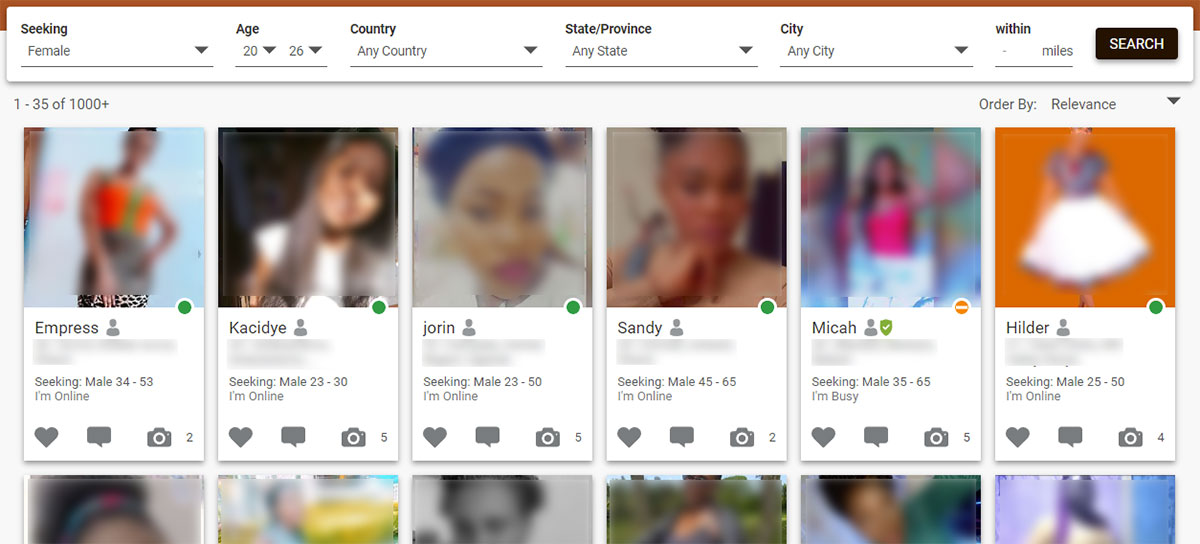 Send Flirts and Interests to All Members
Although you cannot initiate conversations and can only respond to members who choose to write you first; you have the option to send interests and flirts to all members on the app.

Premium Features – Not Included in AfroIntroductions Free Trial
AfroIntroductions, like many other high-end dating sites, offers two premium membership packages to let customers find the one that best suits their interests and budget.
AfroIntroductions offers three different options to its users: a free plan with extremely limited features, a gold plan with mid-tier capabilities, and a platinum plan with all features.
The pricing of AfroIntroductions Premium plans is as follows:
| Membership Type | Length | Total Price | Price Per Month |
| --- | --- | --- | --- |
| Gold | 1 Week | $17.00 | $17.00 |
| Gold | 1 Month | $34.00 | $34.00 |
| Gold | 3 Months | $68.00 | $22.67 |
| Gold | 12 months | $135.00 | $11.25 |
| Platinum | 1 Week | $20.00 | $20.00 |
| Platinum | 1 Month | $40.00 | $40.00 |
| Platinum | 3 Months | $80.00 | $26.67 |
| Platinum | 12 months | $170.00 | $14.17 |
| Diamond | 1 Week | $40.00 | $40.00 |
| Diamond | 1 Month | $69.98 | $69.98 |
| Diamond | 3 Months | $139.97 | $46.66 |
| Diamond | 12 months | $299.98 | $25.00 |
The gold package comes with the following features:
Basic Matching
Likes
Communication with all members regardless of membership kind.
Live Chat with Instant Messenger to exchange messages faster.
No Third-Party ads.
Browse anonymously to browse profiles without being noticed.
Hide your profile.
Platinum members have access to all of the gold features described above and more…
Profile ranks above Gold and free AfroIntroduction members.
Additional space in their profile to talk about themselves.
Advanced matching algorithms.
Auto translate tool to convert incoming messages from another language into your native tongue.
Diamond is the top membership tier at AfroIntroductions and will get you…
Priority messaging and profile highlighting.
Ranking above all other membership tiers.
Access to premium customer support.

AfroIntroductions Free Trial vs Competitors
AfroIntroductions is dedicated to connecting African singles from all around the world. But it's not the only dating site out there with this mission. Let's have a look at two of the biggest competitors of AfroIntroductions—BlackPeopleMeet and AfricanLove.
AfroIntroductions vs BlackPeopleMeet
Like AfroIntroductions, BlackPeopleMeet has a free version that allows you to:
Set up a profile and load your photo,
"Flirt" with others by giving them likes,
See all photos of singles in your area,
Limited messaging.
One big difference between the two websites is that BlackPeopleMeet has a limited free trial account – only 7 days free. If you want to try out the site's capabilities and see if it's right for you, the free trial is a smart option. However, if you're hoping to find love on Black People Meet without spending some money, you're probably going to be disappointed.
AfroIntroductions vs AfricanLove
AfricanLove also offers a free version upon signing up. Free members can:
Create a profile and upload a photo,
Limited messaging,
Like profiles by showing them interest,
Browse the images of singles.
Unlike AfroIntroductions, you can't send messages to anyone unless you're a Premium member. Messaging on AfricanLove is a part of a paid package, which also includes:
Unlimited messaging,
Access to advanced search filters,
Standing out in the crowd by getting more attention,
Seeing when your messages are read.
The free trial of AfroIntroductions doesn't take any resources from you but it gives you a good idea of what kind of value the paid version can offer. So if it interested you, don't hesitate to make use of the free trial.