Boasting over 3 million members and thousands of daily active users, the Filipino Cupid online dating site has caught the attention of many in the dating industry. The site caters mainly to singles from the Philippines, but it also has at least a million members from countries in the West. Like with most other dating sites around, Filipino Cupid offers users a free trial.
We like free trials, and we think they're a fantastic way to get used to any dating community without forking out a dime. But different sites offer varying levels of usability with their free memberships. We're here to help you discover just how usable a Filipino Cupid free trial account is.
After reading this article, you should be caught up on every single feature you can access as a free member of the Filipino Cupid community.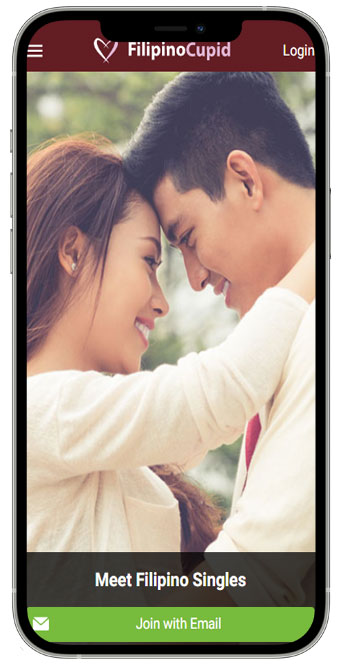 ---
Filipino Cupid Free Trial Breakdown
| | |
| --- | --- |
| Trial Length | Unlimited |
| Trial Cost | 100% free |
| Sign Up Time | 2-5 Minutes |
| Send Messages? | Sorta (You can't send a message unless it's a reply to a premium member who's mesaged you first) |
| Receive Messages? | Yes |
| Video Chat? | No |
| Add Images? | Yes |
| View Images? | Yes |
| Browse Singles? | Yes |
| Filter Search? | Yes |
| Create/Edit Profile? | Yes |
| View Profiles? | Yes |
Is the Filipino Cupid Free Trial Worth It?
Generally, online dating free trials are great because they let you get a feel for the site in question before you commit with your funds. If we're judging purely on this metric, then the Filipino Cupid free trial is absolutely worth it. It allows you to create a complete profile, upload photos, type up a bio, and set your dating preferences. You can also browse through this information on the profiles of other members.
The bottom line is that the Filipino Cupid free trial offers you all the features you need to gauge the site's suitability to your dating goals. It also paves the way for a paid subscription since you already know your way around.
How to Start Using Filipino Cupid for Free
Sign up now to start using Filipino Cupid for free in less than 5 minutes. You could choose to install the mobile app or visit the website on your browser. The site will request some basic info such as your name, gender, the gender of your ideal partner, email address, and a password.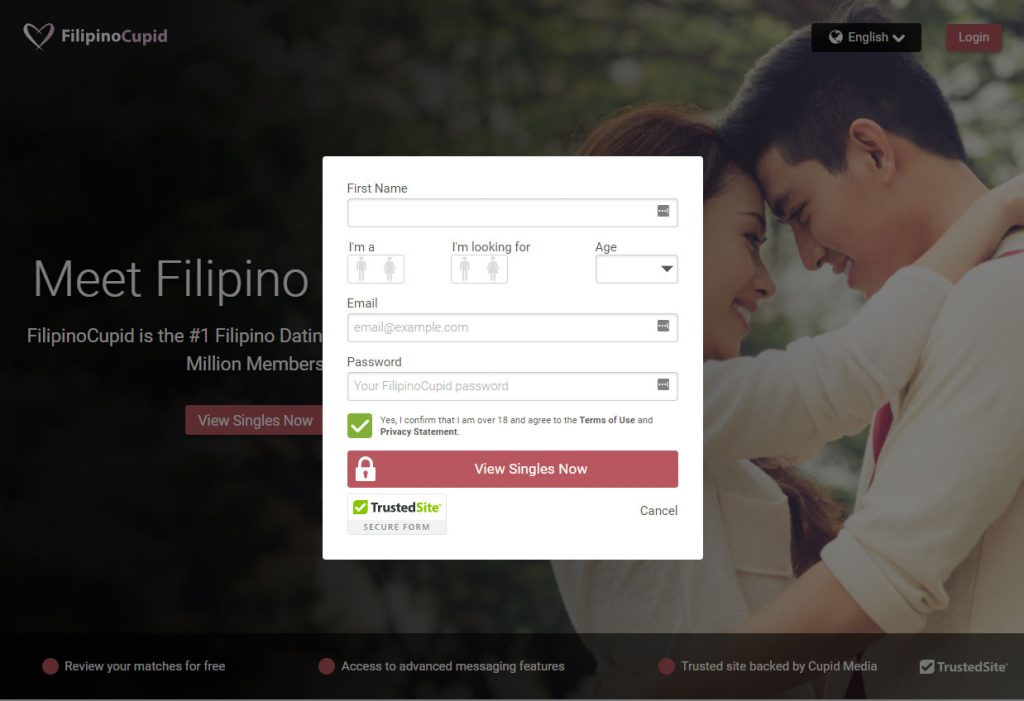 Once you log in, several profiles of potential matches appear on your feed for you to browse through. The app then sends a pop-up asking you to upload photos of yourself. (This is optional but highly recommended.) A second pop-up also asks you to provide some info about yourself that'll give other singles a better idea of who you are and what you're looking for. Again, this is optional but largely recommended. Complete these few steps, and you're well on your way to searching for your sweetheart.
Features the Filipino Cupid Trial Includes:
It's time to thoroughly assess the functionality of a Filipino Cupid free trial account. What are the exact features free members can access, and to what extent can they access these features? Find out in the breakdown below:
Create A Profile
In a few simple steps, you can set up a profile that includes basic information such as your age, gender, and sexual preferences. You can also upload a bio and up to six pictures. All of these combine to help you put your best side forward and show up in the filtered searches of other members who could take an interest in you.
View Profiles
A Filipino Cupid free trial account allows you to view the profiles of millions of other members; you can also like these profiles to indicate your interest in them. A heart symbol shows you're interested, and a star adds the profile to your list of favorites. As free members are not allowed to send first messages, this is an efficient way to let other members know that you like them.
View People's Response To Your Profile
This is one particularly great side to the Filipino Cupid free membership. Many dating sites do not grant free trial members access to see who has viewed their profiles and who went ahead to favorite or like the profile. Asides from making you feel good, this feature gives you a good idea of the general quality of your profile. This, in turn, lets you know if you need to make changes, such as uploading newer photos or typing a more detailed bio.
Search
With a quick search function and the option to filter based on age, gender, and location, you can easily browse through your preferred taste of singles.
Receive Messages
You can view messages that a paid member sends to you with a free trial. The site also lets you reply to these messages, but only for a limited period.
Premium Features – Not Included in Filipino Cupid Trial
It goes without saying that any dating site offering a free trial will also provide a paid service for users ready to take their membership to the next level. The general idea of the premium service is to provide extra features that are not available for free members. This section will explore these features to see whether they are genuinely worth the price.
Send and Receive Messages
With a Filipino Cupid Premium account, you can send and receive messages, increasing your chances of striking a long-term bond with other singles.
No Ads
The Filipino Cupid premium removes all the ads that pop up with the free trial, enabling you to browse profiles and perform other functions without distractions.
Advanced Filtered Search and Matching Algorithm
The Filipino Cupid premium service provides over 30 advanced filters, helping you quickly find your type of single. Paid members can customize their search to specific heights and weight, precise location, smoking and drinking habits, educational qualifications, religion, and many more.
A premium account also comes with a detailed matching algorithm that takes your basic information and uses it to match you with people who are a great fit.
Browse Anonymously
With the premium plan, you can hide your profile from public view and gain some control over the matching process. This is an excellent feature for members who aren't big on allowing everyone to view their private personal information.
Filipino Cupid Free Trial vs. Their Competitors
Filipino Cupid's free trial offers way more features than other dating sites based in the Philippines. For example, Cherry Blossoms, arguably the second-largest Filipino dating site, has a free trial that only lets you send and receive 'smiles' as a means of communication. With Filipino Cupid, you can receive messages and send replies to them, even on a free membership.
Overall, we found the Filipino Cupid free trial to be an inexpensive way to acquaint yourself with the community and measure just how well it caters to your dating needs.