It's scary, we know. Getting back into the dating game when you're over 50 was hard enough, but venturing into online dating can be a whole new ballgame. You may feel insecure, having to compete with the other younglings on these online dating sites. You may even find online dating frivolous to begin with.
That's why OurTime is so precious. An online dating platform dedicated to mature adults over 50, it's the perfect place for you to look for the type of love that befits your experience, wisdom, and maturity. If you're hesitant to commit and pay for a platform that you're not sure will work for you, simply apply for OurTime free trial, which has all the features to get you started.
📣
Among users that have tried multiple senior dating apps, most say they prefer SilverSingles over OurTime. While OurTime has a larger user base, users agree that Silver Singles offers more features, is easier to use, and ultimately delivers a better chance of finding love online.
Try SilverSingles Free!
---
OurTime Free Trial Breakdown
| | |
| --- | --- |
| Trial Length | Unlimited |
| Trial Cost | 100% free |
| Sign Up Time | Less than 5 minutes |
| Send Messages? | No - only available with paid subscription |
| Receive Messages? | No - unless the person who sends you the message purchases an add-on feature to allow you to reply for free |
| Video Chat? | No |
| Add Images/Videos? | Yes |
| View Images/Videos? | Yes |
| Create/Edit Profile? | Yes |
| View Profiles? | Yes |
| See Who Viewed Your Profile? | Yes |
| Send Winks? | Yes |
| View In-person Events? | Yes |
| Sign Up for In-person Events? | Yes - but you need to pay for the specific activity fee |
---
How to Start Using OurTime for Free
Signing up for OurTime is really easy – it only takes you less than 5 minutes! Here are the 6 simple steps on how to sign up:
Visit OurTime.com.
Select one of the four dropdown options available, whether you're a man seeking men or women, or a woman seeking men or women.
Next, select your country, between the United States or Canada.
Enter your ZIP Code so you may filter by location.
Key in your first name and choose your password.
Lastly, enter your email address, and you're in!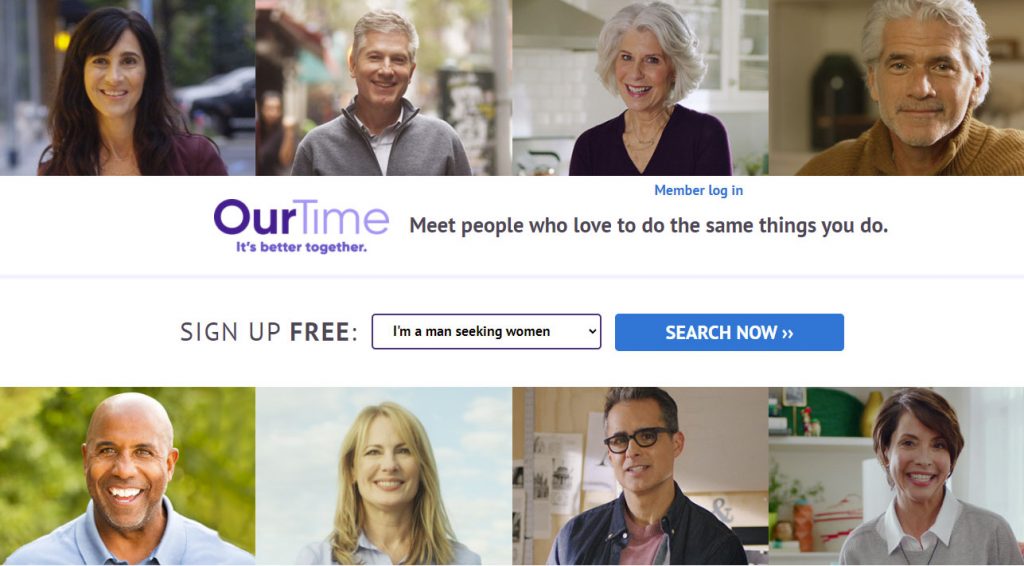 After signing up, you're automatically assigned a free account for you to start browsing. But first, begin by sprucing up your profile to make it authentic, yet attractive enough to attract views and winks. Here are some tips for you to get started:
Personal information – stay true to yourself and include the information you'd like your prospective partner to know, without you having to hide anything when you meet them.
Photo – it's true that the world of online dating is pretty much based on photos, since you browse and swipe with photos in your face. Photos get people interested, before they want to find out more about you and your wonderful personality. It's not just about how you look, but also how you present yourself, and even how you lead your life. Display a variety of photos to show confidence in how you look and provide a glimpse of your lifestyle, be it travelling, cooking, or even salsa dancing!
Video – more than just photos, you can choose to upload a video for potential matches to gain a better idea of who you're as a person. A personalised video can further enhance your sincerity and authenticity.
Greeting – if you're camera-shy, you can type out your sentiments in your greeting message. Share the reason you're on this platform and what you're looking for, whether it's love, companionship, or friendship. This will save you the trouble of sieving out those with a different intention from yours. Just remember not to mention your membership status, or the message can be rejected.
---
Features OurTime Trial Includes:
Other than setting up your profile with your personal information, photos, videos, and adding a greeting, OurTime free trial also allows you to browse and flirt:
What to browse – you can browse through all the profiles on the platform, check out your daily matches, or you can filter them by location, distance, online status, activity, and new members. You can also see who has viewed your profile and browse through the in-person activities the site has lined up. While you're free to browse through the in-person activities available in your locale, there's a price tied to every activity you wish to participate in.
How to flirt – you can only send winks to the profiles you're interested in with a free account. While you may receive messages from people who are interested in getting to know you, you won't be able to read or reply, unless the paid subscriber who sent you the message purchases an add-on feature that allows you to reply for free. Nevertheless, a wink might just be sufficient to attract someone to pay not just to text you, but for you to reply as well.

Premium Features – Not Included in OurTime Trial
If you're serious about getting to know someone on a deeper level, chances are you'll want to chat them up, and the only way to do so is to subscribe to a premium membership. Premium membership has the following features that you may find useful once you've set your sights on certain profiles:
Send and receive messages – other than looking at their pictures, reading their profiles, and sending winks, the next step is to establish contact, which only a premium membership allows. To boost your chances of getting a response, a paid member can also purchase add-ons for free members to read and reply to your message for free. A paid member can also check to see if your recipient has read the message if you purchase another add-on for message read confirmation.
Highlight your profile – you can purchase 60-minute boost sessions for you to be featured in the top results of your potential matches. You'll also get to see the potential matches that have you featured on top of their searches.
Like and comment on photos – in addition to sending winks, a paid member gets to like and comment on photos of the people you're interested in. While it's a great way to show your interest, you'll know whether the interest is mutual only if the other party is also a paid member.

OurTime Free Trial vs Their Competitors
OurTime free trial provides you the freedom to browse through profiles without restriction, whereas other senior dating sites like SilverSingles may blur the profile photos of potential matches for free accounts, so you may only get to read their profile information. You can also view who has seen your profile and keep track of the profiles you've viewed on OurTime free trial, but you won't be able to do so on SilverSingles free trial.
While both OurTime and SilverSingles free trials allow you to flirt with a wink or a smile, both will require paid subscription to send and reply to messages. However, you'll still get to receive messages on SilverSingles free trial, but you won't be able to read the messages on OurTime free trial.
What's really interesting about OurTime free trial is the ability for you to browse through the in-person events they're organising near you, while most dating sites stop at providing you matching services online. Although you'll still have to pay to participate, it helps to know that you have the option to meet a potential match face-to-face, instead of staying behind the screen.

Is OurTime Free Trial Worth It?
OurTime is one of the most popular dating platforms for seniors, and it's not without a reason. The platform is fuss-free and easy to use, especially for seniors. OurTime free trial provides the opportunity for those who may be wary of online dating and its effectiveness to give it a go and check out the quality of profiles on the platform, since you're able to view their full profile.
OurTime free trial also allows you to flirt with a wink and offers an option for those who are genuinely interested in getting to know you to pay to do so. Although you may have to pay to view and reply to messages, the fact that you're willing to do so will indicate your reciprocal interest to the sender. Alternatively, if a paid member sends you a message with an option to reply for free, you know how serious they're in talking to you.
That's why free trials are necessary for online dating platforms to get you started. As they say, if you don't try it yourself, you'll never know how effective it is for you. With OurTime free trial, you'll get to explore most of their platform features, flirt with potential matches to get a sense of the options available, and decide if it's the right platform for you, before you commit to it with a paid subscription. If you're serious in finding a like-minded partner, OurTime free trial is surely worth your time.
More OurTime Alternatives to Consider
At the beginning of this article we mentioned SilverSingles, but that's not the only dating site showing great results for seniors. Below we've listed some of the most successful dating apps on the market right now with free trial links to help you find the best fit for your online dating needs.