Dating is never easy but adding an STD into the mix adds to the challenge. Every time you swipe right, you worry about disclosing your STD status, and the stress can be overwhelming. You might even want to ditch the dating scene, adopt some cats, and ride out the best years of your life alone. Fortunately, you can come out of your shell with Positive Singles. While you can still adopt a cat or two if you want, you'll be less likely to be a single pet parent after finding your match on the site.
When you use Positive Singles, your STD status will be the least important or interesting thing about you. Everyone else on the site also has an STD, so they'll want to get to know the real you instead of discussing your status. And if that isn't reason enough to test it out, you can make a connection without paying any money by setting up a free account. Let's dig in so you can see why Positive Singles is a top choice for dating with an STD.
---
Positive Singles Free Trial Breakdown
| | |
| --- | --- |
| Trial Length | Unlimited |
| Trial Cost | 100% free |
| Sign Up Time | 2 minutes or less |
| Send Messages? | Only when responding |
| Receive Messages? | Yes |
| Video Chat? | No |
| Add Images? | Yes |
| View Images? | Yes |
| Browse Singles? | Yes |
| Filter Search? | Yes (basic) |
| Create/Edit Profile? | Yes |
| View Profiles? | Yes |
The Positive Singles free trial also has some unique features, such as:
Tinder-style SPARK tool
Members first-date ideas
Photo verification
STD information and inspirational stories

Is the Positive Singles Free Trial Worth It?
If you've tried dating app after dating app, you might be a little gun-shy about Positive Singles. Make no mistake, though. It's well worth your time and energy.
Most free dating apps are swimming with digital catfish, but that's not a concern here. Users can verify their profile photos, meaning you'll know they're who they say they are. You can also search profiles, send winks, and respond to messages without paying any money. Every step you take will bring you closer and closer to that special someone without putting you further and further into debt.
Just keep in mind that while there aren't catfish swimming in the pond, you still need some bait to catch a date when using a free account. Since you can't initiate conversations, take extra time to fill out your profile and upload photos to lure singles your way.
Positive Singles Alternatives (With Free Trials):
---
How to Start Using Positive Singles for Free
Getting started with Positive Singles couldn't be easier. Start by clicking the link to create your profile.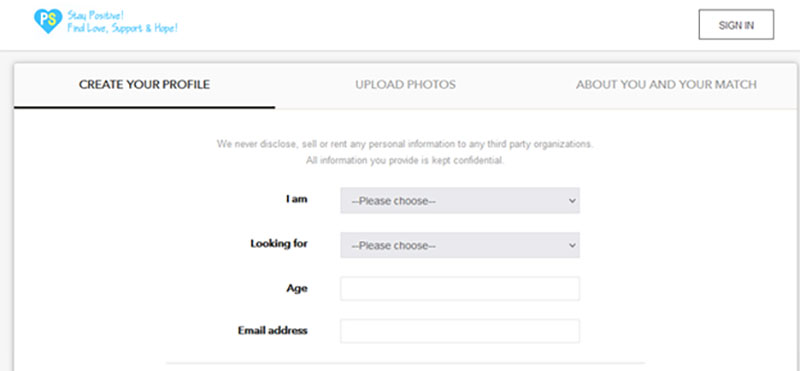 While you might want to fly through the profile setup and start finding singles, take your time filling out each section, including the type of STD you have, your headline, and info about you and your perfect match.
Then, you'll verify your email before uploading photos. After uploading that last picture, use the "Discover" tab to find your match.


Features of the Positive Singles Trial Includes:
If you've been on the online dating scene for very long, you might not expect much from a free account. However, Positive Singles goes above and beyond, providing non-paying users with a robust number of features. That starts with your options when creating your profile.
Creating a Profile as a Free Member
Have you noticed that some dating apps don't let you create a profile complete with a picture unless you pay? Sure, you can browse the available singles (or polyamorous multiples), but that's the end of the road.
Fortunately, Positive Singles isn't like that. The site allows you to upload 26 private and 26 public photos to let people see all of your angles and personalities. And once you create your private album, you'll have full control over who accesses it.
Discovering Singles
You don't have to wait for people to come to you on Positive Singles. You can go on the prowl with the app's search feature. Your free account will allow you to search by age, gender, and location:
When someone grabs your interest, click on the profile and check it out. You can read the bio, look through pictures, and even read the person's first date ideas. With so much to see, you might feel a spark before navigating back to the search results.
Connecting with Singles
So, you've found someone who catches your eye, and now you're ready to take the next step. While you can't start a conversation, you can send a wink to grab the person's attention. That'll let the other person know you're interested and want to start talking.
Does a wink feel a little too forward? You can also make notes about potential matches and add people to your favorites.
It won't take long for the messages to start rolling in, and you can respond with a free account. At that point, you'll be ready to lay on the charm and secure an in-person date.

Premium Features – Not Included in Positive Singles Trial
As impressive as the free account is, you'll access even more features with a paid account. It's like everything you love about Positive Singles, with a little extra. Let's take a closer look, so you'll know if you want to upgrade your account.
Profile Searches
Positive Singles is a business, so it gives preference to paying members. That means your profile will show up at the top of searches, giving you more chances to make a connection.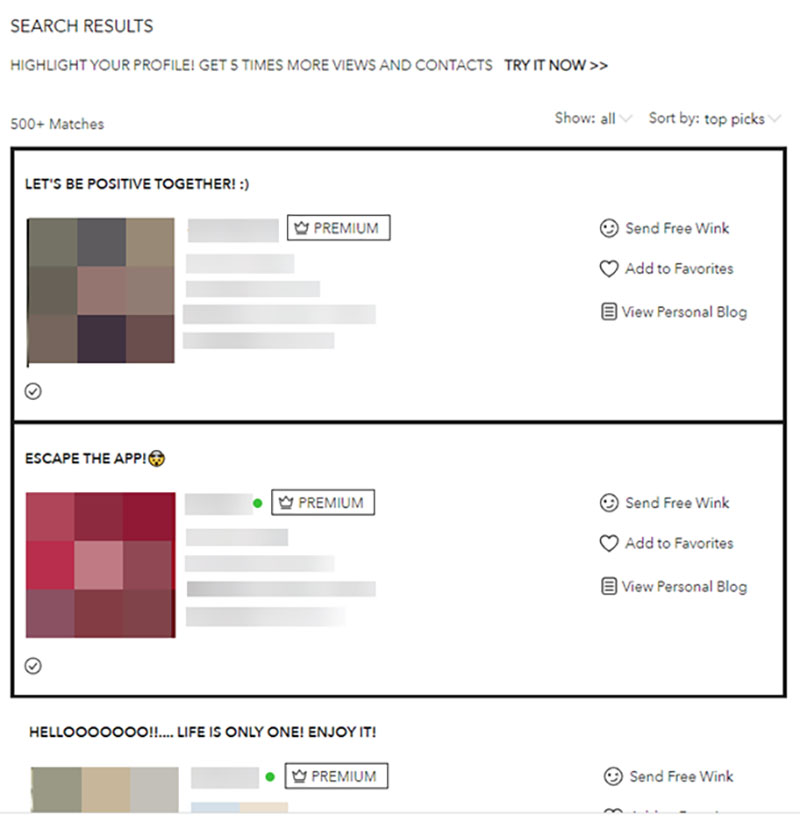 Discovering Singles
Nothing will hold you back from finding a connection as a paid member. You'll have additional search filtering options, including by type of STD. You can even search for reverse matches or find people who have viewed or favorited your profile. You can see your filtering options with a free account, but you have to upgrade to unlock them.
Connecting with Singles
As a paying member, you can reach out to singles first instead of waiting for them to come to you. Plus, you can respond to users' first date ideas if you want to add to the conversation.
The site will even lend a helping hand if you're having trouble making connections. You can chat or email the dating advisor to get some tips for landing dates.

Positive Singles Free Trial vs. Meet Positives
It's hard to have a conversation about Positive Singles without wondering how it compares to Meet Positives. Both are leading STD dating apps, and they offer free accounts. So, that begs the question, how do they stack up?
At first glance, the two look quite similar, especially when creating profiles. However, Meet Positives also lets free users initiate conversations and filter search results by STD, religion, lifestyle choices, relationship status, and more.
The extra features give Meet Positives a bit of an edge. Even so, you don't want to forget about Positive Singles. Instead, consider using both to double your options.
With Positive Singles and other apps, now's a great time to be out in the dating world. Sign up for a free account so you can test the waters. You might even find the love of your life inside of the app.