Do you want to find love? Of course, you do! Millions of people turn to online dating websites in hopes of finding their perfect match. But, what's the right site for you?
In this Match.com review, we'll take a look at all the pros and cons of this popular dating site that's been a frontrunner in the online matchmaking world since 1995. Does longevity translate to a higher success rate, though?
Well, by the end of this review, you'll be able to decide for yourself. We're covering all of the ins and outs, the mutual matches and reverse matches, that make Match.com the self-proclaimed number one dating site.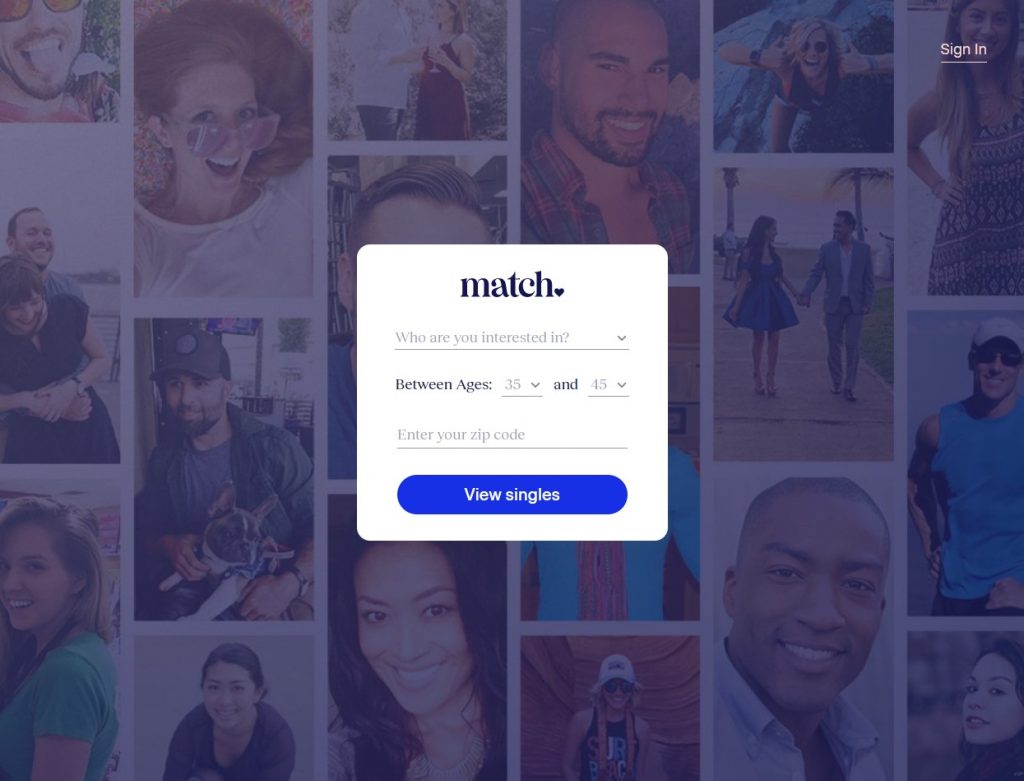 ---
Match.com App at a Glance
Overall Rating – 3.2/5.0

| | |
| --- | --- |
| Userbase | 11 million + |
| Sign-Up Time | 5 minutes |
| Membership Cost | Starting at $15.99 |
| Payment Required? | Yes, but free trial available |
| Avg. User Rating | 3.8/5.0 |
| Avg. User Age | 30-49 years old |
| Gender Ratio | 56% men | 44% women |
| Free Messaging? | Yes, but limited |
| Video Chat? | Yes |
| iOS App? | Yes |
| Android App? | Yes |
| Web Friendly? | Yes |
| Support Options | FAQ, live chat |
| Launch Date | 1995 |
| Owned By | Match Group |
Is Match.com Right for Me?
Match.com is the most established dating site that now skews slightly higher in age than in the early years. While most singles are in the 30 to 49 age group, over 50s are the fastest-growing demographic.
You'll find that Match.com is considered a catalog-type dating app. Members can scroll, sift, and sort through potential partners based on the criteria most important to them. That means if you'd like to retain more control over who you can reach out to instead of letting an algorithm wipe out some of your possibilities, then you'll appreciate this type of service.
---
---
What is Match.com?
If there's a name synonymous with online dating, it has to be Match. It started with a simple premise of making it easier for singles to find each other. While the goal remains the same, Match.com has expanded to millions of active users in 50 countries, communicating in a dozen languages.
Match.com History
It was actually Kiss.com that started modern-day online dating, opening its virtual doors in 1994. However, Match.com followed right behind the following year, and by '96, there were 16 online dating operations. The bulk of those at the forefront of the industry came and went quickly. But Match.com survived the test of time, growing into the self-proclaimed number one dating site.
Unfortunately, Match's founder, Gary Kremen, wasn't along for the ride. Kremen was the driving force behind the "online personals site" but left after disagreements with venture capitalists a year later.
In 1997, Cendant purchased Match, which sold it to IAC two years later. IAC became Match Group in 2009, which now includes a roster of sister dating sites including Hinge, Tinder, OkCupid, and Plenty of Fish.
What Makes Match.com Different?
The real question should be, "what makes every other dating app different from Match.com?" as it came first. But when you compare services side by side, you'll find a few features that scream Match.
One of the most attractive opportunities is Match "offline," which is unusual for a dating app. But, in 2003, Match.com decided to take it to the streets with Match Live. Members can attend local events or even go on exotic trips with other singles in the community. It expands the value of being a Match member, especially for users who prefer a more personal connection but are hesitant to set up their own in-person meets.
Similar to comparable sites like Zoosk, Match.com tends to be a middle-of-the-road type of dating service. Members represent the diversity of today's dating pool. You'll find young, old, gay, straight, those looking for commitment, and others who prefer something much more laid back.
Pros and Cons of Match.com
Pros
A well-established dating site with more than 25 years of experience
Five-minute registration process
Millions of paid and active members
Specializes in catalog-style dating
Top-notch sorting options with the discover tool
Sponsors live singles events
A unique feature displays common traits between potential matches
Next-level Tinder-like matches with mini-profiles
Two free trial opportunities
Vibe check video chats
Cons
The matching algorithm isn't as thorough as some other apps
Quite a few partial profiles make it challenging to review all potential partners
Limited customer service hours
Location-matching isn't accurate
Ads can be distracting

How Does Match.com Work? – Features Overview
Match.com is one of the best for catalog-style dating. That's where you see a potential list of partners who are somewhat in alignment with what you're seeking. You can review them, search for more, and sort by a wide range of criteria like age, location, or how active they are on the app.
Additionally, Match has a Tinder-like (swipe left or right) setup, but it's more fun to use. Or, maybe we should say it's more accurate to use. Swiping at photos with just a glance might be more your thing. But, with Match.com's version, you can learn more before you click "skip" or "yes," as a quick at-a-glance profile accompanies the pic.
After all, sometimes a picture isn't worth a thousand words!
Signup process
Get ready for multiple choices, as the bulk of your five-minute Match.com registration involves answering simple questions about yourself. None of the questions are too thought-provoking and include things like:
Do you have or want children?
What type of relationship are you looking for?
Do you smoke or drink?
You'll also share some of your interests and personal info, including height, body type, and religion.
But one of the mandatory and important parts of your profile (along with good photos) is the "Tell us a little bit about yourself" question. There are no multiple choices here, so you'll need to be creative and come up with at least 100 characters. A unique and revealing answer could go a long way toward getting noticed by the right singles.
Matchmaking Process
Things haven't changed significantly since Match.com's early days. It started as an online personals site and continues as a modernized version. Instead of relying on the algorithm, making a love connection is more in your hands.
Now, control isn't necessarily a downside, as Match has some of the best sorting features you'll find in relationship websites. You can take a narrow list and then sort it according to what's important to you, whether location, income, religion, or other criteria.
Unique Features
There's more than just "shopping for a match," though. Match.com also caters to people who have fun scrolling through their possibilities. But it goes beyond Tinder (another member of the Match group) by giving you more information, so you're not just judging a book by its cover.
We particularly like Match.com's version of swiping because of the mini-profile attached to the picture. And, no, you can't swipe. But "skip" or "yes" will still do the trick!
Another unique feature to Match.com is called the Reverse Match. Instead of starting with a search for people you're interested in (like shopping for a match), you can take a different approach. The Reverse Match gives you a list of people looking for someone like you. Then, once you know you fit the bill for them, you can narrow that list to the ones that tick the boxes for you.
Free vs. Paid Membership
Match has made some positive progress by adding a second trial membership plan. For years, you could set up a profile and roam around the member area, but that's about it. If you saw someone you were interested in, they were off-limits until you upgraded to a paid plan.
That means new users can message and theoretically make a love connection (or at least a casual connection) for free.
While 72 hours isn't a long time, it's enough to get to know how the app works, how messaging goes, and what you'll find when you take advantage of Match.com's custom search options.
The following are the Match.com premium membership features, also open to new members for three days.
Become searchable by creating a profile
Post pictures
Send messages
See who has messaged you and respond
Send your likes
Find matches
Get the hottest picks (for you!)
View who has viewed you
Find out who likes you
Take advantage of super likes
Priority access to on and offline Match events
If you're still on the fence and just want to let your introductory membership ride without upgrading to a one, three, six, or 12-month Match.com membership, you can still access the following.
Create your profile
Singles search
Play with Match.com's Tinder-like feature
A top-tier membership also adds just a bit more to the premium plan. If you opt to go all-in in the Match.com community, you can use all of the premium features plus these add-ons.
Notifications of emails that have been read
Unlimited rewinding
A weekly super like
Benefit from a boost each month
View members who have upgraded
Best Free Feature: Access to other member profiles. It gives you a good idea of the types of singles in your area in the Match.com community.
Best Paid Feature: We're cheating a bit here and lumping all of the sorting features into one. But, Match's best premium features are the custom sort functions, like reserve match, location-based, education, and other profile-based searches.

How Much Does Match.com Cost?
| Membership Type | Length | Total Price | Price Per Month |
| --- | --- | --- | --- |
| Standard | 3 months | $95.97 | $31.99 |
| Standard | 6 months | $137.94 | $22.99 |
| Standard | 12 months | $227.88 | $18.99 |
| Premium | 3 months | $104.97 | $34.99 |
| Premium | 6 months | $149.94 | $24.99 |
| Premium | 12 months | $239.88 | $19.99 |

What Kind of Relationships is Match.com For?
We can't put Match in a box. Members are looking for anything from a casual hookup to someone to marry, extending to straight, gay, younger, and older singles.

The Bottom Line – Is Match.com Worth It?
We think Match.com is a viable choice for anyone open to meeting a broad range of people and who likes to have a bit more control over the search process.
Match doesn't rely as heavily on algorithms to narrow your options as much as some of its competitors. But the reliance on math is replaced with top-notch searching and sorting capabilities. So, you're in the driver's seat.
However, you have to be willing to pay for the membership as the free version is only handy to test the waters. You can see what kind of singles use the app, but it would be tough to make a real connection unless you go premium.

---
User Reviews of Match.com
Most of Match.com's reviews come from its free members, who are primarily frustrated with the app's limitations. Many users complain about the lack of access to other Match members, feeling pressed to spend money on the site.
We need to remember that Match.com refers to itself as a premium dating app and not a free service. However, it appears that the company needs to communicate that better, so we want to stress that here.
And while Match has been behind countless love connections over the years, today's users would like more accurate location filters and fewer inactive profiles on the site.

Match.com vs. The Other Guys
It's one thing to talk about what Match.com offers (or doesn't). But we think it's even more helpful to compare this particular dating site with a few of its competitors.
Match.com vs. Zoosk
Our in-depth Match.com review revealed quite a few similarities between Match.com and Zoosk. They're both about middle-of-the-road sites that are more generic than today's niche dating apps. That means that singles join for many reasons. While some are looking for the one, others seek a broader dating horizon. Zoosk is slightly more affordable and has a more valuable free membership, but Match offers those unique offline events.
Match.com vs. eHarmony
As we've mentioned, Match.com doesn't have a singular focus. It's more like a dating marketplace with singles searching for casual and long-term relationships. On the other hand, eHarmony is more of a marriage-maker. eHarmony gets to the nitty-gritty with an extensive registration questionnaire, while Match.com provides custom sorting options, so users have more control.
Match.com vs. Facebook Dating
Facebook Dating is the new kid on the block compared to Match.com, which started the online dating revolution. So, Match.com has refined its features and practices over the past few decades and accumulated a massive user community. However, Facebook Dating keeps its cards close to its chest and doesn't reveal many official stats. The most significant difference is the price, as Facebook Dating is a free service across the board.

Match.com FAQ
Does Match.com have a free trial?
Yes. Match.com has traditionally offered a free trial to showcase its features and the caliber of singles who use the site. But, because of its messaging limitations, Match now provides three days of nearly unrestricted access.
Is Match.com a free dating service?
No. Match.com considers itself a premium service. While users can create a profile and see other singles for free, most communication tools are for paid members.
What's the breakdown with singles on Match.com?
Members of the Match.com community skew slightly higher males (56%) and are in the 30 to 49 year age range. However, 50+ is the fastest-growing user demographic at just over 25% and rising.
Was Match.com the first online dating site?
Match.com is undoubtedly the most successful early online dating site, with more than 25 years under its belt. However, a website called Kiss.com emerged in 1994, a year before Match.
Do I have to fill out a lengthy questionnaire to join Match.com?
No. Unlike eHarmony, Match.com keeps things pretty laid back, with just a few preliminary multiple-choice questions and a short "tell us about yourself" section.