Even though a third of Americans over 50 are single, it's a challenging quest to find new friends or committed relationships online within a sea of 20 somethings. And while the 50+ demographic is growing on sites like Match.com, you might feel more comfortable on a niche site like SilverSingles.
But does SilverSingles live up to the hype? We know you're wondering, and we were too. So, we did our homework, looking at the dating app from every angle to answer your top questions in our detailed SilverSingles review.
Keep reading, and you'll know what's happening behind the virtual doors of the SilverSingles community so you can decide if you want to be a part of it!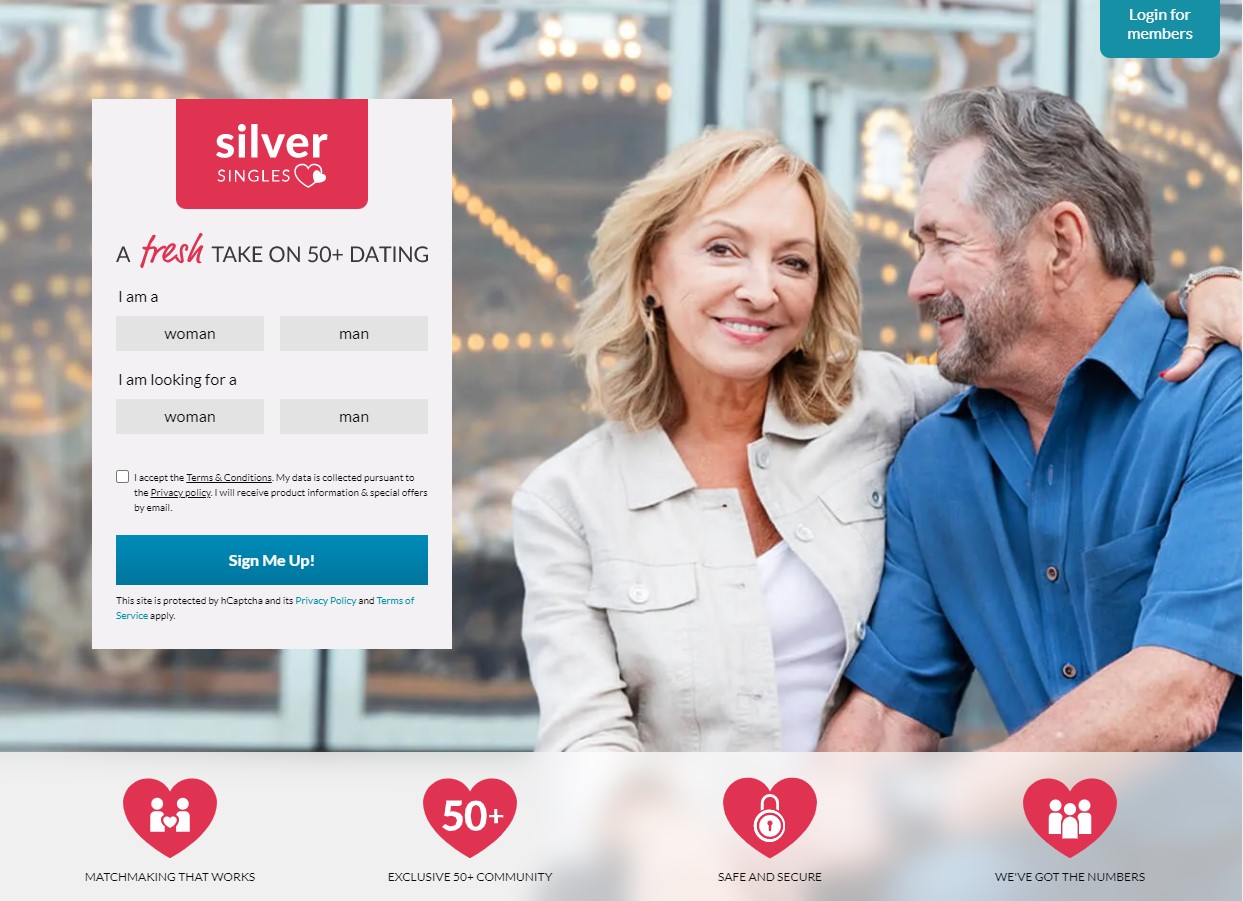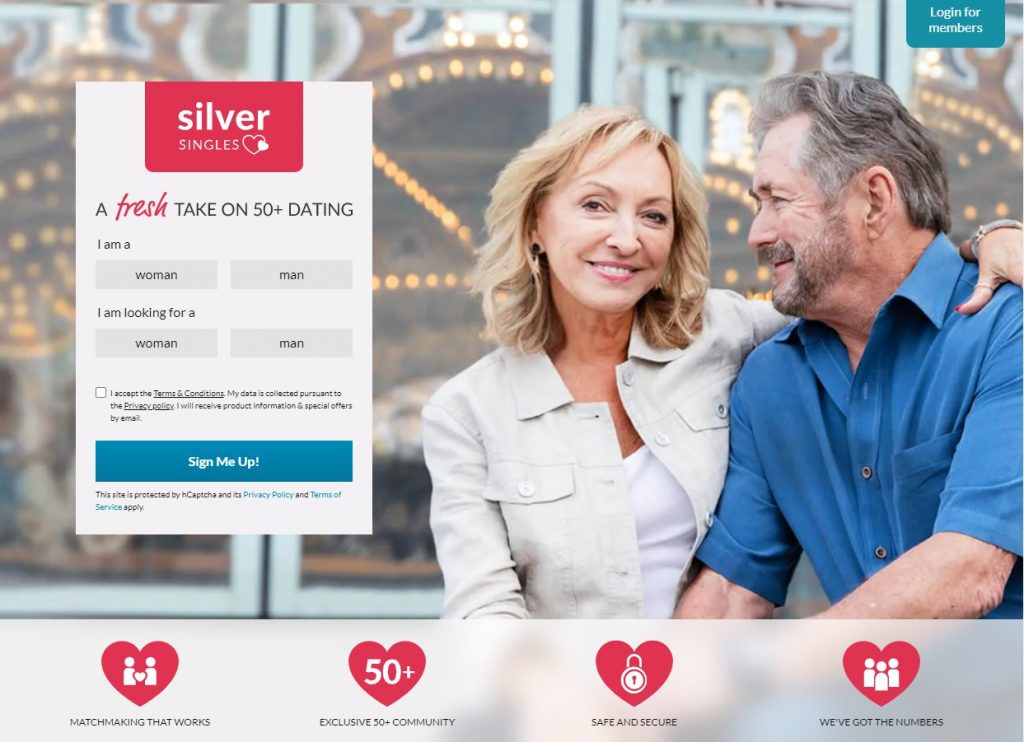 ---
SilverSingles App at a Glance
| | |
| --- | --- |
| Userbase | 800,000 |
| Sign-Up Time | 45 minutes |
| Membership Cost | Starting at $19.99/month |
| Payment Required? | No – a free trial is available |
| Avg. User Rating | 3.9/5.0 |
| Avg. User Age | 50+ |
| Gender Ratio | 56% men | 44% women |
| Free Messaging? | No |
| Video Chat? | No |
| iOS App? | Yes |
| Android App? | Yes |
| Web Friendly? | Yes |
| Support Options | FAQs, email, phone |
| Launch Year | 2002 |
| Owned By | Spark Networks |
Is SilverSingles Right for Me?
We won't beat around the bush here, as SilverSingles offers a straightforward service designed for singles over 50. So, if you like the idea of using a dating app filled with other users that are closer to your generation, you've come to the right SilverSingles review.
We think you'll appreciate behavioral matching reminiscent of eHarmony, presenting you with the best of the best from within the SilverSingles community. However, the service comes with a price. We can hook you up with a free trial, but "trial" is the operative word, as you get a general idea for how SS works, but many features are off-limits.
With the free version, you'll take the same personality test and can look around, but there's something you won't see – other members' faces! Unless you take the plunge and pay for the service, all images are blurred. And, yes, personality matters. But you've got to admit that a picture can be worth a thousand words – at least in the beginning!
---
---
What is SilverSingles?
The name pretty much gives it away, as SilverSingles is a premier dating site for the over 50 generation. Like its sister app, EliteSingles, a niche service for highly-educated users, Silver uses a personality test to drive its matching algorithm.
SilverSingles provides members with up to seven proposed matches daily, along with independent searching and sorting capabilities. So, members can sit back and leave the matchmaking to the professionals or be assertive and reach out to other members that catch the eye.
SilverSingles History
You might be surprised to know that SilverSingles has two decades of online matchmaking experience, but you can't tell from the name alone. That's because the app for singles over 50 started in 2002 as PrimeSingles.net. In 2009, it morphed into Single Seniors Meet (not a great name in our opinion), but that was short-lived, as Spark Networks acquired the site in 2011.
Not only did Spark give it a better identity, but inclusion in an online dating empire. Spark Networks is behind industry giants like Zoosk, JDate, Christian Mingle, and EliteSingles. And SilverSingles and EliteSingles are nearly identical apps focusing on two different client bases. So, if one benefits from new technology or added features, the other will most likely follow suit.
What Makes SilverSingles Different?
There are very few dating services specifically designed for singles in their 50s, 60s, 70s, and beyond. Over 30% of the over-50 crowd is unmarried, so SilverSingles targets a relatively sizeable untapped market.
That doesn't mean you're limited to niche dating apps like SilverSingles if you're over 50, though. With one-quarter of its members in the mature singles realm, 50+ is Match.com's fastest-growing demographic.
However, many mature users don't want to be lumped in with 25-year-olds in the available singles category. Hence, SilverSingles offers a more exclusive dating service than the others while still offering similar matchmaking tools.
Pros and Cons of SilverSingles
Pros
Answers to the 125+ question personality test narrow the field to the best matches
3-7 quality proposed matches daily
Filters for specific relationships (LGBT, 60+, mature, etc.)
International reach (US, UK, Australia, Canada, France, Germany)
All users are 50 or older
Profile verification and fraud detection
Coaching option (for a fee) – professional profile writing
Easy to use app (even for beginners)
Better customer service accessibility than most
Relatively high success rate (2,000 couples/month) for its user base
Cons
Free trial is quite restricted
Memberships start at three months instead of one
No video chat capability

How Does SilverSingles Work? – Features Overview
As we noted in our Pros list, SilverSingles is relatively easy to use. You're not going to have to read manuals, watch YouTube videos, or take a class to navigate your options. The most time-consuming task, though, is the signup process.
Signup process
You can liken SilverSingles' signup process to eHarmony. It uses a more complicated algorithm to provide you with potential partners, and that math feeds on data. So, before you even enter the virtual doors to see what's happening within the community, set aside an hour or so to answer 125 questions and seven essay questions honestly.
Yes, you'll feel like your back in high school with those little blue books. Instead of an A, though, you could end up with something so much better!
Matchmaking Process
SilverSingles is more of a quality over quantity type of dating app. It takes your personality test, profile, and interactions to recommend 3-7 potential partners each day, complete with a matching score.
However, you also have access to other member profiles and can sift and sort with all kinds of search options like age, location, and sexual orientation.
That's not everything, though, as SilverSingles has two other matchmaking tools called "What if?" and "Have you met?".
Unique Features
Have You Met?
With the Have You Met? tool, you can find more people to connect with than just your five or so daily matches. This app is like a pared-down version of Tinder where users get 20+ additional ones that are close but slightly miss the mark on being ideal.
What if?
The field is wide open when you take advantage of "What if?" opportunities. You can search through all SilverSingles and see who catches your eye that the algorithm neglected. Is it possible that technology might miss something? Crazy, but true!
Paid Coaching/Profile Writing
It costs about $100, but professional profile writing might be worth it if you struggle in this area. You're certainly not alone, as many people have a hard time putting themselves in the best light. But we like this particular option, as it can make a huge difference in the overall SilverSingles experience.

Free vs. Paid Memberships
Free SilverSingles Membership Benefits:
Onboarding through the personality test and registration questions
Create a basic profile
Receive a limited number of matches
Send smiles to official matches
Read messages sent to you
See who lives in your area
Although you can access some of SilverSingles' features with a free trial, the downside is limited messaging, and you can see profiles but not the accompanying photos. That means, unless you're a paid member, all images are blurred.
Paid SilverSingles Benefits:
All of the free membership benefits
Expanded profile
A more thorough explanation of the personality test results
Unlimited messaging
"What if?" and "Have you met?" opportunities
Regular matches
Read receipts
Unrestricted access to profiles and photos
Best Free Feature: The ability to see how many singles are from your general location.
Best Paid Feature: The app's unique algorithm generates three to seven daily match suggestions.

How Much Does SilverSingles Cost?
| Membership Type | Length | Monthly Price | Total Cost |
| --- | --- | --- | --- |
| Premium Light | 3 months | $37.95 | $113.85 |
| Premium Classic | 6 months | $21.95 | $131.70 |
| Premium Comfort | 12 months | $19.95 | $239.40 |
The price of Silver Singles premium membership has just recently dropped making this a great time to give this elder dating app a look. Here's a quick peek at what prices were before the update:
Premium Light – $49.95/month (Now $12 cheaper/month)
Premium Classic – $37.95/month (Now $16 cheaper/month)
Premium Comfort – $27.95/month (Now $8 cheaper/month)
As you can see, this was quite a major price jump for Silver Singles users and an awesome opportunity for savings. Click the button below if you'd like to take advantage of this new discounted pricing and try Silver Singles today:
---
What Kind of Relationships is SilverSingles For?
We've driven home the concept of online dating for singles over 50. But there's more to members than their age, and people use this particular service to find a variety of relationships. Not only does it cover casual to serious, short-term to long, but some SilverSingles just want to make new friends.

The Bottom Line – Is SilverSingles Worth It?
It's challenging at any age to find love or make new friends, but especially so as we get older. While SilverSingles comes with a premium price tag, most users agree that it's a decent matchmaking service. It's super easy to use, has some handy search features, and has resulted in an average of 2,000 couples a month. That 2,000 isn't too bad, considering SilverSingles has just under a million users.
We can't recommend relying on the free trial to make connections. But if you don't mind paying for at least three months, you might have a great time connecting with other (silver) singles.
---
User Reviews of SilverSingles
When we read through user reviews of any dating app, we typically find consistent patterns. Most involve coming across seemingly fake profiles or being matched with singles who live too far away.
With SilverSingles, members struggled with the app itself. We can't tell you how many times we came across the word "glitchy." It appears that iPhone access is better than Android, but new users might have more success using a computer to get up and running.

SilverSingles vs. The Other Guys
Have you been using another dating app, or are you doing a little comparison shopping? Do you want to know how SilverSingles stacks up against some of its competitors? Well, here are some of our findings.
SilverSingles vs. Match.com
Match.com reports a trend of more mature users in the Match community. While just under 50% are in the 30-49 group, nearly 27% are over 50. That means you'll have a significantly sized dating pool with Match.com, but it's not an exclusive one. SilverSingles is dedicated to 50+ singles, so it's more comfortable for many members.
SilverSingles vs. EliteSingles
EliteSingles is a dating app for singles with a better-than-average educational background, and SilverSingles bills itself as a "fresh take on 50+ dating." But that's where the distinctions end, as both sites are nearly identical.
SilverSingles vs. Facebook Dating
One of the downsides to SilverSingles is its price tag, so we're including Facebook Dating on our comparison list as it's a 100% free alternative. While SilverSingles has a free trial providing limited access, everything is free on Facebook Dating. You should find quite a few 50+ users on FB Dating, but you'll also come across many fake profiles, quite a few more than through SilverSingles. Plus, SS considers about ten times more criteria than Facebook Dating.

Silver Singles FAQ
Is SilverSingles a New Dating App?
No. Although SilverSingles began as PrimeSingles.net, the dating service has been around since 2002.
What's the Difference Between SilverSingles and Match.com?
While they're both dating websites/dating apps and open to singles over 50, SilverSingles is more of a niche service. All members on SilverSingles are 50+ whereas just under 30% of Match.com users fall in that age range.
Are There More Male or Female Users on SilverSingles?
SilverSingles skews slightly higher females than males (41% to 59%), which is unusual as most dating sites are more male-dominated.
Is SilverSingles a Free Dating App?
No. SilverSingles is a premium dating service. Although a free trial is available, most features are reserved for its paid membership.
Will I Come Across a Bunch of Fake Profiles on SilverSingles?
Fake profiles are an unfortunate downside to any dating app, including SilverSingles. Quite a few users report coming across at least one from time to time. However, they're fewer and farther between SilverSingles than similar dating apps. That's because of the extensive personality test integrated into the registration process.