If you want to get a Premium Bumble subscription, you'll pay between $9.99 monthly to $179.99 for a lifetime membership. Keep reading to learn all about Premium Bumble subscriptions and to find out which plan provides the best value.
Quick Cost Breakdown:
Cheapest Membership: $9.99 a month
Most Expensive Plan: $179.99 lifetime plan
Best Value: 3-month plan ($23.33 a month)
Free Trial Available: Yes
Is It Worth It?: Jump to the bottom line for the details

How Do You Pay for a Bumble Membership?
You need to create an account before paying for a Bumble membership. Start by going to Bumble's website and clicking "Join." Then, you can connect with your phone number, Facebook, or Apple account. You'll need to upload a photo and verify your account before proceeding.
Once everything is set up, open the Bumble app and click on the profile icon on the bottom left-hand side of the page. Then, select the membership plan you'd like to purchase and tap the "Upgrade" button.
Finally, you'll pay through the App Store or Google Play, depending on the device you use. If you're using an iPhone, you can connect the following payment methods to your account:
Apple Card
Apple Pay
Apple Cash
Apple Account balance
PayPal
Most debit and credit cards
Google Play accepts the following payment methods:
Google Pay
PayPal
Visa
Mastercard
JCB
American Express
Discover
Visa Electron

Does Bumble Cost the Same for Everyone?
The price of a Bumble premium membership differs a bit based on the country of residence. For example, you'll pay a little less if you live in the UK, but it's minor after factoring in the exchange rate.

Comparing Memberships – Free, Bumble Boost, and Bumble Premium
Most members start with a free subscription to Bumble. You can use your free plan to do the following:
Swipe through profiles
Match
Send messages
Extend one match each day
Set basic search preferences
Send and receive video and audio calls
Play the Question Game
As a free member, you can also purchase SuperSwipes and Spotlights to enhance your plan. You can use SuperSwipes to ensure the recipient sees your "like" first. With the Spotlight feature, your profile will go to the top of the results, meaning you'll get more views and probably more likes.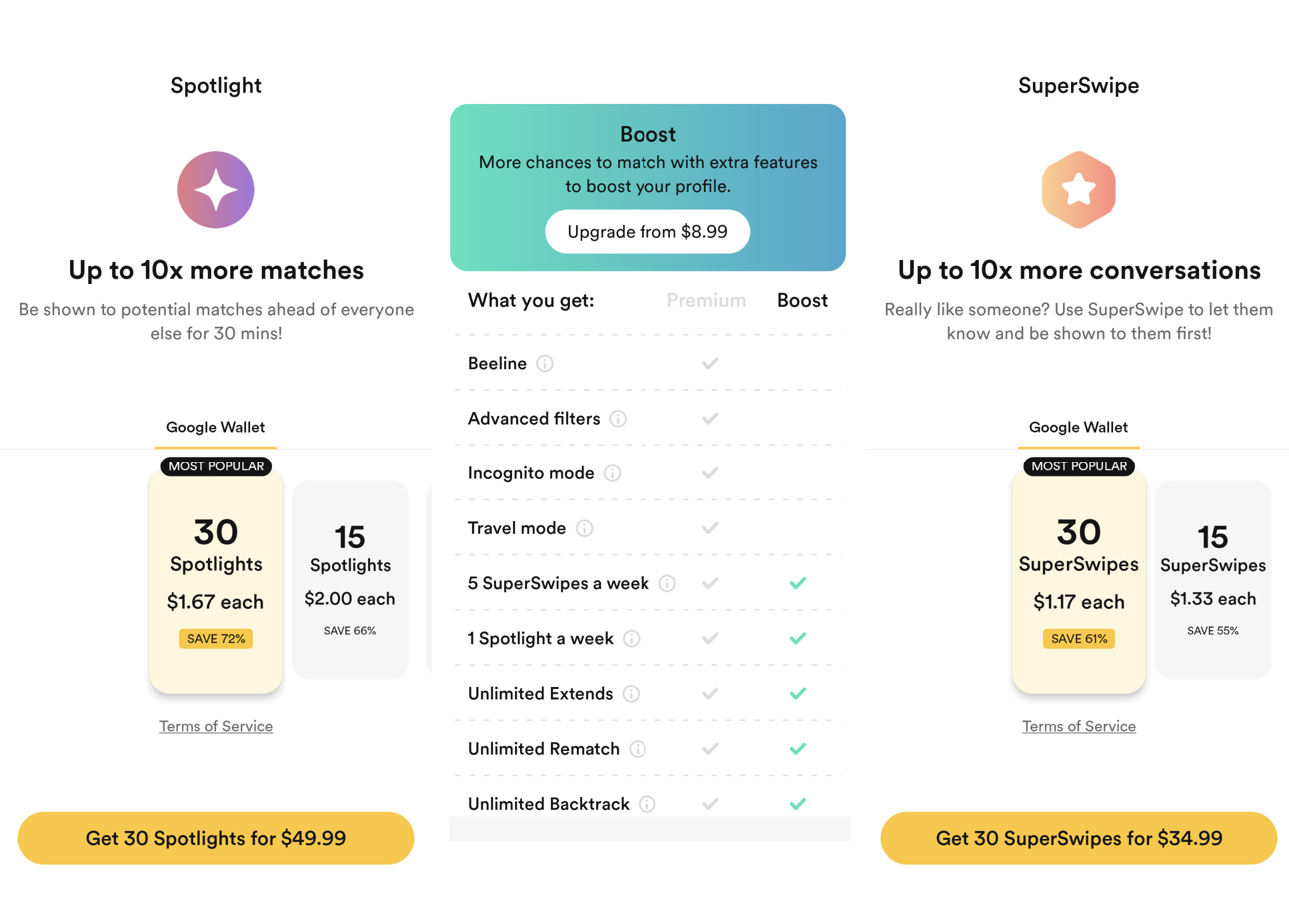 Do you want to avoid purchasing add-ons and get everything in a single plan instead? If so, you can choose between Bumble Boost and Bumble Premium. Let's start with Bumble Boost.
Lots of people ask, "How much is Bumble Boost," so it's clearly a popular plan. Part of the reason is that it's the cheaper of the two options. It might not have as many features as the pricier subscription, but it does include the following:
Unlimited likes
5 SuperSwipes a week (can purchase extra)
1 Spotlight a week (can purchase extra)
Unlimited extends, rematches, and backtracks
Now let's move on to Bumble Premium. The cost of a Bumble Premium membership is higher than the price of Boost, but it has some pretty impressive extras. If you're serious about finding a partner on Bumble, a Premium membership might be necessary.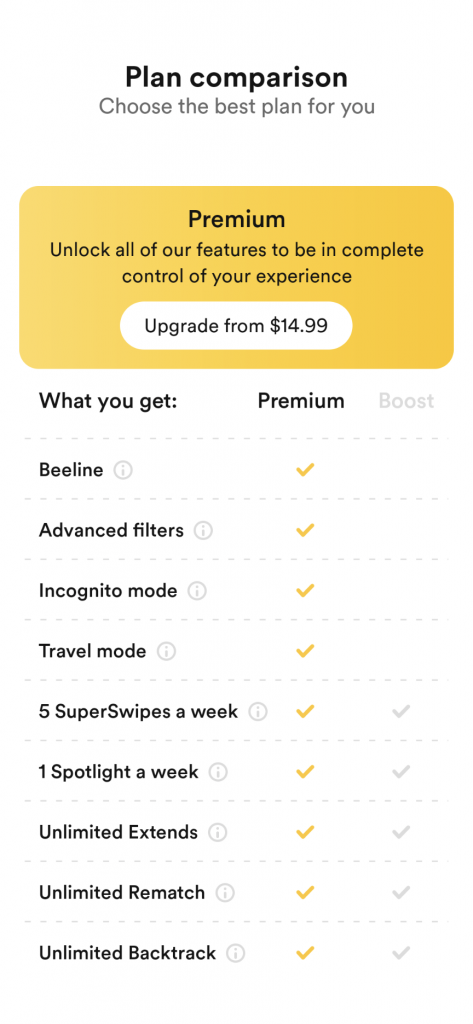 So, if you upgrade to Premium, you'll get all the features included with Boost, along with the following:
Beeline
Advanced filters
Incognito mode
Travel mode
The advanced filters, travel mode, and Beeline feature make the Premium membership superior to the Boost plan. Beeline is our favorite of the extras since it allows you to see who has liked you. That kind of info can go a long way in helping you make connections.
So, which of the Premium subscriptions should you get?
The three-month membership is the best value out of the Premium subscription options. The lifetime plan is enticing because of the savings, but it feels like overkill. On the other hand, the three-month plan gives you time to test the waters without spending a ton of money.

Do Bumble Memberships Renew Automatically?
Yes, your subscription will renew until you cancel it. You'll need to cancel the subscription through the App Store or Google Play. You can't cancel it on the website.

Can You Use Bumble Without Paying?
Yes, you can set up a profile and use Bumble for free. Grab a Bumble free trial to check it out without paying. You can keep your free account for as long as you'd like, or upgrade to unlock more features.

Is a Bumble Membership Worth It?
Honestly, no. At first glance, having women send the first message sounds empowering. In reality, though, women often feel more stressed and annoyed than empowered.
So, what's the issue?
For starters, some men swipe right on every profile they see to increase their matches. If they receive a message back, they finally check out the profile and ghost the person if they don't like what they see. Dealing with flaky people is never fun, and it seems to happen a lot on Bumble.
And the lack of empowerment isn't our only issue with Bumble.
We also don't love the matching algorithm, and features like BFF and Bizz seem unnecessary. Seriously, do you really want to look for friends and business associates on a dating app?
---
We aren't going to swipe left on Bumble without providing another recommendation, though. Zoosk and Bumble are geared toward the same market, but both men and women can initiate conversations on Zoosk. Also, Zoosk learns as you go, so your matches will get better and better each time you log in.
Check out our Zoosk review to find out how it beats Bumble. Be sure to click the link inside of the post to get your free trial to Zoosk.